December Anniversaries
Momentous or merely memorable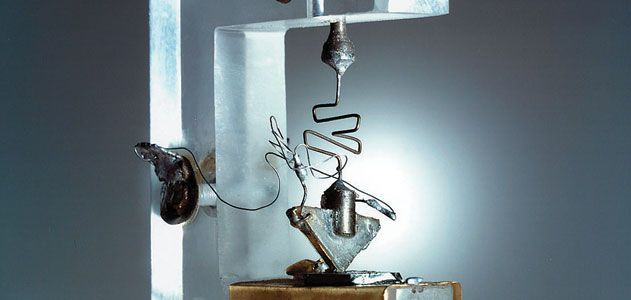 40 YEARS AGO: TELLTALE HEART
South African surgeon Christiaan Barnard performs the first human heart transplant on December 3, 1967, giving grocer Louis Washkansky, 55, the heart of Denise Darvall, 24, a car accident victim, in a nine-hour procedure in Capetown. "I am a new Frankenstein," quips Washkansky, who despite initial progress dies 18 days later of pneumonia. By 2007, some 70,000 hearts will have been transplanted, with some functioning more than 20 years.
60 YEARS AGO: STELLLLAAA!
Tennessee Williams' drama of class conflict and self-deception, A Streetcar Named Desire, opens on Broadway December 3, 1947. Critics hail Williams' sympathetic realism and the "harrowing" impact of the struggles of the brutish Stanley Kowalski and the deluded Blanche. The play wins Williams a Pulitzer Prize in 1948 and makes Brando a star.
60 YEARS AGO: SMALL WONDER
Bell Labs physicists John Bardeen and Walter Brattain wire plastic, a paper clip, gold foil and germanium to a power source to create the first transistor, December 23, 1947. When their boss, William Shockley, makes improvements, transistors, smaller and sturdier than the vacuum tubes they replace, lead to ever smaller electronics, computers and the semi-conductor industry. The trio share the Nobel Prize in Physics in 1956.
120 YEARS AGO: CASE STUDY
Arthur Conan Doyle publishes his first Sherlock Holmes story, A Study in Scarlet, in 1887's Beeton's Christmas Annual. The detective hero of 60 Doyle works, Holmes—who never uttered the phrase "Elementary, my dear Watson"—is so popular that after readers protest his death, the author brings him back to literary life. In 2007, an 1887 Beeton's sells at auction for $156,000.
130 YEARS AGO: GOOD VIBRATIONS
Envisioning uses from dictation to elocution lessons, Thomas Edison applies for a patent for the cylinder phonograph on December 24, 1877. One needle records sound vibrations on a tinfoil-wrapped cylinder; a second plays them back. His first recorded words? "Mary had a little lamb." The patent is granted in February 1878, and Edison turns his attention to inventing the light bulb.
230 YEARS AGO: FORGING FIGHTERS
Not long after losing Philadelphia to the British, George Washington's Continental Army encamps for the winter at Valley Forge, 20 miles northwest, on December 19, 1777. For six months, 12,000 men battle the elements, illness and supply shortages; build 2,000 log huts; and train for future encounters. By June, 2,000 are dead, but the rest emerge, well drilled, to rout the Brits at the Battle of Monmouth.