Dangerous Liaisons
Severe cold and fraternizing with the Mandan keep Meriwether Lewis' doctoring in demand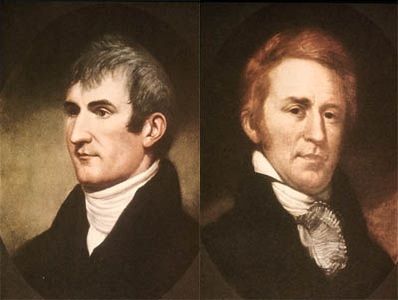 As the harsh winter wore on, the men and women of the corps spent more and more time with their Mandan Indian neighbors. Relationships sprang up—with resulting complications. When originally published, notes Gary Moulton, editor of the Lewis and Clark journals, some entries were, "in the delicate fashion of the era...rendered...into Latin."
January 5, 1805 [Capt. William Clark]
A cold day Some Snow, Several Indians visit us with thier axes to get them mended, I imploy my Self drawing a [map] of the Countrey from what information I have recved— A Buffalow Dance (or Medison) for 3 nights passed in the 1st Village, a curious Custom the old men arrange themselves in a circle & after Smoke a pipe, which is handed them by a young man, Dress up for the purpose, the young men who have their wives back of the circle go to one of the old men with a whining tone and [request] the old man to take his wife (who presents necked except a robe) and—(or Sleep with him) the Girl then takes the Old man (who verry often can Scercely walk) and leades him to a Convenient place for the business, after which they return to the lodge, if the Old man (or a white man) returns to the lodge without gratifying the man & his wife, he offers her again and again.... (we Sent a man to this Medisan [dance] last night, they gave him 4 Girls) all this is to cause the buffalow to Come near So that They may kill thim.
January 13 [Sgt. Patrick Gass]
In the evening one of our interpreters and another Frenchman who had gone with him to the Assiniboins for fur returned. They had their faces so badly frost bitten that the skin came off; and their guide was so badly froze that they were obliged to leave him with the Assiniboins.
January 14 [Clark]
Several men with the Venereal cought from the Mandan women.
January 21 [Clark]
A fine day nothing remarkable one [man] verry bad with the [syphilis] pox.
January 26 [Gass]
We have a blacksmith with us, and a small set of blacksmith tools. The blacksmith makes war-axes, and other axes to cut wood; which are exchanged with the natives for corn, which is of great service to us as we could not bring much with us.
January 27 [Clark]
I Bleed the man with the Plurisy to day & Swet him, Capt Lewis took of the Toes of one foot of the Boy who got frost bit Some time ago.