Conveying History Through Song
Bernice Johnson Reagon adds cultural nuance and period flavor to rousing a cappella renditions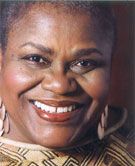 In late 1961 the civil rights movement burst upon the scene in Albany, Georgia, as that town's African-American population galvanized to stand against segregation. A mass meeting at the Mount Zion Baptist Church was packed with people, from student activists to comfortable, middle-aged conservatives.
Cordell Reagon, an 18-year-old organizer for the Student Nonviolent Coordinating Committee, had discovered many talented singers in the SNCC workshops held in that community, among them Bernice Johnson and Rutha Harris, preachers' daughters studying voice at Albany State College.
Reagon, Johnson and Harris were part of a small group of vocalists who led the singing in mass rallies, and that night, along with 500 others, they exploded in song.
Working without piano or any other accompaniment, the singers took the roof off the church. Everyone sang, everyone cried, the whole group swayed to the closing song, "We Shall Overcome," and people stayed on after midnight, wanting never to leave. It was one of the great moments in the American struggle for racial justice.
Her work in the movement was also a defining period in the career of Bernice Johnson Reagon, who eventually abandoned her plans for a career in classical music to work with a group called the Freedom Singers, founded by Cordell Reagon, whom she later married. She simultaneously pursued a solo career, making her first solo recording at age 19.
Bernice Reagon went on to found important musical groups herself, including the Harambee Singers in 1966 and the world-famous women's a cappella group Sweet Honey In The Rock in 1973. Along the way she picked up a doctorate in American history, a distinguished professorship at American University in Washington, D.C., the title of curator emeritus at the National Museum of American History, and a MacArthur 'genius' grant.
Sitting with her in her small, book-crammed office at the university, I asked her about the fact that there were no instruments at that performance in Albany, just the power of the human voice.
"It's funny, I never thought about my singing there as being public," Reagon reflected. "I sang in my high school choir, college choir and the gospel choir of my church. I was an alto. And then singing in the movement rallies, in jail and in the church, it was just sort of continuing what I'd been doing. I didn't think of it as a performance."
As for the piano, it was never something that she could take for granted. "They didn't have a piano in my church till I was 11," she explained. "There was no piano in the school I went to. The SNCC workshop would be in the basement of a church: no piano. Now, if you went to the Selma campaign there would be a piano and a gospel choir, and they would tape the mass meetings. In Birmingham they had not only a piano but a Hammond organ. But in our community it was always a cappella. It's interesting to me how the different communities established their own aesthetic. Also, I just feel more comfortable with the plain voice."
Another great insight from those days was that, though the movement started with the students, older people soon joined in.
"On my first march in Albany, from the college, it was all students," she said. "By the third march — when I was arrested — there were as many adults as students. The action became broader, and the songs, too. We would do our swinging freedom songs, but we'd also do old 19th-century lined hymns. When the SNCC people came to town they found that the Albany sound was different. They'd heard students sing, but they had never heard black people of all ages sing at that power level. The singing really represented the energy of what we were feeling about going up against those issues in that community. It was such a celebration."
She leaned forward, intense. "When I got out of jail in '61," she began casually, "I went to a mass meeting and I was hoarse because I sang all the time in the jail. I opened my mouth to sing... I never heard that voice before. It was very similar to the way people describe religious conversion. There is actually a song that says: 'I looked at my hands, and my hands looked new. I looked at my feet, and they did, too. I started to talk, and I had a new talk. I started to walk, and I had a new walk.' For the first time I really understood what was in that singing that I had heard all my life."
Suspended from Albany State in her junior year for marching with the movement, Bernice Johnson transferred to Spelman College at Atlanta, studied voice and history there, and later got her Ph.D. at Howard University, concentrating in African-American history. While living in Atlanta, she had formed the Harambee Singers, African-American women who "had the energy of black pride," Reagon says. She started writing songs for them.
"Some young men wanted to join, so I asked the group. They thought that if men came in it might be a burden we didn't need. So we stayed a women's group. It was a wonderful experience. The Harambee Singers still exists in Atlanta."
Not that she didn't have a great appreciation for male voices. She had grown up in southwest Georgia, where traditional quartet singing was predominantly male. "It's the quartet harmony sound that really influenced me as an arranger," says Reagon. "When I formed Sweet Honey In The Rock, I knew that it would have not the trio sound mostly associated with female harmony groups, but a quartet sound with a bass singer.
"We had women sing the bass line," she said. "I sang bass though I am a second alto. Three of us took the bottom line alternately."
But the quartet sound was not to last either. In Washington, while she was attending Howard University, she became vocal director of the D.C. Black Repertory Company, founded by actor Robert Hooks. Working with 20 to 30 voices and eight or nine harmony lines made the limitations of three- or four-part harmony unsatisfactory, she says, which led her to the difficult five-part sound of Sweet Honey In The Rock.
Thus, there are five singers in Sweet Honey, producing a sophisticated sound that is far more complex than the conventional quartet. Over the years the personnel has changed, for the singers have always by necessity worked part-time, and some 22 women have been members since the founding in 1973. Sweet Honey has performed in Africa and Canada, but mostly it covers the United States, from Maine to California, with more than 60 concerts a year, usually sold out weeks in advance. But Sweet Honey is only part of the story. Reagon has a grown son, Kwan, a cook, and a daughter, Toshi, a musician, from her marriage to Cordell, which ended in 1967. She is a specialist in African-American oral history, performance and protest traditions. Her work as a folklorist, scholar and curator at the Smithsonian over the course of 20 years led to studies of African-American family histories and the evolution of the spiritual, and field research in the cultures of eight African nations. In 1989 she got the phone call from the MacArthur people.
"I'd been taping revival meetings in Georgia for three summers, and I was staying with my mother there," she recalled, "when the phone rings. "This is Ken Fisher, I'm with the MacArthur Foundation, and you have a MacArthur grant.'"
"I was like, 'Hello?' It was totally out of the blue," Reagon reflected. "I'd heard about the MacArthur and I had asked how you got nominated for one. If you can show me how to get to something, I'll walk it down. But when they said you can't do it yourself, you have to be picked, I just forgot about it."
She used the five-year grant to continue her work in African-American sacred music traditions, which resulted in the 1994 production "Wade in the Water," a 26-hour radio series sponsored by the Smithsonian and National Public Radio. "Wade in the Water," which won the Peabody Award, also led to a show of the same title organized by the Smithsonian Institution Traveling Exhibition Service, a four-CD set of recordings on the Smithsonian Folkways label and the book, We'll Understand it Better By and By: Pioneering African-American Gospel Composers, published by Smithsonian Press.
There was also a Charles Frankel Prize, a medal presented by the President in 1995 for her contributions to the public understanding of the humanities, seven honorary doctorates and several other honors.
In 1992 she appeared with Bill Moyers in an hour-long TV production, The Songs are Free, nominated for an Emmy. She has also served as music consultant, composer and performer for such projects as the celebrated Eyes on the Prize TV series, the Emmy-winning We Shall Overcome, and other PBS productions. Most recently she did the sound score for the four-part film series Africans in America, which aired initially on public television in October, and is being rebroadcast this month.
Two years ago Reagon won an Isadora Duncan Award for the score of Rock, a ballet directed by Alonzo King. One of her courses at American University is on slavery. I asked about the music of the slaves. I thought it must be sad and heavy stuff.
She gave me a look. "I was working with filmmakers on the Africans in America team who wanted slave songs, and they kept saying some of the songs I sent were too upbeat, too jolly. I told them that African-Americans would never have made it through slavery if they'd done only the mournful stuff.
"Think about black people coming to freedom with hope and wanting to know about their children, wife, husband, mother. Four million people who somehow have survived but are stunned because they had to absorb losing so much, who are going on in spite of losing so much, and finding a way to shout despite losing so much. With us laughter and tears are very close together; dancing and moaning are very close together." She pounded on her thigh, a fast, syncopated rhythm. "Dance! Drumming! It's a sanity thing. Even in a catastrophe, there had to be some time when you would smile and you would laugh. Or you wouldn't survive." She sang for me: "This is a mean world to live in till you die, without brother, sister, mother, father..." Despite the words it was a lilting song, full of joy. "I get audiences to sing along," she informed me. "I tell them even if you lose everybody there is still something in you that says, 'Since I am alive, I will go on.' How do you express that? Here you have it wrapped up in a jumping song. If you told the truth only in the pain and tears, you couldn't stand it for long. You have to have the moans and sadness, but also the shouting and celebration."
You don't have to be afraid of history, she tells her students. You're safe, you're not on the plantation, not in chains, not being whipped. You can study the terrible things of the past without living through them. It is important, she says, to be fluent in history and not hide from it, for this is how healing can take place.
"When you study 19th-century African-American history, you have to study the slave system, but also you have to study the abolitionists, the people who built special rooms in their houses and their wagons to hide fleeing slaves, the people who helped to fight slavery," contends Reagon. "You get one, you get the other. If you teach the full range, you can manage it." I wanted to know: What if Reagon had to decide between her careers? Performer, teacher, scholar — which career is the most important to her?
"Luckily, I don't have to choose," she said. "If I did, I'd have to look at where I was at that time. But I don't rate the three of them. When I was at the Smithsonian [where she is still curator emeritus at American History], it was very important to me that I was also singing with Sweet Honey In The Rock at the same time. I always had supervisors who supported me, I was always able to name my areas of research. Weekdays I would be in the office, a specialist in my field, very difficult work, studying the origins of African-American culture. But by Saturday I'd be on the stage singing out of that same culture."
She sat back and tried to sum it all up.
"You teach American slavery, but can you sing it, too? That thought has pushed me as a composer, it's taken me into places I would never have gone."