Clarence Darrow: Jury Tamperer?
Newly unearthed documents shed light on claims that the famous criminal attorney bribed a juror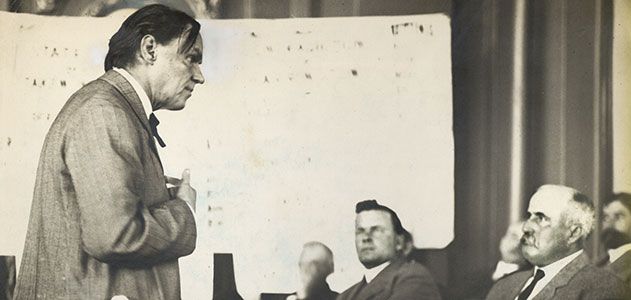 On a rainy night in Los Angeles in December 1911, Clarence Darrow arrived at the apartment of his mistress, Mary Field. They sat at the kitchen table, beneath a bare overhead light, and she watched with dismay as he pulled a bottle of whiskey from one pocket of his overcoat and a handgun from the other.
"I'm going to kill myself," he told her. "They're going to indict me for bribing the McNamara jury. I can't stand the disgrace."
The great attorney had come to Los Angeles from Chicago to defend James and John McNamara, brothers and unionists accused of conspiring to bomb the Los Angeles Times, the city's anti-union newspaper, killing 20 printers and newsmen. But jury selection had not gone well, and Darrow feared the brothers would hang.
One morning a few weeks earlier, Darrow had taken an early streetcar to his office in the Higgins Building, the new ten-story Beaux-Arts structure at the corner of Second and Main Streets. At around 9 a.m. the telephone rang. Darrow spoke briefly to the caller. Then he picked up his hat and left the building, heading south on the sidewalk along Main.
Meanwhile, his chief investigator, a former sheriff's deputy named Bert Franklin, was two blocks away, passing $4,000 to a prospective member of the McNamara jury who had agreed to vote not guilty.
Franklin, in turn, was under police surveillance: The juror had reported the offer to the authorities, who had set up a sting. Franklin now sensed that he was being watched and headed up Third Street to Main. There he was arrested—just as Darrow joined him.
Franklin became a witness for the state, and in January 1912, Darrow was arrested and charged with two counts of bribery.
With the help of another legendary trial lawyer, California's Earl Rogers, Darrow was acquitted in one trial, and the other ended with a hung jury. He returned to Chicago broke and disgraced, but he picked up the pieces of his career and became an American folk hero—champion of personal liberty, defender of the underdog, foe of capital punishment and crusader for intellectual freedom.
Darrow's ordeal in Los Angeles 100 years ago was eclipsed by his later fame. But for a biographer the question is insistent: Did America's greatest defense attorney commit a felony and join in a conspiracy to bribe the McNamara jurors? In writing a new account of Darrow's life, with the help of fresh evidence, I concluded that he almost certainly did.
The Los Angeles Law Library is on Broadway, across the street from the lot, now empty, where the bombing destroyed the Los Angeles Times building. The library holds the 10,000-page stenographic record of Darrow's first bribery trial. It is a moving experience to page through the testimony so close to where the carnage took place.
The McNamaras' trial was cut short after six weeks when Darrow secured a plea agreement that would spare their lives. James McNamara pleaded guilty to murder in the Times bombing and was sentenced to life in prison; his brother pleaded guilty to a different bombing and was sentenced to 15 years. The agreement was still being finalized when Darrow's investigator, Franklin, was arrested on the street for bribery.
Darrow's own trial was a legal hellzapoppin'. Rogers was skilled at baiting prosecutors and distracting juries with caustic asides and courtroom antics. (At one point he wrestled with the furious district attorney, who was preparing to throw a glass inkwell at the defense team.) Truth be told, the prosecution had a weak case. Aside from Franklin's testimony, and Darrow's presence at the scene on Main Street that morning, there was little corroborating evidence tying the attorney to the crime of bribery.
And, in an astounding exchange, Rogers got Franklin to concede that prosecutors had promised him immunity; he had had his fines paid; and he had met covertly with California's notoriously venal robber barons, who promised to reward him if he testified against Darrow. With eloquent closing arguments, Rogers and Darrow persuaded the jury that Darrow was in fact the victim—a target of rapacious capital, out to subdue labor.
Darrow's early biographers—the novelist Irving Stone (Clarence Darrow for the Defense, 1941) and Chicago's Arthur and Lila Weinberg (Clarence Darrow: A Sentimental Rebel, 1980)—concluded their hero was most likely innocent. Geoffrey Cowan, an attorney and scholar who examined the first bribery trial in minute detail in his 1993 book, The People v. Clarence Darrow, reached a different verdict. Cowan weighed the number of Darrow's contemporaries—friends, acquaintances and journalists who covered the trial—who believed he was guilty of arranging the bribe. They forgave Darrow, for the most part, because they shared his conviction that the vast power and wealth arrayed against labor unions, and the often violent and illegal tactics of corporations, justified such an extreme measure to spare the defendants.
"What do I care if he is guilty as hell; what if his friends and attorneys turn away ashamed of him?" the great muckraker Lincoln Steffens wrote of his friend in a letter.
Neither Cowan nor I found evidence of a conspiracy to frame Darrow in the files of the U.S. Justice Department, or in the papers of Walter Drew, the steel industry's union-busting lobbyist, who had led and helped fund the case against the McNamaras.
To write my story of Darrow's life, I tapped university and courtroom archives at more than 80 institutions. Perhaps the most intriguing new evidence I found was in Mary Field's diary.
In researching their biography, the Weinbergs persuaded Field's daughter to share segments of her mother's papers, which included selections from her diary and correspondence from Darrow. The material offers a unique glimpse into the man: To Mary Field he poured out his feelings in evocative letters. Long after their affair ended, they remained loving friends.
Field's diaries are now at the University of Oregon, where I spent a week going through them page by page. Aside from Darrow's wife, Ruby, no one was closer to him during his ordeal in Los Angeles. Field, a bold young journalist, was Darrow's lover, friend, legal assistant, press agent and investigator. She never wavered, in private or public, from insisting he was innocent.
But in a 1934 diary notation I found this passage:
Read life of Earl Rogers and revive memories of 23 years ago—memories more vivid than those of a year ago. Memories burned in with red hot rods. Days when I walked through Gethsemane with Darrow, crushed and weighted with the desertion of friends, with betrayal, with the impending doom of jail...bribing a juror to save a man's life...who knows if he did? But he wouldn't hesitate anyway. If men are so cruel as to break other men's necks, so greedy as to be restrained only by money, then a sensitive man must bribe to save.
It is not conclusive. But I believe that it adds Mary to the list of Darrow intimates who suspected their hero was guilty.
I uncovered another incriminating detail in one of Darrow's long-lost letters. Irving Stone purchased the lawyer's papers from his widow, and they were eventually donated to the Library of Congress. But not all the material in Darrow's files made it to Washington, D.C. Hundreds of his private letters, unearthed by a collector named Randall Tietjen (many in a box marked "Christmas ornaments" in the basement of Darrow's granddaughter), were made available to scholars by the University of Minnesota Law School Library in 2010 and 2011. And there I found a 1927 letter from Darrow to his son, Paul, instructing him to pay $4,500 to Fred Golding, a juror in the first bribery trial.
I was stunned.
Darrow was a generous soul. And it certainly is possible that Golding had fallen on hard times and asked for help, and that Darrow responded out of the goodness of his heart. But $4,500 was serious money in 1927—more than $55,000 today—and it's difficult to imagine that Darrow would be that generous in response to a hard-luck story.
And it should be noted that Golding was Darrow's most outspoken defender on the jury. Golding took the lead in quizzing prosecution witnesses from the jury box, which was permitted in California. He openly suggested that the case was a frame-up orchestrated by California's business interests as part of their infamous scheme (immortalized in the film Chinatown) to steal water from the Owens Valley and ship it to Los Angeles.
To be sure, Golding may have been a harmless conspiracy theorist, and Darrow may indeed have conceived of paying him only after the trial.
But the question demands an answer: Did Darrow bribe a juror while on trial for bribing jurors? If so, what does that say about his willingness to join in the McNamara bribery plot?
"Do not the rich and powerful bribe juries, intimidate and coerce judges as well as juries?" Darrow once asked an associate. "Do they shrink from any weapon?"
Finally, there's a telegram Darrow sent.
It was the philanthropist Leo Cherne who acquired Darrow's papers from Stone and donated them to the Library of Congress. But in a collection of Cherne's papers in the Boston University archives, there are several files of Darrow letters, telegrams and other sensitive documents that did not travel with the rest to Washington. Much of the correspondence in the Cherne collection is from the winter of 1911-12. The most intriguing item is a telegram Darrow sent to his older brother Everett the day he was indicted. "Can't make myself feel guilty," Darrow wrote. "My conscience refuses to reproach me."
He doesn't say he is innocent—only that his conscience is clear. That was an important distinction for Darrow, for whom motive was the overriding question in defining an evil, a sin or a crime.
Darrow's great patron was Illinois Gov. John Altgeld, whom Darrow said admiringly was "absolutely honest in his ends and equally as unscrupulous in the means he used to attain them." Altgeld "would do whatever would serve his purpose when he was right. He'd use all the tools of the other side—stop at nothing," he said. "There never was a time that I did not love and follow him."
In both his trials Darrow pleaded not guilty, took the stand, swore an oath and testified that Franklin's testimony against him was a lie. But in the telegram to his brother and other correspondence to family and friends, Darrow distinguishes between legal and moral guilt. "Do not be surprised at any thing you hear," Darrow warned his son, in a note newly unearthed from the Minnesota files. But, he told Paul, "my mind and conscience are at ease."
Indeed, in his second trial, Darrow virtually dared the jury to convict him, making arguments that seemed to justify the McNamaras' terrorist attack. Jim McNamara placed the bomb in the Times building, Darrow told the jury, because "he had seen those men who were building these skyscrapers, going up five, seven, eight, ten stories in the air, catching red hot bolts, walking narrow beams, handling heavy loads, growing dizzy and dropping to the earth, and their comrades pick up a bundle of rags and flesh and bones and blood and take it home to a mother or a wife." Darrow went on,"He had seen their flesh and blood ground into money for the rich. He had seen the little children working in factories and the mills; he had seen death in every form coming from the oppression of the strong and the powerful; and he struck out blindly in the dark to do what he thought would help....I shall always be thankful that I had the courage" to represent him.
After hearing that, the jurors told reporters, they were convinced that Darrow would surely resort to bribery, and other illegal acts, to defend or advance his beliefs and clients.
How should we judge Darrow?
He left Los Angeles in 1913 a changed man. "The cynic is humbled," his friend Steffens wrote. "The man that laughed sees and is frightened, not at prison bars, but at his own soul."
After he returned to Chicago, he rebuilt his practice and his reputation by taking cases that other lawyers would not touch. Mentally ill men accused of heinous crimes. Black men charged with raping white women. Communists and anarchists snared in the reactionary fervor of the Red Scare. He defended Frank Lloyd Wright when federal prosecutors hounded the architect for violating the Mann Act, which made it a crime to transport women across state lines for "immoral purposes." He saved the killers Nathan Leopold and Richard Loeb from the gallows. Most famously, he scored a triumph for academic freedom after John Scopes was accused of violating a Tennessee law that prohibited the teaching of evolution.
"The marks of battle are all over his face," the journalist H.L. Mencken wrote. "He has been through more wars than a whole regiment of Pershings....Has he always won? Actually, no. His cause seems lost among us.
"Imbecilities, you say, live on? They do," wrote Mencken. "But they are not as safe as they used to be."
A biographer must assess a subject's good and bad—all the black, white and grays of character. And it was Darrow's actions in another case, largely neglected by previous biographers, that finally put me, firmly, on his side.
In 1925, in the wake of the Scopes trial and at the height of his fame, when Darrow sorely needed money and could have commanded titanic fees on Wall Street, he declined to cash in. He went, instead, to Detroit, to represent the Sweet family, African-Americans who had fired into a racist mob that attacked their new home in a white neighborhood.
It was the summer of the Klan—when thousands of hooded bullies marched down Pennsylvania Avenue in Washington. Darrow defended the Sweets in two grueling trials that spanned seven months, for a token fee raised by the NAACP. He won the case, establishing a principle that black Americans had a right to self-defense.
Sweet "bought that home just as you buy yours, because he wanted a home to live in, to take his wife and to raise a family," Darrow told the all-white jury. "No man lived a better life or died a better death than fighting for his home and his children." At the end of his speech, James Weldon Johnson, the NAACP's leader, embraced the aged lawyer and wept with him there in the courtroom. A few weeks later, Darrow was staggered by a heart attack. He was never the same.
He had been, said Steffens, "the attorney for the damned." Ultimately, I forgave him.
John A. Farrell has written Clarence Darrow: Attorney for the Damned.