Civil War Artifacts in the Smithsonian
The museum collections house many items from the Civil War, including photographs, uniforms and personal diaries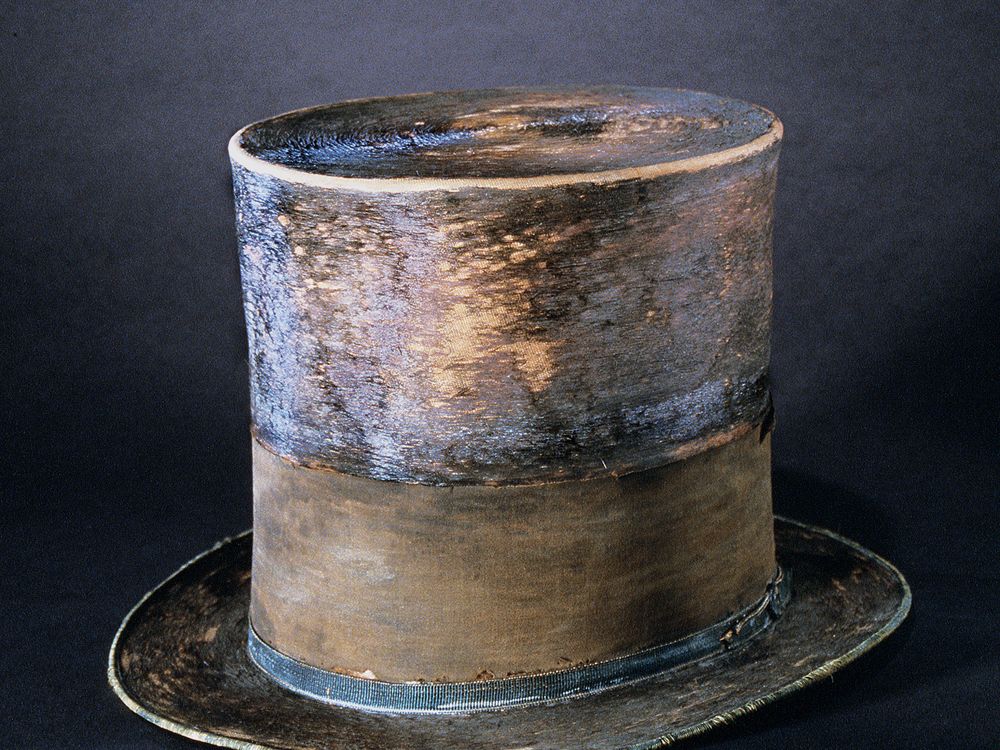 George T. Garrison's Trunk, National Museum of African American History and Culture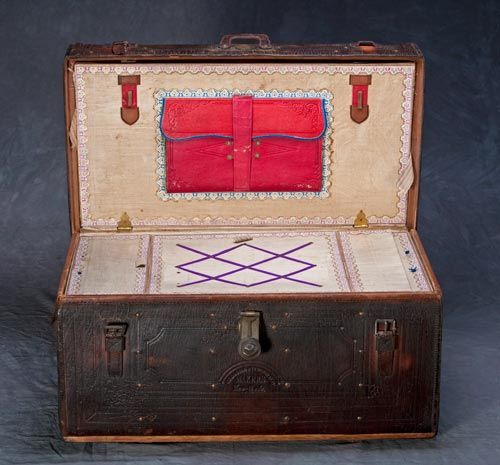 This well-preserved leather trunk, believed to have been kept for years in an attic before being sold at auction, once belonged to First Lt. George T. Garrison, son of the famous abolitionist William Lloyd Garrison and an officer with the 55th Massachusetts Infantry Regiment, an outfit of black volunteer soldiers. Lt. Garrison, a white officer leading a unit of black troops, fought in every battle "with an exemplary record" and was said to have led the troops through the streets of captured Charleston, South Carolina, in February 1865, singing the popular Union ballad the "John Brown" song.
Garrison enlisted in the Civil War over the protestations of his father, who argued that slavery should be ended through peaceful means, says collections specialist Michele Gates-Moresi. "It was kind of this weird tension [William Lloyd Garrison] had; no compromise but also no war. Coming from this family, it was probably a big decision for [George Garrison] to participate in the war." According to Gates-Moresi, secondary sources reveal that the senior Garrison later accepted the necessity of war. "He supported his son at the end."
"We thought that story was interesting, just to let people know that it's not this sort of black-and-white story where there's pro-slavery people and there's abolition people," Gates-Moresi says. "There's lots of people in between who have these issues, and that's a way to get at those subtleties and nuances of the history."
This trunk, "very much a period piece," used for traveling, helps unpack those hidden stories and complicated truths.
The National Museum of African American History and Culture is slated to open in 2015.
by Arcynta Ali Childs
Timothy H. O'Sullivan's "Incidents of the War: A Harvest of Death," Smithsonian American Art Museum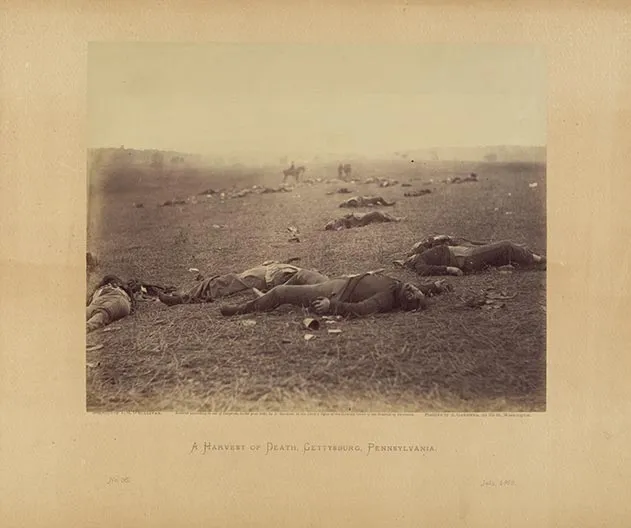 Timothy H. O'Sullivan was one of many photographers that Mathew Brady, the so-called father of photojournalism, dispatched to document the troops during the Civil War. "These photographers had a dual duty," says chief curator Eleanor Harvey. "They were to document the war and what it was really like, and they were to do it at the highest level, often adjusting bodies to get a well-composed picture." O'Sullivan's A Harvest of Death, which captured Confederate casualties at Gettysburg in 1863, is part of the museum's collection and will be exhibited in "The Civil War and American Art," opening November 16, 2012. "With the gruesomeness of the foreground, the figure on horseback in the background becomes like a grim reaper overseeing his harvest of death," says Harvey.
by Megan Gambino
Appomattox Table and Chairs, National Museum of American History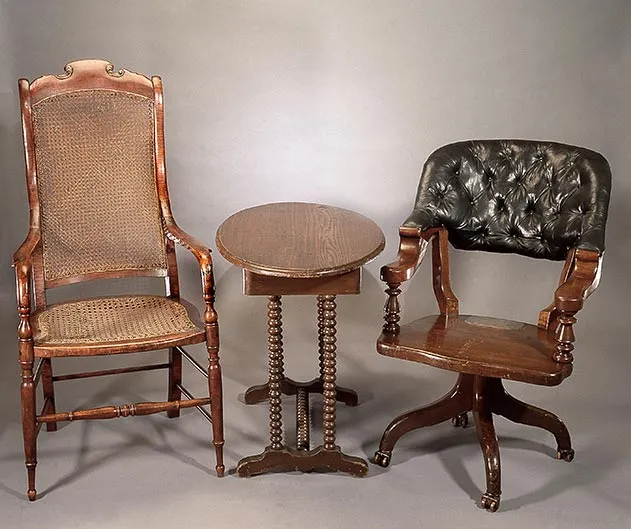 When one thinks of the Civil War, firearms and a whole lot of standing up usually come to mind, not tables and sitting down. Generals Ulysses S. Grant (Union) and Robert E. Lee (Confederacy) sat in these chairs to negotiate the terms of surrender to end the Civil War on April 9, 1865, at Wilmer McLean's home in Appomattox Court House, Virginia. On this table, the victorious Grant drafted the terms of surrender. Grant had arrived about a half-hour after Lee, which may be why the defeated general, the taller man by four inches, was able to snag what looks to be the taller and more stable chair. Union officers removed both chairs and the table right after the terms were signed, but all three pieces made their way to the Smithsonian as separate donations during the early 1900s.
by Jeff Campagna
Lincoln Letter, National Air and Space Museum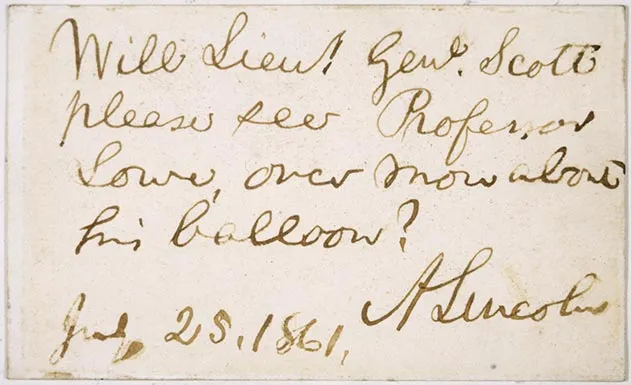 This letter, from the Air and Space Museum Archives and written by Abraham Lincoln, proposes the use of aeronaut Thaddeus S.C. Lowe's balloons for reconnaissance during the Civil War. The text reads, "Will Lieut. Gen. Scott please see Professor Lowe once more about his balloon? A. Lincoln July 25, 1861." Joseph Henry, the Secretary of the Smithsonian from 1846 to 1878, was a strong supporter of scientific exploration, which led to a relationship with Lowe. "With Henry's help, [Lowe] talked the war department into giving the Smithsonian $200 to see what a balloon can do," explains senior curator Tom Crouch. "On June 18, 1861, Lowe sent a telegraph [from his balloon] to the White House describing what he could see [from his vantage point]. After speaking with Lowe, Lincoln was convinced that he wanted a balloon corps." Gen. Winfield Scott, however, had no faith in balloons, so he kept avoiding Lowe. Hearing of his general's reluctance, Lincoln sent this letter, which served as a catalyst for Scott to finally accept the presence of Lowe and ballooning. Lowe's effort produced seven balloons for the Union Army and ushered in, says Crouch, "the birth of aerial reconnaissance."
by Jamie Simon
Lowe's Barometer, Udvar-Hazy Center, National Air and Space Museum
A barometer and case used by aeronaut Thaddeus S.C. Lowe during the Civil War is on display at the Boeing Aviation Hangar at the Steven F. Udvar-Hazy Center. "Barometers and thermometers tended to be very tall," explains senior curator Tom Crouch. Back then, these instruments "used mercury and [had] to have enough mercury to accurately measure the pressure." Udvar-Hazy also boasts a pair of Lowe's binoculars and a wooden valve assembly from The Great Western balloon, constructed by Lowe in 1859.
by Jamie Simon
John Singleton Mosby's Cavalry Jacket and Hat, National Museum of American History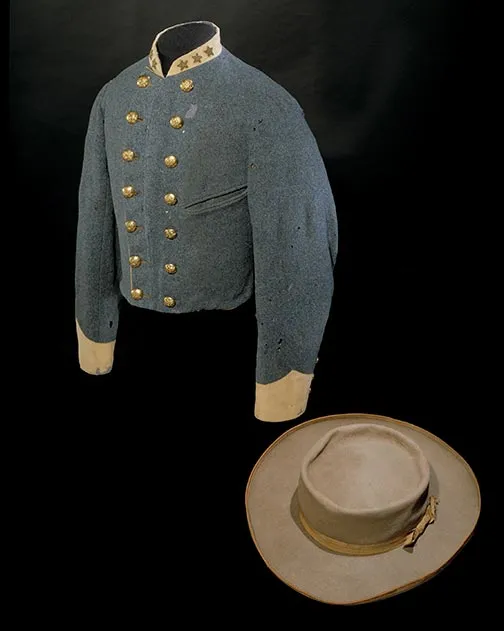 This cavalry jacket and hat belonged to John Singleton Mosby (1833-1916), a Confederate cavalry battalion commander during the Civil War. Mosby, known as "The Gray Ghost," and his unit, Mosby's Raiders, were famous for their ability to swiftly attack the enemy and then evade patrols by blending into the local population. "We have very little Confederate material," says curator Kathy Golden regarding the artifacts' significance to the collection. "When the war ended, you just didn't get Confederates leaving their belongings to a national museum in Washington, D.C. Mosby's an exception because after the war he became friendly with Grant. He was not a very well-liked person in the South for a very long time."
by Jeff Campagna
Lincoln's Top Hat, National Museum of American History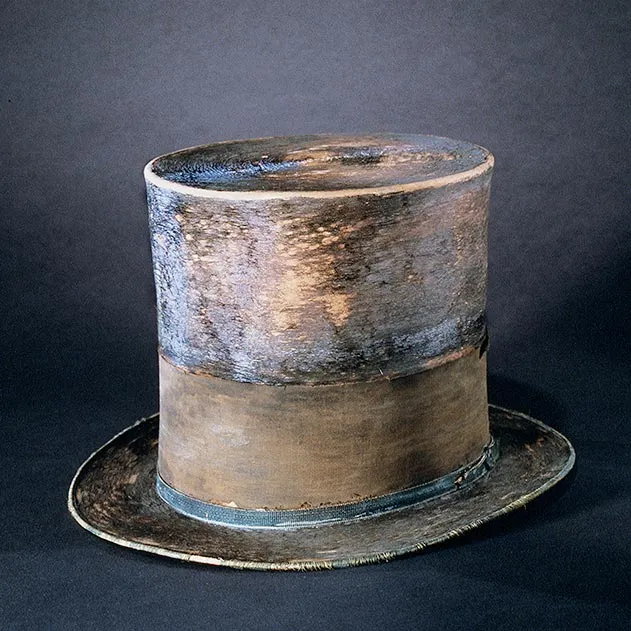 A survey of Civil War artifacts in the Smithsonian's collections would not be complete without one of the most cherished pieces at the National Museum of American History—a top hat worn by Abraham Lincoln, who, in all but six weeks of his term as the 16th president of the United States led a country at war. The president wore this hat, made by Washington, D.C. hat maker J. Y. Davis and adorned with a black silk mourning band in honor of his deceased son Willie, to Ford's Theatre on April 14, 1865, the night he was assassinated. "He sets it next to his chair where, days later, the military recovers it, trying to preserve the scene of the crime, and transfers it to the Department of the Interior, which transfers it to the Smithsonian Institution," says curator Harry Rubenstein. The top hat is on display in "Abraham Lincoln: An Extraordinary Life" at the American History Museum through May 30, 2011.
by Megan Gambino
The Spotsylvania Stump, National Museum of American History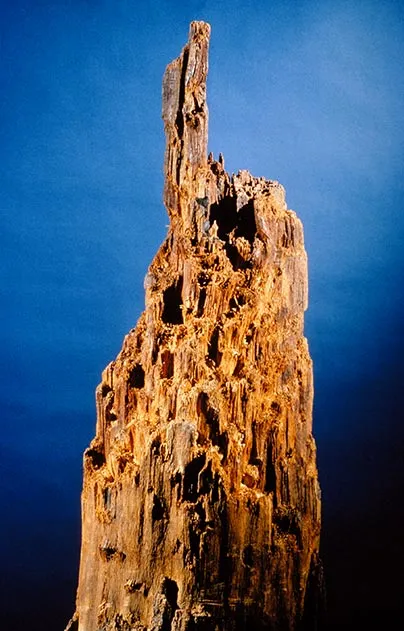 Shorn and riddled with bullets from one of the bloodiest battles of the Civil War, the Spotsylvania Stump is a reminder of the brutality and viciousness of war.
Mere feet divided Confederate and Union soldiers during the Battle of the Spotsylvania Courthouse, on May 12, 1864. An oak tree, its trunk measuring 22 inches across, ended up on the receiving end of hundreds of bullets, shattering and splintering until it was reduced to just a stump.
"It was a full-grown, live tree when the Battle at Spotsylvania Courthouse started, and within 20 hours it was shot to pieces," says curator David Miller. "Over 2,000 men died within a couple hundred yards of that tree. It was some of the worst fighting of that whole campaign."
According to Miller, Gen. Nelson Miles, who fought in the battle, acquired the stump for the U.S. Army's Ordnance Museum. Sometime later it was transferred to the Smithsonian, where it currently resides in the National Museum of American History. Its location in the gallery is strategic—across from a case displaying all the new types of weaponry available during the Civil War and next to a case about Civil War medicine that shows the surgical tools and prosthetic limbs used on wounded soldiers. "It's kind of in that area that shows the horrors of the Civil War," Miller said. "I think it just symbolizes the incredible violence."
by Arcynta Ali Childs
Black-and-White Postcard of Studio Portrait of Joe Tasson, Interpreter for the Meskwaki Tribe and Civil War Veteran, National Museum of the American Indian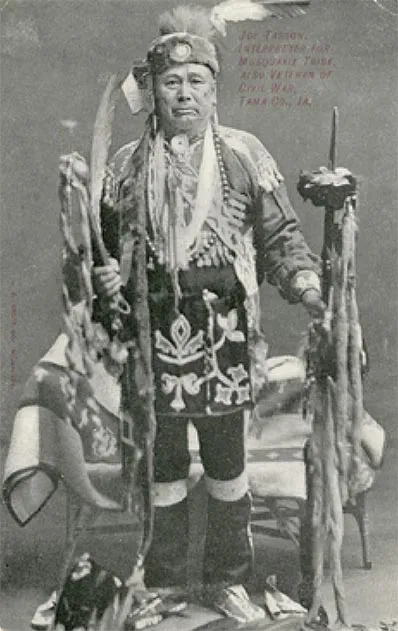 The National Museum of the American Indian has a postcard of a black-and-white portrait of Joe Tasson, a war veteran and interpreter for the Meskwaki tribe. Like many accounts of American Indians' service in the Civil War, his story has been lost. "Reliable estimates of Native participation in the Civil War are hard to come by," says Mark Hirsch, a historian at the museum. Sources believe anywhere from 6,000 to 20,000 men fought in the war, on both sides. The majority, however, fought for the Confederacy. In Indian Territory alone (modern-day Oklahoma and Arkansas), says Hirsch, about 3,500 Native people fought for the North, while most, including Cherokees, Chickasaws, Choctaws and Creeks, were sympathetic to the South. In fact, some prosperous Indians owned plantations and African-American slaves and were therefore pro-slavery. "The Confederacy viewed them as a buffer against the Union Army as well as a source of horses, mules and lead for musket balls and bullets," says Hirsch. However, the war recharged old antagonisms within tribes over the policy of Indian removal. "The Civil War was a disaster for Indian people," says Hirsch. "It was kind of like a civil war within the Civil War."
by Megan Gambino
"The Constitution Must Be Preserved" Cooper-Hewitt, National Design Museum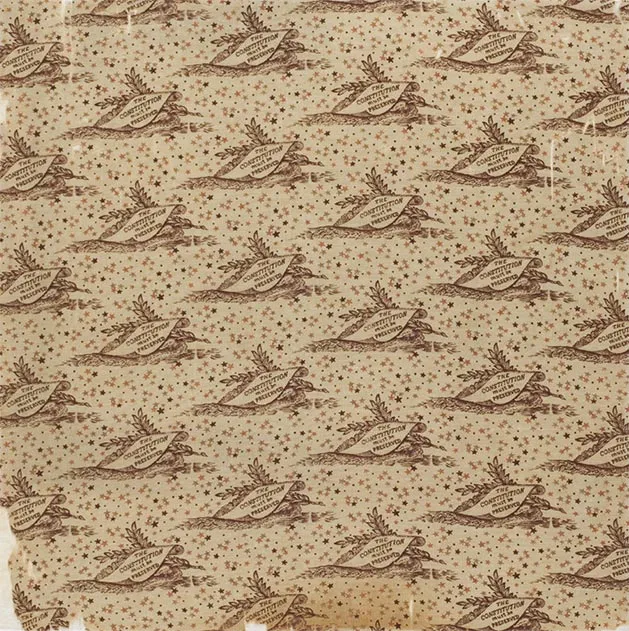 "This textile was printed as propaganda for a political candidate, much in the way you might see posters, T-shirts or bumper stickers today," says curator Susan Brown. " 'The Constitution Must Be Preserved' was printed in support of John Bell, the Constitutional Union Party's candidate for president in 1860." In addition to splitting the Democratic Party into Northern and Southern factions, the 1860 presidential election gave rise to the Constitutional Union Party, which comprised former Whig Party members and discontented Democrats. This short-lived party ultimately won three states in the election: Tennessee, Kentucky and Virginia, garnering 39 electoral votes. However, Republican candidate Abraham Lincoln netted a whopping 180.
by Jesse Rhodes
"The Union Forever" Cooper-Hewitt, National Design Museum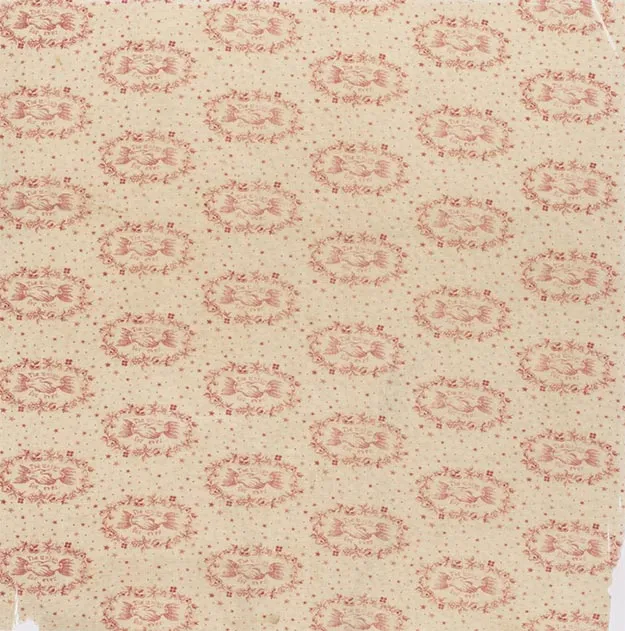 " 'The Union Forever' was printed for Abraham Lincoln's second presidential campaign in 1864," says textiles curator Susan Brown. "For the election, which took place in the middle of the Civil War, the Republican Party changed its name to the National Union Party. Lincoln won by a landslide, as the 11 states that seceded did not vote. He was assassinated just a few months later."
by Jesse Rhodes
Daguerreotype of Unknown Black Civil War Soldier, National Museum of African American History and Culture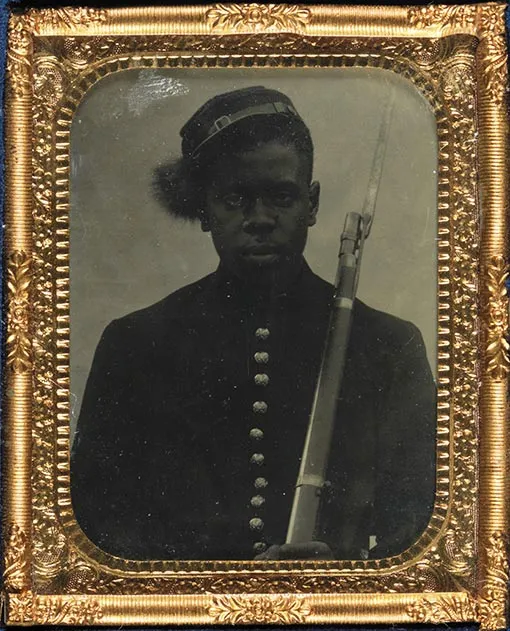 Among a group of 19th-century daguerreotypes that recently came to the National Museum of African American History and Culture is one of an unknown soldier. "What I like about those 19th-century images is that the person is looking directly into the camera, and almost as if they were standing in front of you. The detail is so rich," says collections specialist Michele Gates-Moresi. "It kind of brings the history alive in a way that other things just don't."
This image, which shows a black man from the waist up, dressed in a button-down cap and holding a rifle against his left shoulder, is undoubtedly of a Union soldier. An estimated 180,000 black soldiers served in the Union Army—10 percent of its total soldiers and 13 percent of the black population. "We know that so many of those soldiers were very young, quite ordinary, probably farmers, possibly illiterate, but we don't know anything about him," says Gates-Moresi.
History does tell us that blacks had to fight just for the right to participate in the war. Blacks attempting to enlist were rebuffed at every turn, prompting antislavery orator Frederick Douglass to petition President Lincoln to allow blacks to fight. Additional political pressures, mounting Union casualties and the realities of war eventually helped change Lincoln's policy, but it wasn't until Congress passed the Militia Act in 1862 that free blacks and ex-slaves were allowed to take up arms.
Black soldiers, who fought in segregated regiments, were not paid as much as white soldiers and were, for a time, prohibited from becoming officers. The most famous of these units was the 54th Massachusetts Volunteer Infantry, led by Col. Robert Shaw, and immortalized in the 1989 film Glory.
And then there are the stories that we don't know. These photographs seek to give a face to the experience of the black soldiers who served in the Civil War, whose stories, while unknown, are just as important. "If we're only telling the story about people whose stories we know about," says Gates-Moresi, "then we're doing a disservice to the experience of most people."
by Arcynta Ali Childs
Winslow Homer's A Visit from the Old Mistress, National Museum of American History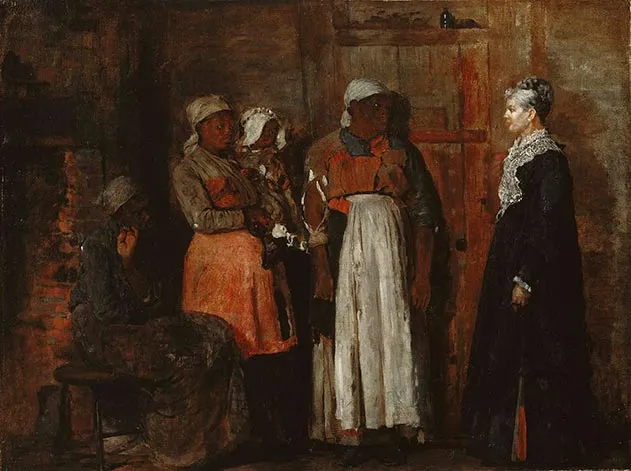 In 1876, Winslow Homer painted A Visit from the Old Mistress, which captures a tense encounter between freed slaves and the wife of their former owner. "The animosity and the seething anger in the picture make people step closer and then recoil," says chief curator Eleanor Harvey. "It's confrontational, and it does not let the viewer off the hook." In this way, she adds, Homer is the "conscience of the nation" during and after the Civil War. A Visit from the Old Mistress acknowledges the emancipation of the slaves, but also suggests that there is still work to do and relationships to mend. The painting will be exhibited in "The Civil War and American Art," opening November 16, 2012.
by Megan Gambino
Adalbert J. Volck's Sketches from the Civil War National Portrait Gallery
This caricature of Abraham Lincoln, titled Knight of the Rueful Countenance, comes from the pro-Confederate Sketches from the Civil War in North America, by Adalbert J. Volck. A dentist by trade, Volck immigrated to the United States in 1848 from Germany. Living in Baltimore, he turned Southern sympathizer, smuggling medical supplies to Virginia and producing propaganda that vilified Lincoln, abolitionists and Union soldiers. Here the artist portrays Lincoln as a Don Quixote-like character, with John Brown's pike, a satanic-looking helmet, an ax and rail (campaign symbols) and a cannon-shaped inkwell. The president rests his foot on books titled "Constitution," "Law" and "Habeas Corpus," while on his desk are documents that list Union defeats.
"There is a dearth of authentic visual material from the South or from the Southern point of view," says Wendy Wick Reaves, curator of prints and drawings. These are "a treasure trove in terms of telling the Confederate side of the story." Volck's supposed 200 copies of Sketches must have been distributed clandestinely. Because of the Union occupation of Baltimore, he couldn't ship his prints to the South, so they probably weren't widely available. They became better known after the war. "Adalbert Volck's Confederate Sketches" opens at the National Portrait Gallery on March 30, 2012.
by Jeanne Maglaty
Patriotic Union Cover National Postal Museum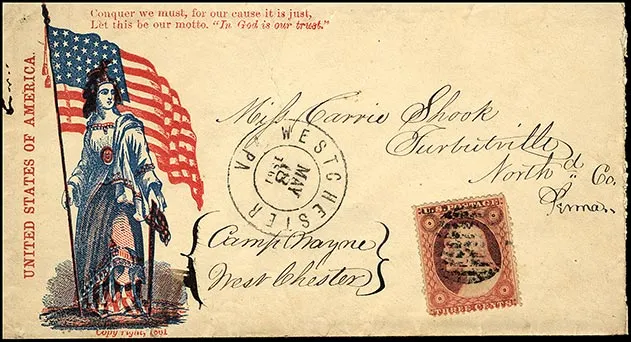 In philately, "cover" is a term used to describe an item—usually an envelope with postage—that has passed through the mail system and bears the postmarks and stamps that attest to its travels. Some covers bear elaborate decorations that reflect contemporary social and political events. The artwork emblazoned on this cover proclaims the sender's fidelity to the Union side of the Civil War.
by Jesse Rhodes
Confederate Wallpaper Cover, National Postal Museum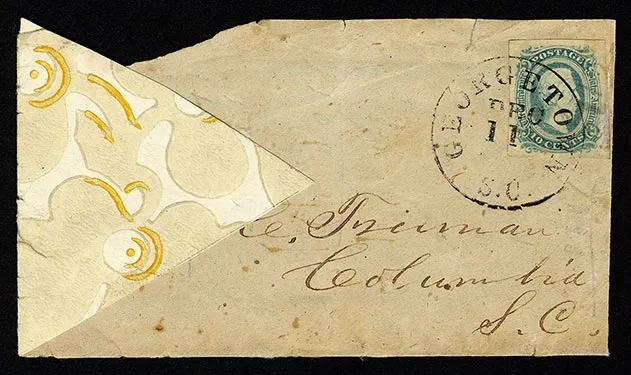 Wartime demands home-front resourcefulness, which can be seen in this envelope fashioned from wallpaper. "The blockade of ports early in the war was the main reason for this," says researcher and Confederate postal historian Trish Kaufman. "The blockade prevented the importation of paper from the North and Europe. Consequently, Southerners used virtually anything where one side had enough space for an address. In this example, it was spare rolls of wallpaper—though not stripped from the walls, as has erroneously been declared in the past."
by Jesse Rhodes
Blockade Run Cover, National Postal Museum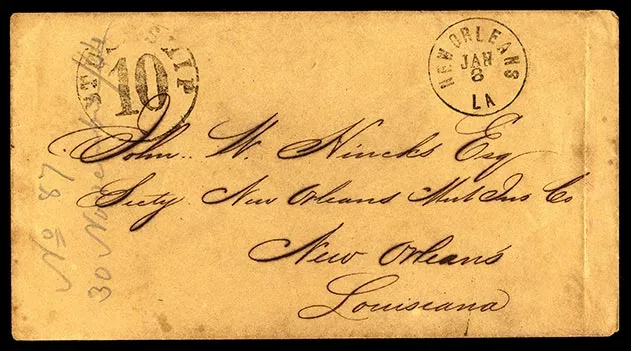 "On April 19, 1861, President Lincoln proclaimed the blockade of the Southern coasts," says historian Trish Kaufman. "Stretching from Virginia to Texas, the blockaded area encompassed over 3,500 miles of coastline and nearly 200 harbors and river openings. This cut off the import of goods by the mostly agricultural South from the industrial North and from Europe. Mail and goods were covertly sent via vessels that ran the blockade. Many people were cut off from communication with family, friends and businesses; this was one of the ways they had a chance to correspond. The conveyance of mail in this manner was an extremely dangerous proposition."
by Jesse Rhodes
Secretary of War Edwin M. Stanton's Chair, Smithsonian Institution Castle Collection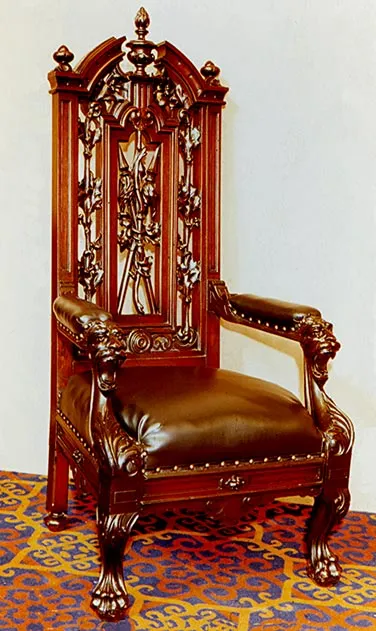 This mahogany chair is one of a pair in the Smithsonian Castle Collection that was once owned by former U.S. Secretary of War Edwin M. Stanton (1814-69). "The major significance of the chairs is their provenance," says curator Richard Stamm, "but they are impressive in their own right as well," with carved lion heads on each arm and a style that Stamm deems "essentially Renaissance Revival, popular in the 1860s and '70s." Stanton served as secretary of war under presidents Abraham Lincoln and Andrew Johnson, and was known for running a successful Union war effort and for his strong, unbending attitude toward Southern sympathizers. The chair will go on view in the Castle Building's Schermer Hall in April 2011.
by Jeff Campagna
A Slave's Diary, Anacostia Community Museum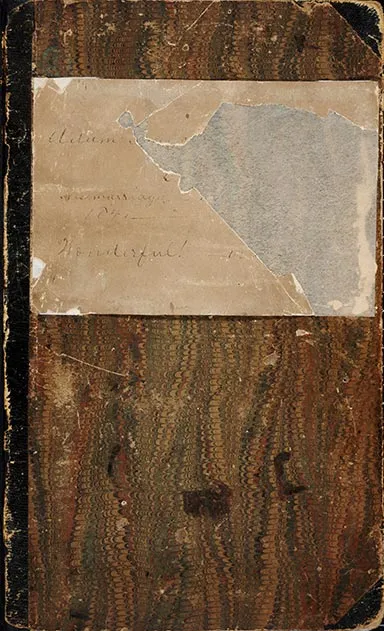 Adam Francis Plummer was born into slavery in 1819 in Prince George's County in Maryland, and lived as a slave on the Goodwood Plantation and the Riversdale Plantation, both owned by George Calvert. He began keeping this diary in 1841 after his marriage to Emily Saunders Arnold and continued until his death in 1905. His daughter, Nellie Arnold Plummer, began writing her family's history in the same journal after his death. The diary spans the better course of his life, from enslavement on the Riversdale Plantation until his death as a freedman.
The journal gives a vivid glimpse into the everyday life of the Plummer family. "It is a rare first-person account by an enslaved African-American telling you in his own voice about himself and his life, as opposed to the typical retelling provided by historians or scholars interpreting slavery and its aftermath," says senior curator Portia James. The diary also contains dates of events, such as births and deaths, and inventories of possessions and the prices Plummer paid for them. Information contained in these lists and inventories, says James, helps us understand the conditions under which the family lived and gives us insight into the things they valued.
Madeline André