China Rising
Rediscover five articles published between May 2002 and May 2006 that reveal another side of the emerging superpower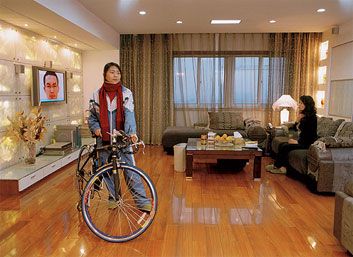 When we think of China, we tend to think of—what? The Great Wall? A roaring economy that threatens to overtake the U.S.'s? Tiananmen Square's pro-democracy demonstrations? Mao's legacy? Ping-Pong? Nixon's visit? The Forbidden City?
Wait, Ping-Pong?
As it happens, one of the stories that Smithsonian has published about China in the last several years is indeed about United States—matches that took crucial first steps toward improved diplomatic relations between the two wary superpowers.
That's the kind of story we like to do at Smithsonian: Gain a better understanding of the present by placing the past in a fresh context.
China means so many different things to our readers that we include here a few more surprises from among the pieces we've recently published, including a vivid up-to-the-minute picture of China's economic boom, a visit to a legendary martial arts academy and pictures of a China you never see—pictures taken by rural Chinese peasants themselves.
How's that for perspective on one of the great subjects of our time?