Charles Conlon: The Unheralded Baseball Photographer
Stalwarts of early 20th-century sports pages, Conlon's photos of the national pastime have their second chance at the plate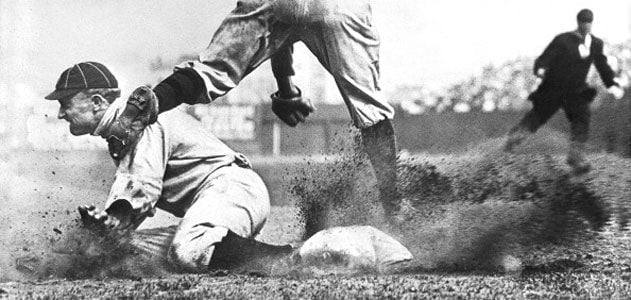 In 1839, around the time that Louis Daguerre announced that he had perfected the photographic process that would bear his name, the game of "base ball" was spreading up and down the Eastern Seaboard of the United States. By the turn of the 20th century, with the advent of the hand-held camera and the proliferation of newspapers and magazines featuring black-and-white photography, the sport was becoming the national pastime.
Born in 1868, Charles M. Conlon was a proofreader at the New York Telegram when he began shooting pictures as a hobby. He started to frequent baseball stadiums in the first decade of the 1900s at the prompting of an editor. Using a Graflex camera, he soon filled the pages of the Telegram, as well as prestigious baseball publications including the Sporting News and the Spalding Guide, with evocative, intimate portraits. By the time he snapped his last picture, in the early 1940s, Conlon had become one of baseball's foremost documentarians.
Photography evolved radically and rapidly after Conlon's death in 1945. Camera, film and lens technology advanced, and color pictures became ubiquitous in glossy publications such as Sports Illustrated. The glass plates of Conlon and baseball's other pioneering lensmen (including Louis Van Oeyen, Carl Horner and George Grantham Bain) were relegated to newspaper morgues.
But Conlon's work was rediscovered in 1990. The Sporting News, which had acquired the surviving glass negatives shot by Conlon, hired photo conservator Constance McCabe to print pictures from them. She told her brother Neal about them, and the Los Angeles-based baseball researcher found himself "blown away," by both Conlon's artistry and his anonymity.
In 1993, the brother-sister duo published Baseball's Golden Age: The Photographs of Charles M. Conlon (Harry Abrams). The book was a revelation, a time machine to the era of wooden ballparks, day games and legal spitballs. Golden Age was the visual equivalent of Lawrence Ritter's Glory of Their Times, the groundbreaking oral history of professional baseball's early days.
Roger Angell, the New Yorker's longtime staff writer, has called it "the best book of baseball photographs ever published."
Nearly two decades later, Neal and Constance McCabe have teamed on a second volume. The Big Show: Charles M. Conlon's Golden Age Baseball Photographs (Abrams). Published to mark the 125th anniversary of the Sporting News' first issue, it is the rare sequel that may trump the original. The stars—Babe Ruth, Walter Johnson, Bob Feller—are well represented, but there's plenty of space for the likes of Walt Cruise, George McQuinn and Paul Krichell. Their careers were forgettable, but their likenesses, as seen through Conlon's lens, are not.
Learn more about some of Conlon's subjects in our photo essay.
David Davis is the author of Showdown at Shepherd's Bush, an account of the 1908 Olympic marathon in London, due in June 2012 from St. Martin's Press.