Betty Ford's Tabled Resolution
Betty Ford had a what-the-hell moment—and an accomplice in photographer David Hume Kennerly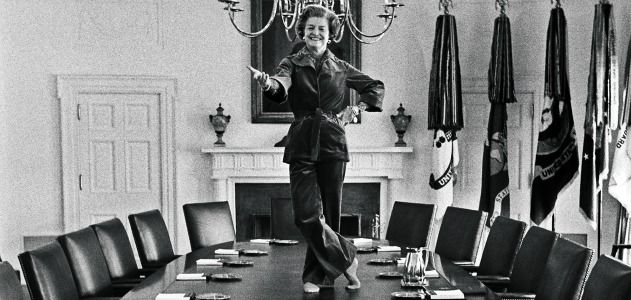 Editor's Note: Betty Ford passed away on July 8, 2011. On her passing, Smithsonian remembers one of the most iconic images of the former first lady, taken by photographer David Hume Kennerly.
On January 19, 1977, the White House was filled with cardboard boxes, moving men and staff gathering for bittersweet goodbyes. People remember the cold. The Washington Post would report that the capital was "glistening with ice" as President Gerald R. Ford went about his last full day in office. He granted a pardon to Iva D'Aquino, a Japanese-American woman convicted of being one of the radio propagandists known collectively as "Tokyo Rose." He telephoned Soviet Communist Party leader Leonid I. Brezhnev to say goodbye. He awarded the Presidential Medal of Freedom to Donald Rumsfeld, his secretary of defense, the youngest in history at age 43. In a photograph taken that day by David Hume Kennerly, you see Rumsfeld flanked by his family. His son, Nick, is wearing sneakers in the Oval Office. It was a different time. The president himself favored plaid pants.
"I walked over to the West Wing to say goodbye to members of the staff who had served President Ford so well," Betty Ford, now 90, recalled in a written remembrance she sent from her home in Rancho Mirage, California, where she and her husband moved after they left Washington. "On the way back to the family quarters I passed by the empty Cabinet Room and thought, 'You know, I've always wanted to dance on the Cabinet Room table.'"
Kennerly was 29 years old, bearded, funny, loyal, profane and talented. He had already won a Pulitzer Prize for work he'd done in Vietnam in 1971 for United Press International and was working for Time magazine when, on the night of Ford's hurried inauguration after President Richard M. Nixon resigned in August 1974, the new president asked him to be the White House photographer. Over the next 895 days of the Ford administration, Kennerly grew close to the president, who died in 2006, and he remains friendly with Betty Ford. When she voiced her idea about dancing on the Cabinet Room table to him, he recalls, "I said, 'Well, nobody's around.'" There was a Secret Service agent discreetly outside the door.
Betty Ford: "So I took off my shoes, hopped up there, and struck a pose."
Kennerly: "She said, 'I just think I'm going to do this.' Then she's on the table. She's a tiny woman, really, in very good shape. Very graceful, as a former dancer with the Martha Graham company. She got up there."
Kennerly snapped a few frames in black-and-white with his small Leica Rangefinder camera. The photographs show the long oval table, the studded leather chairs and what appear to be ...candy dishes? He snorts. "Ashtrays! The president had his pipe. Tip O'Neill with his cigars. Dick Cheney [then White House chief of staff] smoked cigarettes like a chimney. I smoked. Everybody smoked."
Kennerly says he does not know why Betty Ford danced on the table, but he has a guess. "Very few women have had a seat at that table," he says. "I bet you could count them on one hand at that point, and knowing her support for the Equal Rights Amendment"—she endorsed it—"she was tap-dancing in the middle of this male bastion. She was storming the walls of the gray suits and gray-haired eminences."
Betty Ford: "It was a wonderful and whimsical ending to that magical time I spent as the first lady."
Normally, Kennerly would see contact sheets of everything he shot, but not this time. "The next day I was out of a job when Jimmy Carter was inaugurated at noon," he says. So the picture disappeared—for 16 years—into the archives at the Gerald R. Ford Presidential Library in Ann Arbor, Michigan. It was first published in Kennerly's book Photo Op (1995) and republished in his recent Extraordinary Circumstances: The Presidency of Gerald R. Ford.
Kennerly, now 61 and working as a contributing editor for NBC, was initially hesitant to publish it at all. "As we all found out later, the first lady had a drinking problem," he says. "And in the intervening years, she confronted it—very brave—and talked about her alcoholism and wrote her book and started the Betty Ford Center and all that. I did not want people to put a martini glass in her hand and say here she is drunk on the Cabinet Room table. That would just be wrong. Because that is not what happened."
So, in 1994, Kennerly showed the photograph to the former president. "And it's like one of those cartoon moments where his eyes come bulging out, and he goes, 'Oh, Betty isn't going to like this.' Remember, he knows her better than anybody. I'm sunk. But he doesn't say anything when she comes in, and she looks at the picture and she starts laughing. She says, 'Oh, I forgot all about this. That is so great.' And I ask her, you won't mind? And Mrs. Ford says, 'No! It's a terrific picture.'
"Then President Ford says, 'Well, Betty, you never told me you did that.' And she smiles at him and says, 'There's a lot of things I haven't told you, Jerry.' "
William Booth, a reporter for the Washington Post, covers arts and culture from Los Angeles.