Believe It or Not, Rip Was Almost as Odd as His Items
Incredible! Incomparable! Robert L. Ripley, who won fame and fortune by celebrating the outlandish, was himself a prime example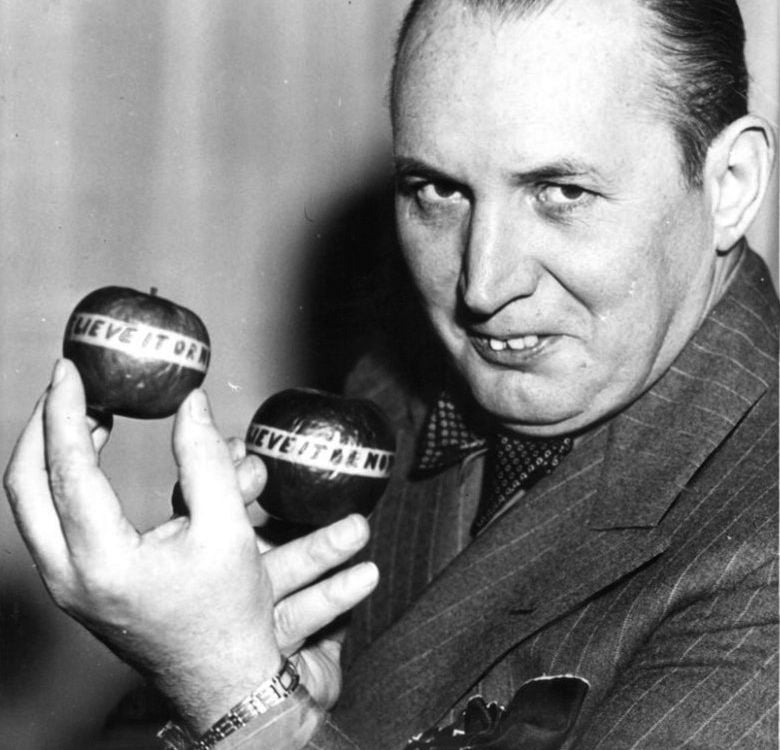 A cartoonist, showman, impressario of the outlandish and merchant of the strange, Ripley's whole life was a kind of extended childhood. Everything intrigued him: he wanted to go everywhere and see everything.
In 1918, as a sports cartoonist for the New York Globe, he began the cartoon Believe It or Not! Barren of ideas for the cartoon one day, Ripley strung together a collage of sports oddities. He soon broadened the focus to embrace oddities in every imaginable category--human, animal, historical, scientific, whatever. It was Ripley who told us about the two Ukrainians who slapped each other's faces for 36 hours straight, and the man whose name was Ab C. Defghi.
In the mid-1920s he went around the world on one trip and around South America on another, sending back illustrated daily articles on the peculiar phenomena he was forever encountering. For his radio show, he accompanied a snake handler into a rattlesnake pit and interviewed a parachutist as they both made a two-mile free fall.
Though rarely introspective, Ripley once wrote to a friend: "my work is never done, and peace of mind I never have. Never become too ambitious or you will suffer always." But if Ripley suffered for his ambition, he also enjoyed his life, and his legacy was a limitless fascination with the world in all its numerous diversity.