Aung San Suu Kyi, Burma's Revolutionary Leader
The Nobel Peace Prize winner talks about the secret weapon in her decades of struggle—the power of Buddhism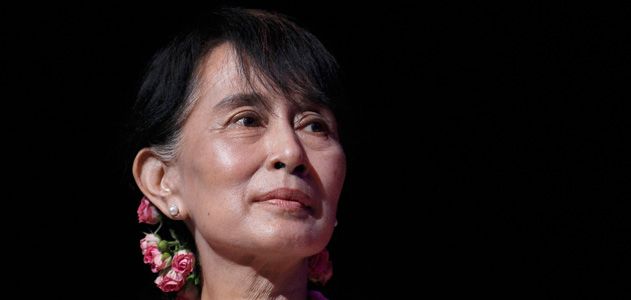 On a steamy evening at the beginning of the rainy season, a crowd of 10,000 packs the street outside the National League for Democracy headquarters in downtown Yangon. Volunteers pass out bottled water in the oppressive heat, while a Burmese vaudeville team performs folk dances on a red carpet. This headquarters, a crucible of opposition to Myanmar's military junta until it was forced to shut down nearly a decade ago, is about to reopen in a lavish ceremony. At 6 p.m., a white sport utility vehicle pulls up, and Aung San Suu Kyi emerges to a jubilant roar. "Amay Suu"—Mother Suu—chant thousands in the throng. Radiant in an indigo dress, white roses in her hair, The Lady pushes through supporters and cuts a ribbon with a pair of golden scissors.
I've wangled an invitation to the VIP section, next to the building's entrance. I'm soaked in sweat, overcome with thirst, and my lower back is throbbing from waiting on my feet for The Lady for nearly two hours. Suddenly, in the midst of the crush, she is standing before me, exuding not only rock-star magnetism, but also an indefinable serenity. Even in the press and tumult of the crowd, it's as if the scene stands still. Standing ramrod straight, reaching out over admirers and bodyguards to clasp my hand, she speaks to me in a soft, clear voice. She wants, she says, to give thanks for support from the international community. She has a trip to Thailand planned in a few days—her first out of the country since 1988—and her schedule is even more jammed than usual. I ask her whether, as I've heard, she is meditating for an hour every morning, following the Buddhist practice that kept her calm during nearly two decades of house arrest. "Not mornings," she corrects me. "But yes, I'm meditating every day." Then her security team nudges her away and she mounts the steep staircase leading to the third-floor headquarters.
She and I had first met, only 16 months before, in more tranquil circumstances, before the international frenzy surrounding her escalated exponentially. The setting was the temporary NLD headquarters a few blocks from here, a dilapidated, garage-like structure watched round-the-clock by security agents. In a sparsely furnished lounge on the second floor, she had told me that she took up vipassana, or insight meditation, at Oxford University, where she studied philosophy and politics during the 1960s. The 2,500-year-old technique of self-observation is intended to focus the mind on physical sensation and to liberate the practitioner from impatience, anger and discontent.
Aung San Suu Kyi found meditation difficult at first, she acknowledged. It wasn't until her first period of house arrest, between 1989 and 1995, she said, that "I gained control of my thoughts" and became an avid practitioner. Meditation helped confer the clarity to make key decisions. "It heightens your awareness," she told me. "If you're aware of what you are doing, you become aware of the pros and cons of each act. That helps you to control not just what you do, but what you think and what you say."
As she evolves from prisoner of conscience into legislator, Buddhist beliefs and practices continue to sustain her. "If you see her diet, you realize that she takes very good care of herself, but in fact it is her mind that keeps her healthy," I'm told by Tin Myo Win, Aung San Suu Kyi's personal physician. Indeed, a growing number of neuroscientists believe that regular meditation actually changes the way the brain is wired—shifting brain activity from the stress-prone right frontal cortex to the calmer left frontal cortex. "Only meditation can help her withstand all this physical and mental pressure," says Tin Myo Win.
It is impossible to understand Aung San Suu Kyi, or Myanmar, without understanding Buddhism. Yet this underlying story has often been eclipsed as the world has focused instead on military brutality, economic sanctions and, in recent months, a raft of political reforms transforming the country.
Buddhists constitute 89 percent of Myanmar's population, and—along with the ruthless military dictatorship that misruled the country for decades—Buddhism is the most defining aspect of Burmese life.
The golden spires and stupas of Buddhist temples soar above jungle, plains and urbanscapes. Red-robed monks—there are nearly 400,000 of them in Myanmar—are the most revered members of society. Pursuing lives of purity, austerity and self-discipline, they collect alms daily, forging a sacred religious bond with those who dispense charity. Nearly every Burmese adolescent boy dons robes and lives in a monastery for periods of between a few weeks and several years, practicing vipassana. As adults, Burmese return to the monastery to reconnect with Buddhist values and escape from daily pressures. And Buddhism has shaped the politics of Myanmar for generations.
Based on the teachings of Siddhartha Gautama, the Indian prince who renounced worldly pursuits and attained enlightenment beneath a banyan tree around 500 B.C., Buddhism probably took root here more than 2,000 years ago. Its belief system holds that satisfactions are transitory, life is filled with suffering, and the only way to escape the eternal cycle of birth and rebirth—determined by karma, or actions—is to follow what is known as the Noble Eightfold Path, with an emphasis on rightful intention, effort, mindfulness and concentration. Buddhism stresses reverence for the Buddha, his teachings (Dhamma) and the monks (Sangha)—and esteems selflessness and good works, or "making merit." At the heart of it is vipassana meditation, introduced by the Buddha himself. Behind vipassana lies the concept that all human beings are sleepwalking through life, their days passing by them in a blur. Only by slowing down, and concentrating on sensory stimuli alone, can one grasp how the mind works and reach a state of total awareness.
During the colonial era, monks, inspired by the Buddha's call for good governance, led resistance to British rule. The British scorned them as "political agitators in...robes" and hanged several leaders. The country's liberation hero, Aung San—father of Aung San Suu Kyi—grew up in a devout Buddhist household and attended a monastic school where monks inculcated the Buddhist values of "duty and diligence." In 1946, not long before his assassination by political rivals in Yangon, Aung San delivered a fiery pro-independence speech on the steps of Shwedagon Pagoda, a 2,500-year-old, gold-leaf-covered temple revered for a reliquary believed to contain strands of the Buddha's hair. On those same steps, during the bloody crackdown on the pro-democracy movement in 1988, Aung San Suu Kyi was catapulted to the opposition leadership by giving a passionate speech embracing the Buddhist principle of nonviolent protest.
Myanmar's generals, facing a democratic revolt, attempted to establish legitimacy by embracing Buddhism. Junta members gave lavishly to monks, funded monasteries and spent tens of millions of dollars restoring some of Myanmar's Buddhist temples. In 1999, the generals regilded the spire of Shwedagon with 53 tons of gold and 4,341 diamonds. An earthquake shook Yangon during the reconstruction, which senior monks interpreted as a sign of divine displeasure with the regime.
The military lost all credibility during the Saffron Revolution in 2007, when troops shot dead protesting monks, defrocked and imprisoned others, and shut down dozens of monasteries. Monks appeared on the streets with begging bowls turned upside down—a symbol that they would refuse alms from soldiers. This seldom-invoked punishment was tantamount to excommunication.
Thein Sein, Myanmar's new reformist president, has tried to repair the relationship. One of his first conciliatory acts was to reopen monasteries shut down by the junta. Among nearly 1,000 political prisoners he freed in January and February 2012, many were jailed monks who had participated in the Saffron Revolution. Senior monks say, however, that the damage will take decades to undo. "Daw [an honorific similar to 'Madam'] Suu is released, which is good, and the government is clean, but still relations are not good," I was told by Su Rya, the 37-year-old abbot of the Kyeemyindine monastery in Yangon, which played a leading role in the 2007 protests. "Even five years later, we still remember what happened," he said.
Aung San Suu Kyi has invoked Buddhism repeatedly in her calls for peaceful protest and passive resistance to military rule. But like all religions, Buddhism is not free from violence. In June, the worst ethnic and religious clashes in decades erupted in coastal Rakhine State between Buddhists and stateless Muslims—whom the government has classified as illegal immigrants from Bangladesh, although many have lived in Myanmar for generations. Triggered by the rape and murder of a Buddhist girl and the lynching of Muslims in revenge, the violence—in which dozens died and thousands have fled—reflects the loosening of dictatorial controls in democratizing Myanmar, and a new freedom to organize along ethnic and religious lines.
When I met Aung San Suu Kyi after her release from house arrest, she spoke at length about the role that Buddhism had played during her confinement. It had given her perspective and patience, she said, an ability to take the long view. This was especially important during the last seven years of her imprisonment, when her principal nemesis was Gen. Than Shwe, an erratic, superstitious leader who harbored a deep antipathy toward her, and even reportedly used black magic rituals against her. "I don't want to portray [Than Shwe] as a brutal, mindless personality, because I don't know him well enough," she told me back then, carefully. Than Shwe's resistance to reform, and harsh suppression of the pro-democracy movement, often tested her Buddhist equanimity. "I felt...intense irritation and impatience," she told me. "I listened to the radio every day for many hours, so I knew what was going on in Burma, the economic problems, the poverty, so many things that needed to be rectified...I thought, 'Why are we wasting our time?'" Then she would turn to vipassana, and "24 hours later . . . those feelings would subside."
Than Shwe, who ruled the country with an iron first from 1992 to 2011, was not known to meditate. But he visited Buddhist temples often and lavished money on them, following the advice of soothsayers, who assured him that such "merits" would bolster his power. Like many of his predecessors, Than Shwe fused his Buddhism with belief in nats, or spirits, and yadaya, magic rituals performed to ward off misfortune. Such superstitions are thought to derive from an ancient form of the religion that long predated the Theravada tradition of Buddhism, introduced by Burma's King Anawrahta in the 11th century.
Than Shwe was a frequent visitor to Bagan, the ancient capital sprawled across an arid plain on the east bank of the Irrawaddy River, about 400 miles north of Yangon. Burma's King Anawrahta and his heirs constructed thousands of Buddhist temples and shrines here between the 11th and 13th centuries—a golden age that ended in 1287 when Kublai Khan's Mongol warriors conquered the city.
On a hot morning, I mount steps to the plaza of Sinmyarshin Temple, an ornate 13th-century structure with a stupa sheathed in gold leaf. Than Shwe visited the temple frequently and paid to regild it in 1997. "Than Shwe's soothsayer advised him to adopt Sinmyarshin after consulting his astrological chart," my guide tells me. Inside, Than Shwe restored 800-year-old frescoes depicting the Buddha's life.
In May 2009, Than Shwe's wife, Kyiang Kyiang, attended a rededication of 2,300-year-old Danok Pagoda outside Yangon and placed a jewel-encrusted hti, or sacred umbrella, atop the spire. Three weeks later, the temple collapsed, killing about 20 workers who were rehabilitating it. "It is a sign that [Than Shwe] has done so many evil things that he no longer has the ability to make merit," said U.S. anthropologist Ingrid Jordt at the time. Many Burmese believe that Than Shwe was so shaken by Danok's collapse that, soon after, he released Aung San Suu Kyi and decided to step down—as a means of escaping his karmic destiny.
During the darkest days of the dictatorship, after the arrests of most secular political leaders in the 1990s, it was the monks who led resistance to the junta. These "sons of Buddha" could organize discreetly inside their monasteries and spread pro-democracy, anti-regime sentiments to the people. Perhaps the most charismatic was Ashin Gambira, now 33, a leader of the Saffron Revolution. After the junta crushed the uprising, Gambira's monastery in Yangon was shut down and the monk was arrested and sentenced to 63 years in prison. He withstood four years of torture and beatings and was freed on January 13. Gambira promptly resumed his harsh critiques of the government. He then broke into three monasteries that had been sealed by the army in 2007 and also traveled to Kachin State in northern Myanmar to draw attention to human-rights abuses allegedly being carried out by the army in a war against ethnic separatists that resumed last year after a 17-year cease-fire. Both times he was released after a night in jail.
The physical and mental strain of prison life, along with continued harassment, took a heavy toll on Gambira. In March he reportedly suffered a nervous breakdown. The monk left the monastery, returned to layman status and moved in with his mother near Mandalay. "He does not want to speak to anybody," she told me when I called. "He is not in good mental condition." Gambira's plight, supporters say, is a reminder of the tenuous nature of the government's liberalization.
I visited Gambira's former monastery, newly reopened, tucked away in a leafy section of Yangon. The golden spires of an adjacent temple poked above a dense grove of coconut palms and banana trees. Sitting cross-legged on the veranda of his dormitory, the abbot, also a former political prisoner, told me that the monastery is still trying to recover after the devastation inflicted by the military. At the time it was forcibly shut in 2007, "there were 18 monks, a dozen HIV patients and three orphans living here. Most have disappeared." I asked if he was grateful to Thein Sein for the reopening. "I do not need to thank this military government for returning what belongs to us," he told me. He was bitter about the treatment of Gambira, whom he considered a protégé. "Gambira was moved to many prisons and tortured. He has not been right since."
Gambira is not the only monk who has run into trouble in the new Myanmar. I traveled a dirt road through rice paddies two hours outside Yangon to meet with Ashin Pyinna Thiha, 62, a prominent Buddhist scholar and political activist. A spiritual adviser to Aung San Suu Kyi and critic of the junta, Pyinna Thiha tried to instill a spirit of political activism in thousands of young acolytes at his Yangon monastery. He met with Secretary of State Hillary Clinton when she visited Myanmar early last December, and honored Aung San Suu Kyi with a Nobel Prize ceremony at his monastery in January. Late last December, the Supreme Council of Burmese monks—47 abbots approved by the regime—banished Pyinna Thiha from his monastery and ordered him into domestic exile.
He now resides with 15 monks in a rural compound donated by a supporter. "We are out of touch here," said the moon-faced, pudgy monk, as we gazed out on fallow fields from a thatched-roof structure, its bamboo walls decorated with photographs of Pyinna Thiha with The Lady. "Things are changing in Myanmar," he said. "But one thing has not changed, and that is religion."
Monks are the biggest potential organizing force in Burmese society, he explained; the government remains fearful of them. The council, he says, serves as "a puppet" of the regime, its members corrupted by privileges. "They get houses, cars," he told me. "This is not Buddhism. This is luxury."
Back at the reopened NLD headquarters in Yangon, Aung San Suu Kyi is reminding supporters that the struggle is far from over. Standing on the third-floor balcony of the tenement, festooned with yellow, white and red NLD banners, she tells them that the Yangon police have been bullying street vendors and urges "mutual respect" between the authorities and the people. Then she turns her attention to the crisis of the moment: crippling electricity cuts across Myanmar, the result of rotting infrastructure and the selling of most of the country's hydroelectric power and gas to China and Thailand. As if on cue, the downtown lights go out. Enveloped in darkness, the opposition leader, again invoking the Buddhist spirit of nonviolent protest, urges the crowd to "light a candle." The street is soon transformed into a sea of tiny, flickering flames.
Watching The Lady from the VIP section is a rising member of her inner circle, Kyaw Min Yu, 43, a founder of the 88 Generation, an organization that includes many former political prisoners. Sentenced to life in 1990 for his role as a student organizer in the 1988 uprising, he was freed in February after nearly 22 years, as part of the general amnesty. A wiry man with chiseled good looks and capable English, Kyaw Min Yu believes that his embrace of Buddhist practice saved his life in prison. Initially he was "full of rage" at his captors, he tells me after the rally; he was tortured and placed in solitary. Then, Kyaw Min Yuu found himself in the same cell as a monk, who began to teach him vipassana meditation.
Soon he was meditating for an hour each morning and evening. Other prisoners began to follow his example. "I diminished my anger and hatred, so I could see the guards as poor, illiterate men, with small brains, who understood only two things—following orders and making threats," he said. He ended outbursts toward his guards. The beatings gradually ended, and guards who once brutalized him began to smuggle radios, food, novels and an English-language dictionary to him and to his fellow inmates. "These things helped us survive," he told me. Even in the darkest corners of the regime's gulag, Buddhism served as a source of light.