At an Army Base in Kansas, There's a Secret Collection of Incredible Finds
Are these priceless artifacts or worthless trinkets? No one knows for sure, but a local art gallery is pitching in to find out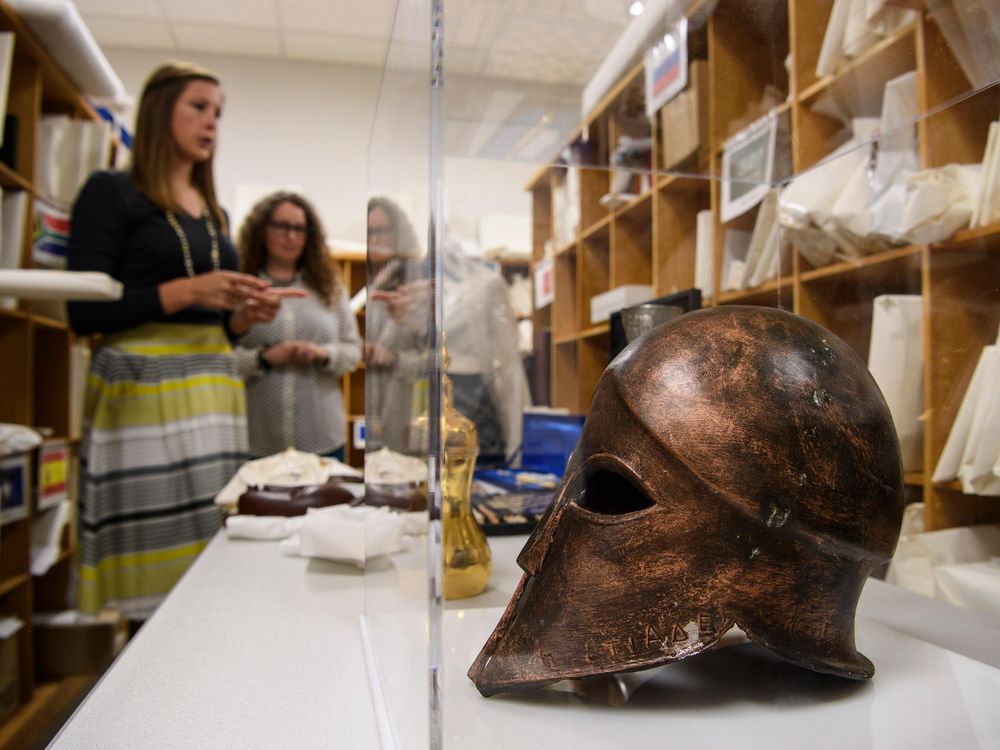 Located on the outskirts of Kansas City and home to 2,500 soldiers, Fort Leavenworth houses a 4,000-piece art collection, and almost no one knows it exists. The United States Army never meant to hide the collection, but also never meant to amass it.
Now, thanks to a local art gallery owner, portions of the collection have been on public display and the collection has a name: "Art of War, Gifts of Peace."
In 1894, Fort Leavenworth's Command and General Staff College (CGSC) — originally intended to educate domestic officers on the science and art of war — opened its doors to foreign officers. Since then, more than 8,000 have graduated from its Command and General Staff Officer course, including three sitting heads of state: King Hamad bin Isa Al Khalifa of Bahrain, Prime Minister Lee Hsien Loong of Singapore, and President Paul Kagame of Rwanda.
Domestic alumni include President Dwight Eisenhower, General George C. Marshall, General George Patton, and General Colin Powell.
This year, 119 students from 91 nations will spend almost a year in the accredited master's-level courses to earn a Master of Military Art and Science. They also have the option of earning one of 12 other degrees by taking additional courses at a nearby university. Officers in foreign armies with the rank equivalent of a U.S. Army major are eligible to apply within their respective countries; the U.S. State Department and Department of Defense choose which nations may send students.
"As you look through the years, the countries that participated trace the arc of our national security strategy," says Jeff LaMoe, Chief of Staff of the CGSC. "When I came through, we didn't have any Vietnamese officers, we didn't have any European Eastern Bloc officers. We've had graduates from Iran, but right now we're not terribly friendly with Iran."
The origins of the gift-giving tradition are uncertain. The oldest known gift is a portrait of Robert E. Lee gifted by the Daughters of the American Confederacy, but the first catalogued gift was a plaque given by Poland in 1943.
Over the years, several, if not most of the esteemed officers presented something to the college upon graduating — but most of the items disappeared into storage. A select few adorned private offices and hallways, until they became part of the furniture, common objects no one gave much thought to.
Intricately carved ivory sailboats, gold-plated swords, and hand-worked pewter vases silently joined jewelry, bronze statues, and detailed ebony masks in the storage room. Regardless of the material or value, LaMoe says his obligation as a government employee is to accept the gifts and ensure that they are catalogued and stored properly. Nothing more.
So, the gift collection has grown in the darkness of the storage room for decades.
"Think of where they stored the Ark of the Covenant in the Indiana Jones movie," LaMoe says, himself a retired Army colonel. "An extraordinary, valuable piece, and here it is hidden away in a government warehouse."
He adds, "The taxpayers have folded up Army bands… The last thing they're going to fund is an art curator for the Command and General Staff College."
But the CGSC does have a non-profit foundation, funded by grants and private donations, that handles what the Army does not. The foundation hadn't considered involving itself in the gifted objects, but now, thanks to the staff of a local art gallery, has taken an interest in finding out what's in their collection.  
In 2015, a member of the foundation's board invited Todd Weiner, owner of an eponymous gallery in Kansas City to view the collection. Weiner asked two of his staff, Meghan Dohogne and Poppy Di Candeloro, to accompany him—their experience in archival research and collections management made them ideal candidates to take on the gargantuan task facing them.
"We were blown away by what we saw. They had amazing gifts of all different media from across the earth," Weiner recalls.
Their initial thought was that the Army didn't know what it had — it was classifying three-story tall stained glass windows as "durable goods."
But LaMoe says the Army knows exactly what it has and is eager to share.
"It's not our stuff. It belongs to the Army and the Army belongs to the taxpayers," LaMoe explains. "And the taxpayers ought to be able to see it and appreciate it and know what it is and where it came from."
However, the challenges of identifying all the items and their provenance are still in the early stages of being addressed; each object presents multiple questions about how the giver selected the item, and where he or she acquired it.
After the initial meeting, Weiner made a proposal—he wanted to create a better catalogue system and make the gifts available for public viewing. He recalls being nearly laughed out of the building. Undeterred, Weiner and his team then spent three months learning about the collection and building a case to support greater care of the gifts.
"As an American who didn't serve and grew up during the Gulf conflicts and watched all this, I've always asked myself, what can I do to give back to my country," says Weiner. "When this revealed itself, this huge endeavor, it felt natural, it felt right, and it felt on time."
At the end of the three months, Weiner presented his plan more formally and got the team officially in the door. For the past year-and-a-half they've volunteered their time to the collection, with the Weiner Gallery bearing the fiscal responsibility until — they hope — private donations start coming in. 
As they learn more about each of the pieces, which includes talking with recent graduates about their gifts, Weiner's staff will load their findings into a publicly searchable database.
Major Jose Aguirre of Spain's airborne brigade is a second-year student in the college's School of Advanced Military Studies He says he gave a gift at graduation in the same spirit he would give wine to the host of a dinner party and chose a ten-inch-tall replica of the brigade's emblematic Almogávar statue that honors Spanish soldiers from the 13th and 14th century. To date, this gift is on display in a hallway of the main CGSC building.
On a short break from class, Aguirre explains the importance of the Almogávar to Spanish paratroopers. "It's like our warrior ethos," he says. "We're inspired in the way of fighting, in the will to fight. They used to go to combat saying Wake up iron! They hit their weapons against their shields in order to make the weapons wake up."
Though he selected the gift, Aguirre says it's meant to be from all recent Spanish students. Decorum and diplomacy are ingrained in the very ethos of the school, so discussion of who paid for a gift would be inelegant, says Aguirre. This in turn puts any registrar of the school's collection at a disadvantage, one not faced at an accredited institution like the nearby Nelson-Atkins Museum of Art. Even though such information would add to the object's story as far as the Weiner Gallery team is concerned, not every piece of information can be gleaned--even directly from the source.
Each class also commissions an oil painting — half of the 70 oil paintings entered the collection this way. The college's international hall of fame inductees give gifts, too. And sometimes, American civilians commemorate special occasions by giving a memento of some sort.
LaMoe thinks the college has done reasonably well handling its glut of treasures, but acknowledges the need for improvement.
The college's gift storage facility measures just over 1600 square feet and is at capacity. Organized alphabetically by country of origin, wood shelving splits out into about 250 cubbies, where each gift is wrapped in paper. At the top of most shelves is a strip of white copy paper with a country name and its respective flag taped to the wood.
Di Candeloro explains that she and Dohogne wrapped and numbered each item shortly after they were granted access, but they know it's still falling short of best practices. Redesigning the storage facility is on the list of activities that will require funding beyond what the Weiner Gallery can afford.
A few hundred unlabeled dust-covered items are on display in the hallways' glass cases, a seemingly arbitrary assortment of plaques, sailboats and weaponry. Weiner says that his team will thoughtfully curate and label new exhibitions throughout the school this month.
A quick look at the "I" section of the storage room shows that Israel has given 24 gifts; Italy has given 57. And though many of the paper wrappings are tagged to correspond with a number in the Army's existing database, the gifts are difficult to locate on demand, one of the shortcomings Weiner's team will remedy.
Dohogne says that she and her colleague have been working to educate the collection's handlers about safe archiving practices. "We found a letter that was in a wood box. Wood will degrade paper quickly, so taking it out, putting it in a Mylar slip, those sorts of things," Dohogne says of their progress.
She's standing by a table with gifts from each continent that she and Di Candeloro have just pulled from the shelves. The two have worked on about 100 items so far, but don't know too much about these seven.
Dohogne picks up a nine-inch long wooden paddle elaborately engraved with what appears to be a face. Information in the register reads: "Weapon of dark wood, intricately carved, with mother of pearl inlays and name plate on handle, 1961, given by MAJ Cecil C. Jordan."
With a little research to round out the information, the team learns that the paddle is a Maori weapon and that the officer was from New Zealand. Turns out the paddle isn't a paddle at all, but a short club called a kotiate — a rough translation yields: to cut or divide the liver.
The art historians haven't figured out what type of wood it's carved from, but that's next. Di Candeloro says, "Once we know what the object is, we start researching what materials are used in that region."
Having partially solved the mystery of the paddle, updated the database, and created a gallery didactic — information card—the kotiate will go back into storage until Weiner either secures a public exhibition for it to appear in, or decides to include it in one of the glass cases in the classroom's hallways.
When the CGSC erected a new building in 2007, the Army hired an interior decorator to place the paintings. LaMoe laughs and says that was probably the equivalent of organizing library books by size and color.
Weiner estimates that to fully fund the project will cost about $3 million, half of which will go to the CGSC Foundation's annual budget to support their outreach programs. The rest of the funding will go to appropriately archiving the collection and creating a searchable digital database for public use, as well as a documentary and large picture book—any revenue generated from these would go to the college and the foundation, Weiner says.
To date, the exhibitions have been curated to reflect the space they're hosted in for maximized public engagement. For instance, an upcoming public library exhibition incorporates the idea of research. Dohogne and Di Candeloro have selected gifts with next to no information available about them — they will look to patrons to engage with the objects as investigators.
In the case of a yarn doll wearing a backpack, the team hopes a library patron will recall playing with a similarly styled doll at a grandparent's house and volunteer a lead about its country or period of origin.
As each artifact is unpacked and presented to the American public, members of both Fort Leavenworth and the Weiner Gallery hope that they'll act as a way of connecting the two communities and offer a narrative of decades' strong diplomatic relationships between the United States and the rest of the world.