April Anniversaries
Momentous or Merely Memorable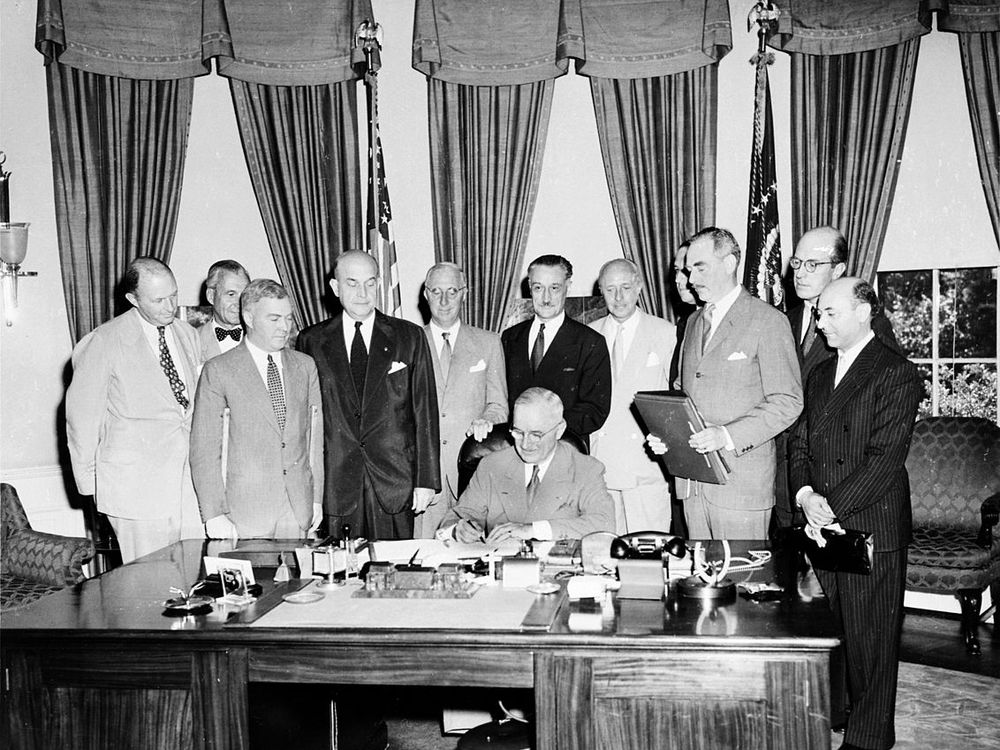 60 Years Ago
All For One
The United States and 11 Western European countries sign the North Atlantic Treaty in Washington, D.C., April 4, 1949, and create the North Atlantic Treaty Organization (NATO). Member nations pledge to consider a military attack on any NATO country an attack on all, and to provide assistance, including armed forces. Originally conceived as a defense against a Soviet invasion, NATO shifts its focus to maintaining stability in Europe after the 1991 breakup of the Warsaw Pact. Not until the September 11, 2001, attacks on the U.S. are NATO members—today numbering 26—called on to defend one of their own.
70 Years Ago
Vintage Steinbeck
John Steinbeck, 37, publishes The Grapes of Wrath, his novel of the Joads, a dispossessed Oklahoma dustbowl family forced into migrant labor, on April 14, 1939. The author, whose series of articles in the San Francisco News about migrant workers inspired the novel, is both hailed as a "sheer storytelling genius" and condemned as a socialist propagandist. The book sells half a million copies that year, and wins a Pulitzer Prize in 1940. Steinbeck wins the Nobel Prize for literature in 1962.
120 Years Ago
Travels With Charlie
Charlie Chaplin is born April 16, 1889, in London. The son of actors, he hits the boards himself at age 5, and debuts on film at 25. Over a 53-year career, he will write, direct or star in more than 80 films, but it is his turns as the hapless Tramp—he's "forever seeking romance, but his feet won't let him," Chaplin says in 1933—that bring him worldwide celebrity.
220 Years Ago
It's Unanimous, By George
George Washington, 57, elected the first president of the United States by a unanimous vote of the electoral college, takes the oath of office at Federal Hall in New York City, April 30, 1789. In his inaugural address—which he reads, appearing "agitated and embarrassed" by one account— he tells Congress to look to the Constitution for their priorities and to consider the public good when altering it, as the "sacred fire of liberty" depends on American democracy. After two terms, he refuses a third and leaves office in 1797.
220 Years Ago
Christian Charity
"We were at length cast adrift in the open ocean," reports Lt. William Bligh of the mutiny he and 18 crew faced aboard the HMS Bounty, April 28, 1789. Sixteen months after the ship leaves England on a venture to transplant breadfruit plants from Tahiti to the West Indies, master's mate Fletcher Christian takes over the Bounty, consigning Bligh and his supporters to a 23-foot launch. Sailing chartless for 47 days, Bligh reaches safety in the Dutch East Indies. While some of the mutineers are eventually caught and hanged, Christian founds a colony on remote Pitcairn Island with some others, only to be killed in a revolt himself c. 1790.