Antique Road Show
Before the Interstates passed the highway by, America got its kicks on Route 66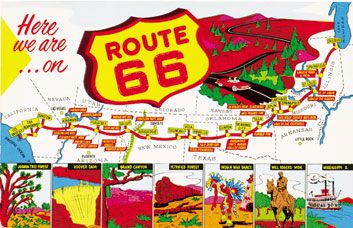 Back when the Model A Ford was America's ticket to ride, it must have seemed that half the nation was heading west on Route 66. In fact, the late songwriter Bobby Troup penned "Get Your Kicks on Route 66" during his own trip west on that legendary highway just after World War II, not only launching a songwriting career but also placing the road in the mythos of America. Those who took to the highway in the 1930s to escape drought in the Midwest and cross the desert to California might have been more inclined, if you'll allow me a complete anachronism, to hum a few bars of the hard-rock classic "Highway to Hell." What it was, more accurately, was a highway from hell, with the hope of a paradise at the western end of a paved rainbow.
In today's age of major four- and six-lane thoroughfares to and from just about everywhere, it's not easy to conceive just how powerfully one stretch of two-lane highway could grip America's collective imagination. This country has historically looked west for a better tomorrow—Daniel Boone and his fellow woodsmen headed for the setting sun as soon as they could see three or four cabins from their homesteads. So when Henry Ford began producing affordable cars, and the Federal Highway Act of 1921 led to the linking of rural roads, a great convergence took place. The Way West, once a rigorous and dangerous passage by covered wagon, was even in the age of the Model T not a trip to be taken lightly. But it became far less daunting when Cyrus Avery of Tulsa, Oklahoma, a state highway official, and businessman John Woodruff of Springfield, Missouri, got the bright notion that there ought to be, in Avery's canny catchphrase, a "Main Street of America." The proposal to merge countless state roads into a true national artery was approved by Congress in 1926; the project was completed six years later.
Though not the first paved highway in the United States, Route 66 is the most storied, and quickly became a metaphor—the fabled two-lane blacktop—for this country's restless, rolling romanticism. (In fact, the road was sometimes dark asphalt, sometimes light-colored concrete.) So if ever a chunk of roadway belonged in a museum, it is the 40-foot-long, 20-foot-wide concrete section of Route 66 that will be displayed as part of the "America on the Move" exhibition at the National Museum of American History (NMAH), which opens November 22. This piece, representing the entire 2,448 miles of a road—now buried under or bypassed by Interstates—that once connected eight states, was taken from a two-mile section near Bridgeport, Oklahoma. According to curator Steven Lubar, he and his colleagues were looking for artifacts of travel when they contacted historians who specialize in the history of Route 66. The NMAH researchers learned that, in Oklahoma, a section of the old highway was about to be replaced by a new interchange and was scheduled to be removed. "It seemed," says Lubar, "the best artifact of all."
Moving the Mona Lisa from the Louvre to a museum in another country may be more nerve-racking than shipping concrete slabs to Washington, D.C., but logistically it might just be a lot easier. Instructors at a truck-driver school in Oklahoma volunteered for the job. The section of highway, originally 50 feet, was cut into 12 pieces and loaded onto flatbed trucks, then rejoined on a steel framework in the Transportation Hall at NMAH. "I tend to worry about things that can go wrong," Lubar admits, "so I was thrilled when the trucks arrived and the road was actually here."
Almost from its official opening, Route 66 fired imaginations. Ernie Pyle, later to become the most famous correspondent of World War II, was hired by the Scripps-Howard newspapers to journey across America and write about his experiences along the way. The assignment turned into an epic. Pyle traveled Route 66 from 1935 until 1940, crossing to Los Angeles and back 20 times, wearing out two cars and five sets of tires. "I have no home," he wrote. "My home is where my extra luggage is, and where my car is stored, and where I happen to be getting mail this time. My home is America."
Route 66 served most famously as an escape route for farm families driven off their land by the Great Depression and its infernal natural ally, the Dust Bowl drought that dragged on through most of the '30s. In The Grapes of Wrath, John Steinbeck placed his desperate refugees on the highway, heading to further hardship in California. In the early '50s, Route 66 took a turn as part of the seemingly endless—some might say interminable—highway in Jack Kerouac's On the Road. The wanderer-behind-the-wheel theme hooked a national audience in 1960, when the hit television series "Route 66"—charting the existential odyssey of characters Tod Stiles and Buz Murdock crossing the United States in a Corvette convertible—began a four-year run.
The legend of the highway had a way of seeping into family lore. I remember vividly my parents returning from a wartime car trip from New Jersey to L.A. via Chicago and back again. My father proudly showed his home movies of their desert crossing (as if he and my mother had pioneered the route themselves) with canvas bags of water draped over side windows to provide a primitive form of air conditioning. With its bare-bones "motor courts"—precursors to motels—restaurants, souvenir shops and trailer parks (filled with gleaming Airstreams), the highway had a culture all its own. Country singers and writers established the idea of a home away from home for what quickly became a nation of drivers. Even today, when fewer and fewer of us have experienced America's Main Street, the ghost of the great road lingers. Cabaret performers sing its glories; a beverage company in Charlottesville, Virginia, markets a root beer called—you guessed it—Root 66.
In 1956, Congress passed legislation to create the Interstate System, a vast, efficient network intended to facilitate strategic transportation during the Cold War and link the nation's cities. By the '70s, Route 66 was history. "Not many people look down as they walk through a museum," says curator Lubar, "so I'm curious to see how visitors respond to finding Route 66 under their feet. I hope they'll be surprised."