Anger and Anarchy on Wall Street
In the early 20th century, resentment at the concentration of wealth took a violent turn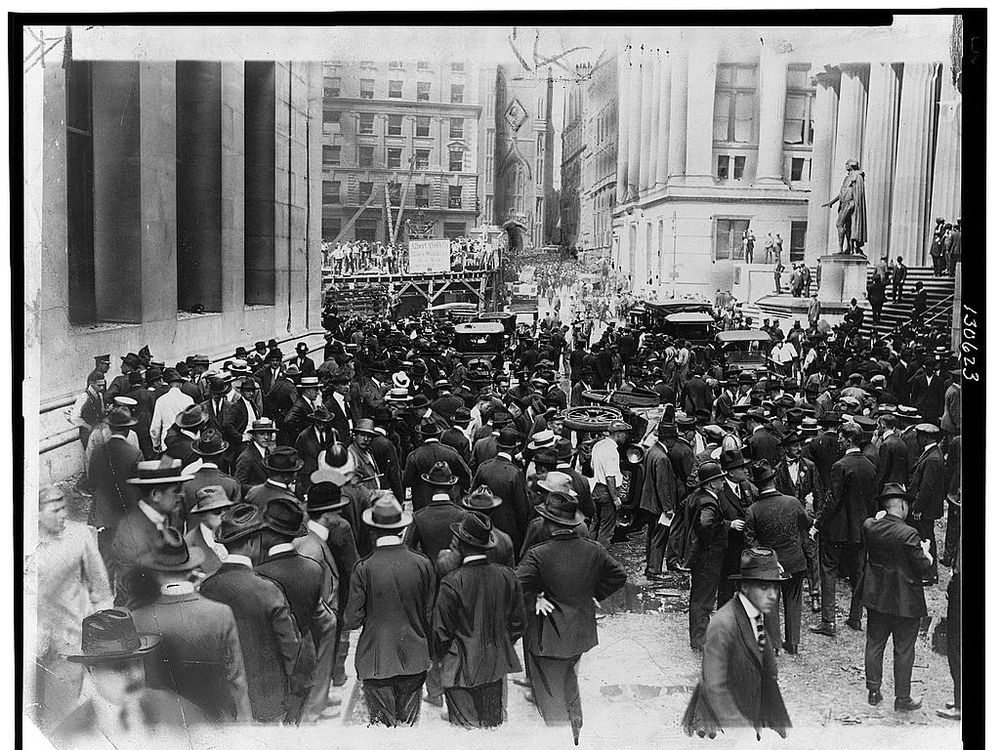 Descriptions of the event on Wall Street might seem eerily familiar. "It was a crush out of a blue sky—an unexpected, death-dealing bolt," one witness observed, "which in a twinkling turned into a shambles the busiest corner of America's financial center and sent scurrying to places of shelter hundreds of wounded, dumb-stricken, white-faced men and women—fleeing from an unknown danger.… Looking down Wall Street later I could see arising from the vicinity of the subtreasury building and the J.P. Morgan and Co. bank, a mushroom-shaped cloud of yellowish, green smoke which mounted to a height of more than 100 feet, the smoke being licked by darting tongues of flame."
Many of the World War I veterans on the scene suspected that the "infernal machine" that wreaked such destruction had come from the skies, but the delivery system consisted of a horse-drawn wagon. On September 16, 1920, an explosion at the corner of Wall and Broad Streets in downtown Manhattan killed 39 people and wounded hundreds more. It would be the deadliest terror attack on American soil until the Oklahoma City bombing 75 years later. Despite its proximity to the attacks on New York on September 11, 2001, the Wall Street bombing of 1920 has more in common with the public sentiment at the Occupy Wall Street protests in lower Manhattan today—with one notable exception. Today's protesters are committed to nonviolence. The anarchists of yesteryear were not. They largely failed in their attacks on capitalism and Wall Street—and their tactics turned public sentiment against their cause.
Before the turn of the 20th century, the emotions directed toward the financial barons of New York were anything but peaceful. The vast concentration wealth among a powerful few at the expense of laborers and their unions resonated with many Americans, leading to terrorism by anarchists, including assassination attempts on some of the country's most famous multimillionaires.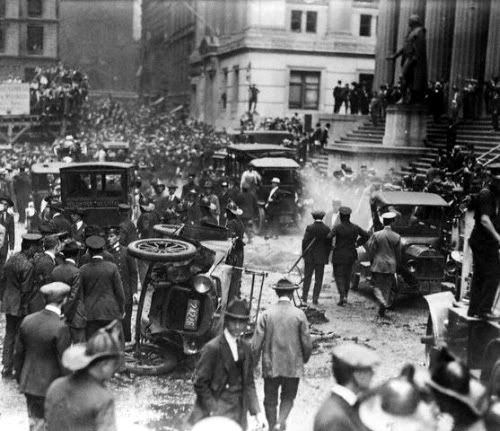 On December 4, 1891, a poorly dressed man named Henry Norcross carried a brown satchel into the reception area at an office at 71 Broadway in lower Manhattan, claiming he had an important matter to discuss with Russell Sage, an extraordinarily wealthy financier and railroad executive. A clerk, William Laidlaw, explained that Mr. Sage was in a meeting and very busy, but Norcross persisted "in a loud tone," according to the New York Times, and Sage finally emerged to see what all the fuss was about.
"I demand a private interview with you," Norcross told him.
Sage explained that such a meeting was impossible at that moment, so Norcross handed him a letter demanding $1.2 million. When Sage ordered him to leave immediately, Norcross dropped his dynamite-filled satchel to the floor. The explosion killed the bomber and injured Laidlaw, another clerk and Sage. Laidlaw, who was disabled for life, sued Sage, alleging that the tycoon had used him as a human shield in the blast. He won nearly $70,000 in civil judgments, but the notoriously stingy Sage fought him in court. Laidlaw never collected a penny.
In July 1892, Henry Frick, Andrew Carnegie's partner in the Carnegie Steel Company, sent hundreds of heavily armed Pinkerton detectives to break a strike at the Homestead Works just south of Pittsburgh. When the Pinkertons tried to remove the striking workers by force, a melee broke out. Men on both sides were killed—both contemporary and historical accounts vary on the number of each, but generally report a total of 10—and dozens on each side were wounded. The Pinkerton forces surrendered, but were brutally beaten by the locals as they were taken to jail for their safety.
Two weeks later, Alexander Berkman, a 22-year-0ld, Lithuania-born anarchist living in New York with Emma Goldman, set out for Pittsburgh to make a statement against capitalism. Armed with a pistol and poisoned steel file, Berkman gained entry to Frick's office, shot the tycoon three times and stabbed him with the file before workers pulled him off and beat him unconscious. Frick recovered; Berkman served 14 years in prison for attempted murder. He was pardoned and released in 1906. The steelworkers union ultimately paid the price: thousands of steelworkers lost their jobs, strike leaders were blacklisted, and those who managed to keep their jobs had their wages cut in half.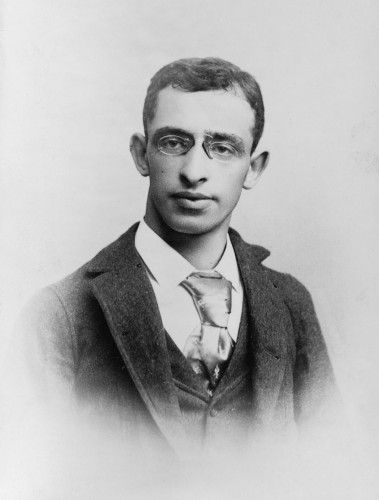 Still on probation, Berkman was back in New York and believed to be one of the plotters in the Industrial Workers of the World's attempt to place dynamite in the Tarrytown, New York home of John D. Rockefeller in 1914. The plot failed: the anarchists had been storing their dynamite on the upper floor of a Lexington Avenue tenement in Harlem, where it exploded prematurely just after 9:00 a.m. that July 4, killing four IWW members. Berkman was never directly implicated in the plot.
Just one year later, Eric Muenter, outraged in his belief that J.P. Morgan was profiteering from World War I by organizing a syndicate of banks that lent money to the Allies, hoped to put an end to World War I single-handedly by preventing Morgan from exporting munitions to Europe. After traveling with explosives to Washington D.C. by train, Muenter planted a time bomb in a reception room in the empty Senate building. After it detonated, causing no casualties but demonstrating the power of explosives, he boarded a train back to New York. Muenter made his way into the Morgan mansion in Glen Cove on Long Island, intent on persuading the banker to cease munitions shipments abroad, and shot Morgan twice before servants subdued him. The banker recovered. Muenter killed himself in prison.
Five years later, on September 16, 1920, a red wagon filled with dynamite and sash weights rolled up to the fortress-like stone structure of 23 Wall Street, where J. P. Morgan & Co., the largest and most powerful financial institution in the world, had its offices. The driver of the wagon was seen to have left it and fled from the scene. Seconds later, a tremendous blast shook lower Manhattan. Windows were shattered for blocks in every direction. Men were knocked off their feet, including a young stockbroker named Joseph P. Kennedy. There was carnage. A woman's head was discovered stuck to the concrete wall of a building, with a hat still on it. The head of the horse was found not far from the blast, but its hooves turned up blocks away in every direction. Morgan himself was on vacation across the Atlantic, but his son Junius was injured, and Morgan's chief clerk, Thomas Joyce, was killed. One survivor noted the statue of George Washington on the steps of the old subtreasury building. "Looking down from its pedestal between the massive granite columns, scarred by missiles from the explosion, the outstretched hands of the Father of His Country seemed to carry a silent command to be calm," he wrote.
The bombing caused more than $2 million in damage. (Pockmarks from the explosion are still visible on the facade of 23 Wall St. today.) No one ever claimed responsibility for it. The following day, New Yorkers returned to work, and the stock market remained open. Thousands gathered at the scene of the blast to sing "America," led by a World War I veteran. Brigadier General William J. Nicholson made a patriotic speech: "Any person who would commit such a crime or connive in its commission should be put to death," he said. "He has no right to live in a civilized community. Such persons should be killed whenever they rear their heads, just as you would kill a snake!"
A band, with fife and drum, played "The Star Spangled Banner." The crowd sang along as the stock market soared—an indication, many were convinced, that anarchy would never stand, and that as America entered the 1920s, the economy was poised to roar.
Sources
Books: Beverly Gage, The Day Wall Street Exploded: The Story of America in its First Age of Terror, Oxford University Press, 2009. Paul Krause, The Battle For Homestead, 1880-1892; Politics, Culture, and Steel, University of Pittsburgh Press, 1992. Howard Zinn, A People's History of the United States: 1492-Present, Harper, 2003. Ron Chernow, The House of Morgan: An American Banking Dynasty and the Rise of Modern Finance, Grove Press, 2010.
Articles: "Red Bomb in N.Y." Chicago Daily Tribune, 9/17/20. "Red Plot Seen in Blast:" New York Times, 9/17/20. "Explosion Recalls Sage Dynamiting;" New York Times, 9/17/20. http://query.nytimes.com/mem/archive-free/pdf?res=F60F15F7355511738DDDAE0994D1405B808EF1D3 "Previous Terror on Wall Street—A Look at the 1920 Bombing," The Street, by Daniel Gross, http://www.thestreet.com/story/10001305/1.html "With a Bomb, A Dynamite Fiend Attempts the Life of Russell Sage," Kentucky New Era, 12/5/1891. "Muenter, Once German Teacher Here, Killed Wife, Shot Morgan, Sabotaged in World War 1" The Harvard Crimson, 2/14/42.