American Idol
Once upon a time, Miss America reigned supreme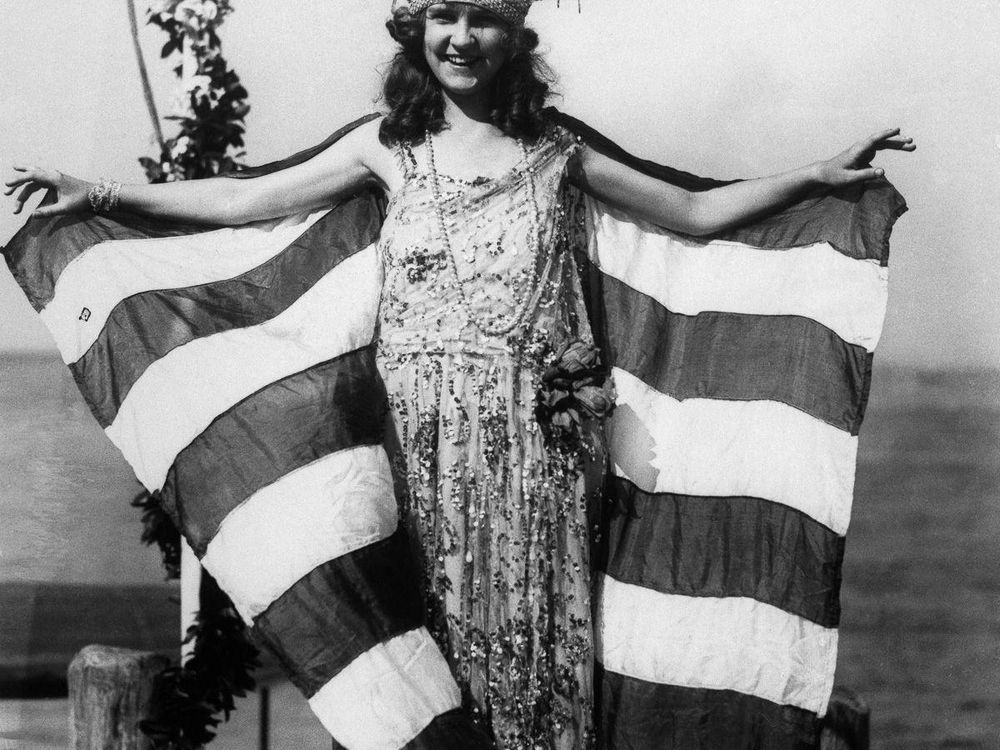 Before "Survivor," "The Apprentice" and "Fear Factor," only two elimination contests mattered to America. One gave us a president, and the other gave us Miss America. At the culmination of the first, the winner stood on the steps of the Capitol while the chief justice of the United States administered the oath of office. At the climax of the second, the winner—inevitably shedding tears of happiness—walked on a raised runway wearing her glittering crown while Bert Parks sang "There she is, Miss America..." And so she was, unequivocally, our reigning beauty, queen of an envious court, each member of whom had risen through a series of local, county and state contests to make it to pulchritude's perilous peak.
But that was decidedly then; this is implacably now. There is an overabundance of "Miss" (and Ms. and Mrs.) contests today, including Miss World, Miss Universe, and even, of late, Miss Fear Factor. There was a time when seeing pretty young women walk, stop and twirl in one-piece bathing suits and high heels was enough to raise the collective pulses of all the men in the audience. But in this age of maximum exposure, when practice may still get you to Carnegie Hall but modesty will not get you on MTV, the swimsuit competition long ago began to seem as staid as a Pillsbury Bake-Off. Sadly, in the back-stabbing era of "Joe Millionaire" and "elimiDATE," even Miss Congeniality seems more like somebody's fool than everybody's pal.
The venerable Miss America contest is up against it when young women in bikinis are ready to eat bugs and grubs for fame and TV ratings. Things have gotten so glum that as of this writing, ABC-TV has dropped covering the Miss America Pageant due to a drastically diminished audience. (Fewer than ten million viewers tuned in last year.) But happily for those still warmed by that old queen-for-a-year magic, the Country Music Channel plans to broadcast the contest—from Las Vegas, not Atlantic City—on January 21. This sideways slippage from network to cable, and from the seaside to the Strip, while not fatal to our national fairy tale, seems ominous. The first television broadcast in 1954 brought winner Lee Meriwether to fame, but after half a century, longtime fans may find Miss America missing in action.
Recognizing the decline, National Museum of American History curator David Shayt thought the Smithsonian should acquire an artifact from this dowager of beauty pageants. "We figured there'd be lots of clothes," says Shayt, "but clothes come with conservation problems, so early on we decided to try for a distinctive, hard artifact."
Shayt headed for New Jersey, where, at the Sheraton Atlantic City on Miss America Way, a collection of gowns, crowns and a bronze statue of Bert Parks remains on permanent display. "They didn't want to offer the kind of thing we were after," Shayt recalls, "so we asked them to send a letter from us to winners we thought might want to donate their crowns." A total of 20 winners responded. "They were willing to lend, but not to donate," Shayt says. Then, 1951's Miss America, Yolande Betbeze Fox, contacted the museum from her home in nearby Georgetown and offered not only her crown but also her scepter and Miss America sash. According to Shayt, the "perfectly delightful" Fox set no conditions for the display of her donations. "She just wanted the museum to have them," he says.
Fox may have been the most unconventional Miss America ever. Born Yolande Betbeze in Mobile, Alabama, in 1930, she comes from Basque ancestry, and her dark, exotic looks were hardly typical of beauty contestants in the '50s. But her magnetism, and a well-trained operatic voice, focused the judges' attention.
Betbeze wore the fabled crown uneasily. In 1969, she recalled to the Washington Post that she had been too much of a nonconformist to do the bidding of the pageant's sponsors. "There was nothing but trouble from the minute that crown touched my head," she said. For one thing, she declined to sign the standard contract that committed winners to a series of promotional appearances. And one of her first acts was to inform the Catalina bathing suit company that she would not appear in a swimsuit in public unless she were going swimming. Spurned, Catalina broke with the Miss America Pageant and started Miss Universe.
When Betbeze's yearlong reign came to an end, she studied philosophy at Manhattan's New School of Social Research. She continued to sing, appearing with the Mobile Opera Guild in The Tales of Hoffmann. In 1954 she married Matthew Fox, a businessman and movie producer, and began mounting plays in an off-Broadway theater she helped found.
Today, Fox, a widow, lives much of the year in a Georgetown house once owned by Jackie Kennedy. Luckily for the Smithsonian, says Shayt, she admits to being a "bit of a pack rat," so, though she eschewed the pomp (and circumstances) of her Miss America victory, she never relinquished her crown, now part of America's cultural heritage.
"The crown has seen better days," says Shayt. "It's been lent to the pageant a few times, and there are some rhinestones missing." But for those of us who remember when Miss America symbolized beauty and the best, even a battered crown still bedazzles.