About Carleton Watkins
On the life and career of the 19th-century American landscape photographer who captured Yosemite in stereo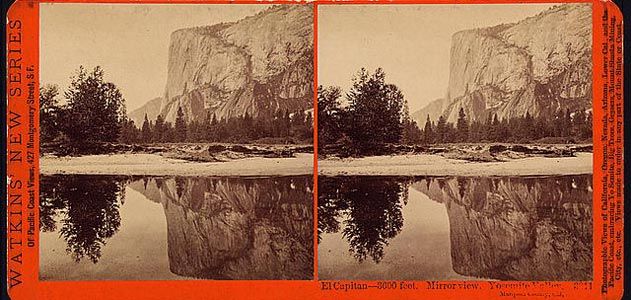 Carleton Watkins' Yosemite pictures brought him worldwide acclaim and were groundbreaking technically and artistically. He was arguably the most artistic American landscape photographer in the 19th century. In 1862, Oliver Wendell Holmes, the pre-eminent photography critic of the day, praised Watkins and wrote that he had achieved "a perfection of art which compares with the finest European work."
In 1868, Watkins was awarded a medal for landscape photography at the Paris International Exposition. In 1873 he received the Medal of Progress award at the Vienna Exposition, and in 1876 he exhibited his pictures at the Centennial Exposition in Philadelphia, and at the Chilean Exposition. He associated with California's intellectual and artistic elite. But Watkins' life was not a completely charmed one. His images were pirated, and his lack of business acumen resulted in bankruptcy. He became ill and disabled and spent the last years of his life in an insane asylum.
Carleton Watkins was born in 1829 and was raised in Oneonta, New York. He became an avid hunter and fisherman and was a member of a local glee club and the Presbyterian Church choir. In later years, his daughter described him as a friendly character, always full of fun and happiness. Having heard about the 1849 California Gold Rush, he caught gold fever and headed west in 1851. In Sacramento he met his childhood friend, future railroad Barron Collis Huntington, and worked with him delivering supplies to gold mines.
Watkins failed to hit it big in gold and a few years later, he was in San Francisco working as a store clerk when the owner of a photo studio noticed his congenial ability to please customers. When the studio's photographer quit suddenly, the owner asked Watkins to pretend to be a photographer--to try to keep portrait customers happy until a real photographer could be hired. But Watkins learned camera techniques quickly, was fascinated by the medium and was soon working as an actual photographer in San Jose and San Francisco.
By 1858 he was experimenting with ways to improve glass-plate negatives and was busy with commissions such as documenting a quicksilver mine for courtroom evidence and photographing the estate of explorer and politician John C. Fremont. Watkins then produced stereographs, as the side-by-side, 3D photographs are called, for the Third San Francisco Mechanics' Institute Industrial Exhibition and for a photographic series on San Francisco Fire Departments. (Stereographs are usually viewed with a stereoscope, a device with a lens for each eye. Two photographs of the same object taken from slightly different points are viewed side-by-side. Our binocular vision combines the two views into one three-dimensional image. The effect is often
startling.)
Being outdoors and doing landscapes soon became Watkins' favorite work, and in July of 1861 he went to Yosemite--with a dozen mules to carry his mammoth plate camera, which uses 18 by 22 inch glass plate negatives; a stereoscopic camera; tripods; glass plates; chemicals; other supplies and a tent for a darkroom. The trails into and through the valley were spectacularly scenic, but also treacherous.
Watkins returned from Yosemite with 30 mammoth plate and 100 stereoscopic negatives. They were quickly revered as images of superb technical and artistic quality. Watkins explained that he was just able to select the spot which "would give the best view." He was also a patient and precise camera and developing process technician. One reviewer admired Watkins' photographs for their "clearness, strength and softness of tone." In part because of Watkins' Yosemite pictures, in 1864 Congress passed and President Lincoln signed legislation preserving Yosemite Valley. The law was an important first step in the creation of the National Park Service in 1916. In 1865, Mount Watkins in Yosemite was named after Carleton Watkins.
During the financial crisis of 1875 Watkins declared bankruptcy and lost his San Francisco studio and his negatives to a creditor. The creditor and another photographer named Isaiah West Taber started marketing Watkins' stereographs with Taber's name on them. Despite this devastating setback, Watkins returned to Yosemite and began to rebuild his inventory.
In the following years, he traveled and photographed widely, north to British Columbia, south to Mexico and east to Yellowstone, Utah and Arizona. By the mid-1890s, however, Watkins' deteriorating eyesight and crippling arthritis limited his ability to work. In 1895 he was unable to pay his rent and moved with his wife and two daughters into an abandoned railroad car for 18 months. By 1897 Watkins was almost completely blind.
The fire following the 1906 San Francisco earthquake burned Watkins' studio, and countless pictures and negatives and most all of his stereo works were lost. Watkins never recovered from the trauma and in 1910 he was committed to Napa State Hospital for the Insane; his wife began to say that she was a widow. Carleton Watkins died in the asylum six years later at age 87. He was buried in an unmarked grave on the hospital grounds.
Viewing the Watkins Yosemite Stereographs in 3D
To view these stereographs in 3D, move a little back from your normal viewing distance and put your index finger in line with the line between the two pictures and about halfway between your eyes and the pictures. Then focus on your finger. If you're lucky, three images will appear and the center one will be in 3D. Don't get discouraged if this doesn't work; few people are able to do it easily.
You can also make a paper 3D viewer, but few people are able to make that work. Another option is to use a Loreo Lite viewer or Plastic Stereo Card Viewer (Lorgnette), available for purchase online at low cost (see related links). While you're perusing viewers, take a look at the new HD 3D TVs. Watkins would be amazed.