A Sumpcious Dinner
William Clark—a better explorer than speller—tells his older brother of the impending transfer of the Louisiana Territory to the United States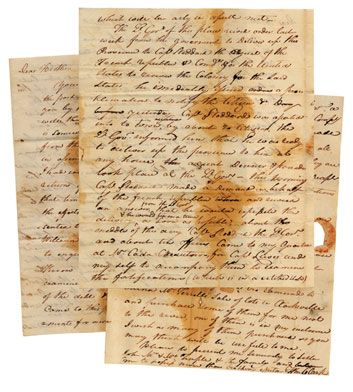 While the expedition was getting organized on the banks of the Mississippi River in February 1804, William Clark wrote to his older brother Jonathan, on whom he had come to rely for guidance and counsel. Twenty years older than William, Jonathan had been a lieutenant colonel in the Revolutionary War and a British prisoner of war from 1780 to 1781. It was only after Jonathan's parole in 1781, when he returned home to sit out the remainder of the war, that the brothers had gotten to know each other well. As the eldest Clark sibling of ten, Jonathan had become something of a father figure to the younger man. Indeed, when William left Indiana in October 1803 with the fledgling Corps of Discovery, Jonathan spent two days with him, traveling by keelboat down the Ohio River.
In this letter, taken from Dear Brother, a collection of William Clark's letters edited by James J. Holmberg, William tells Jonathan about events leading to the transfer of the Louisiana Territory from French and Spanish rule to American rule, which would take place on March 9, 1804, in St. Louis. (An official land transfer ceremony, lasting 21 days, had been held in New Orleans in late 1803.) The Louisiana Purchase, of course, changed the nature of the expedition from a covert search for a Northwest Passage to an open scouting of trading posts and future settlements.
Dear Brother
St. Louis 25th Feby. 1804
Your letter of the first January I rceivede the post before the last and Should have written you by the last but I was at that time So unwell that I could not.... Capt. Lewis & my self Came to this place a Short time ago, to to [sic] make the ncessary arrangments for our rout up the Missoureis, which will be arly in aprill next,
The Lt. Govr. of this place rcived orders last week from his government to Deliver up this Provunce to Capt. Stoddard the Ajunt of the French Republic & Comdt. for the United States to recevee the Coloney for the Said States.... a great Dinner & porrade took place at the Lt. Govrs.—this morning Capt. Stoddard made a Demand in behalf of the french republice and recveed an answer, from the Lt. Govr. that he would expeDete the delivery & he would fix on a time as Soon as possible.... we dined as yesterday with the Lt. Govr. a most Sumpcious Dinner, & a large Compy. a great Deel of formality and parade was displayed_ Capt. S[toddard] has Shewn me all his orders & c. whuch he intends to issue, they are Such as I highly approve of....
Please to present me Sincearly to Sister John Mr. & Ms. Temple & the famely and believ me to possess more than brothery effection Wm Clark