A Soldier's Story
Photojournalist Chris Hondros, recently killed in Libya, discussed his work in war-torn Liberia with Smithsonian in 2006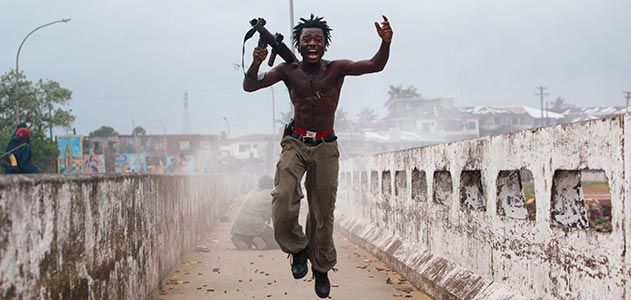 Editor's Note -- April 20, 2011: Photojournalist Chris Hondros was killed along with film director and photographer Tim Hetherington while reporting in Misurata, Libya. In the same attack, two other photographers were severely injured. In 2006, Smithsonian magazine spoke to Hondros about his work during the Liberian civil war.
July 20, 2003: another day in Liberia's 14-year civil war.
Rebels were closing in on the government of President Charles Taylor. From a bridge leading into Monrovia, the capital, a band of child soldiers in Taylor's army were returning rebel fire. Their commander, shirtless and dreadlocked, spotted a news photographer in the vicinity and issued an order in Liberian patois: "Oh good, white man, you come on bridge!"
Chris Hondros, a photographer for Getty Images News Services, complied, dodging bullets along the way. As Hondros approached the soldiers, the commander grabbed a rocket launcher and fired. As the rocket detonated amid a group of attacking rebels, he turned toward Hondros, leapt and issued a battle cry. The photographer clicked his shutter.
The resulting image—an instant of adrenaline-powered glee—appeared on front pages and in magazines from France to Japan to the United States. It was plastered on train station benches in Amsterdam and discussed in art galleries in Colorado, North Carolina and Pennsylvania. It became a defining image of Liberia's protracted strife.
"Sometimes a picture captures things that people respond to," says Hondros. "This is a picture of fighting that shows some of the uncomfortable realities of war. One of those is that [some] people in war enjoy it—they get a bloodlust."
The commander has his own response to the picture: "I was happy at that time because I was defending my country," he says, speaking through an interpreter. But he doesn't like to look at the image now. "It gives me the memories of war," he says.
His name is Joseph Duo. He is 28. He dropped out of the tenth grade to join the army early in Liberia's civil war. After the fighting ended and Taylor fled into exile in August 2003, Duo was out of a job, with no means of supporting his wife and three children.
Hondros found this out last October. He had been unable to get the commander's image out of his mind—the way he stares into, or through, the camera. "The illusion of eye contact gives the picture intimacy," says the photographer. "He's nakedly exulting in battle, and he's looking at you unabashedly." When Hondros returned to Liberia to cover the country's first postwar elections in October 2005, he asked his Liberian assistant about the soldier. The man drove him to a squalid settlement at the edge of Monrovia, where Duo emerged from a concrete shack, a shirt on his back and his dreadlocks gone. Hondros was a bit surprised to see that his new acquaintance stands about 5-foot-3—much shorter than in the photographer's memory. After sharing their impressions of the day they first met, Hondros suggested they return together to the bridge, now bustling with traffic, and Duo agreed. Standing at the same spot he'd stood in 2003, Duo grinned shyly for a postwar portrait.
When rain began to fall, the men ducked under an awning. Duo asked Hondros a question: "How do a man join with the U.S. Marines?"
Hondros, taken aback, made it clear that Duo had little chance of meeting the Marines' education, language and residency standards. Seeing Duo's disappointment, Hondros asked if he wanted to go to school. Duo said yes.
Within a few days, Hondros had enrolled Duo in night school, paying $86 for a year's tuition—a prohibitive sum for almost all Liberians. When Hondros left the country, Duo assured him he would not let him down.
Hondros returned to Liberia for November's runoff elections, when Liberians chose Ellen Johnson-Sirleaf as their president, the first woman to be elected head of state in modern African history. Duo's school notebooks were full of sentences detailing the Trojan War and the colors in the spectrum. "I hope for him to finish school and become a productive part of Liberian society," Hondros says.
After 14 years of civil war and two years of uncertainty, Liberian society has a long way to go. It has no shortage of people who, like Joseph Duo, are trying to find their way. "In American terms," Hondros says, "Joseph's mindset and situation are similar to that of an inner-city youth who spent ten years in a gang; he's now trying to get out of that and rejoin society."
The former commander—now a high-school junior—has perfect attendance. With his army training, he says, "it's not difficult to take instructions from a teacher," noting that "the military is a science dealing with instructions [that] must be followed." And despite Duo's painful memories of war, he still likes the idea of military life: someday, he'd like to be a general in the army.
"I am happy I am still alive," Duo says. "I am happy I have a peaceful life."