A Noble and Absurd Undertaking
The Federal Writers' Project gave Depression-era writers a second chance…and America its first comprehensive self-portrait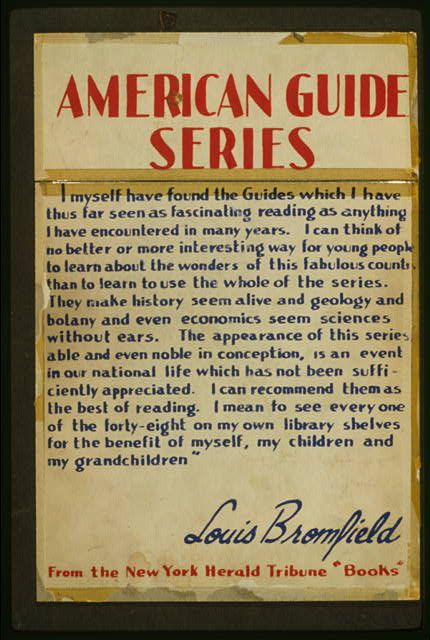 "The festival is a living tradition," reports writer David Taylor, "having changed little since the first King and Queen Korn were crowned in 1935." Taylor is standing on the main street of Plattsmouth, Nebraska, during the annual Kass Kounty King Korn Karnival. The king and queen's five attendants are decked in green capes emblazoned with glittery ears of corn. "This is not Disney's America, it's Dorothy's," he writes. The reason that he has come here is a tip from a guidebook that is more than 60 years old.
To a traveler jaded by famous buildings and fine restaurants, Nebraska: A Guide to the Cornhusker State repeatedly presents a refreshing eyeful of sites and stories. It is one of the American Guide Series — one guide for each of the 48 contiguous states and U.S. territories — that was assembled by the Federal Writers' Project, under the Works Progress Administration in the 1930s. In the grim post-Depression days, the Project's offices would become oases where all brands of writers sought refuge— conservative and radical, novice and veteran, white and black, male and female. The guides themselves would become America's first detailed and comprehensive self-portrait: a multifaceted look at America by Americans.
The Writers' Project launched some of the past century's greatest writers: Saul Bellow, Ralph Ellison, Richard Wright, Margaret Walker and John Cheever. It also served as a life raft for many published writers whose careers had been swamped by the Depression, including Conrad Aiken and Nelson Algren. Apart from its publications, the Project's real legacy may rest in the later work of its writers, on whom it imprinted the voices of meatpackers, farmers, jazzmen, immigrants and small businessmen. Poet W. H. Auden perhaps summed it up best when he wrote that the Writers' Project was "one of the noblest and most absurd undertakings ever attempted by any state."