A Model Son
Chesapeake Bay's maritime history comes alive in miniature wood carvings by a Maryland craftsman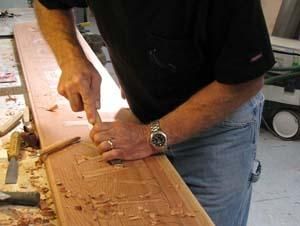 The elaborate, 4- by 8-foot diorama at the Calvert Marine Museum here in Solomons, Maryland, portrays this hardworking Chesapeake Bay community as it looked a century ago: a steamship tied up at the wharf, cows grazing among the outhouses, shipyards lining the shoreline. Most people study the diorama from above, but Jimmy Langley, who's 55, drops into a squat. "I prefer this view," he says. "It's just like you're in a real boat and you come around the island and look all the way to Strathmore Farm."
He's right. From below you're pulled right in. A forest of bugeye and skipjack masts tangles the busy harbor's skyline. Neat, white clapboard houses perch along the slight spine of land poking into the Patuxent River, and workboats await their call to the booming oyster harvest.
It took Jimmy Langley nine months to build all this. He carved the houses and boats and tiny cows—everything but the steamboat, which was carved by his father, James Leroy "Pepper" Langley, who died last year at age 86. Now curator of exhibits at the museum, Jimmy combines his rare talent for carving with a commitment to preserve the history of the place where he grew up. "Coming from that region and modeling boats from that region," says Paula Johnson, a curator at the Smithsonian's National Museum of American History, "he has a natural sense and feel for the details."
In the beginning, there was Pepper, who went to work at the M. M. Davis & Son Shipyard in the 1930s and soon became its top painter, inscribing a boat's name and home port on its transom in a script so distinctive that any connoisseur of his work can recognize it at a glance. After Solomons' shipyards declined, replaced by marinas for pleasure boaters, Pepper continued lettering and woodworking on his own while employed as an airplane model maker for the Patuxent River Naval Air Station to support a family of six children. Jimmy, the third child, was fascinated by his father's calling. He spent hours in Pepper's shop just watching and listening. "I remember when I was 3 or 4 years old," he says, "I was astounded that he could take a brush and dip it in paint and create what seemed to be perfect 360-degree circles and ruler-straight lines."
The father put the son to work when Jimmy was 11. A nearby beach club had some 30 signs with a logo—a woman diving out of Art Deco clouds—that had to be repainted once a year. "Those women all had yellow bathing suits. I can still show you today what that bathing suit looked like," he says, grabbing a piece of paper and sketching a quick outline.
When Pepper quit lettering to concentrate on carving scale models, boatyard and marina owners started calling Jimmy with work. "I guess they figured, 'He can do it,'" Jimmy says. "But I couldn't." It took him months to acquire the knack. "When you're lettering, you don't look where you are," he explains. "You look where you're going to be. So your hand is following where your eyes are pointing."
Learning how to carve boats and birds had come easier. As a duck-hunting teenager, Jimmy had carved his own decoys out of economic necessity. Pretty soon, he graduated to owls, snow geese and herons. Eventually Jimmy received a scholarship to study art in Baltimore, but, homesick, he quit after a year and returned to Solomons. He found work as a sign painter and carved on the side. Then he signed on as a model-maker's apprentice at the Calvert Marine Museum, where the carver in residence was none other than Pepper Langley. Jimmy's first assignment was to create a scale model of a Potomac River dory for an exhibit. His father was modeling a Chesapeake Bay workboat called The Prospector. "We sat together at that table in the museum shop for nine months," Jimmy recalls, "and built those models."
By now, he has lettered thousands of boats and carved more than 75 miniatures. "His models are terrific and very beautiful," says Paula Johnson. But Jimmy's aim is historical, not aesthetic. Each of his models is based on a real boat and done to exacting scale. He uses the same construction methods the original builder used, right down to the wood he chooses—mahogany, pine, teak, cherry, oak.
Jimmy painstakingly carves every little detail himself—working blocks the size of corn kernels, a yacht's wheel no bigger than a Ritz Bitz, each needle-thin spoke clearly delineated. Even the grain in the wood is to scale. "Rather than three or four grains in a piece of quarter-inch wood, there might be 20 grains, real fine," he says. "So it looks like an actual piece of wood that would have been in there."
Jimmy's favorite model is an indigenous Chesapeake Bay boat called the Hooper Island draketail, narrow as a stiletto, powered by a gasoline engine and notorious for outrunning Coast Guard cutters and police patrol boats back in the rum-running days of the 1920s and early '30s. Jimmy's model, scaled at a half-inch to the foot and built of cherry, looks as if it's ready to launch right off its stand. Jimmy left one side and part of the deck unplanked so people who see it on display at the museum can learn exactly how such boats were made.
As the man in charge of exhibits at the museum, Jimmy doesn't build many boats these days, but he continues to carve birds and make boat signs. In his bright office, he pulls from under his desk a mahogany box with brass corners and a brass latch. He opens it to reveal three small sliding drawers filled with the lovely hand tools he uses to carve—broad chisels of polished high-carbon steel from Switzerland, tiny knives for the intricate tips of a heron's wing. He turns the tools over in his hands, describing the provenance of his favorites. "Wood is so beautiful," he muses. "And you think, every one of those rings you see in wood represents a year. And here I am, carving this piece of 90-year-old wood that was here 35 years before I was born." He smiles. "Who knows what was going on back then, or who walked under that tree?"