A Man in Full
A new biography depicts benefactor James Smithson as an exuberant, progressive man enamored of science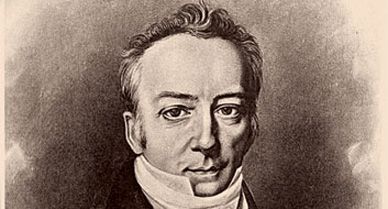 James Smithson's mystery has remained unsolved for a long time—181 years. In 1826, the English scientist willed the United States his large fortune "to found at Washington, under the name...Smithsonian institution, an establishment for the increase & diffusion of Knowledge...." But Smithson never visited the New World and wasn't known to have any American connections.
So why did he choose this country for his bequest? Traversing Europe for the past six years, historian Heather Ewing has searched for clues through handwritten documents scattered hither and yon—letters and diaries, bank ledgers, passport controls, even police records. (A fire at the Smithsonian Castle in 1865 destroyed most of Smithson's papers collected there.) Ewing's Bloomsbury USA.
In another recent Smithson biography—John Quincy Adams, and the Making of America's Greatest Museum: The Smithsonian (Perennial/HarperCollins, 2004)—journalist Nina Burleigh ably recapped what was known about Smithson. Much of Burleigh's book is about the "Statesman," John Quincy Adams. Despite Smithson's largesse, without Adams' efforts the Smithsonian would probably not exist. Both books weave thousands of graphic details about Smithson, science and European aristocracies from the 1760s to the 1840s into engaging narratives.
Before Ewing's book, Smithson was viewed as a dilettante and dejected recluse who chose the United States for his bequest out of spite against England for the stigma he suffered as the illegitimate son of a duke. Ewing doesn't gloss over Smithson's lifelong health problems or his compulsive gambling. Numerous times his friends wondered if the latter would ruin him. Her new research, however, also shows him to have been an ambitious, exuberant, progressive man. Through a lifetime of shrewd investments, Smithson turned a small inheritance into a fortune. He was a well-respected chemist and mineralogist who reveled in the huge unknowns of chemistry, a science, as he put it, "consisting of isolated points, thinly scattered, like lurid specks on a vast field of darkness." And he traveled widely, dropping into mines and climbing volcanoes as he sought specimens for his mineral collection. At least one innkeeper charged Smithson extra for his room because he had littered it with "stones and dirt."
Spite probably had something to do with Smithson's decision not to donate his fortune to Britain's premier and exclusive science organization, the Royal Society. But Ewing presents ample evidence that far more important were Smithson's fascination with the New World and his belief that the kind of utilitarian, egalitarian "public science" that most excited him and many of his compatriots would flourish best in America. This view of science was markedly different from the elitist gentleman-scholar orientation of the Royal Society.
Smithson was euphoric about the French Revolution. Many of his colleagues gave credit to the United States for inspiring it and saw America as the most progressive society on earth, one in which individuals were valued for their contributions, not their pedigrees. Fellow scientists told Smithson about meeting Ben Franklin and Thomas Jefferson in Paris and admiring their scientific knowledge. America's founders regularly praised the pursuit of science, and no doubt Smithson was impressed that the election of 1800 was a contest between the president of the American Philosophical Society, Jefferson, and the president of the American Academy of Arts and Sciences, John Adams.
Smithson's Institution has now evolved into the world's largest museum and research complex. And his generosity inspired American philanthropic support of science and culture, which to this day—at the Smithsonian and beyond—makes real his dream of knowledge accessible to all.