A Long Toss Back to the Heyday of Negro League Baseball
Sportswriter Frank Deford looks back at the games that opened the national pastime to African-Americans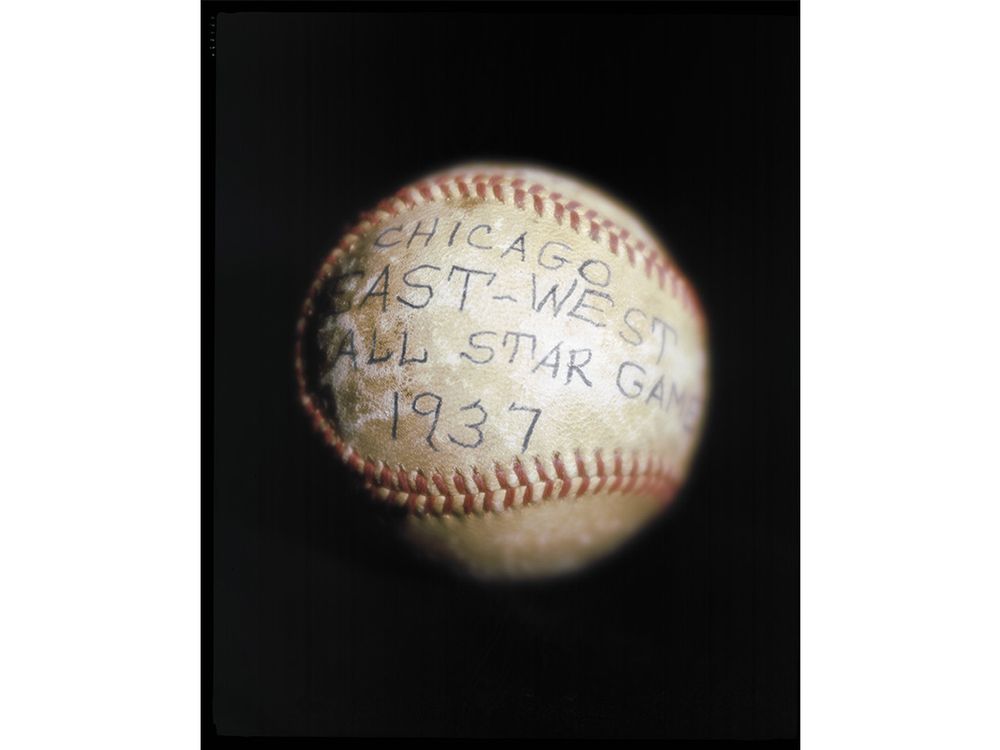 Five years ago, at a sports dinner in Atlantic City, I sat next to Bob Feller and Monte Irvin and listened to these two old gentlemen talk about facing each other. It was fascinating—rather like hearing a Union officer and his Confederate counterpart in, say, 1928, reminiscing about some Civil War battle—for what Feller and Irvin were recollecting were the times they had barnstormed against each other when so-called Organized Baseball was still segregated. I leaned closer, bent an ear, telling myself: Listen carefully, Frank, because this is oral history, this is one of the last times old black and white players will ever be able to speak across that divide of time and race.
And, in fact, Feller has passed on since then, although Irvin lives yet, age 94, one of the last survivors of the Negro Leagues—that shadow baseball government that managed to thrive for about a quarter of a century, allowing African-Americans the chance to play the national pastime for pay (if not for much). The heyday of the Negro Leagues was the '30s, the cynosure of most seasons the East-West All-Star Game, which was usually played in Chicago at Comiskey Park, home of the white White Sox. Indeed, in 1941, just before America entered the war, that fabled season when Ted Williams batted .406 and Joe DiMaggio hit safely in 56 straight games, the Negro League All-Star Game drew a crowd of more than 50,000 fans. Buck Leonard hit a home run, driving in three runs in the game. He was one of the very best baseball players alive, a stocky 5-foot-10, 185-pound first baseman.
Back when he was a boy in Rocky Mount, North Carolina, Leonard would watch white teams play through a hole in the fence. What black teams there were didn't have the luxury of leagues; indeed, the first professionals of his race whom Leonard saw were actually minstrels first. They would parade through Rocky Mount in the morning, play a baseball game, and then, come the evening, put on a full-fledged minstrel show. Years later, Leonard remembered: "They used to get all the money from the sporting people in the afternoon, get all the money from the show people at night—and then they had doctors with them selling medicine to take that part of our money, too."
There was no high school in Rocky Mount for blacks, so young Leonard shined shoes, until, like his father, he could become a railroad man. Only when he lost his job in the Depression did he turn to baseball to try to make a living. Soon he was playing for the famous Negro League champions, the Homestead Grays of Pittsburgh. The catcher on that team was the legendary slugger Josh Gibson, who was called "the black Babe Ruth." So Leonard became "the black Lou Gehrig." Together, they would become the Thunder Twins.
Leonard was as stable and well-liked as was Gibson tragic—an apparent drug addict who would die young and broken. Defensively, at first base, Leonard was the best, and although it's difficult to validate statistics for the black players of that era because so many of their games were exhibitions against suspect opposition, he was a powerful line-drive hitter who may have batted as high as .382 against the white major leaguers in those wistful autumn exhibitions, when the races toured the hinterlands, playing one another, one-night stands. Never mind numbers; it was most famously said of him: "Trying to sneak a fastball past Buck was like trying to sneak a sunrise past a rooster."
In 1937, Leonard started in the East lineup at the Comiskey All-Star game, but that year the cast was diminished because many of the best players had signed contracts in the Dominican Republic—one of the Caribbean countries that, like Mexico, accepted the black American players. Still, the game was the centerpiece of the season for Negro baseball fans. In the second inning Leonard hit a monstrous home run to lead the East to victory. The ball Leonard hit was returned to him, and he inscribed it and hung onto the prize.
He would compete until he was well into his 40s—indeed, in something of a passing of the baton, he played against Willie Mays in 1948, in the Negro League World Series, when Mays was only 17, a raw .262 hitter on the Birmingham Black Barons. But by then the night shades were falling fast on Negro baseball. Once Jackie Robinson had begun to play with the Brooklyn Dodgers in 1947, African-American fans turned their attention to him, and then to the many other young African-American players who were suddenly being scooped up by major-league franchises. It did not help that the white teams compounded their sins and continued to act ignobly; after all those years of keeping black players out of Organized Baseball, now that they began signing the best of them, they seldom bothered to compensate the atrophied Negro League franchises for poaching their talent.
No major-league team signed Buck Leonard, for he was too old by then—not just a veteran, but a vestige of a lost world. Several years later, in 1966, when Ted Williams was inducted into the Hall of Fame, he dared speak publicly of baseball's shameful past, citing his regret that "the great Negro players...are not here because they weren't given the chance." That lit a candle of regret, and six years later the first players who had starred in the Negro Leagues were elected to Cooperstown. Buck Leonard was in the inaugural class.
The scuffed home run ball he had saved from the '37 All-Star game remained at his home in Rocky Mount, until, in 1981, he donated what had become a horsehide artifact to the Smithsonian. Leonard himself lived until 1997, when he died at the age of 90, nearly four decades after the Negro Leagues had disappeared from all our diamonds.
Decades after watching Negro League baseball games as a child in his hometown of Baltimore, Frank Deford reflects on the meaning of the American History Museum's Negro League ball. "Now I look back and realize the evil of the system," he says, "but at the time, I wasn't old enough to question it."
A longtime contributor to Sports Illustrated and the author of 18 books, Deford has been called the nation's finest sportswriter by the American Journalism Review.