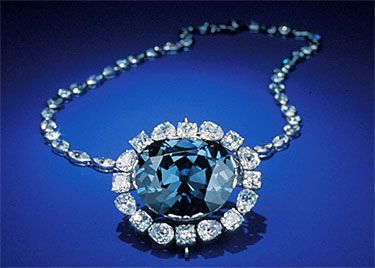 "Don't worry," pledges writer Michael Kernan. "When the new Janet Annenberg Hooker Hall of Geology, Gems and Minerals opens on September 20, the good old Hope Diamond will still be the star." The National Museum of Natural History's brand-new, 20,000-square-foot exhibitio — the most ambitious reinstallation in the Institution's history — will showcase the Smithsonian's National Gem Collection and take visitors from the depths of a copper mine in Bisbee, Arizona, to the far reaches of our solar system. "The U-shaped gallery has enough wonderful stuff to satisfy the professional geologist and the casual glancer alike," writes Kernan. "The minerals range from the dust of lost stars ... to great glistening clumps of crystals as tall as a man.... The stories of metals and their ores, of how rocks are formed and turn into soil, of what makes volcanoes explode and continents slide about: all these are told here."
 The illustrious Hope will take center stage in the elegant, domed entrance gallery, and in the next room visitors can view some 40 of the best-known cut-stone creations in the world — from the dazzling diamond diadem that Napoleon gave to Empress Marie-Louise upon their marriage to the 75-carat Hooker Emerald, said to have been cut from a stone worn by Ottoman ruler Abdul Hamid II.
In the Minerals and Gems Gallery, close to 2,000 specimens demonstrate the connection between gems and the minerals they're cut from. The next gallery includes a walk-through mine — actually four mines — with real ore veins and crystal pockets set into rock-like walls skillfully crafted to resemble a working mine. In the Rocks Gallery, still under construction, visitors will find a topaz as big as a bushel, a boulder of jade and a mattress of lava. Then it's on to the Plate Tectonics Gallery and, finally, to the last section of the exhibition, which deals with the early history of our planet and its solar system. Here visitors can peruse the oldest object known, a meteorite dating back 4 1/2 billion years.
The new hall has been a Smithsonian dream for a decade. Now, thanks to the generosity of such donors as Janet Annenberg Hooker and the Harry Winston Research Foundation, the dream has become a reality.