A Brief History of the Honus Wagner Baseball Card
From cigarette pack insert to multi-million-dollar treasure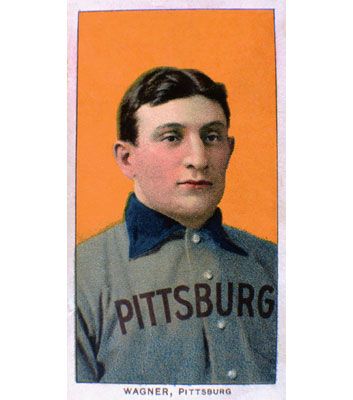 Mothers who threw out their sons' baseball card collections will have trouble fathoming this: A single card sold for $2.35 million in March. The buyer, an Orange County businessman, wishes to remain anonymous—perhaps, mused an article in the Los Angeles Times, "because he doesn't want his business clients to know that he spent more than $2 million for a 98-year-old piece of cardboard that measures 1 1/8 inches by 2 5/8 inches." But this particular piece of cardboard, a 1909 Honus Wagner, has captivated collectors since it mysteriously emerged on the market in the mid 1980s. Indeed, the path of the "Gretzky T206 Wagner," as it has come to be called, tells us a good deal about the history of baseball card collecting in general.
The Man Who Hated Cigarettes
How can it be that the most valuable baseball card in the world depicts a player most of us have never heard of? Though less renowned than icons like Babe Ruth and Mickey Mantle, Honus Wagner was a superb player—one of the first five inducted into the Hall of Fame. Wagner, who spent most of his career playing shortstop for the Pittsburgh Pirates, might not be a household name because he played during baseball's "deadball era"—a low-scoring, less-dramatic time for the game.
Another reason for his limited fame, suggests Michael O'Keeffe (who co-wrote with Teri Thompson the forthcoming history of the Wagner card called The Card: Collectors, Con Men, and the True Story of History's Most Desired Baseball Card), was that Wagner was simply too nice of a fellow. "He was just a good guy, a 'gee, aw shucks' kind of guy," says O'Keeffe. Wagner didn't punch out fans like Ty Cobb, or drink heavily like Ruth or Mantle. In other words, he was a bit boring.
He also didn't smoke cigarettes, which, oddly enough, is perhaps the main reason why his card became so valuable. The Wagner was part of a series of cards—later dubbed "T206," for enigmatic reasons, by an influential collector—that were included in packs of American Tobacco Company cigarettes. Wagner demanded that the American Tobacco Company pull his card from circulation, which is why a mere 60 or so are thought to exist today. Many wrongly think that Wagner opposed smoking; in fact, says O'Keeffe, he more likely opposed other people profiting from his likeness, or he considered cigarettes too low-class compared with other tobacco products (he chewed tobacco). Whatever the reason, the decision made Wagner-the-card exceedingly more famous than Wagner-the-player, and it ironically linked his name to cigarettes forever.
"The Deal of the Century"
In 1986, a new specimen of the card—in better condition than any other—emerged out of nowhere, it seemed. An owner of a Long Island sports memorabilia store announced that a man named Alan Ray was selling his 1909 T206 Wagner for $25,000. Ray would not say where he acquired the card, to this day keeping mum about what the card was up to between 1909 and 1986. He was forced to sell it because of "a money situation," Ray was quoted as saying in a 2001 New York Daily News article by O'Keeffe and colleague Bill Madden, which first traced the buying-and-selling history of the card.
When they heard about the opportunity, two sports memorabilia dealers rushed to the Long Island store. "From the second I saw the card, I thought it was the most magnificent-looking card in the world," recalls Bill Mastro. He and his friend quickly bought the card, and it was sold a year later for $110,000 (a sum Mastro himself recalls considering absurd). "It was the deal of the century," Ray later griped about letting the card go for $25,000.
The First Million-Dollar Card
The card changed hands several times over the next two decades, steadily increasing in value. In 1991, hockey great Wayne Gretzky bought it with Los Angeles Kings owner Bruce McNall, at the latter's urging, for $451,000 dollars.
With a celebrity's name attached to the card, its place was assured in collecting history. When McNall fell into financial and legal troubles, Gretzky bought out his share of the card and, in 1995, sold it for $500,000 to Treat Entertainment, which collaborated with Wal-Mart in a publicity campaign to rekindle consumer interest in baseball cards. The companies raffled off the card on "Larry King Live," and a Florida postal worker won it. Unable to pay the gift tax associated with the win, the postal worker sold the card at auction to a Chicago collector named Michael Gidwitz for $640,500. Gidwitz wanted "to see if I could sell a card for a million dollars," he says. "It had never been done before."
He did just that in 2000, when Brian Seigel bought it for $1,265,000. This March, Seigel received a call "out of the blue" with an offer to buy the card for $2.35 million—an offer he apparently could not refuse. In the short space of 20 years, the most valuable baseball card in the world had added two zeroes to the end of its price.