300 Years of Rowing on the Thames
There must be something in the water at Eton, where rowing rules as the sport of choice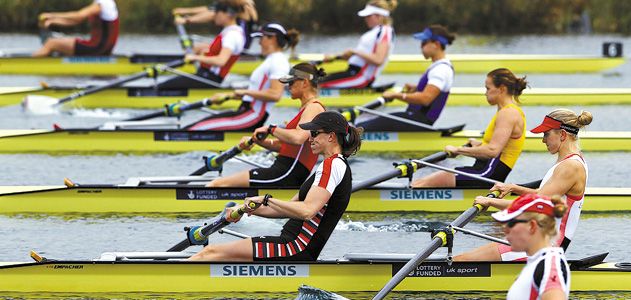 The Thames has been synonymous with rowing for almost three centuries. In August 1715, half a dozen "watermen"—oarsmen who ferried passengers on the river—convened beneath London Bridge for Britain's first rowing race. Nearly 200 years later, at the London Summer Olympic Games in 1908, spectators thronged the banks of Henley-on-Thames, site of the annual Royal Regatta, as British scullers competed against crews from seven countries, including Canada, Hungary and the Netherlands. England's team captured gold medals in all four matches, and won three silvers and a bronze as well. "The result of the racing," reported the Times of London, "was a triumph for English oarsmanship."
The Thames will take pride of place July 27 during the Olympics opening ceremony, when the torch will be carried on a stage floating down the storied waterway.  Since the International Olympic Committee decided that varying currents in the river would give certain rowing lanes an unfair advantage, the rowing competition will take place alongside the river, in a man-made waterway, Dorney Lake. (Most Olympic boating events, from those in Stockholm in 1912 to Beijing in 2008, have been held in natural lakes or constructed courses for the same reason.) Dorney Lake is located a stone's throw from the river, down the road from its owner, Eton College.
Eton, the nearly 600-year-old prep school whose graduates include novelist Ian Fleming, Prime Minister David Cameron and Prince William, is famed for its fanatic devotion to rowing. More than half the school's 1,300 students row recreationally; 140 belong to what Dorney Lake's managing director, Ivor Lloyd, characterizes as a "high-performance, competitive group." Dozens of Etonians have gone on to row in the Olympics, including four-time gold medalist Sir Matthew Pinsent, now 42. For generations, Eton's crews practiced and competed on the Thames, but by the 1990s, recreational boat traffic made rowing there dangerous. Dorney Lake, otherwise known as the Eton College Rowing Center, was completed in 2006; the 2,200-meter lake has a depth of 3.5 meters—the minimum required to prevent drag on the sculls. Dorney was the venue for the 2006 World Rowing Championships, which Lloyd calls "a trial run for the Olympics."
New grandstands at Dorney will hold 20,000 spectators. Olympic rowing events, commencing July 28, will continue for seven consecutive days. The program has expanded over the decades to include four categories of rowers—lightweight men, all-weight men, women and lightweight women—and multiple categories of 2,000-meter races: for pairs, eights, and single, double and quadruple sculls. Six days of canoe and kayak races will follow, including a 200-meter canoe sprint—an event making its Olympic debut.
For Lloyd, who holds a world record for rowing across the English Channel (3 hours 35 minutes) and nurtures Olympic champions at Dorney and the Leander Club at Henley-on-Thames, the prospect that the competition will take place in his own backyard is immensely gratifying. "We've been waiting seven years for this," he says, referring to the 2005 announcement that London would host the Games. He then adds, with typical British understatement, "We're quietly calm and confident."