10 Lucky Celebrities Who Escaped Disaster
Most of the time it's the disasters that are famous—but sometimes, famous people escape disasters instead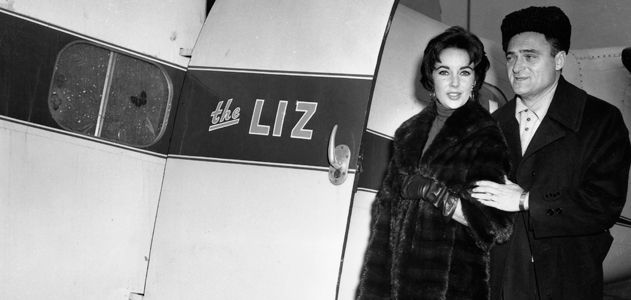 For almost every famous disaster you can name there's an equally famous person who, though some lucky quirk of fate, happened to miss the ill-fated boat, doomed plane, mass murder, or other calamity. Here are 10 examples from recent American history.
1. Admiral Richard E. Byrd
In August 1921, Richard Byrd was scheduled to join the crew of a new, 695-foot-long Navy dirigible known as the ZR-2, departing from Howden, England, on a trial flight. But Byrd, later to gain fame as an aviator and the first explorer to fly over the South Pole, missed his train the day before and was late arriving at the airfield. As a result, he was crossed off the crew list.
Byrd did, however, have a chance to inspect the huge airship and watch it lift off the next morning. "How magnificent she looked, the rosy light of sunrise tinting her bright sides a series of soft violet and lavender tints," he recalled in his 1928 memoir, Skyward. "Officers and observers aboard, lines cast off, she rose slowly and with dignity befitting so huge a craft, sailed away into the cloudless sky."
A day later, back in London, he learned that the ZR-2 had broken in half, exploded in midair, and crashed into the Humber River near Hull. A total of 44 American and British crew members died.
Byrd would live on to have other adventures, including six pioneering expeditions to the Antarctic. He died in 1957 at age 68, at home in bed.
2. Kirk Douglas
In March of 1958, the actor known for his starring roles in movies such as Lust for Life (1956) and Paths of Glory (1957) planned to join film producer Mike Todd on a trip to New York in Todd's private plane, but his wife objected. As Douglas recalled in his 1988 autobiography, The Ragman's Son, he and his wife were listening to the car radio when an announcer interrupted with the news that Todd's plane had crashed in New Mexico, killing everyone on board.
Douglas is still alive, at age 96.
Another A-list movie star who narrowly missed being aboard Todd's plane was Elizabeth Taylor, then the producer's wife (see below).  There may have been others, as well. Two weeks after the crash, gossip columnist Earl Wilson noted that so many people were claiming to have avoided the flight that he'd heard someone joke, "Those are the same people who barely missed the Lusitania."
3. J. Paul Getty
Anointed the "World's Richest Man" by People magazine, Getty supposedly booked passage on the Italian luxury liner Andrea Doria in July 1956, but canceled at the last minute. On the final night of its nine-day voyage to New York from Genoa, the ship would collide with a Swedish liner and sink off Nantucket, killing 46 passengers and crew, just 10 hours from its destination. Because the accident occurred so close to land, camera crews were able to reach the scene by plane and helicopter before the Andrea Doria sank, making it the first ocean liner disaster to be televised. 
According to Robert Lenzner's 1985 biography, The Great Getty, the Minnesota-born oilman, then living in England, had supposedly been warned by a fortune-teller that he would die if he ever attempted to cross the Atlantic again. Apparently that did the trick. Though he sometimes went so far as to make reservations, he always ended up canceling them, Lenzner wrote.
Getty died in 1976 at his mansion outside London at age 83. A longtime art collector, he left much of his vast estate, reportedly over $1 billion, to a trust that now operates the Getty Center in Los Angeles and the Getty Villa in Pacific Palisades, California, two of the most visited art museums in the U.S.
4. Cary Grant
Grant and fellow actor George Murphy were scheduled to be aboard the Pan Am Clipper "Yankee" in February 1943 but lucked out when their itinerary changed at the last minute. The flying boat crashed during an attempted landing in Lisbon, killing 24 passengers and crew. Murphy, who later became a U.S. senator from California, recalled the incident in his 1970 autobiography, Say… Didn't You Used to Be George Murphy? Among the 15 survivors was the popular singer Jane Froman, who was badly injured in the crash. The incident figures prominently in the 1952 Froman biopic, With a Song in My Heart, starring Susan Hayward.
That would not be Grant's last connection to a famous disaster, incidentally. His then-wife, the actress Betsy Drake, was aboard the Andrea Doria on its final voyage in 1956. Drake escaped the stricken ship, but reportedly lost nearly $250,000 worth of jewelry Grant had given her. According to Richard Goldstein's 2003 account of the sinking and rescue, Desperate Hours, it was locked in a ship's safe, where it apparently remains to this day.
Grant died in 1986 at age 82.
5. George "Papa Bear" Halas
In July, 1915, George Halas was a 20-year-old college student with a summer job at Western Electric in Cicero, Illinois, just south of Chicago. The company's annual picnic was scheduled for July 24 in Michigan City, Indiana, and employees were to be ferried there from downtown Chicago by one of several excursion steamers that plied Lake Michigan. Halas had bought a ticket on the Eastland.
As Halas told the story in his 1979 autobiography, Halas by Halas, he was late leaving to catch the ship, much to his good fortune. "When I came to the river where the Eastland was docked, an appalling sight awaited. The Eastland had turned on its side. Only a few passengers had escaped." 
The final death toll was more than 800 men, women, and children. Because his name was on a passenger list obtained by a newspaper reporter, Halas was briefly assumed to be among them.
Halas lived on to become the founder and owner of the Chicago Bears, which he built from a company football team called the Decatur Staleys. He coached the Bears for 40 seasons and died in 1983 at age 88.
6. Waylon Jennings
Jennings, who later gained fame as a country singer and songwriter and narrator of "The Dukes of Hazard" television show, was a little-known member of Buddy Holly's backup band in 1959. When Holly decided to forsake their tour bus and charter a plane to fly to their next stop, Jennings gave up his seat to the singer J. P. Richardson, better known as the Big Bopper. The plane crashed near Clear Lake, Iowa, killing Holly, Richardson, and Ritchie Valens, as well as the pilot—a tragedy memorialized as "the day the music died" in the Don McLean song "American Pie." 
Years later, Jennings described their last, jokey conversation after Holly learned he wouldn't be joining them on the plane. "Well, I hope your damned bus freezes up again," he remembered Holly saying.
Jennings's reply: "Well, I hope your ol' plane crashes."
Waylon Jennings died in 2002 at age 64.
7. Steve McQueen
The actor was planning to drop by actress Sharon Tate's rented home in Los Angeles on the night of August 8, 1969, but supposedly had a better offer from another female acquaintance and didn't show. That proved to be a smart move. Tate, her unborn child, and four others were butchered shortly after midnight by members of the Manson Family cult.
McQueen later learned that he was on a list of celebrities that cult leader Charles Manson had marked for death, which he believed also included Tom Jones, Frank Sinatra, and Elizabeth Taylor. From that point on, he packed a handgun.
McQueen died in 1980 at age 50 from cancer.
Among others who were reportedly invited that evening but didn't appear: Denny Doherty and John Phillips, the two "papas" of the Mamas and the Papas.
8. Eleanor Roosevelt
The future First Lady was just two years old in 1887 when she and her parents started on an Atlantic crossing aboard the White Star liner Britannic. A day into the voyage, their ship was rammed by another liner, the Celtic, resulting in as many as a dozen deaths and several horrific injuries. After helping his wife and other members of their party into a lifeboat, Eleanor's father held out his arms so that a crewman she was desperately clinging to could pass her along to safety. As Blanche Wiesen Cook wrote in her 1992 biography, "The crewman finally freed her fingers, and Eleanor always remembered that fall, the feel of plummeting from the deck high above into the pitching lifeboat below, surrounded by 'cries of terror' and shouts for help."
The Roosevelts returned to New York aboard the Celtic, and when her parents attempted to resume their journey, young Eleanor refused to go with them and stayed behind with an aunt. She reportedly had a lifelong fear of both water and heights as a result of the experience.
Eleanor Roosevelt died in 1962 at age 78. 
As to the Britannic, despite being badly damaged, it made its way back to New York and soon returned to service. The White Star Line later used the name on another ill-fated liner, part of a trio of huge, near-identical ships that included the Titanic. That Britannic was sunk by a German mine in 1916.
9. Elizabeth Taylor
Like Kirk Douglas (see above), Elizabeth Taylor might easily have been aboard her husband Mike Todd's plane during its fatal 1958 flight. Fortunately for her, Taylor had a cold and was running a 102-degree fever and Todd insisted she stay home, Life magazine reported. The two had been married for a year—Todd was her third husband—at the time of his death, and he had named the doomed twin-engine plane in her honor, with "The Liz" painted prominently on its sides.
Elizabeth Taylor died in 2011 at age 79. She supposedly said that Todd was one of the three great loves of her life, the other two being Richard Burton and jewelry.
10. The Flying Wallendas
The celebrated aerialist family known as the Flying Wallendas has faced danger on a regular basis for generations, but never more so than on July 6, 1944. On that day they were playing under the big top in Hartford, Connecticut, as one of the starring acts of the Ringling Bros. and Barnum & Bailey circus.
The Wallendas were on their platforms high above the crowd when patriarch Karl, about to start across the high wire on a bicycle, spotted fire behind the bleachers below and signaled to the rest of the act, according to Stewart O'Nan's 2000 account, The Circus Fire. The Wallendas scurried down to safety, but an estimated 168 others were not so lucky and died in the fire.
Also spared in the tragedy were Emmett Kelly, the most famous circus clown of his day, as well as the future actor and TV game show regular Charles Nelson Reilly, then a 13-year-old member of the audience. Though Reilly would appear on many stages throughout his career, he said he couldn't bear to sit in an audience, the result of his traumatic experience in Hartford