SMITHSONIAN CENTER FOR FOLKLIFE & CULTURAL HERITAGE
Mouled, Music and Cultural Memory in a Tunisian Festival
Mouled is the celebration of the birth of Mohammed, Islam's prophet. Worldwide, Muslims gather to hear poems and stories about the prophet's life, recite the Qur'an, and enjoy festive music and foods.
---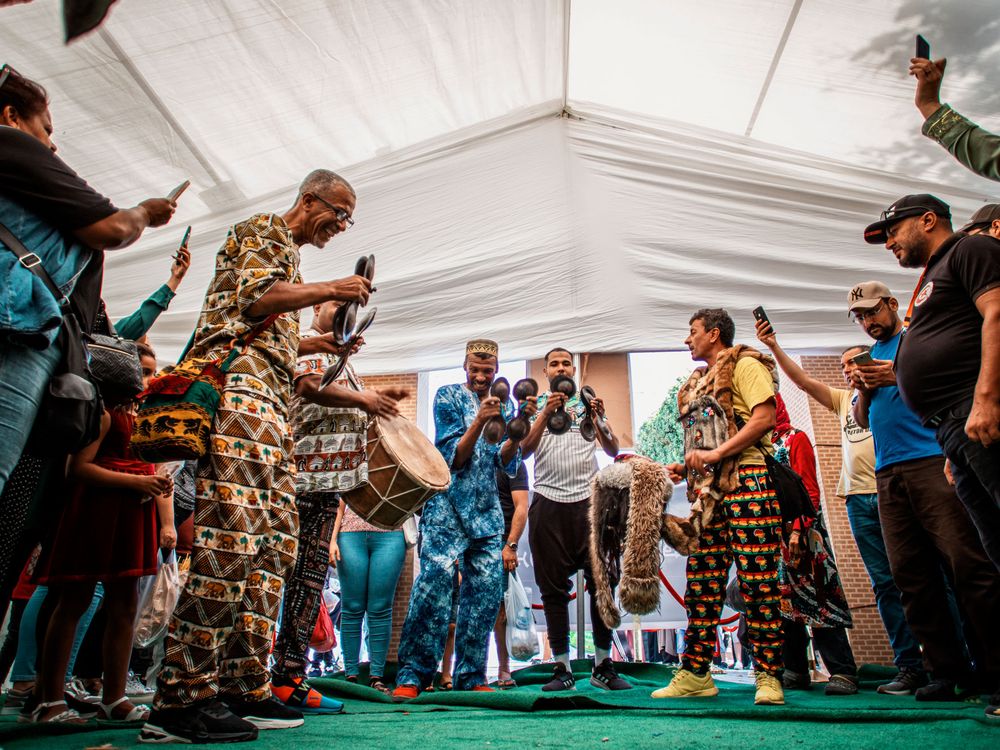 A version of this article was published in Folklife Magazine on January 17, 2023. 
As we turned down another narrow, meandering alley in the Tunisian medina of Kairouan, we could hear the sound of drums getting closer. Following another group of people ahead of us, we moved toward the music while hugging the shade on this hot October day. The alleyway opened to a packed square while the band, dressed in traditional attire, sang and drummed a song many in the crowd knew by heart. The infectious beat and rhythmic singing spread throughout the crowd, with young, old, families, and friends all tirelessly moving with the music, song after song. There were young boys dancing and singing on the rooftops closest to the stage, with arguably the best view for the show.
This show, part of the daytime programming for the annual Mouled Festival in 2022, was only a preview of the intensity of the music and enthusiasm of the crowd we experienced over the course of the ten-day event, which brought over one million attendees to celebrate in the streets of Kairouan.
Mouled is the celebration of the birth of Mohammed, Islam's prophet. Worldwide, Muslims gather to hear poems and stories about the prophet's life, recite the Qur'an, and enjoy festive music and foods. It's a major event across North Africa; Egypt hosts the largest Mouled celebration, with Tunisia in a close second. Many people are familiar with the three holiest sites of Islam—Mecca, Medina, and Jerusalem—but Kairouan is often called "the Fourth of the Three," highlighting its status as a holy city in North Africa, making it a fitting destination for the Mouled Festival. During the festival, the city undergoes a transformation into a giant market, campground, and music festival.
No Tunisian celebration would be complete without flavorful, filling, and delicious food, and no Mouled would be complete without its signature dish: asida, a sweet pudding prepared in large quantities and accompanied with everything from dates and honey to crushed nuts and olive oil. As two friends joked, "Our moms only make asida for Mouled, and even if we ask for it other times in the year, they never do!" While neighboring countries eat asida, asida zgougou is unique to Tunisian cuisine, made with pine nuts from Aleppo pine trees. In Kairouan, another unique gastronomic offering, makroudh, fills the streets with locals and visitors alike buying the sweet, sticky date treat by the kilo. No matter how many times we were offered asida or makroudh, regardless of how full we were, we always said yes!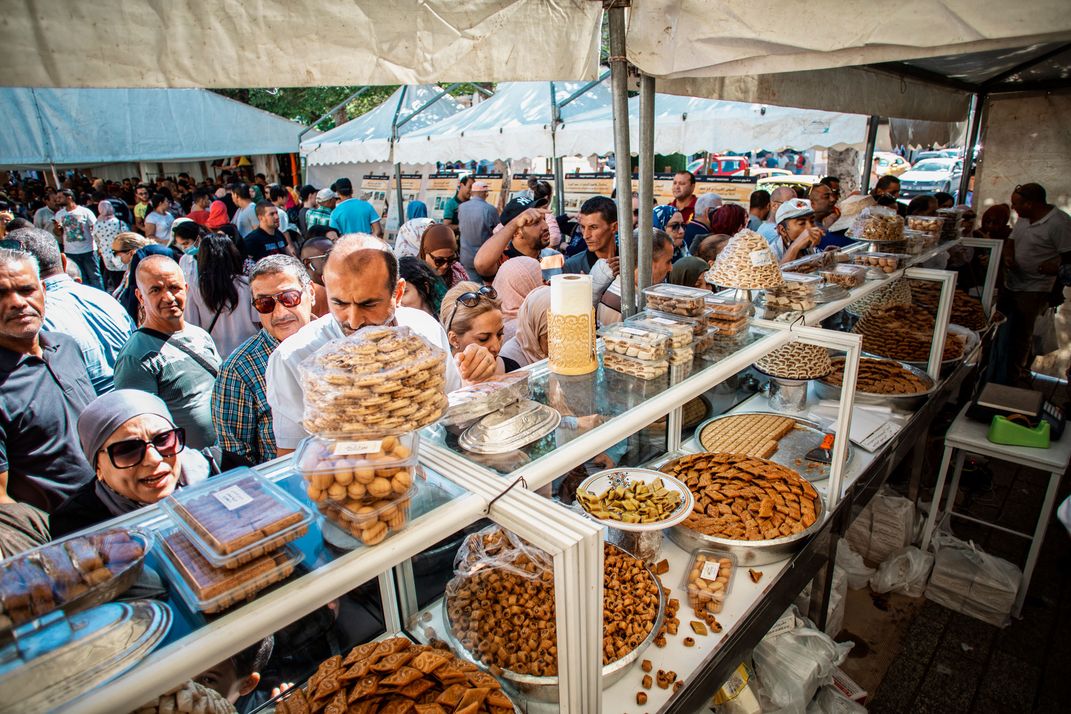 The festival used all aspects of Kairouan, a UNESCO World Heritage Site, to showcase the rich history and vibrant community that lives, works, and celebrates its heritage. The medina, or historic walled city, hosted musical performances, celebratory processions, and art demonstrations during the festival. At all times of year, the medina is also filled with talented artisans creating scarves and traditional dress, copper housewares, agricultural products, and, most notably, carpets. The Okba Mosque, the centerpiece of the city, hosted competitions in Quranic recitation and adhan or call to prayer, served as the starting point for many celebrations that moved through the city, and provided refuge for devoted and tired travelers. Kairouan's plazas, as well as the Aghlabid basins, massive ninth-century water cisterns, provided the backdrop for massive, well-choreographed concerts where hundreds of thousands of visitors reveled in Sufi music and dancing. The festival intentionally integrated events into all these culturally significant areas of the city with the hope of showing visitors how the long and proud history of Kairouan can meld with modern celebration.
The Mouled Festival Association explains that in addition to celebrating the Prophet's birthday, "this festival is also an opportunity for the city's economy to flourish, as Kairouan is known by its various traditional handicraft industries and local gastronomic specialties. It allows us to market these industries and hold exhibitions during the course of the festival to show people all Kairouan has to offer. Additionally, this provides an increase in seasonal job opportunities and improved community solidarity as everyone in Kairouan helps to make the festival successful and is proud to show off all of the city's history."
One may think that a festival focused on a religious celebration and its accompanying devotional music would not appeal to young people, but on the contrary, these songs and performances are beloved by enthusiastic audiences of all ages. Islamic music is enriched by diverse cultures and traditions it has encountered throughout the world, and that is readily apparent during the Sufi performances of Mouled. Crowds sing and dance to classic songs coming from different countries, mixed with songs written in Tunisia and even more locally in cities like Kairouan and Sfax.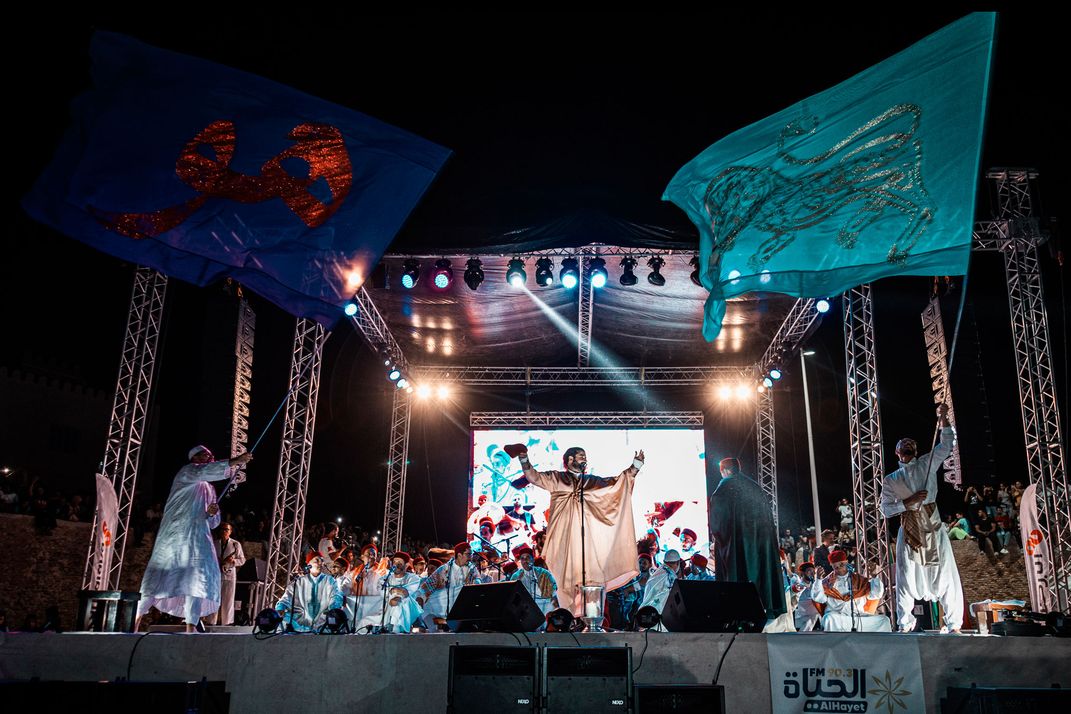 Sufism and music are inextricably linked. Sufism is a body of Islamic devotional practices and beliefs that emphasize personal closeness to the divine, with myriad expressions all over the world. Sufism is deeply rooted in Tunisian culture. Recitation and chanting are important acts of worship in global Islamic communities, especially around holidays, and are part of weekly or even daily life for some Tunisian Muslims. The music, chanting (dhikr), and rhythmic sound are central to Sufi devotion, aiding contemplation and provoking extraordinary experiences of being closer to God, often through trance (wajd). Each Sufi order or tariqa (way or path) has its set of songs of remembrance, devotional texts, and chants. Many of these sets of songs are interwoven during Mouled just as the way many Sufi holy figures are interwoven into Tunisian history through establishing schools, towns, markets, hospitals, and leading colonial resistance movements.
Throughout the festival, we were able to experience the full spectrum of hadra, a format of musical performance with collective recitation and stunning musical ensembles with bands of up to eighty people. The lengthy performances included choreographed dancing, reenactments of key moments from the prophet's life, and other accompaniments like fire, camels, and horses. Across Tunisia and North Africa, the hadra has grown into a popular performance genre using songs from many Sufi orders and geographic locations. During these performances, the crowd is entranced (sometimes quite literally with fainting), and tens of thousands of people in attendance sing along to the classic songs. People dance with their arms uplifted in a posture reminiscent of the hands' position in prayer.
"Sufi music has witnessed a resurgence in recent years," said Ali ben Said, one of the festival organizers. "The music takes you on a journey through times and places that you do not know and helps you to discover them, discover your soul, and provide you with a revelation of your own. It has a way of leading you to virtue and love, and away from hatred and discrimination. Sufi music is an art that transports you to the world of the spirit. It is a conversation with the soul and the mind, because it distances the listener from the material music that is presented now."
While many people may associate Sufi music with the famous whirling dervishes—which we saw as well—Tunisia brings additional facets of culture into the mix. Stambeli, for example, is a musical tradition of spirit possession and healing created by enslaved sub-Saharan Africans and their descendants. While it has an ambiguous status in Tunisia, it is included today in the rosters of celebratory festivals, especially in the capital city, Tunis. Tunisia's complex history and the Islamic music so celebrated across the country also has influences from Andalusian-Arabic classical Malouf instruments and musical styling, popular music from Tunisia and North Africa that's integrated with traditional themes, and even some Tunisian Jewish practices.
Balancing tradition and culture with the changing of the times does not come without its difficulties and critics. Particularly when it comes to musical and religious tradition, musicians face the challenge of staying true to the spirit and theme of the performance while adding contemporary aspects that will attract younger and newer fans. At the Mouled Festival, electric guitars and keyboards played alongside traditional drums and horns. Stages were surrounded with multicolored lights and projections while set amid mosques, mausoleums, and basins that are over a thousand years old. While musicians and festival organizers aim to enliven these aspects of their culture, they're constrained by the weight of tradition as well as what is needed to be spiritually efficacious—walking a tightrope among those who believe tradition should stay traditional and those who want to broaden their cultural practices to align with modern-day life.
Regardless, the Mouled Festival's focus on connecting people with the heritage of Kairouan in an accessible way is key to the way the festival organizers structured the festival and want to continue growing it.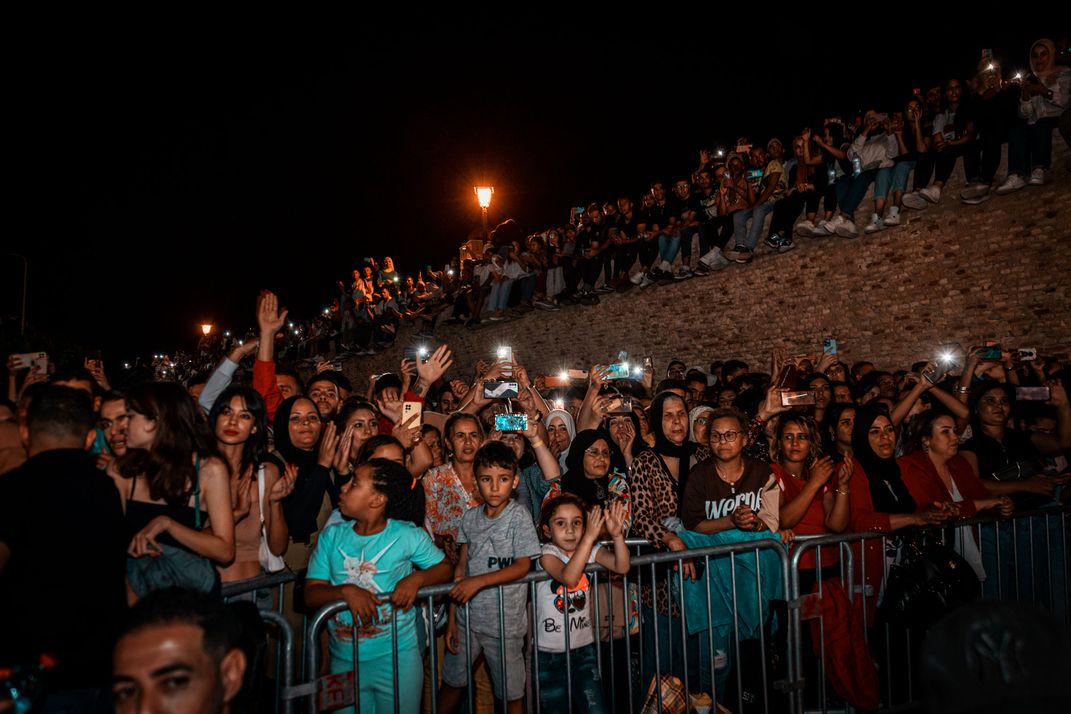 "The celebration of Mouled gives us the opportunity for exchange and sharing between the members of the Islamic community and the broader local and international communities, to support the peaceful coexistence between the various religious sects," ben Said noted. "Kairouan has always celebrated Mouled with a focus on spiritual elevation and social integration. The history of the sects has been characterized by differences based on fanaticism and rivalry, which helped fuel various conflicts between followers of Islamic sects and adherents of other monotheistic and positivist religions. So celebrating Mouled through this festival is an opportunity to support tolerance, cooperation, and integration between the various sects of Muslims and all human beings."
Another aspect of Kairouan's significance in Sufi practice in North Africa is the presence of mausoleums of holy figures, linked to a Sufi tradition of visiting shrines and venerating saints. Mouled's pilgrimages, processions, and poetic and musical retellings of the life of the prophet and Sufi saints are works of memory. Their staging in Kairouan produces layered experiences that can reinforce belonging and community bonds. The Mouled Festival is also a moment of social encounter, between locals, pilgrims, and visitors from around Tunisia and beyond, from near neighbor Algeria and as far as Indonesia.
While we continue to have the beat of the drums stuck in our heads and remember the art, music, and community we experienced at the Mouled Festival, we look forward to returning and dancing with the crowds again.
Sloane Keller and Rebecca Fenton work with the 
USAID Visit Tunisia Project
 as part of the Center's 
Cultural Heritage Tourism
 program. They attended the Mouled Festival as part of the Smithsonian Folklife Festival Incubator, an intensive project to build capacity with six Tunisian cultural festivals.