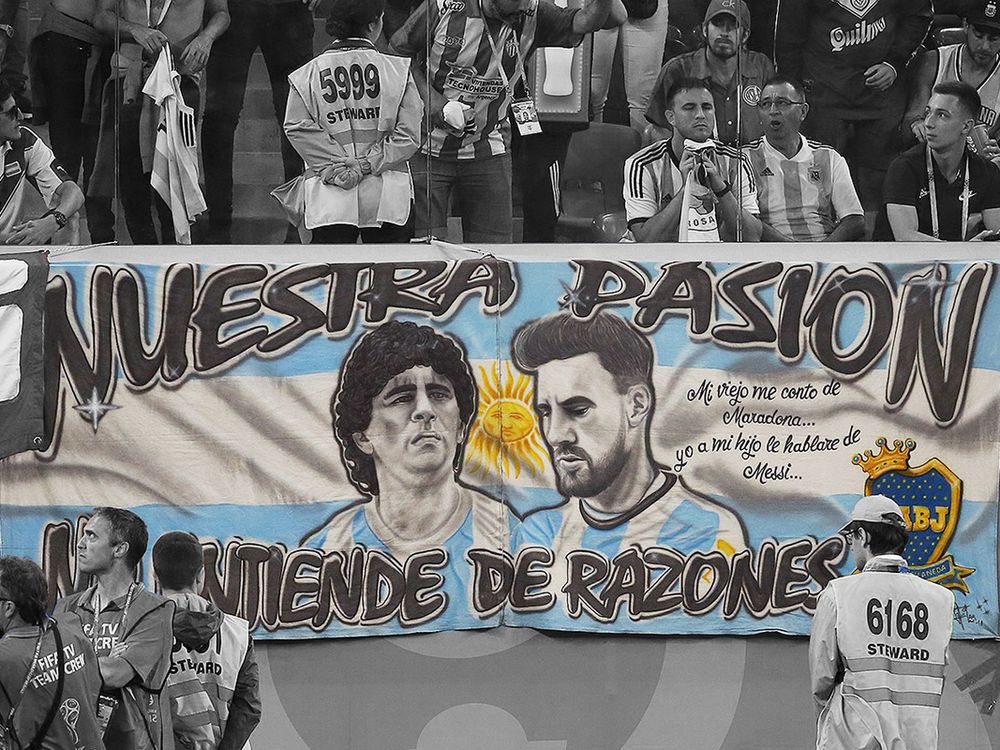 A version of this article was published in Folklife Magazine on December 16, 2022. Leer este artículo en español.
Everyday people create the atmosphere of the FIFA World Cup. Fans win fame through unique chants, dances, and the sheer size of crowds gathered as athletes battle it out on the field.
Amid cheers for all the nations present, Argentina's unofficial anthem in Qatar stood out. Known by many names including "En Argentina nací" (I Was Born in Argentina) or "Muchachos" (Boys), the song introduced the squad before each match, toasted every goal, and asserted their dominance after their ultimate win. Based on the melody of La Mosca's popular song "Muchachos, Ahora Nos Volvimos a Ilusionar" (Boys, We Have Our Hopes Up Again), Fernando Romero created a lyrical interpretation for Argentina fans to use for the 2022 World Cup. A viral video of the Argentine team celebrating a 2-0 win against Mexico furthered its popularity.
Apart from its catchy melody and popularity with the likes of Lionel Messi, the song represents what soccer means for Argentina and the world. Following Argentina's victory on December 18, the song will be remembered as the soundtrack to Messi's first World Cup Trophy.
The opening line ties Argentine pride to the soccer superstars: Lionel "Leo" Messi and Diego Maradona. Yet, these men have opposing storylines. One attempts to become a legend while the other is already the epitome of the nation's dream.
Messi left his home country at the height of Argentina's economic and political crisis in 2001 at age fourteen. Dreams of playing for his nation, even while training in Spain, came true when the Argentine Football Association drafted him. In the 2006 World Cup, Messi returned, on track to be the greatest player in the world, but his country folded their arms, skeptical of a European transplant wearing La Albiceleste, the iconic sky-blue and white jerseys.
For Maradona, fans tell a classic rags-to-riches story. Raised in Buenos Aires, Maradona's talent shone through his humble background when discovered by Boca Juniors recruiters. He won the World Cup in 1986, cementing his status as a beacon of hope for the Argentine people. Though he retired from the sport in 1997 and passed in 2020 at the age of sixty, he continues to live large in the Argentine imagination. The inclusion of Messi alongside the legendary Maradona in the lyrics comes tantalizingly close to proving that Messi has finally earned a place alongside his and Argentina's idol.
The second line makes clear that Argentines refuse to forget the Falklands War. In 1982, Argentina made a ten-week, unofficial and unsuccessful attempt to claim the southern islands, known in Spanish as Islas Malvinas, a British territory, as its own. The conflict rekindled the patriotism felt for its neighboring territory but ended in humbling defeat with an estimated 11,400 prisoners of war and 650 fatalities.
The lyrics harken to four years after the conflict, when Maradona's 1986 World Cup victory resonated beyond the world of soccer. His semifinals performance won him a place in the finals and in the hearts of his nation because Argentina finally beat England. Maradona embodied what many of his country's children dream of becoming: the greatest player in the world, bringing pride to Argentina.
Fifty-one minutes into that 1986 game, Argentina and England were tied 0-0, and Maradona scored. If only for one second, Maradona became God. Armed with a fervor for justice, the "Hand of God" returned to avenge the Argentine people and their beloved islands. Most people who rewatch that moment agree that Maradona cheated England, punching the ball into the net. But it doesn't matter. England had already taken so much from Argentina that a soccer championship stolen would be a step too far. Argentina needed this win, and God delivered.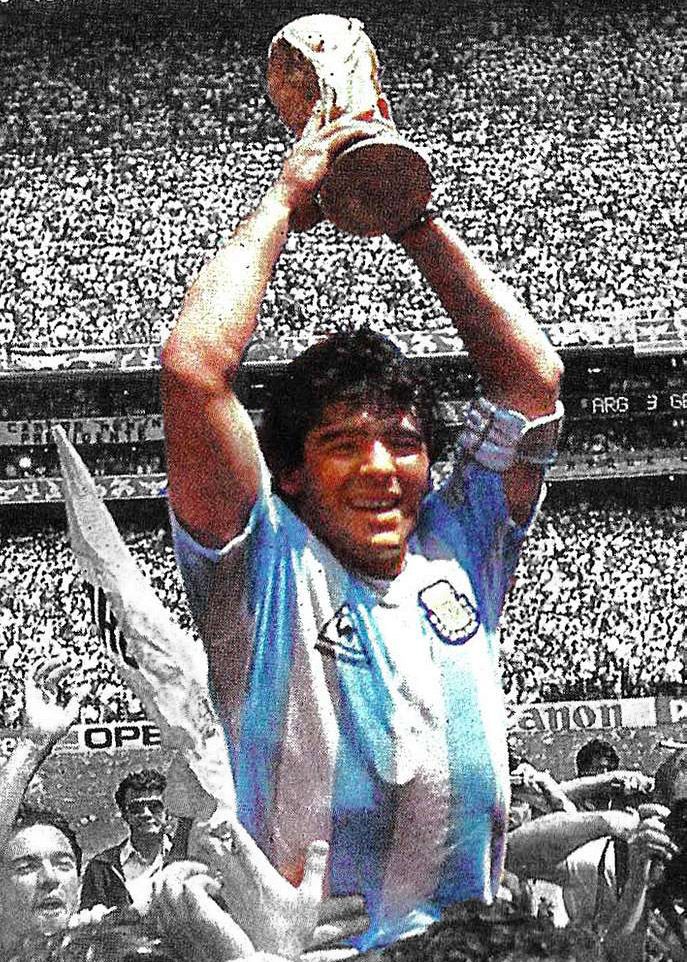 While the "Hand of God" might be one of his most infamous plays, the second point scored Maradona a place in soccer history. Maradona's "Goal of the Century" proved that even a child of the slums can outwit and outrun his greatest enemies. Uruguayan sports broadcaster Victor Hugo Morales captured the moment screaming, "In the greatest plays of all times, a cosmic kite! From what planet did you come from? To leave the English in his wake, to turn the country into a fist, screaming for Argentina!"
Through tears, Morales sobs, "Thank you, God, for soccer, for Maradona, for these tears." The greatest player of his generation became a legend in under ninety minutes.
When Argentina plays soccer, their pride is at stake. One can expect intense emotions for any result but especially for losses. Argentina lost plenty of final matches from the 2014 World Cup to the 2015 and 2016 Copa America final. Some shamed Messi's shy demeanor and European techniques as evidence of him being a poor captain and an imposter Argentinian. Others sympathized with the players as if they were brothers. Out of anger or sadness, the country cried.
After the 2016 Copa America final, the nation felt a loss beyond the match itself. Lionel Messi quit. Amid constant critique for his failure to win a championship for Argentina, Messi said, "I've done all I can. It hurts to not be a champion." Wracked with guilt and desperation, the country begged Messi for forgiveness, asking him to return home. In a widely shared Facebook post, fifteen-year-old Enzo Fernandez sought to comfort the superstar writing, "Seeing you play with the light blue and white is the greatest pride in the world… Thank you and forgive us." Fernandez didn't know that six years later, he would join Messi on the national team. Future players take inspiration from present-day icons.
Messi returned a few months later, citing his love for his country and team as inspiration. Yet, the break proved that Messi could crack under the pressure of his 40 million fans. He needed a win.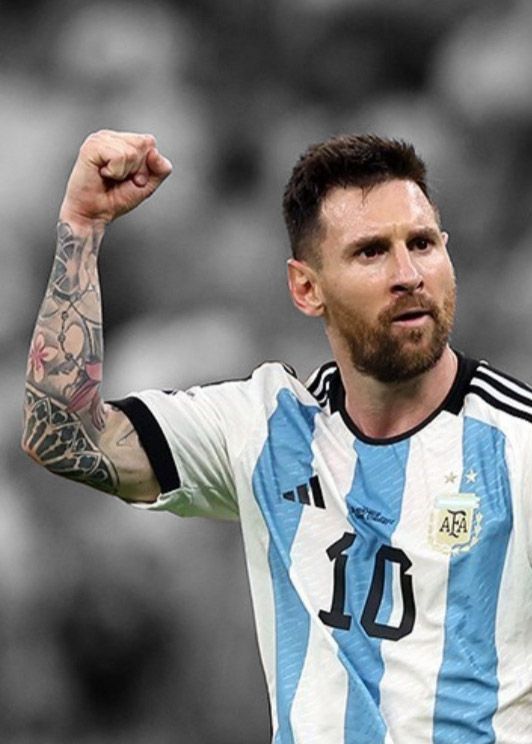 Following a twenty-eight-year drought, the Argentina National Team finally brought home an international title. Anyone can imagine the euphoric feeling of victory. This song goes further, delving into the storied Argentina-Brazil rivalry.
The two soccer powerhouses argue over who is better, citing Pelé versus Maradona, Neymar versus Messi. Although Brazil has more World Cup titles (five), Argentina (two) insists on their prowess. In July 2021, the Argentina National Team traveled to the Maracanã Stadium in Rio de Janeiro, where Brazil had lost only one international match, seeking a win for Messi and their country in the Copa America.
The referee blew the final whistle, Argentina up by one point, and Messi collapsed on the field. His teammates jumped on him yelling, "We did it for you!" Ten La Liga titles, four Champions League wins, and a record seven Ballon d'Or awards brought Messi international acclaim. The Copa America made his childhood dream come true: to make his country proud. But Argentina and Messi wanted more.
A renewed Messi emerged from the 2021 Copa America because the desperation to win anything for Argentina disappeared. This World Cup was not about Messi proving himself to Argentina. His tear-filled celebration showed that he cared about the national team just as much, if not more, than club soccer. Argentina coach Jorge Sampaoli insisted, "Messi does not owe Argentina a World Cup. Football owes Messi a World Cup." In this tournament, each fan stands in solidarity with their team and yearns to be world champions.
Maradona's death in 2020 devastated the nation and its players. News anchors cried on air, players wore his jersey in tribute, and thousands bid goodbye to the legend resting at the presidential palace. He is buried on the outskirts of Buenos Aires alongside his parents, known as Don Diego and La Tota. His legacy lives in the players he inspired including the entire Argentina National Team. Argentina witnessed the death of an idol and supports his chosen heir. With overwhelming support, even from supernatural forces, Leo earned his greatest achievement: the FIFA World Cup.
While the song centers Argentina, its message proves that the World Cup inspires patriotism, solidarity, and hope. The world stops for a month. Cities shut down, schools open late, and zealous fans wait with bated breath for their story to be told. Communities that have withstood or are undergoing the humiliation of economic crisis, democratic collapse, and human rights abuses can still be proud of their players on the field. For many, their team qualifying is enough; for those few matches you have a place among the stars.
Even if the reprieve from the "real world" lasts for just a couple hours or one moment, it keeps us hopeful that one day we can make our countries proud. Children of every nation can see themselves as heroes.
Anna Farronay is an intern at the Center for Folklife and Cultural Heritage and a junior history major at Harvard College.