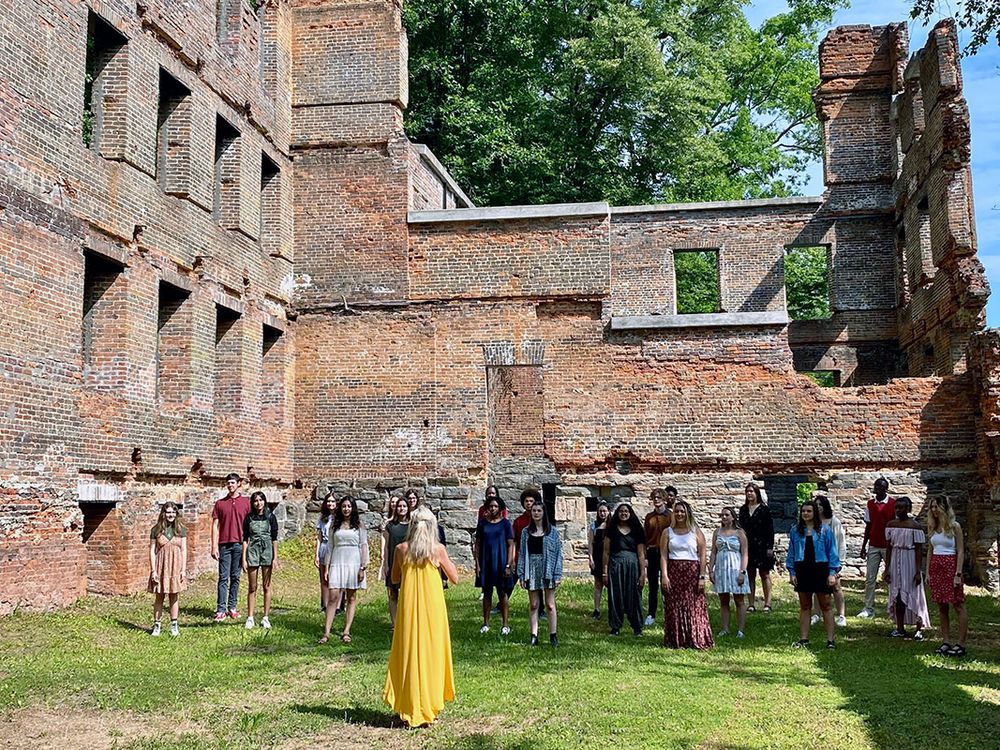 Who doesn't love a good rhetorical question? Though often delivered with sarcasm, they call for higher-level thinking. When conveyed by a singer in a personal way, they can stir the emotions and compel an audience to listen deeply.
The choral students and teachers at Alexander High School in Douglasville, Georgia, asked such a question during the global pandemic and our country's present social turmoil: "How can I keep from singing?"
Our choral students have spent the past six years exploring American folk music, specifically music that emerged in the nineteenth century. When the invitation from the Center for Folklife and Cultural Heritage arrived to select a piece from the Smithsonian Folkways collection and use it to help inspire other schools to do the same, we were ready.
In that century, not long after the founding of our nation, the act of singing together took on many forms. A few of these were wilderness spirituals, Shaker songs and hymns such as those found in the 1844 collection The Sacred Harp, which was so influential that its name was given to a particular community-based style of singing. In Sacred Harp, also known as shape-note singing, musical notes are replaced by shapes: fa – triangle, sol – oval, la – rectangle, and mi – diamond. This was thought to make performing easier for untrained musicians and singers.
We began our journey through Sacred Harp music in 2016 when we first performed Tim Sharp's "Come Away to the Skies: A High Lonesome Mass." In his arrangement, Sharp placed several pieces together, including "Come Away to the Skies," "What Wondrous Love Is This?" (another rhetorical question), "Hail the Blest Morn," and "Brethren We Have Met to Worship." In the 2016-2017 academic year, we traveled to a chapel deep in a rural area, specially built to accommodate the Sacred Harp. For the first time, our students experienced an authentic "singing."
As a choral director, I feel it's important to share with students the meaning behind the songs we sing. Learning their settings and place in history encourages our students to be more civically minded. The cultural history of the United States is compelling, and choral music is one of the best artifacts and devices to use in education.
Douglasville, Georgia, the home of Alexander High School, is located less than twenty-five miles west of Atlanta and represents the divide where urban meets rural. Once waning, the largest Sacred Harp community in the Southeast now thrives at our backdoor, as new interest has come from unlikely places. Here, family traditions run deep, rich, and multigenerational, and singers from around the world travel to participate in conventions and singings in nearby towns and venues like Emmaus, Holly Springs, and Hopewell. The proximity to genre made it easy to find ways to enrich our students' cultural experience with song.
Our Smithsonian project evolved through many phases. After years of fascination with Sacred Harp and the invitation, we dug into the vast Folkways collection, searching for pieces that resonated. The catalog offers so much that, together, we were able to listen to and examine multiple possibilities. Tim Sharp, who is also the former executive director of the American Choral Directors Association, became a critical part of the decision.
We chose to investigate American preacher Robert Lowry's hymn "How Can I Keep from Singing?" which appeared in the 1869 songbook he edited, Bright Jewels for the Sunday School. The composition is often performed in Sacred Harp style: everyone sits in a square, facing each other, and sings expressly for each other. The text and tune hold an interesting and well-documented history that made the selection easy.
To round out the educational experience, we collaborated with Alexander's English department. Debbie Rager prepared lessons on the history of the language and led students in examining the text for meaning. Dr. Sharp taught detailed lessons virtually to the students covering the history of American folk music, spanning the dates before and after the writing of our chosen piece. Unlike other schools and choirs, we were allowed to rehearse in person during the worst of the COVID-19 pandemic, although we maintained strict masking and social distancing, and concerts transitioned online. We sang!
The choir commissioned Dr. Sharp to create an arrangement specifically for Alexander High School and the Smithsonian. He made our students part of the arranging process, sending them small sections to allow them to experience the evolution of the piece. The students would video themselves performing these sections and return them to him. Dr. Sharp is an arranger who fully understands traditional music as well as how to educate students.
In 1846, just two years after the publishing of The Sacred Harp, the inventor of the word "folklore," William Thoms, determined folklore to be "the traditions, customs, and superstitions of the uncultured classes." His sentiments are far removed from the field today, which examines all people regardless of class. At the time "How Can I Keep from Singing?" was written, literacy was low. For congregations and choruses, this made memorization necessary and repetition essential. Singers of the day found rich imagery, particularly religious imagery, in the piece we chose to study. For us, this provided a pathway to discussion and a better understanding of the Center's mission: to build understanding, strengthen communities, and reinforce our shared humanity through the power of culture.
Today, "How Can I Keep from Singing?" is not unfamiliar. The song is now a central part of the Quaker musical tradition, but it did not originate as such. Along with Doris Plenn, Pete Seeger brought it to greater light during the folk revival of the 1960s. Years before, Plenn had added a verse that the two sang in support of victims of the House Un-American Activities Committee.
The lyrics, which so aptly pay homage to the human spirit and its power to endure, made it a favorite during the global pandemic:
No storm can shake my inmost calm,
While to that rock I'm clinging.
Not only imagery but sound devices like alliteration sooth the soul through repetitive "s" sounds.
Reluctant hymn writer Robert Lowry, who considered himself a preacher first, is also credited for enduring favorites like "Shall We Gather at the River," which American composer Aaron Copland later used in compositions, revealing his deep fascination with the period. In our studies, we found that Lowry had written more than 500 hymn tunes. The earliest known publication of our song appeared in The New York Observer on August 27, 1868, when the hymn bore the title "Always Rejoicing." A year later, Lowry published the Bright Jewels songbook, where he claimed authorship of the tune.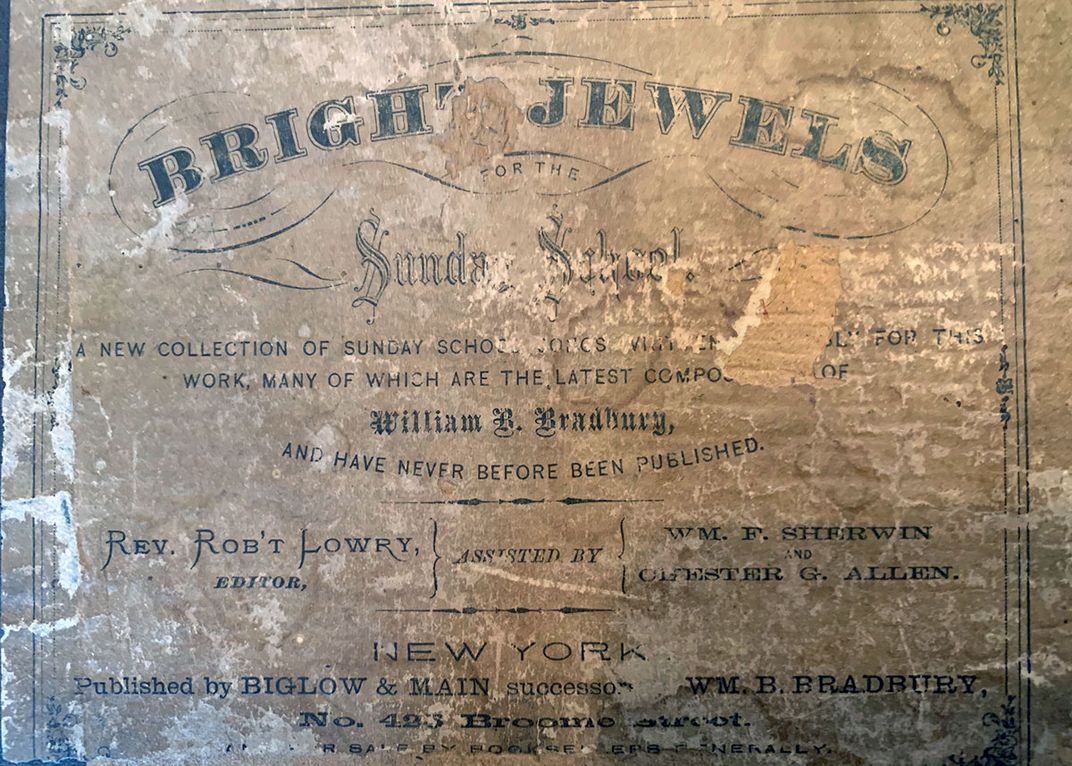 Like Pete Seeger during the folk revival, Dr. Sharp chose to modify the text for our rendition to lessen the Christian wording, opting for a more nonsectarian iteration.
This is what Dr. Sharp says about his setting of "How Can I Keep from Singing?":
In this setting commissioned by Alexander High School especially for this project, I not only wanted to express the words and message of this song very clearly, but I also wanted to highlight the beauty of the sounds of the words Lowry used. The word "singing" has the very comforting prolonged "s" sound, and the very liquid and singable "ng" sound, used twice within the word. By using these sounds, my desire was to say, "we just can't keep from singing," since even the speaking of this word sounds like song. I exploited that word so that it became the climax of this arrangement and became something of a word-poem in itself. I introduce that idea at the beginning, and then I have the chorus accompany the melody without words. This is to show that we can still sing, even when words are taken away or masks cover our mouths. The resulting arrangement was meant to be a tribute to this high school choir that sang throughout the pandemic, as challenging as that was, and who emerged as a stronger choir now that they are once again singing freely.
Most can relate to the imagery of life flowing as a river and a rock to which we can cling in the midst of the tumult. The use of the first-person pronoun underlies the universal experience of suffering. The Mastery Choir of Alexander High School lived this piece physically and metaphorically and articulate their journey through this valuable experience with the Folkways collection.
Most high school students know that suffering comes. Our dive into this project made a difference in our understanding of American folk music and how our choral heritage, something we delight in performing every day, reflects our country's cultural and community history. The human brain seeks answers when it hears a question. This probing question is not solved with a simple "yes" or "no." When singers perform this inspiring journey into Sacred Harp, they are essentially answering the rhetorical question, "How can I keep from singing?"
Educational Resources
Along with this video, teachers at Alexander High School prepared these lesson plans and other resources, shared here for students, educators, and choir directors across the country. Tim Sharp generously offers his arrangement of "How Can I Keep from Singing?" for free use as well.
Sandra Chandler is the director of choral activities at Alexander High School in Douglasville, Georgia, and the conductor of Georgia Canta, a multigenerational community choir. She is an active member of American Choral Directors Association, the National Association for Music Education, and the Georgia Music Educators Association.
Debbie Rager has worked as a public high school English teacher since 1995. Her career highlights include being named her school's Teacher of the Year (2001 and 2017), being selected as STAR Teacher (2000), and collaborating professionally with GCTE, Metro RESA, and the Douglas County School System.
The Alexander High School Mastery Choir in the video consists of students Abbie Archer, Zachary Armas, Luisa Arnold, Andy Barker, Annaleah Bearden, Catherine Blackwell, Sadie Blackwell, Ileana Bossie, Hope Bowen, Isaac Breiding, Meredith Brown, Christine Chabbouh, Avery DeBlasis, Jalissa Darity, Myia Davenport, Elizabeth Dotson, Solomon Dotson, Ethan Duce, Taylor Evans, Emma Fluharty, Joshua Huggins, Jacquelyn Jones, Kendyl Jones, Myles Mason, Megan McCollough, Adrianna McCoy, Shad McMillan, Nikki Morris, Jonathan Murray, Andrew Nauman, Isabelle Perry, Yasmin Pettis, Faith Phillips, Maura Plumley, Eli Purrington, Suzie Rager, Jaci Rainwater, Emma Ritchie, Alyssa Royal, Lauryn Simmonette, Shelbie Simmonette, Morgan Stephens, Jacob Still, Taya Taylor, Isabela Torres, Sandra Salazar Torres, Abigail Vafai, Grant Weathington, and Christina Webb.