SMITHSONIAN CENTER FOR FOLKLIFE & CULTURAL HERITAGE
The Spirit Across Regions: Armenia from the Local Perspective
Yerevan Magazine spoke with several beneficiaries of the My Armenia Program who offer exciting tourism experiences in different regions of Armenia.
---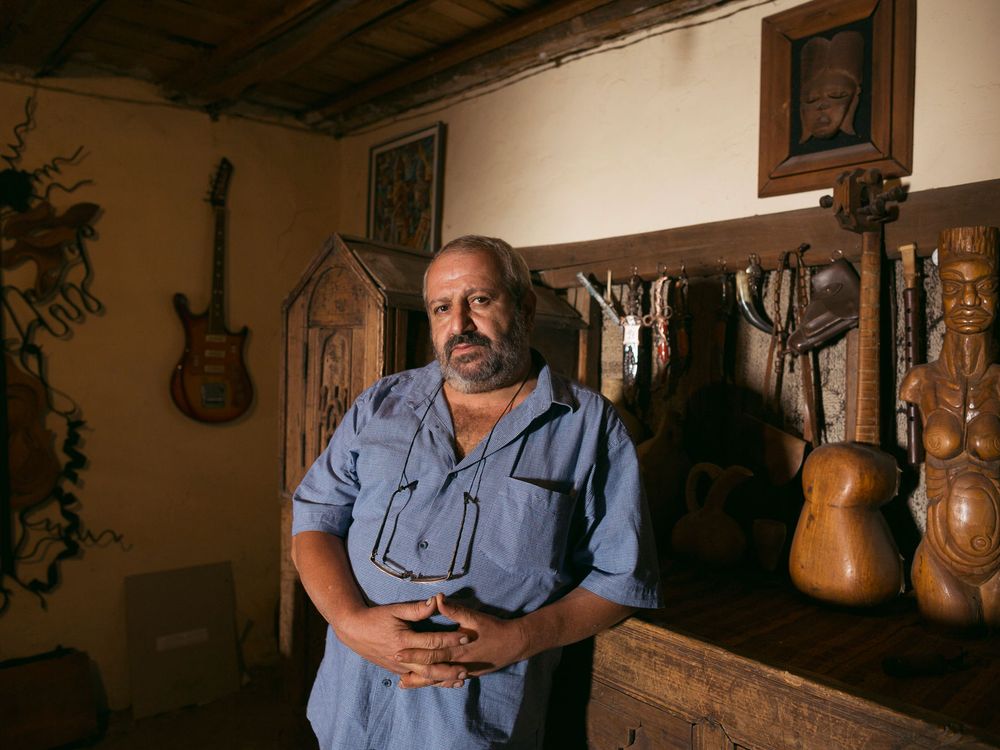 In the summer of 2020, the Center for Folklife and Cultural Heritage's My Armenia Program partnered with Armenian publication Yerevan Magazine to publish a special issue highlighting community-based cultural heritage tourism in the country. Over the next few months, the Center will publish English translations of the articles to Smithsonian Voices.
During this difficult time in the region, we hope these stories shine a light on the resilience of the Armenian people by showcasing their vibrant, diverse cultural heritage.
Horseback Riding Inside Toumanian's World, Lori
Tour Guide Saro Ohanyan
You can find us in the Toumanian district of the Lori region, where we have been organizing horseback riding tours since 2016. I grew up here and I know the mountains and hills like the back of my own hand. It is gratifying when your job is showing your home to your guests, presenting what you know and love deeply. I think our guests share this love with us by the time they leave.
The duration of the tours varies from one to five days. We also have hiking tours, but primarily we offer horseback riding. The tour to the UNESCO World Heritage Sites of Haghpat and Sanahin Monasteries is the most popular among the short itineraries. The longer tours cover the entire Toumanian district and beyond, which allows us to visit Odzun and Hnevank Monasteries, Hovhannes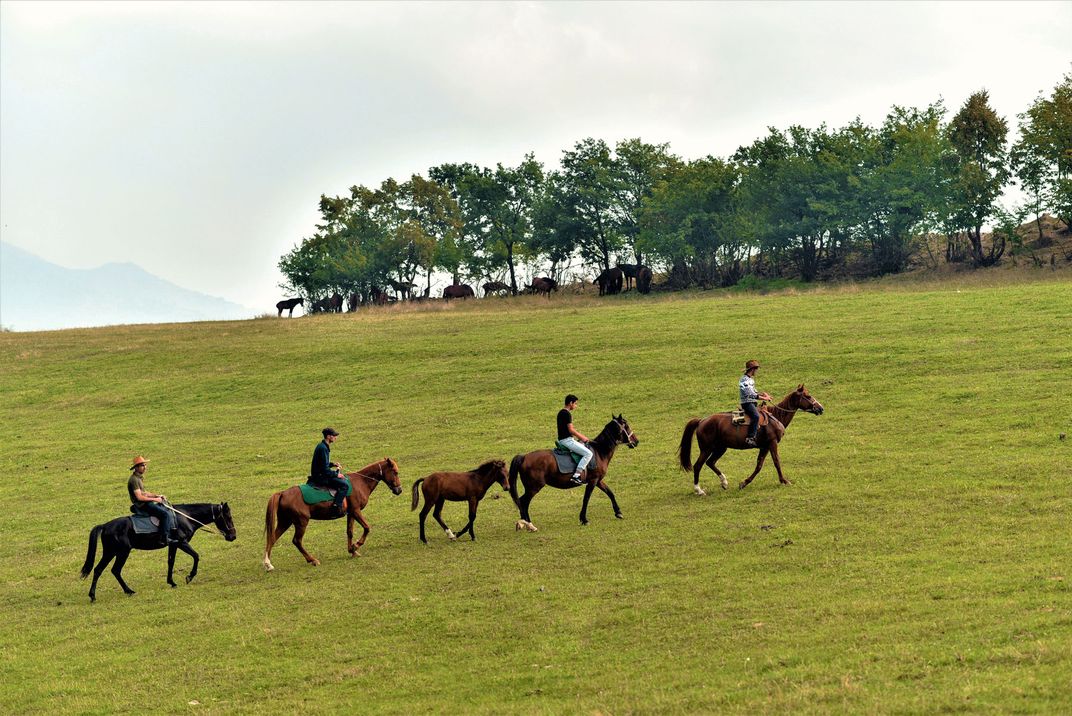 We offer tours in Armenian, Russian, and English. In some cases, we develop custom tours upon demand. For example, last year we organized a fascinating tour where we crossed through three regions and finally reached Lake Sevan. During long tours, we either stay in hotels if available, or spend the night in tents under a starry sky—which is an amazing experience. For multi-day tours, you need to have some skills in horseback riding, but for the shorter tours we will give you half an hour of training before setting off.
With the My Armenia Program, we acquired new knowledge and refreshed what we already knew in architecture and Armenian history, as well as skills to present and promote ourselves. The Program also helps us be more visible on the market.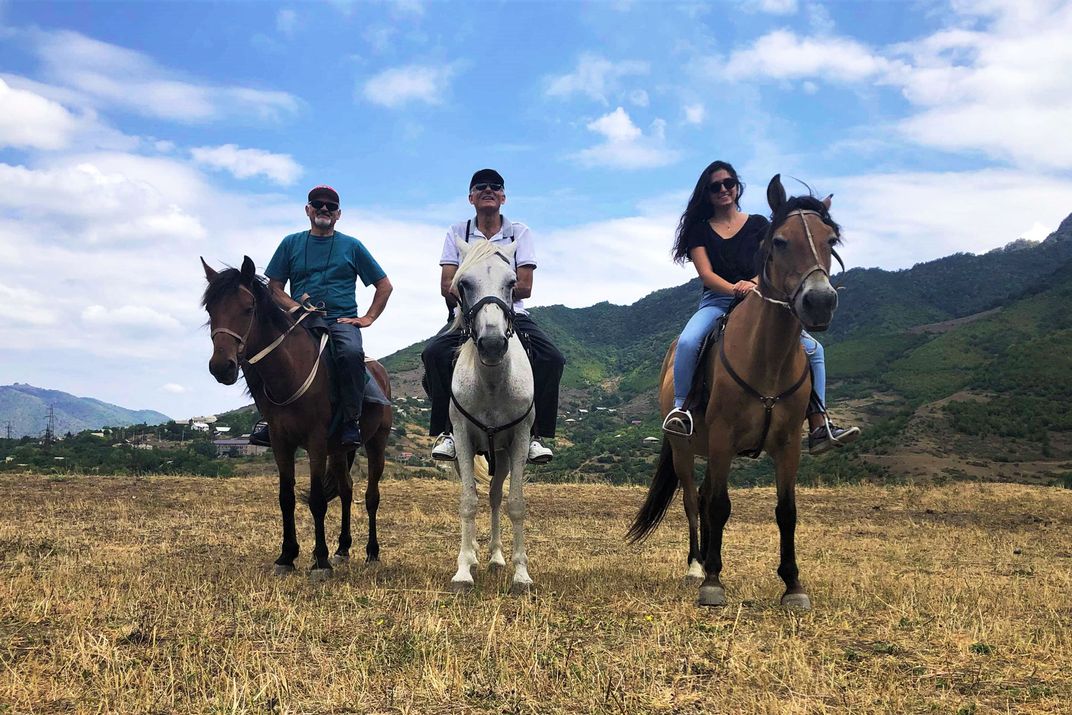 Creating Recycled Fine-Art Collages, Vayots Dzor
Artist and Sculptor Artyom Yerkat Ghazaryan
I am an architect by education, but I have worked in many different fields like design, painting, and sculpture. One of my hobbies is also to create collages and objects from wood, metal, stone, and materials that would otherwise be considered waste. In recent years, I have specialized in creating unusual figures and scenes in iron, but it is not blacksmith's work (Ed.: yerkat in Armenian means metal). I have transferred the ironworking from the applied to the artistic realm. Recently, I was awarded the title of Master Craftsman in the artistic processing of iron.
Improvisation is at the heart of my work. My mood is a large factor, and I never imitate the old or repeat myself. People often tell me that each of my paintings seems to have been created by a different artist. You should work in the spirit of the times, and your works must feature your own signature style. Otherwise, how will you be different from others?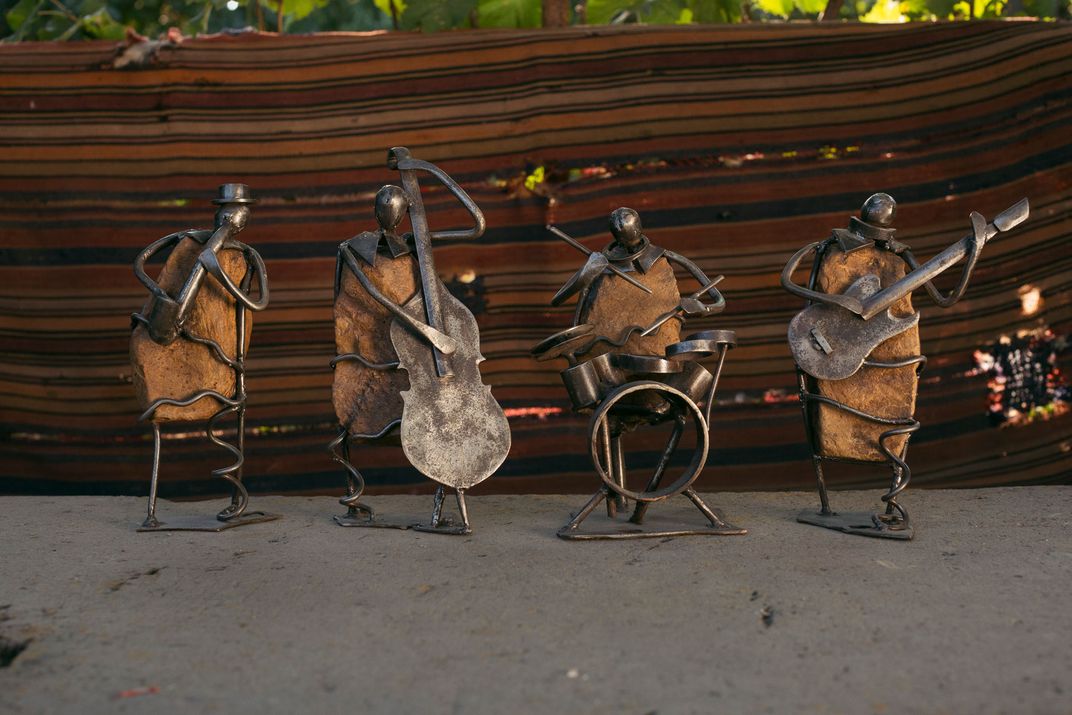 I have always wanted to work with tourists, and we developed a concept of my classes with the support of the My Armenia Program. Every nation has its own colors, volumes, and contrasts. With me, tourists can see what's most typical of Armenia. I invite them to my ancestral house, show my work, and then accompany them to our yard, where we hold our class around a table beneath the trees. Together we make collages, taking objects like apricot pits or bird feathers—things that are hardly useful in any other way, but that take on a new life in the collages. In a sense, I provide the materials to my guests and give them total creative freedom. I often say that you can use what you find around you, such as a twig that may land on your head. I noticed that the way people assemble collages may reveal much about their personality and nature.
After the class ends, we all go down to my favorite part of the house—the basement, which I named otagh (Ed.: usually a room where you rest and welcome guests). The basement has recently been renovated, but we have kept the entire flooring and furnishing how it used to be when my grandparents were young. Tourists will certainly like it. There, we have lunch and share all kinds of stories.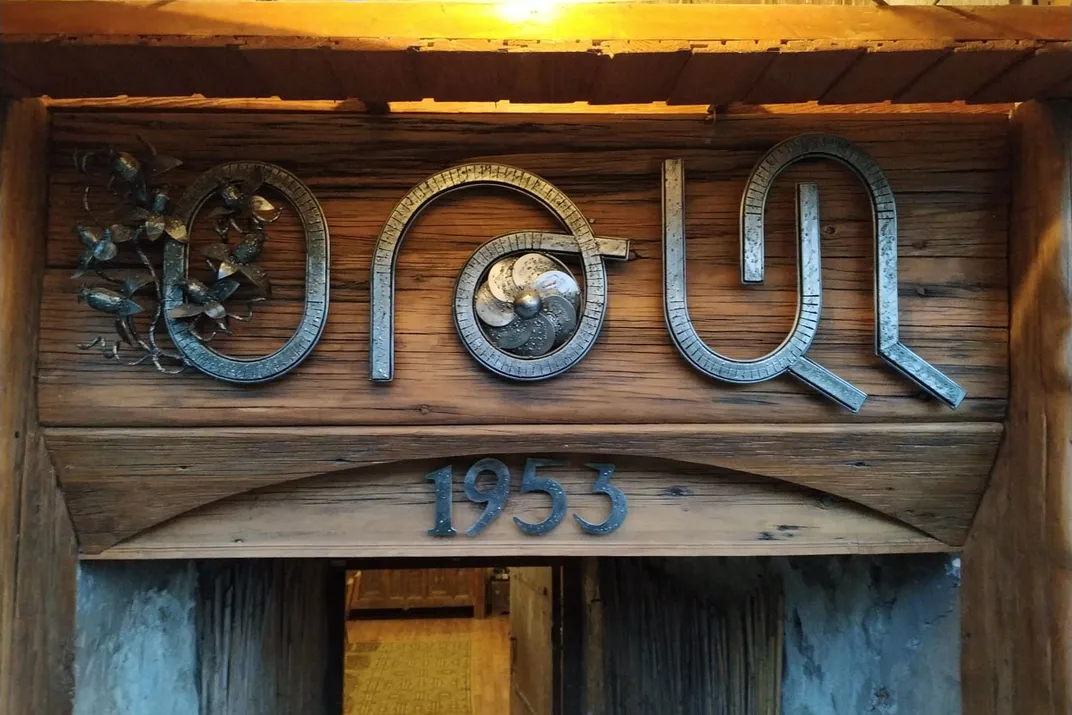 Learning about the Mariam and Eranuhi Aslamazyan Sisters' Heritage, Gyumri
Gallery Director Mikayel Vardparonyan
I have been surrounded by art since my childhood. My grandfather, Khachatur Vardparonyan, was a distinguished artist of the USSR. Inspired by his heritage, I decided to enroll in the Academy of Fine Arts. Upon graduating, I worked for a couple of years on the restoration of frescos, including those by Minas Avetisyan. Later, returning to Gyumri, I continued restoring art in the Gallery of the Aslamazyan Sisters. Initially, I restored paintings, but then I started combining that job with that of a tour guide and a pottery instructor. Now I am also the acting director of the Gallery. It is very important to me that I am able to work in the art industry in my hometown, particularly in such a special gallery with deep cultural roots.
The Gallery of Mariam and Eranuhi Aslamazyan Sisters was established in 1987, when the sisters, famous in Armenia and throughout the Soviet Union, decided to exhibit 620 of their original works in their native Gyumri. Today, their paintings, and their graphical and ceramic works are still displayed in the gallery.
Recently we have been working actively on the creation of a gallery-inspired museum shop. Souvenirs, created in the style, technique, and color palette of the Aslamazyan sisters, will be sold there. The products will be made by artisans from different regions—primarily from the Shirak region where Gyumri is located.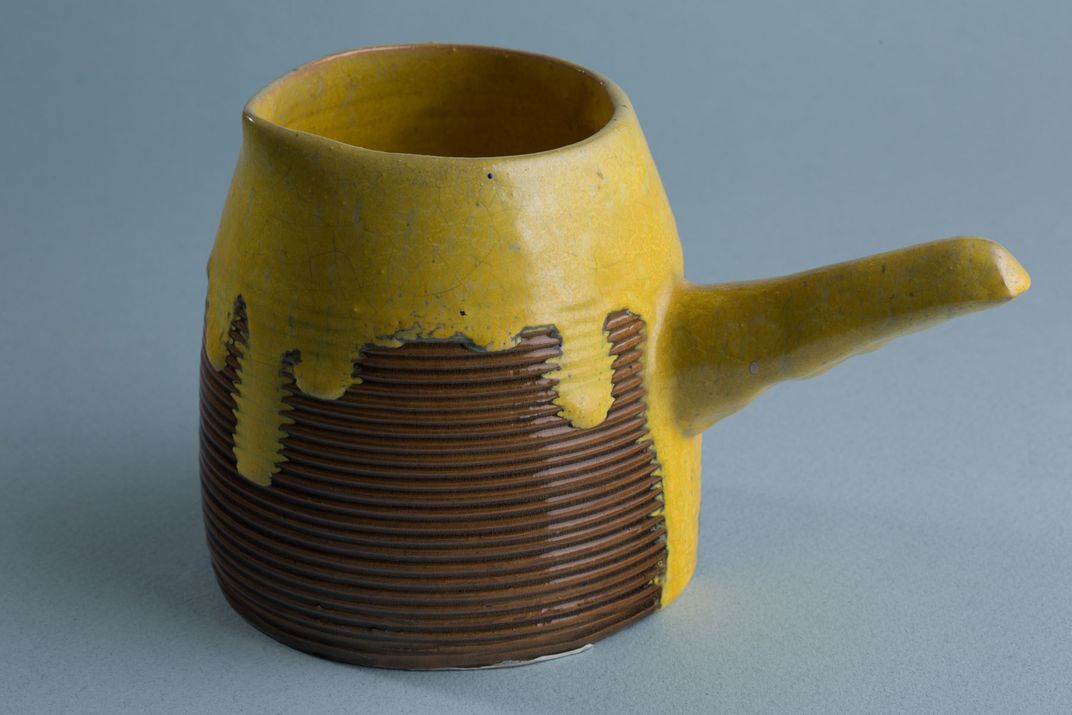 The Gallery of the Aslamazyan Sisters is one of Armenia's exceptional galleries that creates its own products, which was one of the reasons we decided to create the shop. The museum staff makes smaller ceramic replicas in the form of souvenirs, using the style, color diversity, and techniques characteristic of the Aslamazyan sisters. We needed to allocate space to see all those products. With support from the My Armenia Program, we started renovating the shop, which opened its doors in September 2020.
We have also developed the "One Thousand and One Shades" class, which covers a complete package of services, including a guided tour of the gallery where you may learn about the sisters' works on display, as well as get to know the sisters' techniques with a local artisan's help. Next, you may take part in a pottery class, where they make their own souvenirs, inspired by the Aslamazyan sisters' style and techniques. And, of course, we will enjoy tea, coffee, and sweets.
We used the situation with the pandemic to create a proper café space in the backyard of the gallery. In the future, we can receive our guests there, serving coffee in pots inspired by the Aslamazyan sisters' works.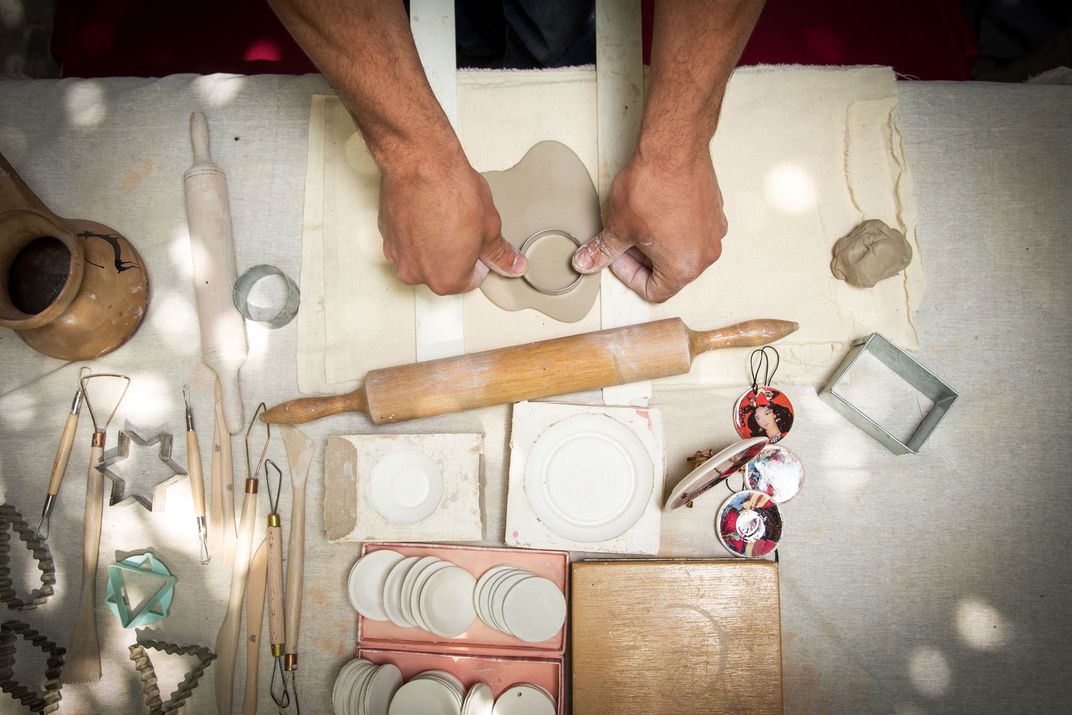 Discovering 7,000 Years-Old Petroglyphs with Basen Tours, Sisian
Basen Hotel and Tours Owner and Manager Hasmik Azoyan
The Basen Hotel is located in Sisian, and is named for the former Basen region in Western Armenia, in the vicinity of present-day Erzurum, Turkey. During the years of the Armenian Genocide, our family's ancestors came straight from there to Sisian and settled here. I believe the biggest advantage of Sisian is its proximity to the petroglyphs of Syunik. For ten years we have been working to make it popular among tourists and we frequently organize tours to these picturesque places.
Our most popular destination is the petroglyphs of Ughtasar dating to the fifth millennium BCE. In the past, it was not a commercial project for us; we simply helped visitors discover Sisian and find suitable travel options. In 2017-2018, when the My Armenia Program team came to Sisian and initiated various trainings for local guides, I decided to participate. I truly enjoy sharing my knowledge and love for Sisian with other people.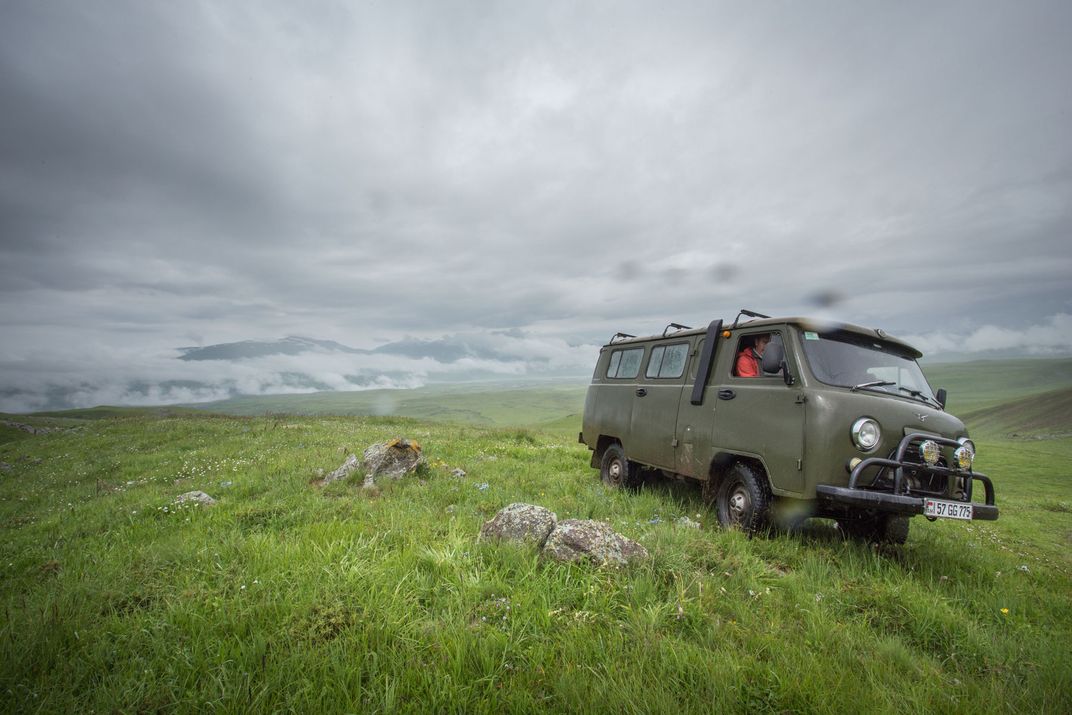 At that time, we already had the concept for the Ughtasar petroglyph tour and needed only to work out the details. We also wanted to brand it correctly and make it commercially viable. My Armenia brought students from the Tumo Center for Creative Technologies to Sisian, and with them we created the brand identity of Basen Tours. We really liked the logo, which features petroglyph motifs (of course!), and which now has become an integral part of our visual identity by presenting both the hotel and the tourism experiences to our guests.
The petroglyphs of Ughtasar are at roughly 3,000 meters above sea level, so you need an off-road vehicle to reach them. We have modern jeeps for that; however, knowing how much foreigners love Soviet vehicles, we also kept several UAZ off-roaders especially for those guests who like to discover the unforgettable feelings of a shaky, Soviet-style ride to Ughtasar.