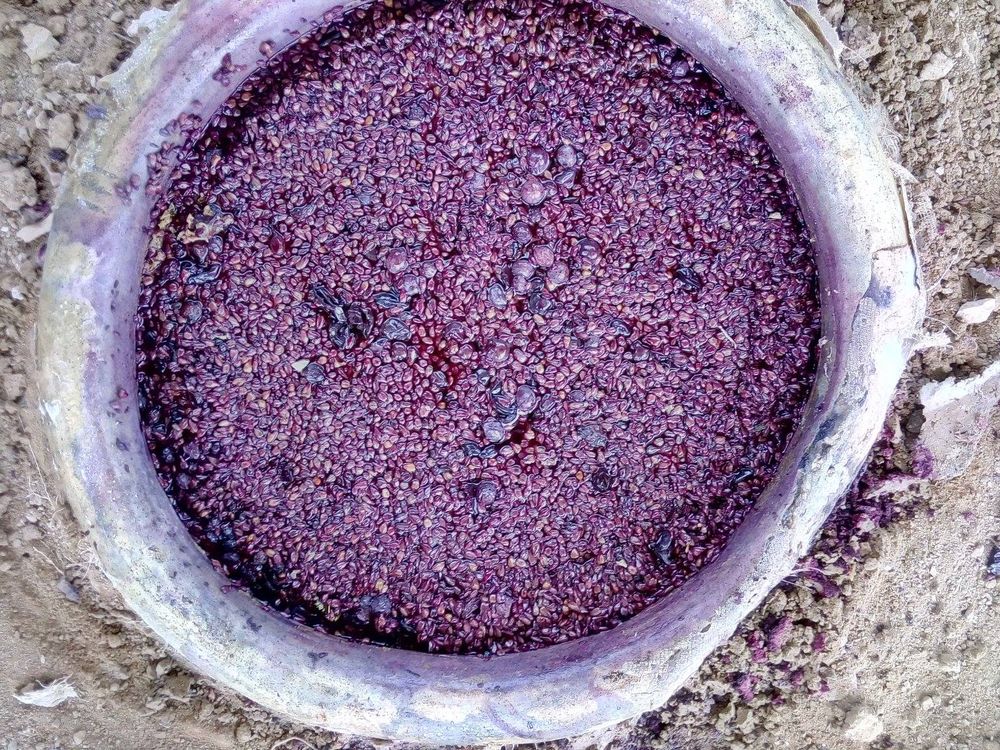 In the summer of 2020, the Center for Folklife and Cultural Heritage's My Armenia Program partnered with Armenian publication Yerevan Magazine to publish a special issue highlighting community-based cultural heritage tourism in the country. Over the next few months, the Center will publish English translations of the articles to Smithsonian Voices.
In 2019, historian and wine expert Tigran Zakaryan dedicated an entire day to the Vayots Dzor Wine Route and visited six wineries at the request of Yerevan Magazine. During this difficult time in the region, we hope these stories shine a light on the resilience of the Armenian people by showcasing their vibrant, diverse cultural heritage.
Wine has been an integral part of the Middle East and the life of the ancient civilizations of Europe since prehistoric times. Armenia, where the oldest trace of wine production is 6,100 years old, can indeed compete for the title of the "cradle of wine." One source of this claim is the Bible, which describes how Noah created a vineyard at the foot of Ararat, where his ark landed following the flood. There Noah made the first wine from the fruit of that vineyard and even became drunk from the wine. For ages, people believed that Noah lived in Nakhijevan after the flood and was buried there after he died.
While the Bible and science have not yet agreed on the birthplace of wine, nothing can prevent us from wandering along the wineries of Vayots Dzor, near Noah's vineyards and towards the first wine cellar. Indeed, in order to gain greater insight into Armenian wine, we should start at its cradle, Vayots Dzor. So, let's go.
The Beginning of the Route
As the road stretches along the sun-soaked Ararat Valley, let's remember that Armenia is a country of incredible crossings, a place where people boast about the day before yesterday, are upset from today, cherish hopes for tomorrow, and forget about yesterday. The same is true for wine. We have relatively limited information about wine culture in Armenia during the Middle Ages, but we do know that wine culture completely collapsed during the Soviet period, when the habit of drinking low-quality imported vodka replaced it. Today's restoration of wine culture in Armenia comes not from the Soviet-era factories, but rather from numerous newly created small and medium businesses, many of which are family enterprises. The more notable ones are the destinations of today's wine route.
On the way from the Ararat Valley to Vayots Dzor, we notice how the terrain changes from flat fields to low hills, and then to chestnut-colored high mountains. We soon reach our first destination, which is located at the southern edge of Areni village, at an altitude of around 1,000 meters above sea level. There are two wineries next to each other awaiting us here: Areni and Hin Areni.
The Old and the New
Founded in 1994 as the family enterprise of the Simonyan family, Areni is the oldest winery of the village. Its current production is impressive—up to 200,000 bottles per year, with a large assortment featuring both white and red wine, as well as many fruit varieties. Built in 2013, the wine hall complements a large restaurant where you may taste traditional and modern dishes along with the Areni wines—red dry, semi-dry, and semi-sweet wines, made from ingredients brought from neighboring Aghavnadzor village. From the fruit wines, the Areni winery offers wines made from pomegranate, cherry, quince, blackberry, raspberry, and other fruits. Those fruits come mostly from the surrounding villages, and the berries are from Lori—but the pomegranates are imported from Artsakh, namely from Martakert, which is famous for this bright-red fruit.
The next winery on our list is Hin Areni (hin means old in Armenian), an impressive place where winemaking traditions are combined with modern equipment, designed by the Argentinian specialist Mario Japaz. The wine's composition and expressive aromatic bouquet result from the rich sedimentary and volcanic soil, bright sun, and microclimate of the vineyards located at an altitude of more than 1,200 meters. The winery cultivates around 250 tons of grapes each year to produce high volumes and an assortment of varieties—including Areni Noir red and rose, and Voskehat white—that have attracted and still continue to attract new fans in Armenia and abroad.
Getapi tun (House on the Riverbank)
Other wineries await us in the surrounding territory —only 20 minutes away along a picturesque road to Yeghegnadzor. Along the way, we may see the renowned cave of Areni and the lush green gorge of the Arpa River, which contrasts with mountain slopes that acquire a golden tint under the sun, which can be scorching in summer.
A bit further, we can see the Getnatun winery on the left side of the road leading to the south. This place, which formerly served as a tobacco factory, became a winery in 1999 and expanded over the years (and we can't help admiring this greatly positive transformation of the factory). The fruits growing on eight hectares of vineyards in Vernashen village are highly sweet and sour, which are very important factors for creating a balanced wine. This is due not only to the vineyard's location in a submontane territory at an altitude of 1400 to 1600 meters, but also the sandy and calcareous soil, sunny climate, and great temperature differential between day and night.
The semi-sweet pomegranate wine of Getnatun is fascinating with its distinctive scent and balanced taste. It is sour and a little bit sweet, complemented with just a touch of astringency.
The over-ripe, often cracked, and exceptionally red pomegranate is brought from either Meghri in southern Armenia or Artsakh. Yet, Getnatun also uses its own fruits to make high-quality apple, apricot, and plum vodkas, which are aged for seven or more years. The wine factory also has reserve wines—aged wines, which are first kept in oak barrels and then in bottles for at least four years before being sold.
The Old Bridge of the Silk Road
Let's head back home, but not too quickly. At the very edge of Yeghegnadzor, on the right side of the road to Yerevan, a hospitable hearth welcomes us, equipped with everything: a wine cellar, a tasting room with a kitchen, a rest area, and last but not least a guesthouse.
We are at Old Bridge, named for the only bridge in Armenia today with a pointed arch, built at the beginning of the 13th century and renovated several times. There was a time when the bridge served travelers on the old Silk Road. Currently, Old Bridge unites the Western and Armenian winemaking traditions, introducing Armenia and particularly Vayots Dzor to the world.
Founded in 1998, this family business of the Khalatyans does not have a very large assortment of wines—only the red reserve wine made of Areni grapes and white wine from Voskehat grapes. However, the owners constantly seek to improve the quality of their existing wines.
The red reserve wine is aged in oak barrels from Artsakh. Mushegh, who returned to Armenia from Sweden to help his parents in promoting the enterprise, tells us that the wine stays in those barrels for 18 to 24 months. "Areni will not give good results in just any type of an oak barrel. It is a kind of wine with 'hard character.' It is not easy to tame it, although spoiling it is quite easy," he explains. The wine is poured into bottles from the oak barrels where it "rests from the stress" of bottling for several weeks so that it expresses all of its aromatic and gustatory characteristics when people drink it.
Old Bridge also makes strong vodkas from the residues of grapes through double distillation. Milk is used in its fermentation. This beverage is also aged in oak barrels for four years. However, Old Bridge can amaze visitors with more than merely wine and fruit vodka. The local assortments of cheese—appetizers made from goat milk—and served with wine were an excellent surprise for us. Three types of Armenian olives and olive oils impressed us with the richness of their taste and flavor, which were surprisingly equal to those imported into Armenia from foreign countries popular for their olives.
Wine Jazz
Our next destination on the wine route is Trinity Canyon Vineyards located in Aghavnadzor village on the way to Yerevan. As we drive away from the main road, a fascinating vineyard opens in front of us from behind the gates. It features a small hall where visitors may taste the diverse wines of the company and the local appetizers—cheeses and dried fruits, among others.
Trinity is relatively new. Founded by three wine enthusiasts, it has been operating only since 2009. One of the founders, Hovakim Saghatelyan, who formerly lived in the United States, tells us that organic wine production is the foundation of Trinity. Quality rather than quantity is stressed here, which explains why modern technologies characteristic of mass production of wine are not used at Trinity Canyon Vineyards.
The winery has its own philosophy: wine is more than a mere drink; it is lifestyle, a mysterious beverage which connects humans and space. "We do everything with love," according to Hovakim. Another indicator of its unconventional approach is that Trinity provides its winemakers ample space for experimentation. There is even a special experimental production line called Jazz.
In general, Trinity is a place where we can learn about, familiarize ourselves, and fall in love with wine. This is a place where people not only drink wine, but also see grapes in the vineyards, witness the grape-crushing process, occasionally participate in some of the stages of winemaking, and converse with the winemakers.
In Memory of the Architect
Momik is a family enterprise. Nver welcomes us in the village and accompanies us to the vineyards. The gem of Areni village, St. Astvatsatsin Church, is located on the left, up from the road leading to the yards. The incredible miniature painter and architect Momik constructed the church in 1321, and lends his name to the enterprise. While Momik has been popular for seven centuries, the age of the bottled wine is much more modest—existing only since 2017. Nver recounts that he grew up in a viticulturist's family and with his father planted his first vine at the age of three. This vine, now 45 years old, can yield up to 650 kilograms of grapes.
The dirt road finally brings us to the Momik vineyards which currently occupy about 200 hectares of territory. It is situated in a green valley that stretches to the yellow-tinted mountains, which appear low when viewed from afar. High mountains with bare cliffs overlook the border on the other side. In the garden is a newly constructed pavilion, which serves as a small tasting hall. From both inside and out, while seated in the shade under a canopy, we may enjoy the magnificent wine varieties and the breathtaking scenery.
We always like to say that Armenia is a nation that can squeeze bread from stone. However, it turns out that it is not only bread that can be squeezed from stone; the rocky and clay-rich, yellowish soil (looking as if nothing important can grow on it), coupled with the vivifying sun of Vayots Dzor, arouses heavenly feelings from the first smell and the first sip. The vineyards that grow mostly Areni and White Kharji grape varieties are up to 45 years old, and their harvests produce more than 4,000 bottles of wine every year.
Thus, our journey along the wine route has come to its end. However, there will be a new harvest next year, and with it another time to wander again along the wine route.
Areni
[email protected]
+374 94 42 44 02, +374 94 42 44 27
Areni Village, Vayots Dzor region, Armenia
Getnatun
[email protected], [email protected]
+374 93 41 75 44, +374 91 41 75 44
getnatoun.am
Old Areni
[email protected]; [email protected]
+37441234111
hinareniwine.am
Areni Village, Vayots Dzor region, Armenia
Old Bridge
[email protected]
+374 91 80 02 40, +374 93 21 97 56
oldbridgewinery.com
Yerevanyan Highway 1, Yeghegnadzor city, Vayots Dzor Region, Armenia
Trinity Canyon Vineyards
[email protected]
+374 55 22 73 37
trinitycv.com
Aghavnadzor Village, 1st Street, 115 building, Vayots Dzor region, Armenia
Momik
+374 95 48 04 50, +374 93 48 04 50
facebook.com/MomikWines
Areni community, Vayots Dzor region, Armenia
For more information visit www.vayotsdzorwineroute.com
About My Armenia
The My Armenia Program, funded by the United States Agency for International Development (USAID) and implemented by the Smithsonian Institution, works to increase and share knowledge about Armenian cultural heritage and build capacity to support the long-term vitality of Armenian cultural sites and practices. Through My Armenia, the Smithsonian seeks to support cultural sustainability by documenting Armenia's historic and living cultural traditions, sharing this knowledge with global audiences, and supporting the development of local resources and capacity to safeguard this cultural heritage for future generations.
About Yerevan Magazine (EVNmag)
Launched in 2011, Yerevan Magazine is one of the most popular print magazines in Armenia. Known for its high quality, edgy design, and free distribution at more than sixty hotspots in Yerevan (in cafes, restaurants, pubs, and more), EVNmag has become required reading for many Yerevantis—just like coffee in the morning. Even as print magazines fight to stay relevant in an increasingly digital world, with five to seven editions a year and 4,000 copies each, EVNmag remains a beloved and reliable news source covering life in Yerevan.
The Yerevan Magazine issue covering My Armenia was released Friday, August 14, 2020. Armenian versions of these articles can be found online on their website, Facebook, Instagram, and Issuu.