You're Invited to The Peacock Room This Summer
Experience the spectacular Peacock Room from home with the newly released "Peacock Room Comes to America," now available from Smithsonian Books
---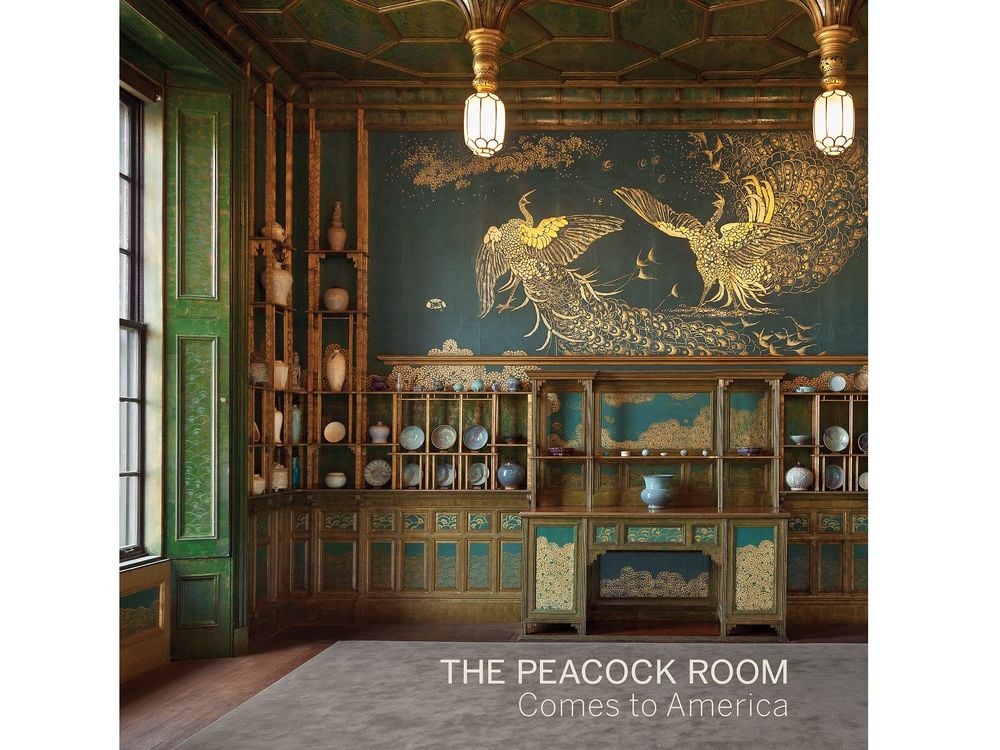 The Peacock Room, the renowned interior decoration by American expatriate artist James McNeill Whistler, has had a dynamic history. Its story began simply enough, when a Victorian shipping magnate decided to use the space to showcase his collection of Chinese ceramics. The narrative took an unexpected turn when an American artist was consulted on suitable room colors, and its legacy was secured when an art collector from Detroit brought the Peacock Room to America.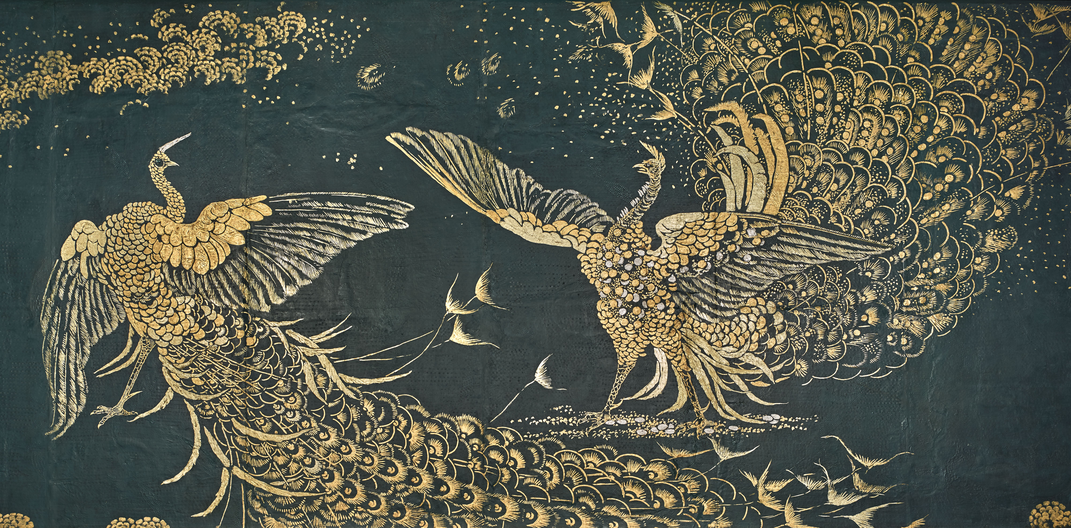 Originally it was the dining room in the London mansion of ship owner Frederick Leyland (1832–1892) from Liverpool. Leyland wanted to transform his home in the Kensington section of London into a palace of art, and he hired architect Thomas Jeckyll (1827–1881) to design the room and its lattice shelves to display an extensive collection of blue-and-white Kangxi porcelain. Jeckyll asked Whistler (1834–1903) for advice on an appropriate color scheme for the door.
Inspired by the delicate patterns and vivid colors of the ceramics on display, Whistler entirely redecorated the room in 1876 and 1877 as a "harmony in blue and gold." The room's final brilliance was more than Leyland had anticipated, and he and Whistler were soon locked in a bitter, prolonged quarrel. After completing his work, Whistler never saw the Peacock Room again.
When Leyland died in 1892, his porcelain collection was dispersed at auction, and his house, including the Peacock Room, was sold. The new owner, Blanche Watney, decided to sell the Peacock Room after she realized it could be taken apart and reassembled. Word of an impending sale soon reached the press, and reporters in both England and the United States speculated that the renowned room would attract an equally famous buyer. One New York newspaper, for instance, reported that art collector and financier J. P. Morgan, the so-called King of Wall Street, had purchased the Peacock Room.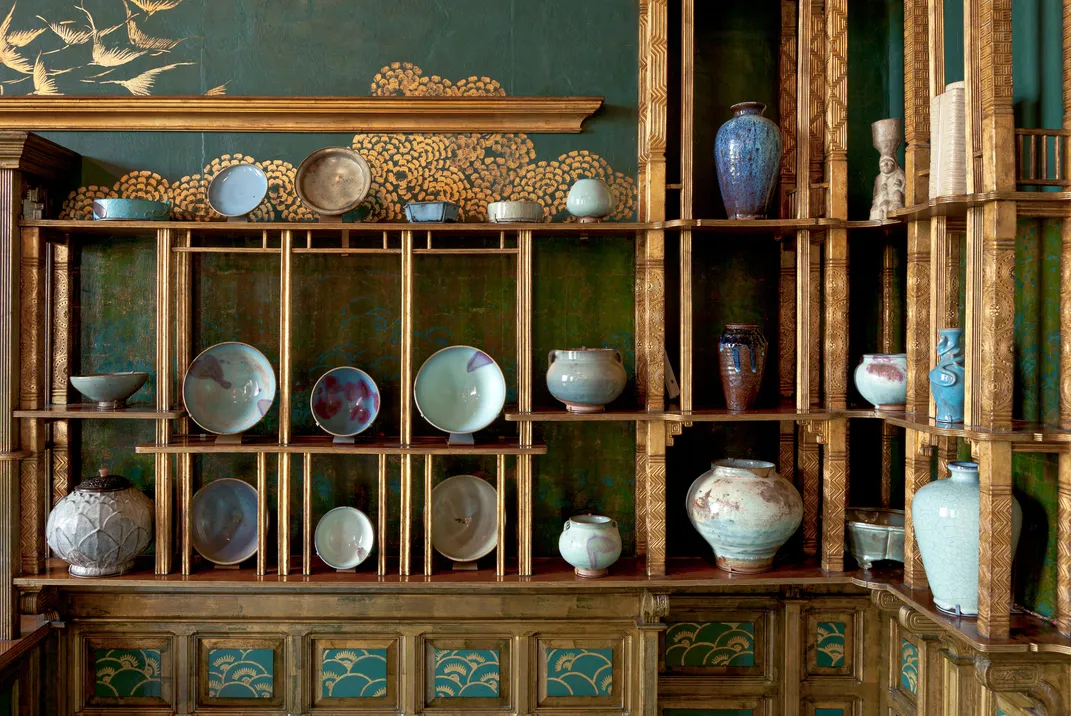 The actual buyer was Charles Lang Freer (1854–1919), who had acquired his own fortune in the business of manufacturing railroad cars. He was also known in the art world as America's foremost collector of the work of Whistler. Even so, Freer, who preferred aesthetic subtlety to gorgeous extravagance, was initially ambivalent about the Peacock Room as a work of art. He did not care for the blue-and-white Kangxi wares, with their "hard and obvious" surfaces, that were once on display in the Peacock Room. He preferred the rougher textures and more subdued glazes of pottery and stoneware. Freer later confessed that he had purchased the room out of a sense of "pleasant duty" to Whistler.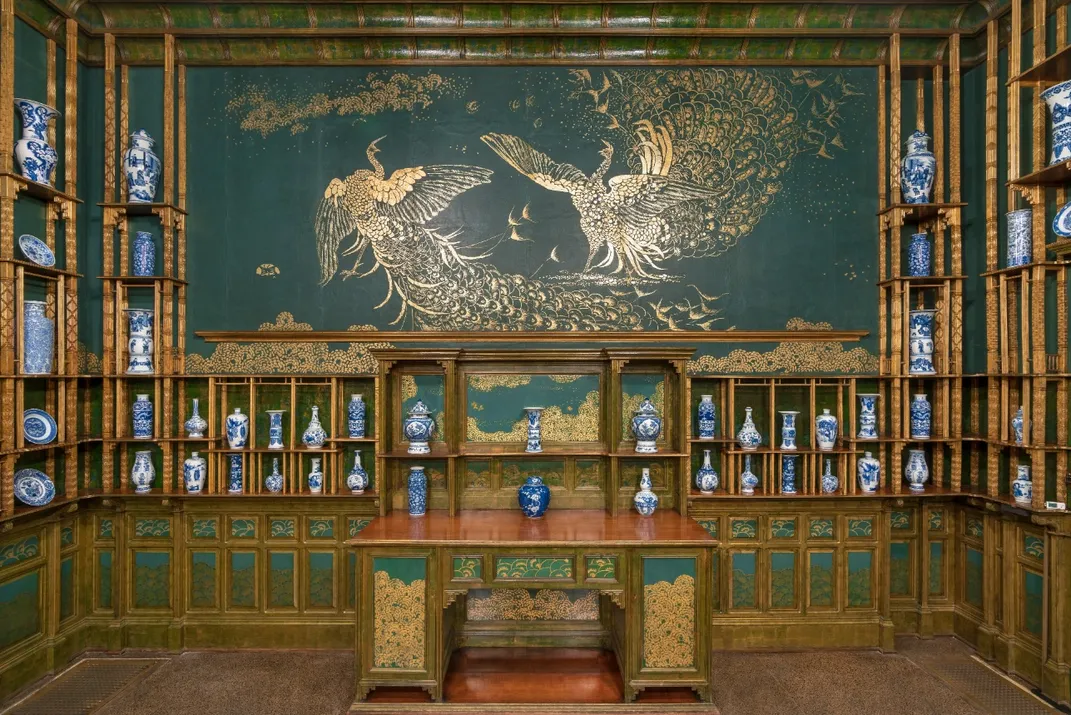 The Peacock Room arrived in the United States in the summer of 1904, after Freer purchased it from an art dealer in London. It was dismantled and shipped across the Atlantic Ocean in twenty-seven crates. After it was delivered to Freer's mansion in Detroit, it was reassembled in a specially built annex, and its shelves were eventually filled with more than 250 ceramics from all over Asia. Although he was interested in each piece individually, Freer was equally concerned with the ceramics' formal relationships to one another and to the Peacock Room as a whole.
More than a century later, the Peacock Room continues to reveal its whimsical charm, encouraging visitors to take a closer look and to delight in the details.
Excerpt from The Peacock Room Comes to America by Lee Glazer, © Smithsonian Institution