Cooking Up History with the National Museum of American History and Smithsonian Associates
Cooking Up History programs share fresh insights into American culture past and present through the lens of food.
---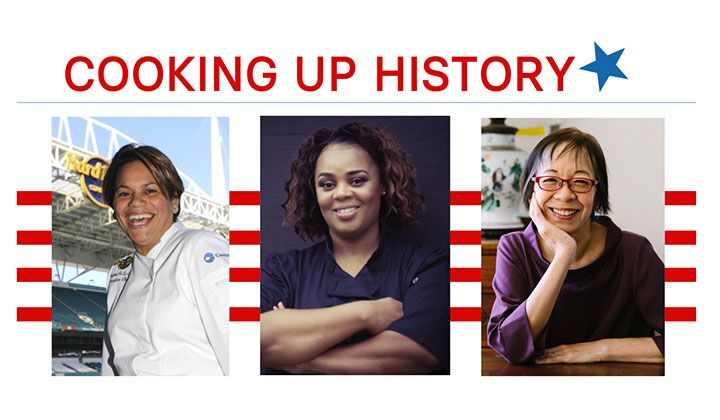 As summer heats up, three dynamic Cooking Up History programs in July, August and September share fresh insights into American culture past and present through the lens of food. Presented in collaboration with the National Museum of American History—home of Julia Child's kitchen and the FOOD: Transforming the American Table exhibition—each session features a guest chef from places as diverse as New Orleans and Toronto and a Smithsonian host preparing a dish and exploring the history and tradition behind its ingredients, culinary techniques and enjoyment.
July 26 - Pleibol and Eat Well! Latino Culinary Traditions and Américas' Game
If you're a baseball fan, you probably have some favorite ballpark foods ranging from nachos to tacos, but have you thought about the food heritages they draw on and who made them popular? Explore the tangible connections between baseball and Latino culinary traditions and how Latinos have created culinary fusions and experiences that reflect broader themes and trends in American history—the themes explored in the National Museum of American History's new exhibition ¡Pleibol! In the Barrios and the Big Leagues / En los barrios y las grandes ligas. Celebrate the opening of the ¡Pleibol! exhibition by joining Dayanny de la Cruz, executive chef at Hard Rock Stadium in Miami, Florida, as she prepares a meal that represents the culinary cultures and heritage of baseball-loving families in Latino communities. 6:45 p.m. ET $20
August 5 - Lena Richard's New Orleans Cook Book: A Groundbreaking Story of Innovation and Resilience
Lena Richard, a Black chef and entrepreneur in New Orleans, built a dynamic culinary career in the segregated South, defying harmful stereotypes of Black women that severely diminished their role in the creation and development of American food culture and its economy. Guest chef and New Orleanian Dee Lavigne prepares a classic Creole dish as she recounts Richard's compelling story, which is currently featured in a recently installed case, "The Only One in the Room: Women Achievers in Business and the Cost of Success," in the American Enterprise exhibition at National Museum of American History. This program is hosted in collaboration with the Southern Food and Beverage Museum where Lavigne is the Director of Culinary Programming. 6:45 p.m. ET $20
September 30 - Stir-Frying to the Sky's Edge: Chinese Americans and the Power of Stir-Frying
In Stir-Frying to the Sky's Edge, culinary historian and award-winning cookbook author Grace Young writes of how the ancient technique of stir-frying played an important role in the culinary lives of Chinese migrants. In the United States, many families used their culinary skills to open businesses, including chop suey parlors, where that bland, made-up dish gained popularity. Young—known as "the stir-fry guru" and "wok therapist"—demonstrates her stir-fry expertise and shares tips on wok mastery for home cooks as she prepares a savory stir-fry of garlicky cabbage and bacon, a dish improvised in the 1940s by immigrant Lin Ong who used two common American ingredients to feed her nine children. Young recounts her own San Francisco family's unlikely wok story and her work to document COVID's impact on Manhattan's Chinatown and to support the Asian American Pacific Islander community nationwide. 6:45 p.m. ET
To purchase the Cooking Up History series as a package visit smithsonianassociates.org.