CULINASIA Conversation Series Explores the Future of Asian Food in America
CULINASIA is a dynamic, free series of virtual conversations that explore food legacies and the ways in which Asian Diaspora cuisine continues to change and enrich our lives.
---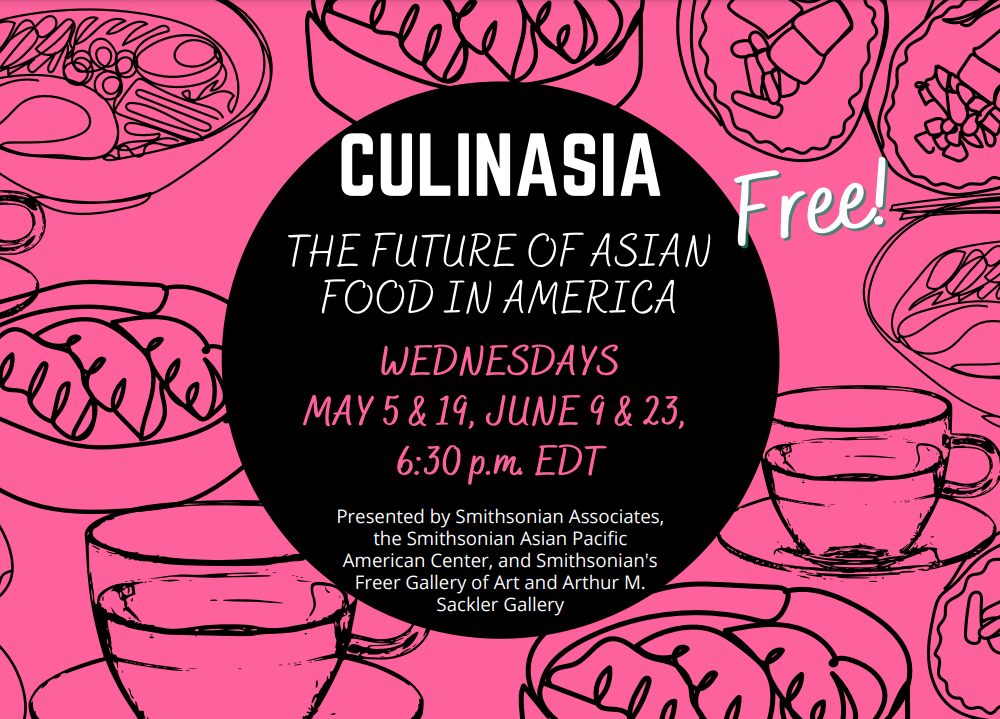 Asian foods and cooking have long been an indelible part of America's food culture, and yet we also harbor complicated relationships with the people who prepare our meals. Earlier this year, Asian American activists carried signs reading "Love Us Like You Love Our Food" as they denounced a surge of anti-Asian racism in communities across the United States during the global pandemic.
CULINASIA is a dynamic, free series of virtual conversations that explore food legacies and the ways in which Asian Diaspora cuisine continues to change and enrich our lives. Join chefs, food writers, food entrepreneurs, home cooks, cookbook authors, and other participants whose heritage and experiences span the complex spectrum of Asian Diaspora identities in the United States as they discuss the successes, challenges and future of Asian food in America.
Smithsonian Associates, in collaboration with the Smithsonian Asian Pacific American Center and the Freer Gallery of Art and Arthur M. Sackler Gallery, Smithsonian's National Museum of Asian Art, will present four panel discussions May 5, May 19, June 9 and June 23 on Zoom. Registration is required.
Saving Chinatown and Our Legacies
Wednesday, May 5; 6:30 p.m. ET
In the COVID era, anti-Asian racism and violence has been widespread, and many Asian restaurants large and small have permanently closed their doors. Why are the survival of Chinese restaurants and the preservation of the legacy of Asian food in America so essential to the soul of cities? A panel of chefs, advocates and activists will discuss the future of Chinatowns across the country.
The panel includes food writer Grace Young, a James Beard Award-winning cookbook author and co-creator of Coronavirus: Chinatown Stories; Brandon Jew, chef and owner of Mister Jiu's, Moongate Lounge and Mamahuhu in San Francisco and author of Mister Jiu's in Chinatown: Recipes and Stories from the Birthplace of Chinese American Food (Ten Speed Press); Jennifer Tam and Victoria Lee, founders of Welcome to Chinatown, a grassroots initiative supporting New York City's Chinatown businesses; Daphne Wu, co-organizer of Save Our Chinatowns, an arts and culture initiative uplifting Bay Area Chinatown communities; and Wellington Chen, executive director of the Chinatown BID/Partnership in New York.
Southeast Asia Got Something to Say
Wednesday, May 19; 6:30 p.m. ET
Opening a Southeast Asian restaurant, bar or food business was always an uphill battle. How can they keep their doors open during a global pandemic with the doubly stacked odds of anti-Asian racism at an all-time high? A panel of Southeast Asian chefs and restaurateurs from across the country discuss how they are meeting the moment.
Attendees will hear from celebrity chefs and restaurateurs Jet Tila, Food Network star and chef partner in Pei Wei Restaurant Group, and Christine Hà, the first blind contestant of MasterChef—and winner of its third season in 2012—and owner of The Blind Goat and Xin Chào in Houston. Then they can follow along as Genevieve Villamora, co-owner of the award-winning restaurant Bad Saint in Washington, D.C., and Vilailuck "Pepper" Teigen, author of The Pepper Thai Cookbook: Family Recipes from Everyone's Favorite Thai Mom (Clarkson Potter), demonstrate a recipe from the new cookbook.
"Fast, Casual, Ethnic": Asian Food Beyond Misnomers and Myths
Wednesday, June 9; 6:30 p.m. ET
While past Asian American generations may have seen fast food as simply a means for entry-level job opportunities, children of Asian immigrants are flourishing as entrepreneurs in both fast-casual and sophisticated fine-dining restaurants and food businesses. But the persistent myths that so-called "ethnic" food is supposed to be cheap and fast endure. A panel of Asian American food professionals examines the origins of those long-held assumptions and challenge us to grapple with how we might collectively move beyond them.
The panel includes Kim Pham, a first-generation Vietnamese American and co-founder of Asian pantry staple company Omsom; chef Katsuya Fukushima, co-owner of Washington, D.C.'s Daikaya, Bantam King and Haikan; chef Dale Talde, a three-time contestant on Bravo's Top Chef, with restaurants in Brooklyn, Jersey City and Miami; Sana Javeri Kadri, a third-generation Mumbai native and Diaspora Co. founder and CEO working toward a more equitable and delicious spice trade; and Food and Wine restaurant editor Khushbu Shah, whose primary interests include the foodways of the South Asian diaspora.
Asian American Farmers Look Back to Go Forward
Wednesday, June 23; 6:30 p.m. ET
In both film and popular media as well as farming and land ownership, Asian Americans have been historically underrepresented and repeatedly denied opportunities for advancement A discussion inspired by the Oscar-nominated film Minari offers a unique opportunity to explore these themes as a panel of Asian American farmers and vintners examine the semi-autobiographical story of a Korean American farm family that embarks on a new kind of American dream.
Presenters include Mai Nguyen, founder of the Asian American Farmers Alliance; Kamayan Farm co-founder Ariana de Leña; and Thai American winemaker Kenny Likitprakong of the family-owned, California-based Hobo Wine Co. Participants can view Minari in advance of the program, Friday, June 18, at 7 p.m. as part of the Freer Gallery of Art and Arthur M. Sackler Gallery's film program. Find more information here.