20 Things to Do at the Smithsonian in March
20 Things to Do at the Smithsonian in March
---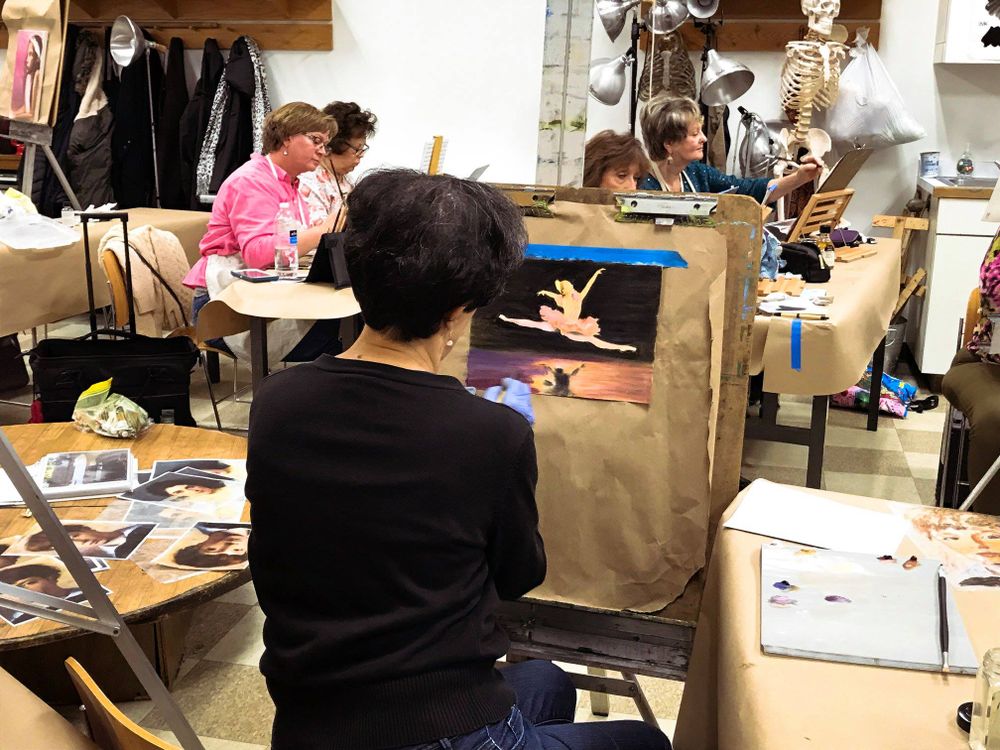 Friday, March 1
Collage and Mixed Media Intensive: Explore the materials, tools and techniques used in collage and assemblage as you create an artwork that's uniquely yours. The workshop, ideal for both nonartists and those with experience, is a great way to spark your creativity in two forms that offer wide possibilities for inventive expression. 10:30 a.m. $125-$145
Saturday, March 2
Masterworks of Five Centuries 2018-2019 Saturday Concert Series: The Smithsonian Chamber Music Society (SCMS) brings the Smithsonian's priceless collection of musical instruments to life. Musical masterpieces from the 17th to early 21st centuries are played on some of the world's most highly-prized instruments. This concert features works of Bach, Haydn and Mozart, in which either a veteran SCMS violinist or exceptional player of the younger generation dialogues with keyboardist Kenneth Slowik. Pre-concert lecture: 6:30 p.m., Concert: 7:30 p.m. $25-$35
Monday, March 4
Neuroscience and Art: A Creative Connection: In a two-session course (March 4 and 11) merge recent findings on visual perception with familiar elements of art to discover how your landscape and still-life paintings can take on new and fresh creative edges. 2 p.m. $75-$95
Tuesday, March 5
The Pulse on Modern Medicine: Insights from NIH Experts: In this popular series, National Institutes of Health directors and scientific and medical experts discuss what is currently hot in biomedical research—and what it all means for our health and medical treatment today and in the future. John Tisdale, Chief, Cellular and Molecular Therapeutics Branch, National Heart, Lung and Blood Institute, discusses sickle cell disease, which affects 100,000 Americans and millions around the world. 6:45 p.m. $30-$45
Wednesday, March 6
Americans Daytime Tour at the National Museum of the American Indian: Americans highlights the ways in which American Indians have been part of the nation's identity since before the country began. This exhibition features hundreds of objects and images from three centuries of American life including an actual Tomahawk test-flight missile, a 1948 Indian Chief motorcycle and a Washington NFL team baby blanket. 10 a.m. Free for Smithsonian Associates Members. This tour is also available on Saturday, March 9 at 10 a.m.
Dani Shapiro: A Rewritten Life
When test results from a genealogical website showed that novelist and memoirist Dani Shapiro's biological father was not the man who had raised her, she confronted some of the complicated ethical and moral questions that genetic testing can raise. In a conversation with biologist Carla Easter of the National Human Genome Research Institute, Shapiro discusses how she came to reconstruct—and come to terms with—a different version of her own identity. Shapiro's new book, Inheritance: A Memoir of Genealogy, Paternity, and Love(Knopf), will be available for sale and signing. 6:45 p.m. $20-$30
Thursday, March 7
British Women Novelists: The Time of Their Lives: The fictional heroines of Fanny Burney, Jane Austen, Anne Bronte and Elisabeth Gaskell navigate a world in which their choices, status and freedom are in the hands of the men who rule it. In the first session of a four-part series, Lisbeth Strimple Fuisz of Georgetown University leads a spirited commentary and informal discussions about novels in which women find new ways to define themselves in England during the 18th and 19th centuries. This session discusses Fanny Burney's Evelina; or, A Young Lady's Entrance into the World. 12 p.m. $25-$35
The Women Who Animated the Movies: Uncovering a Colorful History: Their names may not be as familiar as those of Minnie Mouse or Betty Boop, but female animators have made significant contributions to the form since its earliest days. Mindy Johnson, a leading expert on women's roles in animation and film history, tells their mostly little-known stories. 6:45 p.m. $20-$30
Saturday, March 9
Churchill: The Man Behind the Myths: In an all-day program with lunch, historian Kevin Matthews discusses Winston Churchill's tempestuous career as an army officer, war correspondent, member of Parliament and minister in both Liberal and Conservative governments to reveal a man too often hidden by the post-World War II legends that surround him. 9:30 a.m. $110-$160
Yoga as Lifestyle Meditation: Spend a day with yoga therapists whose work spans all areas of health and wellness to learn how yoga can keep you healthy mentally and physically. This all day-program with lunch includes practice sessions. 9:30 a.m. $100-$150
Sunday, March 10
Emerson String Quartet 2018-2019 Season: The Emerson String Quartet stands apart in the history of string quartets with an unparalleled list of achievements over three decades, including more than 30 acclaimed recordings, nine Grammy's, three Gramophone Awards, and the Avery Fisher Prize. This concert features music by Walker, Verdi and Beethoven. 6 p.m. $50-$60
Monday, March 11
Edouard Manet: Reluctant Revolutionary: Art historian Bonita Billman discusses the life and career of Edouard Manet, a premier painter of modern life and a trailblazer of the impressionist movement. 6:45 p.m. $30-$45
Wednesday, March 13
Dubai: The Gulf's Emerald City: Dubai is all about dazzle. But this architectural showplace has been criticized for being more hospitable to affluent visitors than its own residents. Urban scholar Yasser Elsheshtawy examines how members of the city's marginalized migrant population carved out places in which they can feel at home. 6:45 p.m. $20-$30
Thursday, March 14
Discovery Theater Presents Tot Rock: The Not Its: In their signature pink ties (on the guys) and pink-and-black tutus (on the girls), the Not-Its! rock kids and families with their up-tempo albums and performances that give children their first "rock show" experience. The Seattle-based quintet delivers on-your-feet, action-oriented songs and uses music to empower kids to be innovators, protect the environment and wildlife, and be proud of who they are. Ages 3-6. Also playing on Friday, March 15. 10:15 a.m. and 11:30 a.m. $3-$9
Sunday, March 17
Introduction to Pastel: Cezanne-Inspired Still Life Compositions: Working from still-life arrangements reminiscent of Cezanne's in studio sessions, students learn to achieve the brilliant and subtle effects characteristic of the medium in this three-session weekend course (March 17-31). 10:30 a.m. $185
Thursday, March 21
The Golden Ratio: An Astonishing Number: A curious irrational number called the golden ratio, or phi (approximately 1.618, give or take an endless series of places) has come to represent the proportions of some ideally pleasing geometrical structures. Astrophysicist Mario Livio traces the story of this astonishing number from the ancient world to the present day, examining how it pops up in everything from the natural world to music and architecture. 6:45 p.m. $30-$45
Saturday, March 23
Monet: Impressions of an Artist: In an all-day seminar, art historian Joseph Cassar offers an in-depth look at the life and work of one of the best-loved impressionist painters, following him from the landscapes, cities and seascapes that sparked his early works to the home and garden in Giverny that provided his inspiration for a lifetime. 9:30 a.m. $90-$140
Thursday, March 28
Discovery Theater Presents Jargie the Science Girl: Look out! Jargie the Science Girl and her assistant Benjamin the Penguin are ready to rattle the molecules—and you're invited to join them in the laboratory. Jargie (the quirky alter ego of scientist-educator Jocelyn Argueta) dons her signature pink lab coat to launch into exciting experiments and demonstrations that deliver plenty of solid science facts—along with "impossible" physics, rockets and dobblybloppers galore. Ages 6-11. Also playing Friday, March 29. 10:15 a.m. and 11:30 a.m. $3-$9
Sip and Sample: Try Your Hand at Three Studio Arts Classes: Get a taste of three of the most popular studio arts courses at the Smithsonian—printmaking, drawing and mixed-media—for a single night each as you enjoy a glass of wine and stimulate the artist within. Session dates are March 28, April 4 and April 11. 6:30 p.m. $150-$180
Saturday, March 30
Paul, the Controversial Apostle: The letters of Paul offer a myriad of insights into the foundations of Christianity. They also raise a number of still-debated questions about their author, and in some cases, their own authenticity. Margaret M. Mitchell, an authority on early Christian writings, assembles a portrait of Paul—and his lasting influence—from his epistles. 9:30 a.m. $90-$140
For a full calendar of Smithsonian Associates events, visit www.smithsonianassociates.org.