"Family Ties: Daguerreotype Portraits" and "Powerful Partnerships: Civil War-Era Couples"
Two Exhibitions of Early American Photography on View in July
---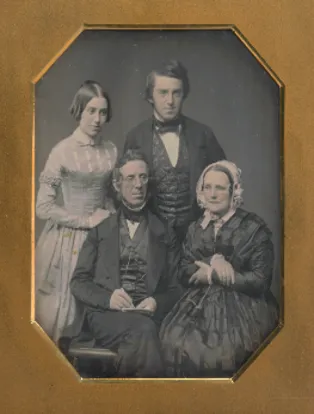 The Smithsonian's National Portrait Gallery announces two exhibitions of early American photography to premiere July 1 alongside the reinstallation of "Out of Many: Portraits from 1600 to 1900" in the museum's collection galleries. "Family Ties: Daguerreotype Portraits" and "Powerful Partnerships: Civil War-Era Couples" will explore portraiture from the mid-19th century. Both exhibitions are curated by Senior Curator of Photographs Ann M. Shumard and will be on view on the museum's first floor.
Affordable pricing fueled the popularity of the daguerreotype while technical innovations resulting in shorter exposure times made it possible to produce successful images of multiple sitters. This paved the way for the boom in family portraiture. "Family Ties: Daguerreotypes" features over a dozen portraits from the museum's permanent collection that reflect the range of familial relationships documented by the camera during the daguerreian era. Although they include nuclear family groups, these images also speak to other meaningful family bonds—those shared by a young brother and sister, an aunt and a beloved niece, a young man and his father-in-law, a caring uncle and his nieces and nephews, and long-married couples.
Long before the term "power couple" found its way into the English lexicon, dynamic duos had been making their mark on U.S. history. "Powerful Partnerships: Civil War-Era Couples" presents five couples who shaped the nation during tumultuous times, as seen through Mathew Brady's lens. A leader among the first generation of American photographers, Brady established galleries in New York City (1844) and Washington, D.C. (1858), where he and his associates captured the likenesses of many of the nineteenth century's most influential figures. Featuring modern prints made from original Brady negatives in the Portrait Gallery's Frederick Hill Meserve Collection, the exhibition introduces visitors to the exploits of Nathaniel P. Banks and Mary Theodosia Palmer Banks, John C. Frémont and Jessie Benton Frémont, Ulysses S. Grant and Julia Dent Grant, George Brinton McClellan and Mary Ellen Marcy McClellan, and Charles Sherwood Stratton and Lavinia Warren Stratton (better known to the public as Mr. and Mrs. Tom Thumb).
"Family Ties: Daguerreotype Portraits" will be on view through June 11, 2023. "Powerful Partnerships: Civil War-Era Couples" will be on view through May 18, 2025.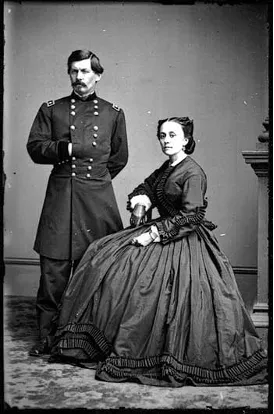 Connect with the museum at 
npg.si.edu
, 
Facebook
; 
Instagram
; 
Twitter
 and 
YouTube
.