National Portrait Gallery Director Kim Sajet Speaks to a New Podcast Series, PORTRAITS
National Portrait Gallery director Kim Sajet speaks to the museum's new podcast series, PORTRAITS.
---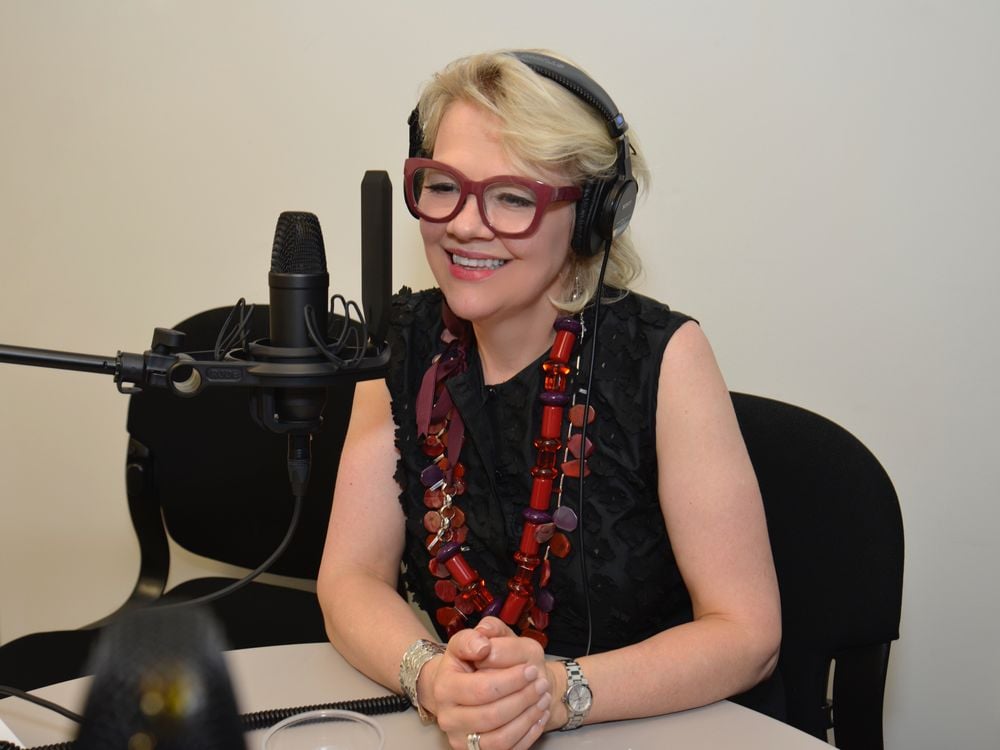 Washington D.C. has often been referred to as a "bubble," a world of politics, international diplomacy, and high culture. The National Portrait Gallery even looks like a bubble, with Norman Foster's ingenious glass canopy enclosing the Kogod Courtyard at the center. But while we might seem like a world-within-a-world, two million people a year come to visit, and we want to meet millions more living across the country. We'd like to be where you are and make friends. Lots of them! And it would be great if we could put some adventure into our aspiration to share "the people and ideas that have shaped our nation and will shape our future." Portraits, you see (pun totally intended), aren't just about dead people frozen in time, but a powerful reminder of the decisions others have made for us, and the ones we make for ourselves. In Shakespeare's words (inscribed on the side of the National Archives building no less), the past is prologue…and now it's a podcast called PORTRAITS!
The whole premis of PORTRAITS—and indeed the National Portrait Gallery—is that we are where art and biography, history and identity collide. Each episode introduces a well-known American, describes their portrait in the museum's collection, and then delves deeper into the stories behind the person. The key is to invite fun and informative thought leaders who help us better understand how personal decision-making affects our lives.
We had a pretty good idea about what we wanted PORTRAITS to be about, but funnily enough it took us a while to name it. Literally. It took five people six weeks thinking about being "Please to Meet You," coming "Face to Face," and stating that "People Talk," until Jason Orfanon, our executive producer suggested PORTRAITS. Wow. We collectively had to stop a minute in awed silence. Portraits. A podcast from the National Portrait Gallery. Genius. Then Joe Kye, a brilliant composer / musician from Seattle who plays the electric violin and had performed at the museum created our theme music by adapting excerpts from his appropriately named "Happy" track. Finally, Gregory Fisk who had developed the logos for our siblings Sidedoor and AirSpace came up with our three silhouetted word bubbles (aha!) in bright colors. I love it so much that I am going to make mugs to give to family and friends. Then T-shirts, perhaps fridge magnets, mouse pads, wine glasses, um…is jewelry taking it too far? I'm just sayin'...that logo rocks! Nothing made me happier than seeing it on large advertising posters in the carriages of the Northeastern Amtrak trains!
Podcasting is more intense and more creative than live interviews. There is no audience to respond to and no "atmosphere" to feed off. No laughs, claps, gasps...just the producer saying "um...could you explain what an exquisite corpse is?" (A surrealist drawing game), and your guest staring intently across the table at you with headphones on. In some cases, they are in another city, and you just get their disembodied voice floating across the phone line and you only have the inflections in their voice to gauge thoughts and emotions. This of course has led to some hilarious moments when someone confesses, and you have to imagine, that they are on their fifth cup of coffee or sitting in their gym shorts.
The creativity of podcasting is that you can add other audio elements, like music and audio clips. My favorite is the news clip stating how much President Lydon Baines Johnson hated his portrait by Peter Hurd, and the most moving, hearing Marian Anderson singing Ave Maria. The guests also bring their unique personalities and there is a lot of humor! Jill Lepore talking about a figurative toothbrush hanging out of Benjamin Franklin's Mouth is hilarious, Paul Chaat Smith noting that the Disney version of Pocahontas was "smokin' hot!" sort of subversive, and Cokie Roberts getting the last word by suggesting that not all the Presidents were so great--compared to their wives--momentarily stopped us in our tracks.
PORTRAITS is made possible by extraordinary team of colleagues, Rebecca Kasemeyer, the Portrait Gallery's director of audience engagement; Deborah Sisum, our head of new media; the formerly mentioned Jason Orfanon, director of audio and video productions for the Smithsonian Digital Studio; and the incomparable Ruth Morris. Ruth is our producer, and really makes PORTRAITS happen. After what felt like stumbling through my first interview with the brilliant Jill Lepore, it was Ruth who talked me off the ledge and stopped me from giving up on the spot. Ruth is thoughtful, smart, a great researcher, and a great podcaster!
I hope you will listen—nay, subscribe—to PORTRAITS and send me your feedback! It's lonely in the void of Podcastlandia, and I'd love to get your thoughts. Please suggest people you'd like me to talk about or interview, art you'd like explained, and ways I can improve. To paraphrase radio talk show superstar Ira Glass, "In [podcasts], you have two tools. Sound and silence." I'd be super appreciative if you don't keep your peace!
Access episodes of PORTRAITS at npg.si.edu/podcasts and through Stitcher, Spotify, Apple Podcasts, Radio Public and Google Play.