Neil Simon (1927–2018)
Neil Simon defined American comedy for a generation of television, theater, and movie audiences.
---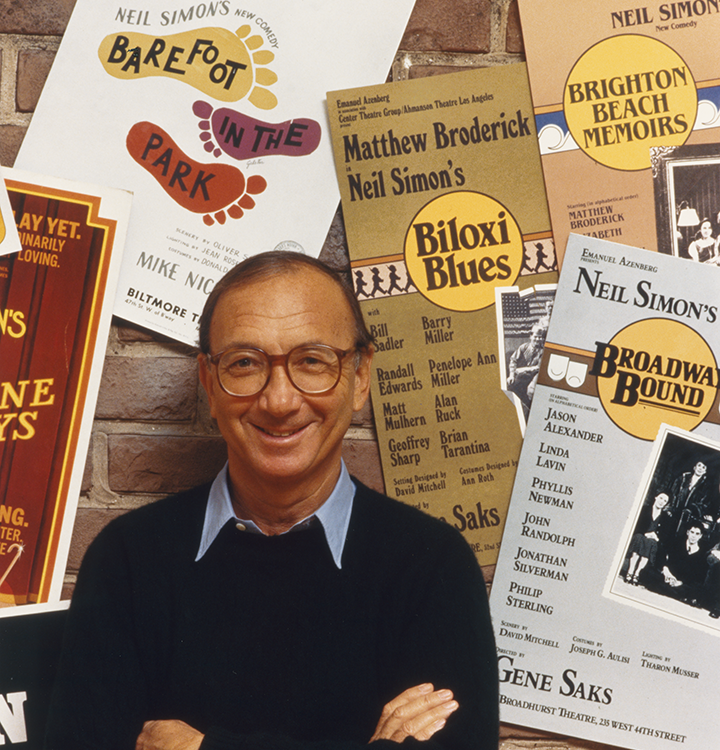 Born on the 4th of July, Neil Simon defined American comedy for a generation of television, theater, and movie audiences. He was singularly skilled in pinpointing humorous and sometimes absurd aspects of human relationships. The comical entanglements of families, romantic partners, and friends all provided grist for his mill. Simon created an extensive cast of memorable characters and an arsenal of rapidly deployed quips and wisecracks to keep audiences laughing. But beneath the humor, an undercurrent of pathos brought depth to the wisecracking banter.
Laughter became Simon's lifeline at an early age, both personally and professionally. As a child, he escaped his parents' tempestuous relationship by holing up at movie theaters where he could lose himself in the slapstick antics of Charlie Chaplin, Buster Keaton, and Laurel and Hardy. By the time he reached high school, he was writing comedy sketches for a local department store, happily surprised to find he could make money by doing the thing he loved. In the early 1950s Simon joined the "dream team" of writers responsible for the popular television program Your Show of Shows (an early incubator for the situation comedy genre), collaborating with Sid Caesar, Carl Reiner, and Mel Brooks.
Despite his success writing for television, Simon desperately wished to become a playwright. Racked with insecurity, he devoted three years and twenty-one drafts to the completion of his first play, Come Blow Your Horn (1961). The acclaim was instantaneous and overwhelming. A star comic writer had been born, and he never looked back.
For the next forty years, Simon proved astonishingly prolific. He appeared on the cover of Time magazine on December 15, 1986, surrounded by posters advertising a few of his best-known plays, including Barefoot in the Park (1963), Brighton Beach Memoirs (1983), and Biloxi Blues (1985). An illustration fully capturing his productive career in theater and film would have required a spread of a multiple-page foldout. In all, Simon wrote over thirty plays—including The Odd Couple (1965), Last of the Red Hot Lovers (1969), Plaza Suite (1968), and The Sunshine Boys (1972)—and twenty-seven screenplays—among them, The Out-of-Towners (1970) and The Goodbye Girl (1977).
As a mark of the high regard in which Simon was held, in 1983 he became the first (and only) living playwright to have a New York theater named in his honor when the Alvin Theatre on Broadway was renamed the Neil Simon Theatre. He received numerous other awards and honors during his long career, including a Pulitzer Prize in 1991 (for the play Lost in Yonkers); a Kennedy Center Honor in 1995, and the Mark Twain Prize for American Humor in 2006. Simon will be remembered for the laughter he brought to a tumultuous period of American history, and for doing so with an unflagging sense of humanity.