NATIONAL MUSEUM OF NATURAL HISTORY
Behind the Lens: Meet the Photographers Capturing the Museum's Most Stunning Moments.
From tiny bat jaws to colossal geodes, the photography team at the National Museum of Natural History has spent decades documenting the Smithsonian's hidden wonders.
---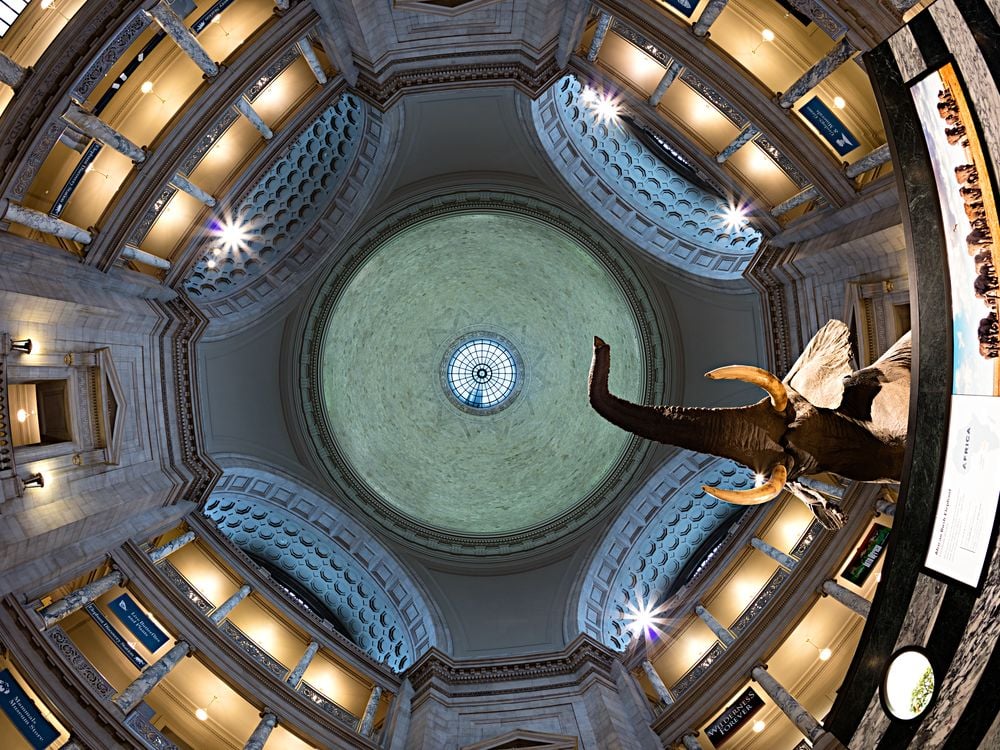 On the National Museum of Natural History's photography team, the answer to nearly every request is yes.  Can you capture every tiny vascular detail in the wing of a fly? Yes. Can you photograph a gigantic stegosaurus skeleton in an exhibition full of visitors? Yes. Can you travel thousands of miles with unwieldy camera gear to bring vital field research to life? Yes.
In a museum brimming with astounding collections, diverse research, constantly changing exhibitions, and events that attract visitors from around the world, photographers need to be ready for anything.  And if their stunning shots are any indication, they always are.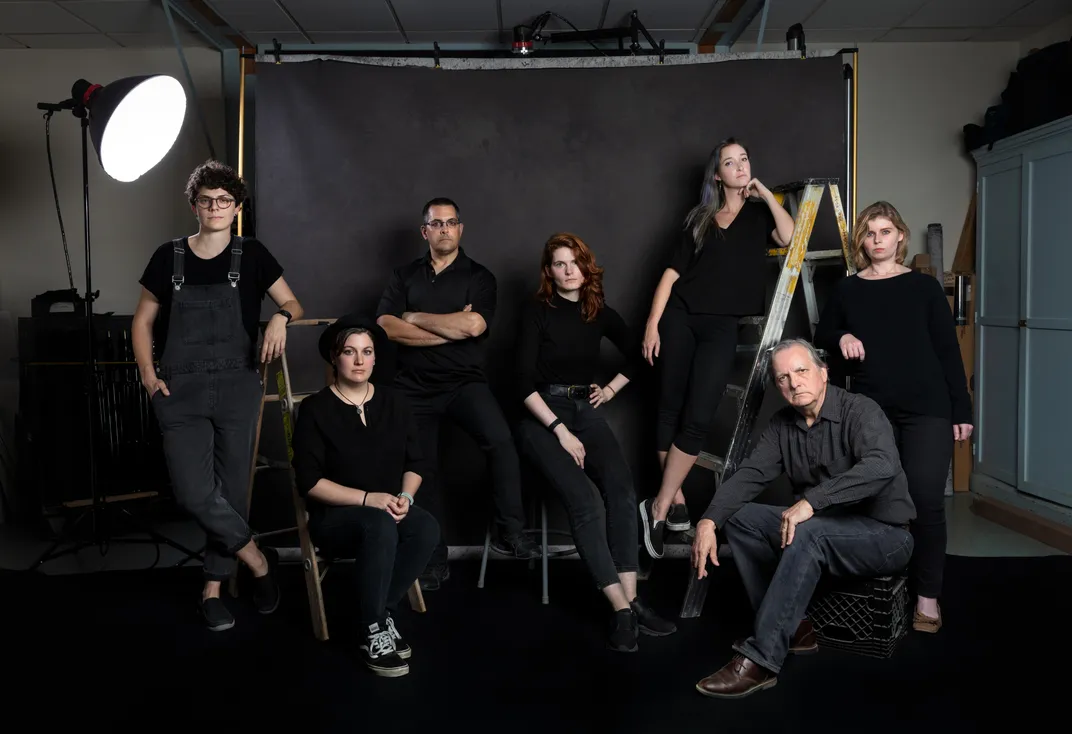 A common saying among the Photo and Media team members is that their office has photographed everything you can find between 190 feet below the surface and 35,000 feet above.  "I spend most of my time with rocks and dead stuff," said NMNH photographer Brittany Hance with a laugh. "But we have done such a wide variety of work from digitizing specimens of birds and gems to human forensics, underwater expeditions, field research, events, staff photographs, and exhibits."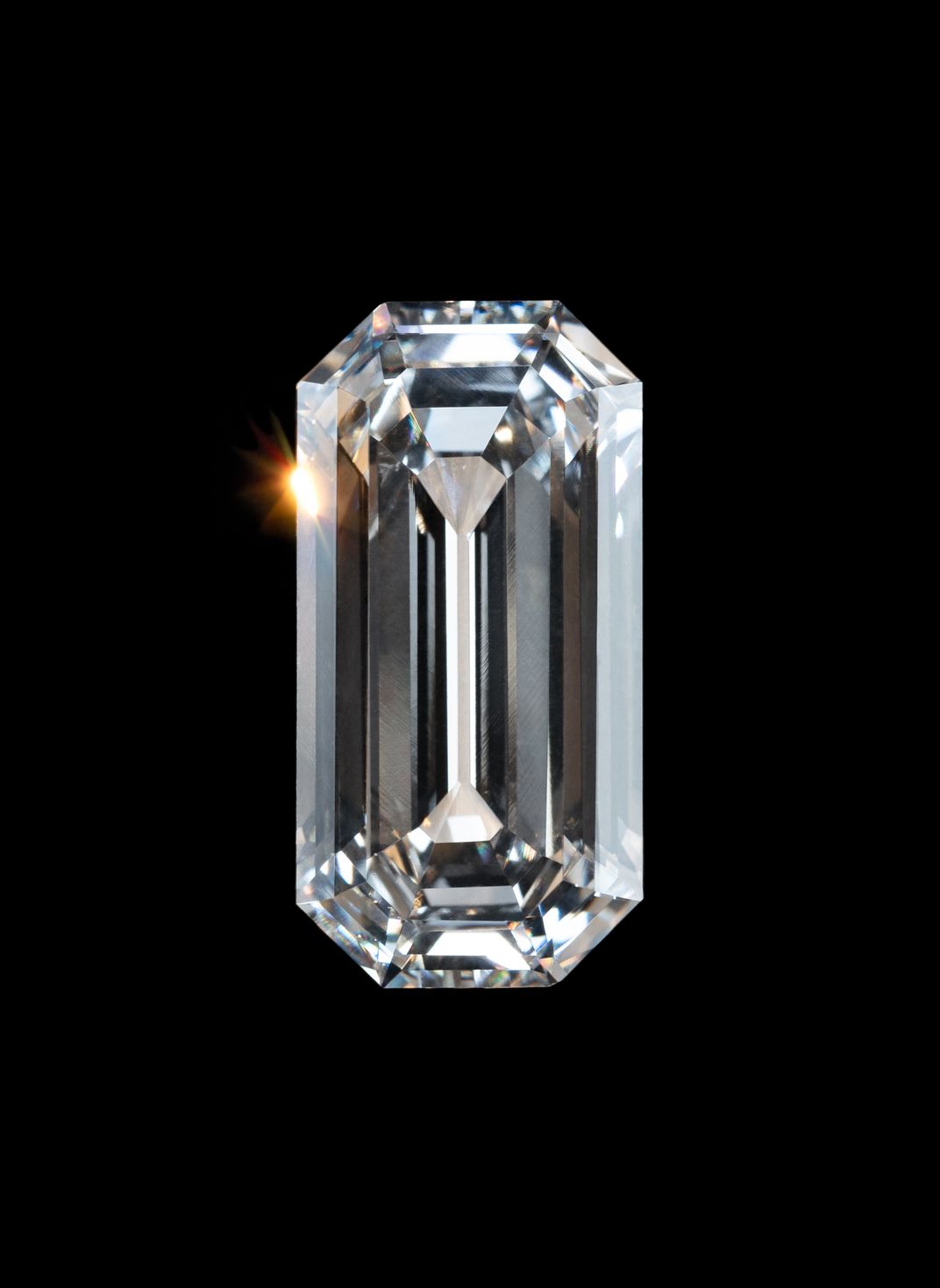 Although they can spend days or even weeks on a single photo shoot, the team doesn't always know where their images will end up.  The photographs can often be found in books, research studies, articles for popular publications, documentaries, and a select few have even been used as Facebook profile photos. Team members keep tabs on their work by searching their names on the internet, often discovering that their photos have appeared in new digital and physical locations years after they were taken.
The museum maintains the largest and most unique collection of natural science objects in the world, and the team's photography methods have become equally unique as a result.  "As a commercial photographer, you are used to taking some hot glue and positioning your subjects exactly the way you want them," said NMNH chief photographer James Di Loreto.  "But here, every specimen we photograph is a one-off, and there is no other object exactly like it in the world." To prioritize the safety of all collections and staff, the photographers have become experts at designing non-destructive mounts on the fly – without hot glue.
Every couple of years the team buckles down for a series of oversized photography days.  This is an opportunity for the museum's curators to pull out some of the enormous objects in their collections that have never been photographed.  Most of these items have not been moved in decades, and the team stresses that their goal is to disrupt the delicate specimens and artifacts as little as possible. 
In order to get high quality shots without manipulating and destabilizing these towering wonders, which range from Easter Island Moai and canoes to sprawling whale skeletons, the photography team has learned to adapt their equipment to fit each situation. They now manufacture their own mounts to hold the objects and have developed a cache of camera creations that swing across vast collection spaces and rotate to capture every possible angle.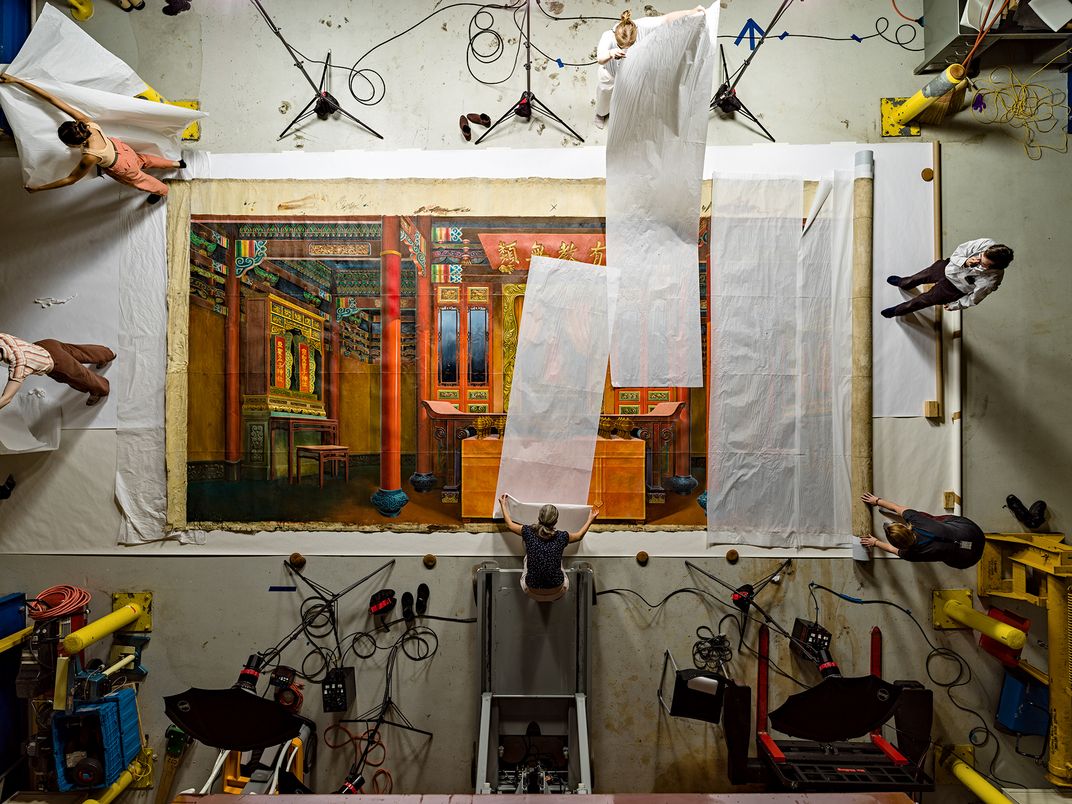 Some of the largest items that the team has ever had to photograph were murals by artist Ely Kish that were installed in the museum's old fossil hall.  In order to take uniform shots across the entire length of the murals, the team had to build an entirely new camera rig.  "His name is Frank N. Stand, and he's really cool," said Hance.  "He is two camera stands that we combined to create cross polarized lights that travel simultaneously with the camera, and the whole thing is rolling down a janky train track we built."  The largest mural, Life in the Ancient Seas, took the team over 16 hours to photograph, and the resulting image is a combination of 307 photographs that were stitched together on a high-performance computer.
While many of their photographs are carefully orchestrated with every detail planned, the team admits that some of their favorite shots come when they have time to let their creativity run free.  After a particularly long day of photographing a Tyrannosaurus rex skull in the middle of a tourist-filled exhibition in 2013, the photo team decided to pull out their color gels and have fun with their equipment.  The resulting image features a haunting red glow that illuminates the frightening fossil.  The T. rex jack-o'-lantern has remained a Halloween favorite around the museum ever since.
The photography team is essential not only to public engagement, but also to the research functions of the museum.  In the past, researchers spent extraordinary amounts of time photographing each of their specimens for inventory records.  Now NMNH photographers can document the museum's vast collections and allow researchers to spend their time in the field rather than taking photographs in the office.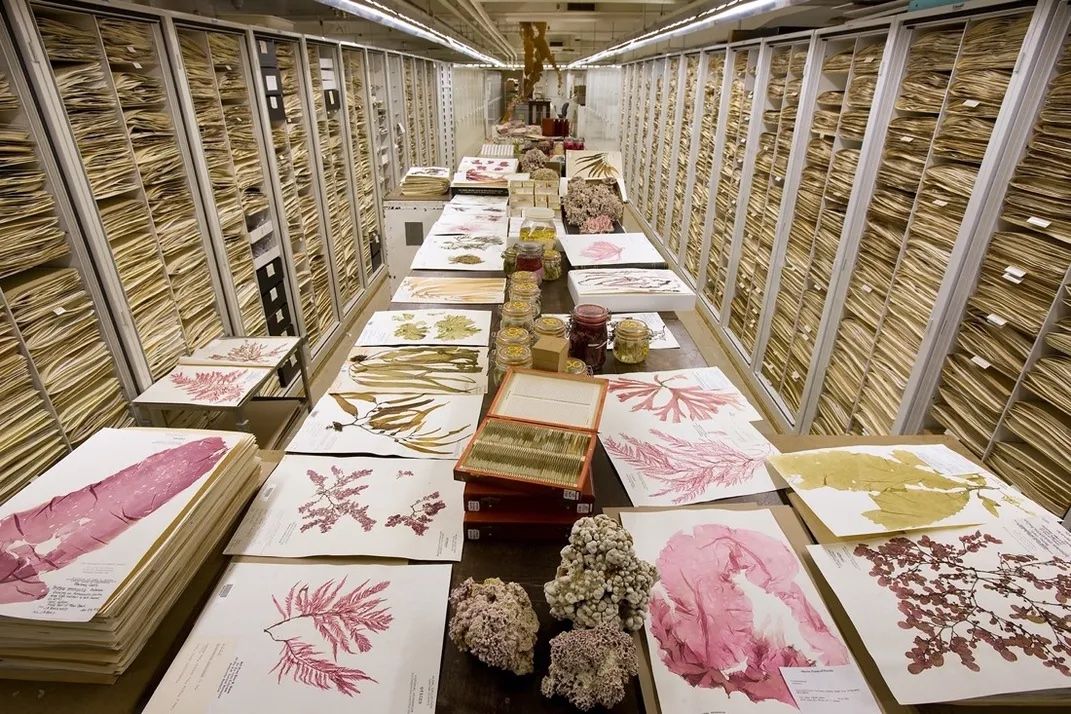 A little-known but extremely important aspect of the team's work is their participation in active forensic cases with the FBI or local and state law enforcement. NMNH photographer James Tiller has a background in biological anthropology and has accompanied numerous Smithsonian anthropologists as they conduct field studies on skeletal material.  
"I have firsthand knowledge of skeletal anatomy, so I have been able to help implement actual forensic procedures to design a process for how to handle these types of photographs," Tiller said.  "It has to be very specific because the pictures are used as evidence in court."  Although these forensic images are rarely seen by the public, the photography team agrees that their ability to aid in legal procedures is one of the most unique and meaningful aspects of their work.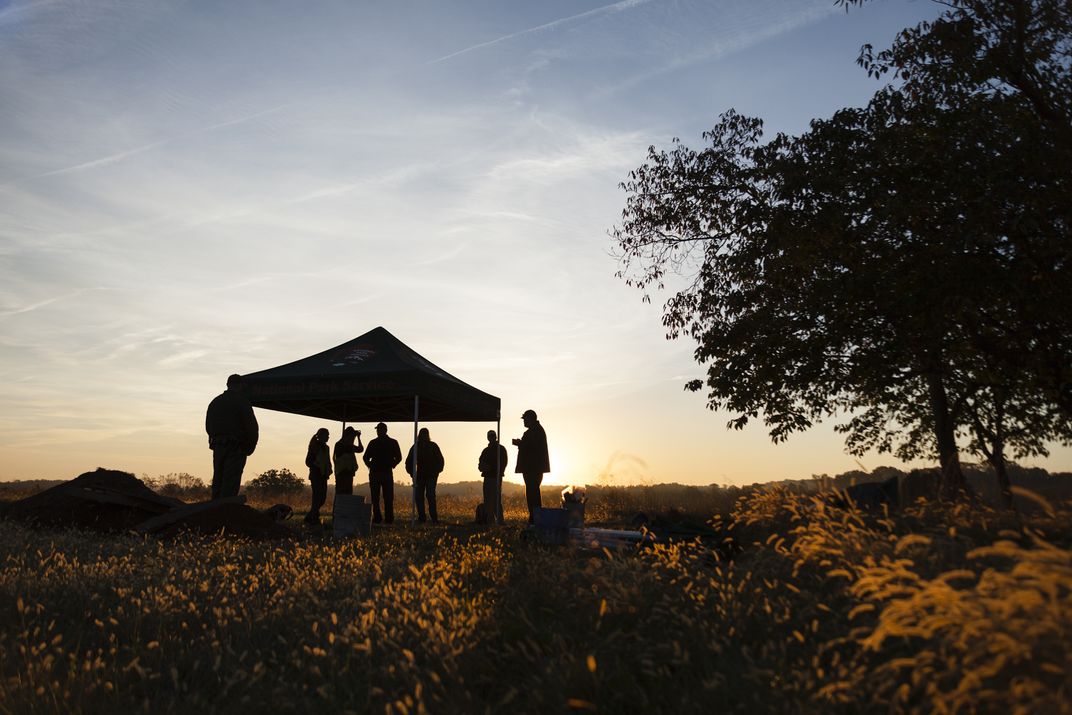 While the museum's photographers spend most of their time behind the lens, another team is hard at work processing and archiving the images to make them accessible for future generations.  The digital asset management team cares for an archive of over half a million digital image files, contributing to the preservation of an essential record of the museum's collections and history that can be viewed for public interest and used to further research efforts across the globe.
"My hope is always that our photos inspire anyone who sees them," said Kristen Quarles, a digital collections specialist at the museum.  "I want the public to appreciate the surprising beauty of our natural world, the awesome diversity of human cultures, and the profound importance of caring for and learning from both."
Related Stories:
Iconic Photos Give Rare Glimpse of Smithsonian's Storage Rooms
See Past Winning Photographs From the Wildlife Photographer of the Year
How to Take the Perfect Selfie at the Smithsonian
Lucy's Legacy: Celebrating the 48th Anniversary of Her Discovery with a Selfie