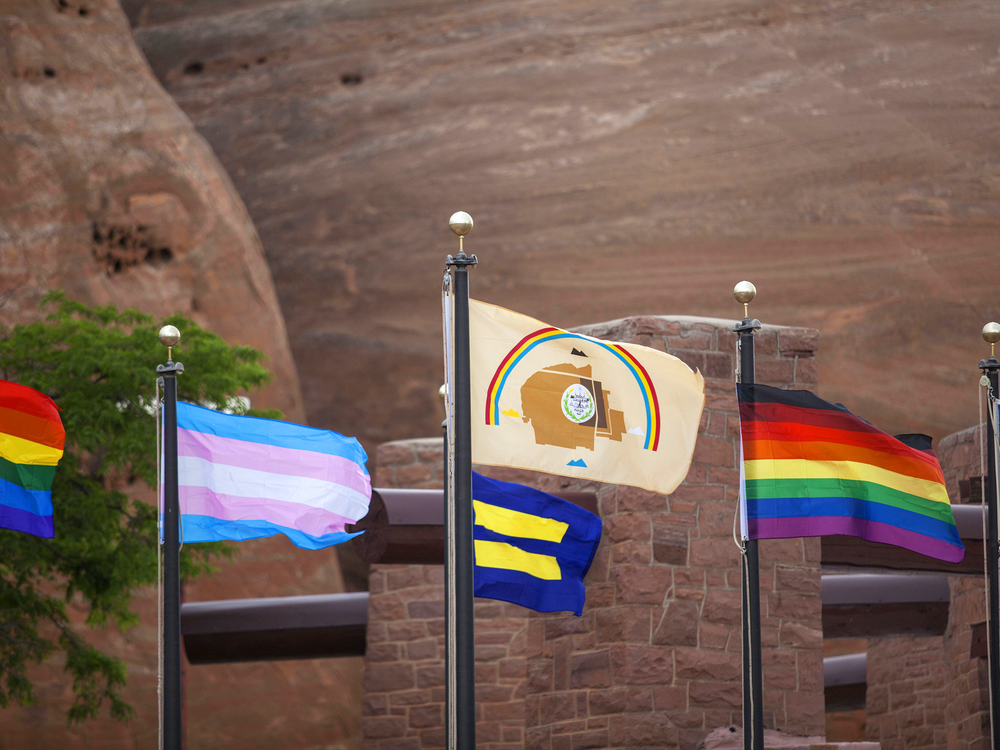 Earlier this month, Congressman Mondaire Jones (D-NY) and Secretary of the Interior Debra Haaland (Laguna Pueblo) met at the historic Stonewall Inn in New York to discuss issues affecting the LGBTQIA+ community and to kick off Pride Month. Haaland, the first Native American cabinet secretary in U.S. history, is the proud parent of a Two-Spirit child. When asked in a 2018 interview about an LGBTQIA+ person who has impacted her worldview, Haaland answered, "That would be my daughter, who is a lesbian. I think about how I have this beautiful, wonderful lesbian daughter who I adore, and who I want to have every opportunity for success." [Note: Haaland's child, Somáh, is non-binary and now uses they/them pronouns.] Haaland has been vocal about her support of issues affecting Native and non-Native people, and she credits Somáh for educating her on gender identity and LGBTQIA+ issues.
In the acronym LGBTQIA+ (lesbian, gay, bisexual, transgender, queer/questioning, intersex, asexual/ally), the "+" acknowledges other identities that are not included. One identity that often gets incorporated at the end is Two-Spirit, which is an umbrella term for Native people who have both male and female spirits and acknowledges different gender identities present among Native people of North America. There are also social, spiritual, and community roles for Two-Spirit people within their Native nations, and some Two-Spirit people prefer words from their Indigenous languages for gender variance.
The term Two-Spirit originated in 1990 by Myra Laramee (Cree) at the Third Annual Inter-tribal Native American, First Nations, Gay and Lesbian American Conference in Winnipeg. It is a translation of "niizh manidoowag" or "two spirits" in the Anishinaabe language. While Native people might use the terms gay, lesbian, or transgender, Two-Spirit is a term created by Native people for Native people. More people are becoming familiar with the term, and there are Two-Spirit events across North America, including the annual Two-Spirit Powwow in San Francisco. This Pride Month, I interviewed Native people from various tribal communities about being Two-Spirit and how they celebrate that identity.
Geo Socomah Neptune
In 2018, Geo Socomah Neptune (Passamaquoddy), who uses they/them pronouns, was featured in a video on them, an online magazine and community platform from Condé Nast featuring the stories and voices of LGBTQIA+. They explained the meaning and history of Two-Spirit, including that, "The term was intentionally introduced by Native people with the goal of finding common ground and helping educate about traditional teachings in a contemporary context." Neptune identifies as Two-Spirit and also sees the term as having multiple elements. They pointed out that, "what people struggle with is that they define [Two-Spirit] as a sexual orientation, a gender identity, a spiritual identity, or [having] a societal role. In reality, those four parts are not separate but exist into one intersectional identity."
Neptune is a basket maker, educator, storyteller, activist, and drag performer based in Maine. They have been weaving since the age of four and were taught primarily by their grandmother, Molly Neptune Parker (1939-2020), a Passamaquoddy master basket maker and founder and former president of the Maine Indian Basketmakers Alliance. Neptune, at the age of twenty, also became designated as a master basket maker, the youngest person in the tribe's recent history. Neptune, who works primarily in ash and sweetgrass, weaves baskets with boundless creativity—large and miniature sizes, fancy baskets, lidded baskets, and baskets in the shape of strawberries and birds to name a few. They won first place and best in class for division A basketry at the 2018 Heard Art Market in Arizona and received a United States Artists fellowship in 2021.
In September 2020, Neptune made headlines for being the first openly transgender person in Maine elected to a school board. As an educator and an art teacher, they want to advocate for curricula that includes permanent art and cultural programs. Neptune grew up in Indian Township, one of two Passamaquoddy reservations in Maine. They moved to New Hampshire to attend Dartmouth College and returned to Indian Township about ten years ago. Neptune does attend Pride Month events and performs in drag shows in Bar Harbor, which is about a two-hour drive south. Indian Township might be considered rural and isolated, but Neptune has built a life there. They live in a house where they make art, raise animals, keep bees, and tend a garden on land where their ancestors have been for more than 13,000 years.
Neebinnaukzhik Southall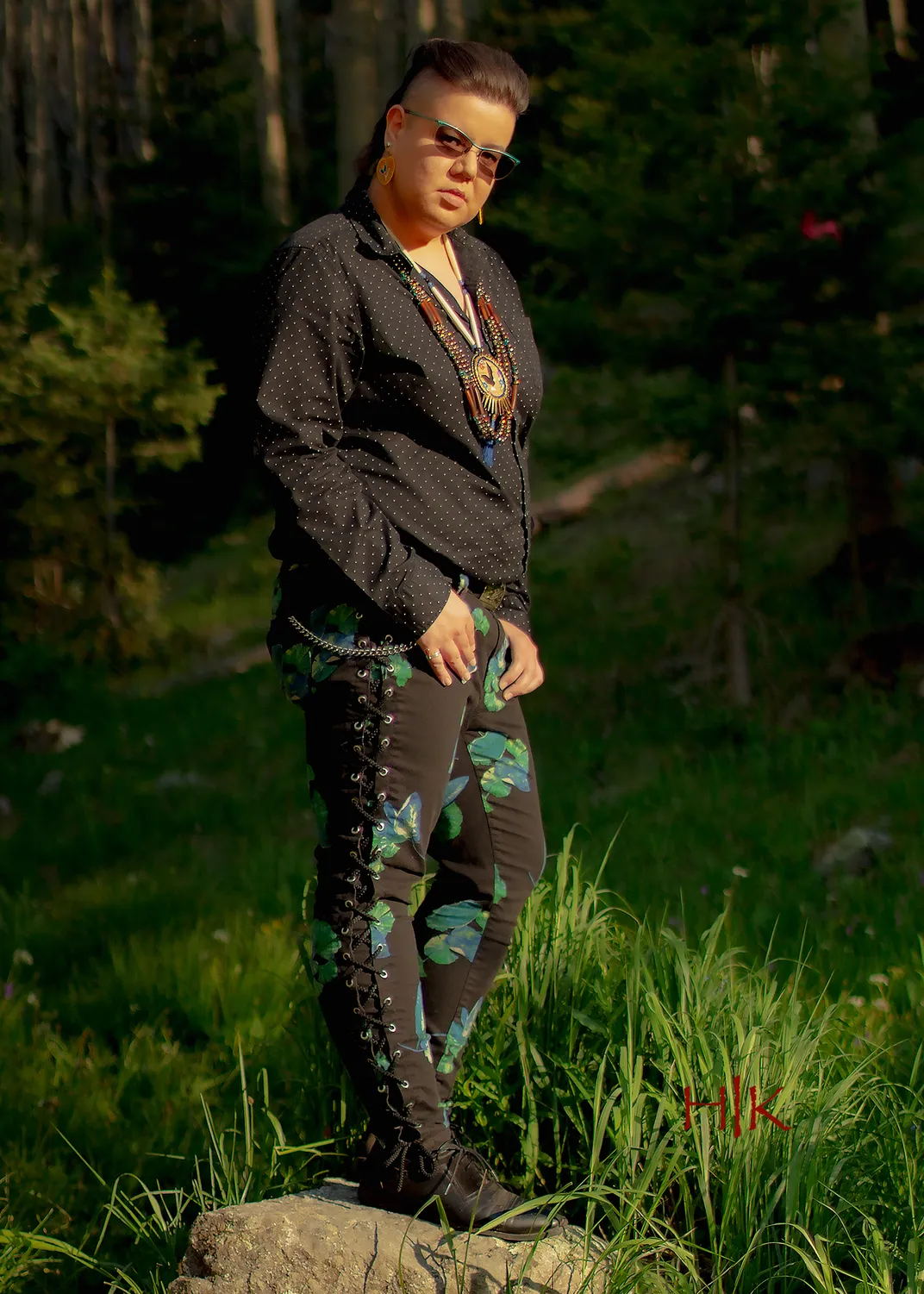 Neebinnaukzhik Southall, who uses they/them pronouns, is a graphic designer, artist, photographer, and writer based in Santa Fe, New Mexico. They are Anishinaabe, a member of the Chippewas of Rama First Nation of Ontario, Canada. Southall operates their own design company, Neebin Studios, and works with museums, cultural organizations, magazines, and other clients on print and online projects. They recently completed a residency as a 2021 Dobkin Native artist fellow at the School for Advanced Research in Santa Fe where they developed digital illustrations for Anishinaabe communities and cultural organizations.
Southall identifies as Two-Spirit which they describe as someone having masculine and feminine energies coming together, existing in one body. They also pointed out that various Anishinaabe communities have their own terms and words they use. For example, in the book, A Two-Spirit Journey: The Autobiography of a Lesbian Ojibwa-Cree Elder, the author Man-Nee Chacaby said that her grandmother used the words "niizhin ojiijaak" to describe her. For a person who presents as a woman or a transfeminine person, they have heard the words "agokwe" or "ikwekaazo" among the Ojibway and "m'netokwe" among the Potawatomi. For a person who presents as a man or a transmasculine person, they have heard "agowinini" and "ininikaazo" among the Ojibway.
"I think Two-Spirit and queer people tend to be more involved in social justice and community work," Southall clarified. They know Two-Spirit people who are activists, educators, culture bearers, and artists. Southall attended their first Pride Parade/Day in 2016, and they understand the importance of such events and how they highlight the history of LGBTQIA+ activism. Also, some Native organizations do participate in Pride events which provides visibility and a platform for Indigenous issues. "By using the term Two-Spirit," Southall clarified, "we are centering ourselves as Native people and showing a responsibility to our communities. We are not separate from our Native communities. We are part of a larger whole."
James Abler and Terry Johnson II
Nearly eight years ago, James Abler (Suquamish) and Terry Johnson II (Zuni) exchanged marriage vows on the lawn of the Suquamish Clearwater Resort overlooking the waters of Agate Pass near Seattle. The tribe's Chief Judge Randal Steckel officiated the ceremony with Suquamish Chairman Leonard Forsman in attendance. While the resort had been the site of other same-sex marriage ceremonies, that September 2013 event marked the first such service for a tribal member. Reporters from local and national news agencies covered the event, including the local television station.
While the U.S. Supreme Court ruled that same-sex marriages were legal in all 50 States in June 2015, about twenty-five tribal nations had passed marriage equality laws for their members before that ruling. The Suquamish Tribe of Washington State passed an ordinance recognizing same-sex marriages in August 2011. The tribe can issue marriage licenses to two unmarried adults, regardless of gender, as long as one is an enrolled member of the Suquamish Tribe. Abler is Suquamish, and Johnson is an enrolled member of the Pueblo of Zuni in New Mexico. As Chairman Forsman told the Seattle Times, "[the Suquamish] want to allow our people to be happy and free. Our tradition is to be open." Johnson echoed that belief as he remarked, "[the Suquamish] have embraced us and acknowledged us as people. Their hospitality is selfless." Johnson had moved from New Mexico to Washington State in 2009 and met Abler soon after. They have been raising two children, both of whom are Suquamish, since 2011.
Johnson, as a member of Zuni Pueblo, grew up with stories about We'wha (1849-1896), the well-known Zuni lhamana (the term in the Zuni language). As Johnson explained, "We'wha was valued [at Zuni] for being both male and female and was a weaver, potter, took care of the children, gathered wood. We'wha did everything." Johnson likes the term Two-Spirit, because "the Creator gifts people with one breath of life but gifted us with two breaths."
Abler grew up on the Suquamish reservation as the youngest of seven children. Family and community have always been important to him. He has worked at the Suquamish Tribe's Early Learning Center for fifteen years. Together the Abler and Johnson house has become the location for family gatherings, and they started a vegetable and flower garden. When asked what being married means to them, Johnson explained, "[James] completes me in every way. We have similar thoughts. We finish each other's sentences. He always makes me laugh. I have never had anyone like that [in my life]." As for the ability to have their union recognized by the tribe, Abler answered, "the [Suquamish] community has been great to us. My community supports me. I feel very proud to be Suquamish."
Alray Nelson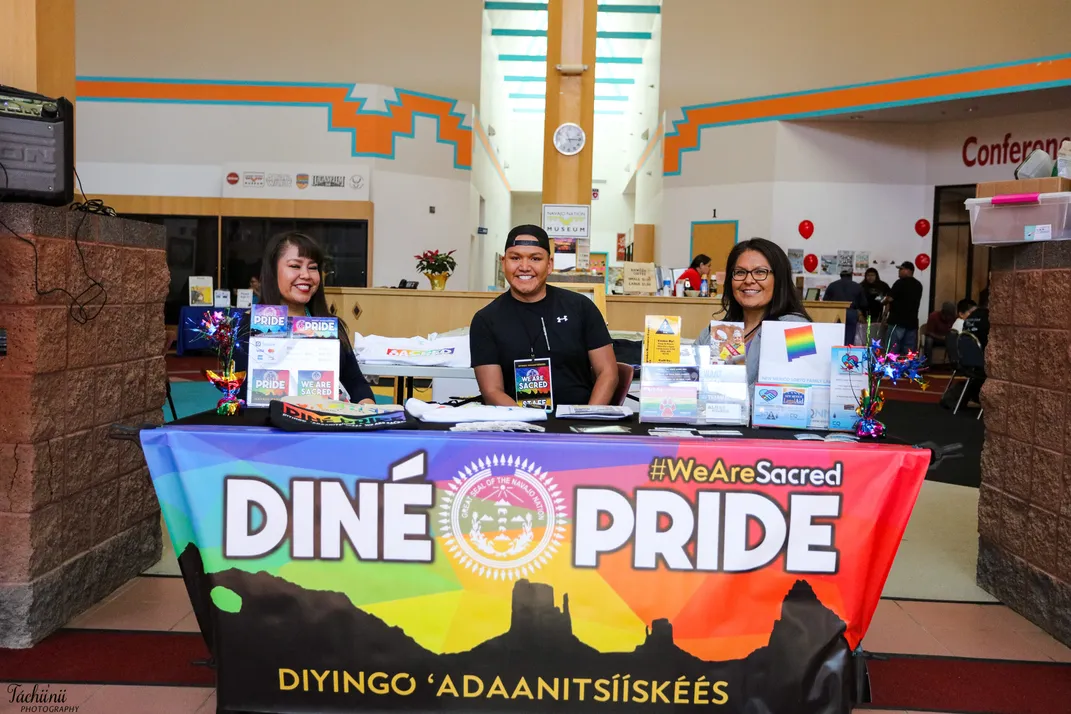 Alray Nelson (Diné) is Executive Director of Diné (Navajo) Pride, the largest Indigenous Pride event in the United States. He was a senior advisor for two Navajo Nation presidents and is the founder of Diné Equality, an advocacy organization for LGBTQIA+ equality on the Navajo Nation. As Nelson explained to NPR, "Since our creation, the Diné people have acknowledged and revered LGBTQ and especially the trans community in our leadership." The Board of Directors for Diné Pride includes Two-Spirit leaders from the Navajo Nation and other tribes.
Nelson explained that Pride Month means different things to different people, but, for him, "Diné Pride recognizes and publicly celebrates our Native identity." He added that, "it's different from other Pride events, because ours is community based." Diné Pride will award two scholarships to Diné high school seniors who identify at LGBTQIA+ for their contributions to the community. It also organized a Pride art show featuring the work of Two-Spirit artists.
The theme for the 2021 Diné Pride is Indigenous matriarchs and "honoring all Indigenous Womxn who continue to uplift communities, lead our movements & are the changemakers for our Sovereign Nations." The programming schedule includes a virtual opening ceremony, roundtable discussions, entertainers, a parade, and a closing ceremony. While most of the Diné Pride programs will be online, the June 19 parade will be an in-person event following COVID-19 safety protocols. According to Nelson, it is the only Pride Parade on tribal lands. The parade route ends in front of the Navajo Nation Council Chamber, and the building will be lit in rainbow colors.
June 2021 will be the fifth annual Pride Week for Diné Pride. Each year the attendance numbers grow, and the organizers now extend their programming throughout the year. In May, for example, Diné Pride hosted an online panel of Indigenous Two-Spirit youth discussing college life during COVID-19 and racial justice movements. Nelson affirmed that, "We have the right to be ourselves. Before colonization, our communities recognized the value of LGBTQIA+. We are reclaiming that knowledge."