NATIONAL MUSEUM OF THE AMERICAN INDIAN
Christmas Across Indian Country, During the Pandemic and Before
For the last few years, Native friends have shared their Christmas plans and traditions with Smithsonian Voices. This extraordinary year, we asked how the Covid-19 pandemic is affecting people's families and communities. The introduction of Christianity to the Americas can be controversial in Native circles. Europeans knowingly replaced Native people's existing spiritual beliefs with the beliefs taught in the Bible. Cruelty and brutality often accompanied this indoctrination. Yet it is also true that some tribes, families, and individuals embraced the Bible and Jesus' teachings. This complicated history is reflected here, as well.
---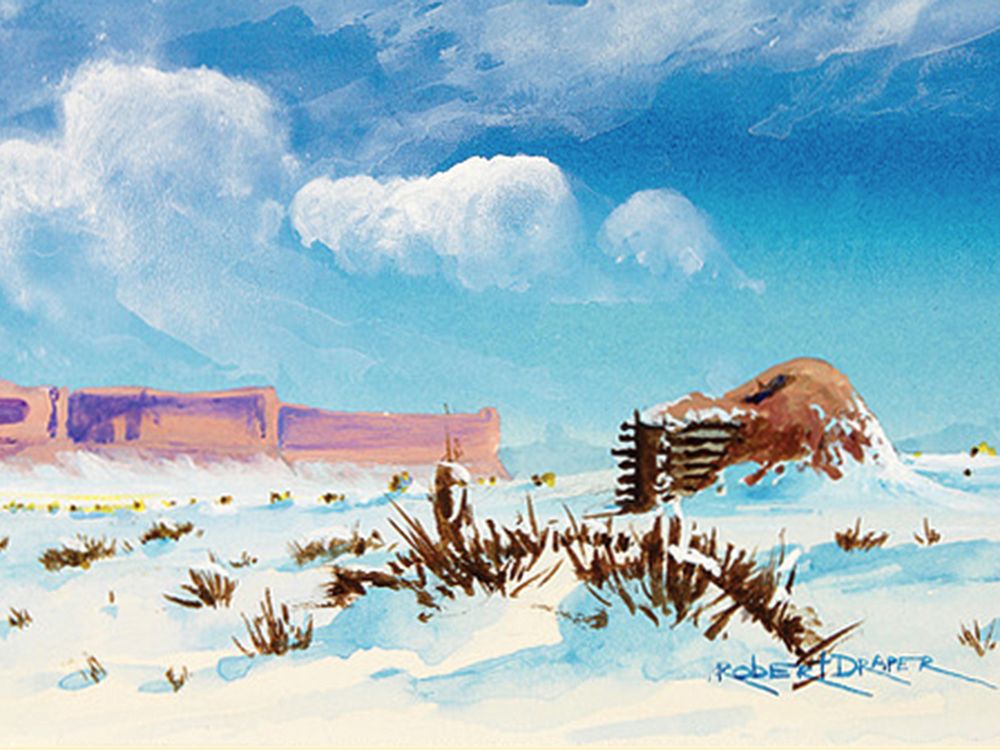 The introduction of Christianity to the original peoples of the Americas can be controversial in Native circles. Europeans brought Christianity to this half of the world and imposed it on Native communities, knowingly replacing existing spiritual beliefs with the beliefs taught in the Bible. Cruelty and brutality often accompanied the indoctrination of Native peoples. Yet it is also true that some tribes, families, and individuals accepted the Bible and Jesus' teachings voluntarily.
Music played an important part in converting Native people, establishing their practice of worship, and teaching them how to celebrate the Christmas season. Perhaps the earliest North American Christmas carol was written in the Wyandot language of the Huron-Wendat people. Jesous Ahatonhia ("Jesus, He is born")—popularly known as Noël huron or the Huron Carol—is said by oral tradition to have been written in 1643 by the Jesuit priest Jean de Brébeuf. The earliest known transcription was made in the Huron-Wendat settlement at Lorette, Quebec, in the 1700s.
During the 1920s, the Canadian choir director J. E. Middleton rewrote the carol in English, using images from the Eastern Woodlands to tell the Christmas story: A lodge of broken bark replaces the manger, the baby Jesus is wrapped in rabbit skin, hunters take the place of the shepherds, and chiefs bring gifts of fox and beaver furs. A much more accurate translation by the linguist John Steckley, an adopted member of the Huron-Wendat Nation of Loretteville, makes clear that the carol was written not only to teach early Catholic converts within the Huron Confederacy the story of Jesus' birth, but also to explain its significance and to overturn earlier Native beliefs.
Here are the first verses of the carol in Wyandot and Steckley's complete English translation:
Estenniayon de tsonwe Iesous ahatonnia
onn' awatewa nd' oki n' onyouandaskwaentak
ennonchien eskwatrihotat n'onyouandiyonrachatha
Iesous ahatonnia, ahatonnia. Iesous ahatonnia.

Ayoki onkiennhache eronhiayeronnon
iontonk ontatiande ndio sen tsatonnharonnion
Warie onn' awakweton ndio sen tsatonnharonnion
Iesous ahatonnia, ahatonnia. Iesous ahatonnia.
Have courage, you who are humans; Jesus, he is born
Behold, the spirit who had us as prisoners has fled
Do not listen to it, as it corrupts the spirits of our minds
Jesus, he is born
They are spirits, sky people, coming with a message for us
They are coming to say, Rejoice (Be on top of life)
Marie, she has just given birth. Rejoice
Jesus, he is born
Three have left for such, those who are elders
Tichion, a star that has just appeared on the horizon leads them there
He will seize the path, he who leads them there
Jesus, he is born
As they arrived there, where he was born, Jesus
the star was at the point of stopping, not far past it
Having found someone for them, he says, Come here!
Jesus, he is born
Behold, they have arrived there and have seen Jesus,
They praised (made a name) many times, saying, Hurray, he is good in nature
They greeted him with reverence (greased his scalp many times), saying, Hurray
Jesus, he is born
We will give to him praise for his name,
Let us show reverence for him as he comes to be compassionate to us.
It is providential that you love us and wish, I should adopt them.
Jesus, he is born.
All throughout Indian Country, Native people have gathered in churches, missions, and temples to celebrate the birth of Jesus Christ by singing carols and hymns in their Native languages. In some churches, the story of Jesus' birth is recited in Native languages. Some Native churches host nativity plays using Native settings and actors to re-enact the birth of Jesus Christ. Among Catholics, Christmas Eve Mass traditionally begins in Indian communities at midnight and extends into the early hours of Christmas Day. In tipis, hogans, and houses, Native American Church members also hold Christmas services, ceremonies that begin on Christmas Eve and go on all night until Christmas morning.
In contemporary times, traditional powwow singing groups have rearranged Christmas songs to appeal to Native audiences. A humorous example is Warscout's NDN 12 Days of Christmas, from their album Red Christmas. Native solo artists also perform Christmas classics in Native languages. Rhonda Head (Cree), for example, has recorded Oh Holy Night, and Jana Mashpee (Lumbee and Tuscarora) Winter Wonderland sung in Ojibwe.
Native communities host traditional tribal dances and powwows on Christmas Eve and Christmas Day. Among the Pueblo Indians of the Southwest special dances take place, such as buffalo, eagle, antelope, turtle, and harvest dances. The Eight Northern Pueblos perform Los Matachines—a special dance-drama mixing North African Moorish, Spanish, and Pueblo cultures—takes place on Christmas Eve, along with a pine-torch procession.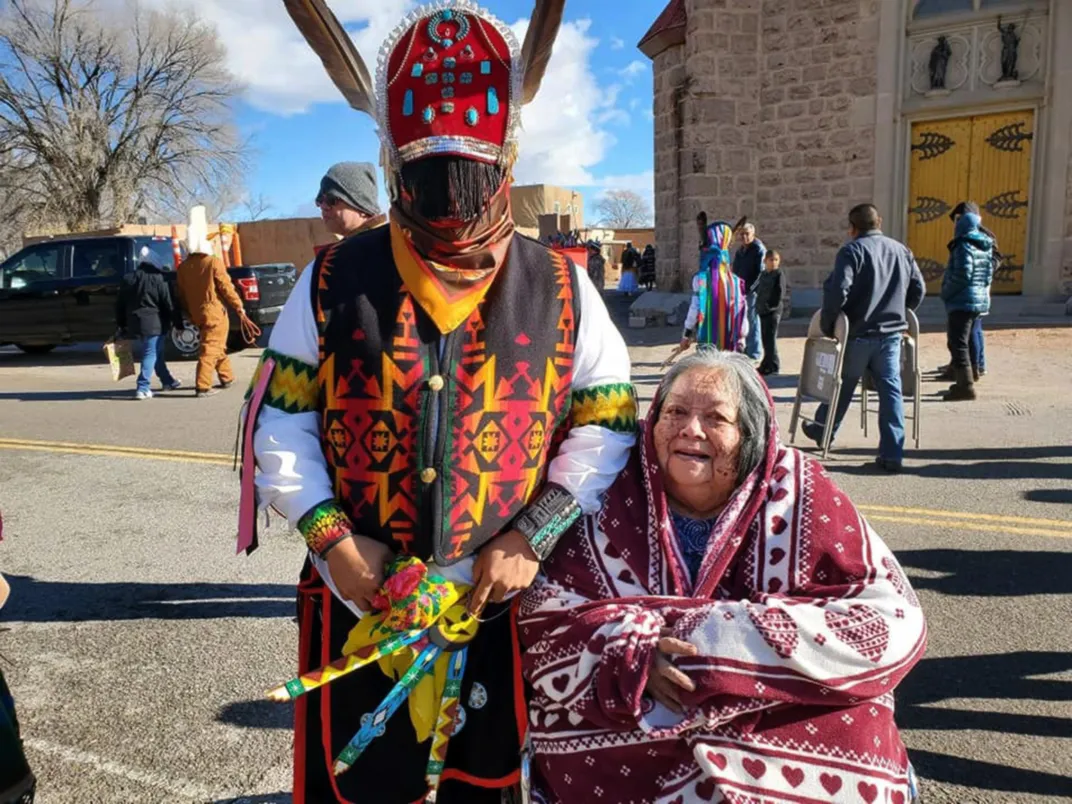 For Native artisans, this is traditionally the busy season as they prepare special Christmas gift items. Artists and craftsmen and women across the country create beadwork, woodwork, jewelry, clothing, basketry, pottery, sculpture, paintings, leatherwork, and feather work for special Christmas sales and art markets that are open to the public. For the 15 years before 2020, the National Museum of the American Indian held its annual Native Art Market in New York and Washington a few weeks before Christmas. This year, the in-person event was replaced by an online program of interviews with artists from earlier Art Markets, Healing through Native Creativity.
In many communities and homes, Christian customs are interwoven with Native culture as a means of expressing Christmas in a uniquely Native way. The importance of giving is a cultural tradition among most tribes. Even in times of famine and destitution, Native people have made sure their families, the old, and orphans were taken care of. This mindset prevails into the present. Gift-giving is appropriate whenever a tribal social or ceremonial gathering takes place.
In the same way, traditional Native foods are prepared for this special occasion. Salmon, walleye, shellfish, moose, venison, elk, mutton, geese, rabbit, wild rice, collards, squash, pine nuts, red and green chile stews, pueblo bread, piki bread, and bannock (fry bread) are just a few of the things that come to mind. Individual tribes and Indian organizations sponsor Christmas dinners for their elders and communities prior to Christmas. Tribal service groups and warrior societies visit retirement homes and shelters to provide meals for their tribesmen and women on Christmas Day.
According to the Urban Indian Health Commission, nearly seven out of every ten American Indians and Alaska Natives—2.8 million people—live in or near cities, and that number is growing. During the Christmas holidays, many urban Natives travel back to their families, reservations, and communities to reconnect and reaffirm tribal bonds. They open presents and have big family meals like other American Christians.

For the last few years, Native friends have shared their families' Christmas plans and traditions with the museum. This extraordinary year, we asked how the Covid-19 pandemic is affecting their families and communities. Those replies are given first here, then the answers we received in 2019 and 2018. Thank you to everyone who took time to tell us a little about their lives.
"I live in Upstate New York. Most of my adult life I hardly had Christmas with my family, because I was deployed, stationed overseas, or too far from home. It's nothing new to be with just my immediate family. So, for anyone who says they can't have Christmas with family, please consider the men and women in uniform who can't this year and ones before who weren't able to."
Topeka, Kansas: "I'm a middle school history teacher, and we are in remote education. Our Covid numbers are some of the highest in the country. No churches are open, so no services. Most stores close early, and there is a restaurant and bar curfew. No congregating of any sort is allowed, and we have not only mask mandates, but other rules that have curtailed any events.
"The saddest thing I saw today was that our Prairie Band Potawatomi neighbors just a few miles north of us can't sell enough of their meat, so they are advertising selling it at the Rez gas station in bulk. They're hoping to break even, but likely will take a loss. Covid is taking a toll everywhere, but here in Indian Country it's so real. Many of my students, including my tribal students, are facing a very difficult Christmas. Our school has adopted a family whose parents asked only for a kitchen trash can, storage container, and cleaning supplies for gifts. It truly is a hard Christmas."
Zuni Pueblo, New Mexico: "We will be fasting for the winter solstice as usual here in Zuni. No change for us, the whole village will be in seclusion and praying for 10 days. So no big change from the lockdowns. Stores and business are usually closed during that time."
Elgin, Oklahoma: "My husband is in the hospital with Covid, pneumonia, and blood clots in his lungs. I am trying to keep the Christmas spirit alive for our kids. We cannot go to the hospital to see him, and that is driving me nuts.
"I usually host a family Christmas cookie exchange party each year. It's a time our relatives come together, despite our busy lives, to spend a day of fun, laughter, and love during Christmas, and it was canceled this year due to the pandemic. I cannot spend Christmas with my sisters or dad because of the pandemic. I just have to drop their gifts off at the porch. We cannot get together on Christmas Eve or Christmas Day to exchange gifts and partake in the Christmas holiday.
"When I get on social media, I see so many people asking for prayers because someone they love has tested positive for Covid, or their loved one is in the hospital because of Covid, like my husband, or they lost a loved one due to Covid. I just pray for everyone."
Garden Grove, California: "With California in another lockdown, we will be stuck in our homes for Christmas. We will only be able to call our relatives this year and wish them a Merry Christmas and Happy New Year. Unfortunately most gifts have to be mailed out and not hand delivered, so we can't really see the excitement our gifts give to others. I'm hoping next Christmas will be way better for all of us."
Cherokee, living in Spain: "I do not celebrate Christian ways but respect the ones who do. My kids, grands, and I had covid-19 by early March, without much trouble, so we hugged all year through. Sending much love and many prayers to each and all back home."
Duluth, Minnesota: "No impact. We're still making homemade gifts and will gather like we do every other day. We have a social contract."
"In Manitoba, Canada, we are under a Red Zone, which means a lot of restrictions when it comes to gatherings. People from this province have traveled to Kenora, Ontario, and Yorkton/Regina, Saskatchewan, to shop for the holidays. Toys R Us is the go-to place, but some orders are not filled, and you're given a rain check. Places such as Walmart stopped selling anything outside of essentials.
"As for my home, my child is not traveling this year to spend the holidays with his dad's side of the family. Flying is out of the question, and driving would be hazardous, not to mention each province has its own high numbers. We can't even go home to our reserve due to limited access to the communities. Outside of our own home, we have declined dinner invitations due to social distancing and have made alternate plans to stay home and have a hot meal.
"No matter what, I am with my child, and that is all that matters to me. I don't really care for the commercialization of Christmas. I think it's best to have money in case of an emergency. We had a major storm that took down power lines last year. Who knows what this year will bring?
"All in all, I wish everyone a safe holiday. Prayers to those who lost loved ones or have loved ones whose lives have been impacted by Covid. My gift is spending the holidays with my li'l sidekick and creating our own memories. Be safe!"
"On the eastern coastal lands here in North Carolina, no friends are sharing the rides to the winery for the Christmas decorations and lights. Celebrations have been thrown out the window, and, as restaurant gatherings are gone, so is the laughter and good cheer with friends while sharing a memory of the past year. Hibernation is occurring as no doorways are opening. Shopping and wrapping gifts are gone, even the homemade ones—the pandemic has closed employment. Less making cookies and cakes–the oven surely won't be used for just li'l ole me.
"And it's okay. Life is going to turn around. What Christmas will bring is to celebrate with more phone calls, including a face-to-face; chatting on social media; wishing all the best of the holidays; dreaming of a new world in 2021. Merry Christmas and Happy New Year!"
Gloucestershire in the UK: "All Christmas and solstice plans involving travel are canceled as the virus is still spreading. The government was allowing travel for Christmas period, but we don't trust what they say. If people travel, it will be out of control again."
New Hampshire: "Typically I take baked goods and homemade Christmas presents to friends. I will often spend time with them catching up. I also send out 50 or so Christmas cards. None of that this year. I will see my children and granddaughter though, as we live in the same town and have been seeing each other since the beginning. I am sad I can't spread my usual greetings this year when we all so need it."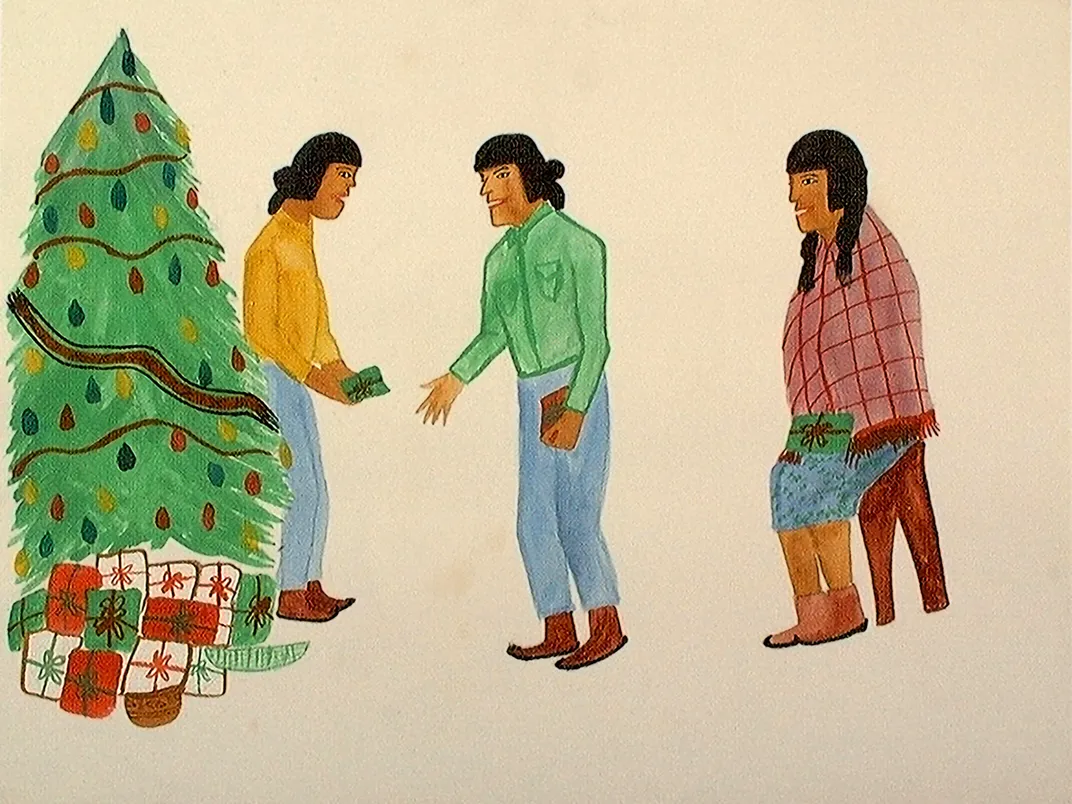 Fort Hall, Idaho: "We generally have a Christmas Eve gathering with family. Not this year."
Del Muerto, Arizona, on the Navajo Nation: "The 76th year of family hosting a community Christmas has been canceled. Treats, toys, and winter jackets will not be provided, but it's all for safety precaution."
South Dakota: "I have not done Christmas or any holidays for over 24 years as part of my de-colonization. We are so brainwashed from childhood. The real tests are triggers like certain songs. It's a hard journey to undertake. It's another level of healing the traumas of Christianity and family beliefs, however, and I made it."
Louisville, Kentucky: "Well, as Christmas comes around, I always look forward to going to my last living grandmother's. Like 90 years old. Normally we would go to see her and the whole family—all the cousins and, yes, even aunties. Ayeee. Lol. We would all eat and open presents and chat. But this year presents are being sent in the mail. We may have a family computer time face to face. It isn't the same as giving my grandmother a hug and her seeing all her kids, grandkids, and great grandkids. It saddens my heart. She is at an age, and we never know when it's time to be called home. So I know these times are important. The pandemic as made a saddened Christmas time."
Manitoba, Canada: "First time ever not all congregating at Mom's house. We are having our smaller dinners in our homes. However, this Santa will be delivering gifts Christmas Eve.
"Living in Southern California has made celebrating or doing anything for the holidays nearly impossible. We are on total lockdown. Even going out to buy decorations has not happened for me. Many family members have been unemployed for five or six months, so we are all financially unable to help each other. And because of the lockdown, we can't even get together in person to support each other. We are blessed, however, to all be healthy."
Cloquet, Minnesota: "We are not having a family get together. First time ever in my life."
Edmonton, Alberta: "No travel to family in the north and south. My 75-year-old mom is depressed. My grandbaby will not see his dad's side, which affects bonding. Normally we have a big Christmas meal and share with others. Not this year, though."
Lac du Flambeau, Wisconsin: "No visiting from friends and relatives on Christmas Eve, and the big Christmas dinner feast is just for immediate family. Once again, I can't show off my baby grandson, who still hasn't met some of his relatives."
Tualatin, Oregon: "We are already isolated and have been practicing social distancing and wearing our masks because it is mandated, so we plan to have our Christmas as usual. Our children and grandkids will be with us to celebrate. We are a very small family and living here all these 30-plus years, it's no different than before. It's always been just us. We've grown from a family of five to ten. God has blessed us so. Aho Dawkee—thank you, God!"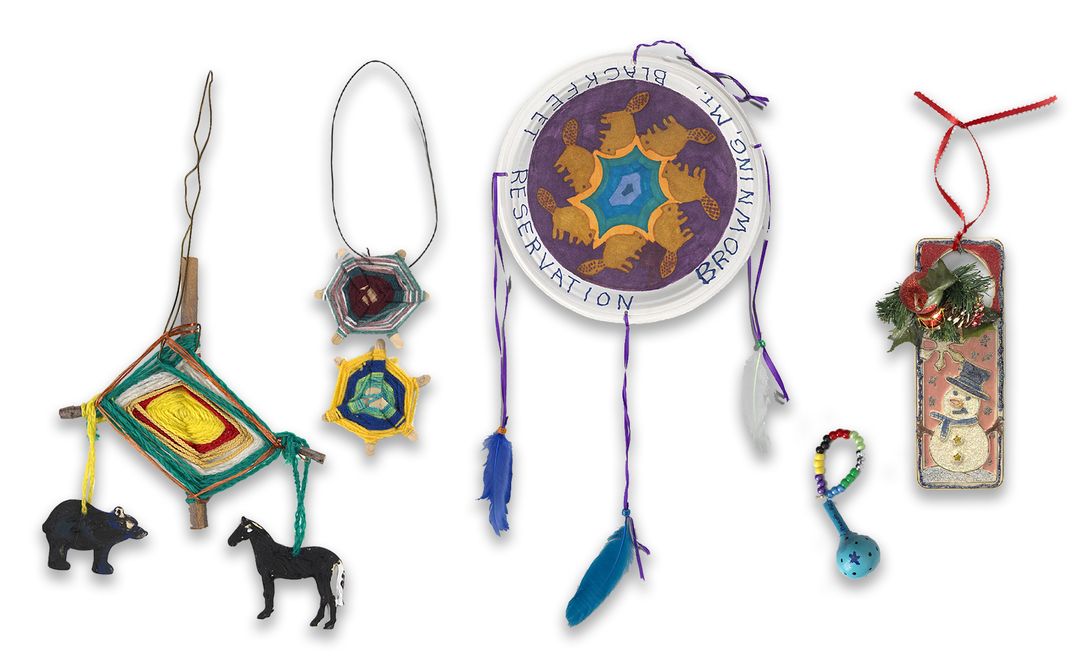 Friends shared these Christmas plans and memories in 2019 and 2018:
White Swan, Washington, sent on the winter solstice: "This is NDN New Year (the shortest day of year), but it's close to Christmas so we still have gift exchanges. Santa shows up at our longhouse; he also has 2 with him, our version of Krampus. I'm not sure how far back this goes. Maybe it's Bigfoot and is s'posed to scare the kids into being good. My dad used to dress that way and come in with Santa. I don't know who does it now. Some of my family thought it was me, but I think it's two of my cousins."
Miami, Oklahoma: "Seneca–Cayuga social dances with horned rattles and supper at my sister's house. Oh, can't forget our coins for playing some Indian dice and playing Cards against Humanity! Lol. Lots of fun and laughter."
Albuquerque, New Mexico: "Spending Christmas Eve in the village of Taos Pueblo, building and then watching the bonfires burn, and watching the procession of the Virgin Mary."
Minneapolis, Minnesota: "Honoring our relatives with a memorial horse ride called the Dakota 38 + 2. On December 26, 1862, at Fort Snelling, Minnesota, in Dakota County, 38 Dakota men were hung all at once. It is recorded as the largest mass execution in U S. history. This is how most of us here in Mni Sota celebrate this time of the year."
Southern Manitoba, Canada: "Last year we as a family spent the day together and went to a movie theater all day. On the 26th, we made a meal and set out a spirit dish for the Dakota 38 + 2."
Nevada City, California: "I'm a Choctaw Jew, so I celebrate by having a gift-card drive, and going to temple and Christmas church! My grandfather is in a home, so I spend time with him and whoever else is close."
Kents Store, Virginia: "We don't do Christmas, but we have a solstice celebration and teach Abenaki farming at a local school. It's part of their winter festival including other people and faiths into their curriculum."
Phoenix, Arizona: "I will go to my reservation, Eastern Band if Cherokee in North Carolina, and exchange gifts with my family. My dad is 84 years of age, so I always make it a priority to go back there. Everyone will come to Daddy's house to eat turkey and ham. And whatever else my sister cooks."
Disautel, Washington: "Leading up to Christmas we take grandson out to chop down a tree. Let him help pick it out. Hunt for a deer. Then a family dinner at home. Kids come to visit to get their presents. Tree's lit up. Decorations. Candy and snacks."
Tesuque Pueblo, New Mexico: "Spending time at the Pueblo plaza house, watching the winter dances, being with all the family, sharing wonderfully prepared food by the women in the family. There is always laughter, kids running around, and friends dropping by. The usual! Lol."
Winnipeg, Manitoba, Canada: "We'll spend Christmas with family, sharing a meal and putting out a feast plate for our loved ones who passed away."
Montross, Virginia: "My family recognizes our elders community members and recalls those who, though gone, have impacted our lives in a good way."
Edmondton, Alberta, Canada: "Now that I'm a grandma, I spend it with my grandbaby. Usually my daughter, mom, and nephew, too. If I can, we cook (a lot) and eat together. In the past, we have shared with police officers or corrections staff where I used to work. If there is a round dance close, I go there."
Portland, Oregon: "Donate time at the local veterans shelter."
Warm Springs, Oregon: "I usually stay home with my granddaughters. We spend the day with each other and enjoy a nice hot fire with delicious foods. We understand that this is not our holiday, but we have adapted it to suit us."
Apache, Oklahoma: "Christmas Eve: Attending Petarsy Indian Mission in good ol' Richards Spur, Oklahoma. We get greetings from the Indi'n Santa who brings all the good lil Indi'n boys and girls presents. We sing Comanche hymns, and everyone receives a brown bag of fruit, hard Christmas candies, and nuts. Then we go home to eat Uthivah (Mexican) food and play monopoly till some gets mad. In the morning, the kids must sing a Christmas carol before they are allowed to open presents, and we only hope no one sings the Twelve Days of Christmas! The day will be followed by a Christmas dinner."
Santa Fe, New Mexico: "Since we aren't Christians, my mama called it Big Winter Give-Away Day. She always put up an NDN tree full of Native ornaments made by her friends—tiny beaded moccasins, little pottery angels, wee cradleboards, miniature painted rawhides, and a very special felt beaded turtle that her mother made. Our angel was always one of us girls' little Indian dollies.
"Now that Mom's footprints have joined the others in the Milky Way, I put her tree up. She taught us to be generous, 'to give until it hurt.' It is this lesson that I pass to my sons, not only for one day, but as a way of being in this world."
Winter Haven, California: "With my little family. We don't do gifts, just have a feast and spend quality time."
Hood River, Oregon: "We spend Christmas centered on our Creator, whose name is Jesus Christ, who brought our people to this great promised land. As an Elder, I gather and teach my children my life's lessons and the reality of resurrection and life after this mortal life because of this Jesus Christ. I cry out of gratitude for his tender mercies. I smile because I see the light of this knowledge in my children's eyes.
"After we put the star on the tree, open our simple gifts for one another, eat and laugh with one another, we kneel and pray as my father and grandfather did, carrying on our tradition of gratitude, the tradition of knowing of a greater power. My children have learned that Christmas is not the only day for prayer and sincere repentance. We follow after our Creator, Jesus Christ, with all our imperfections, and because of him we can be forgiven. How holy is His name! We prepare to meet Him, for He will come again, soon."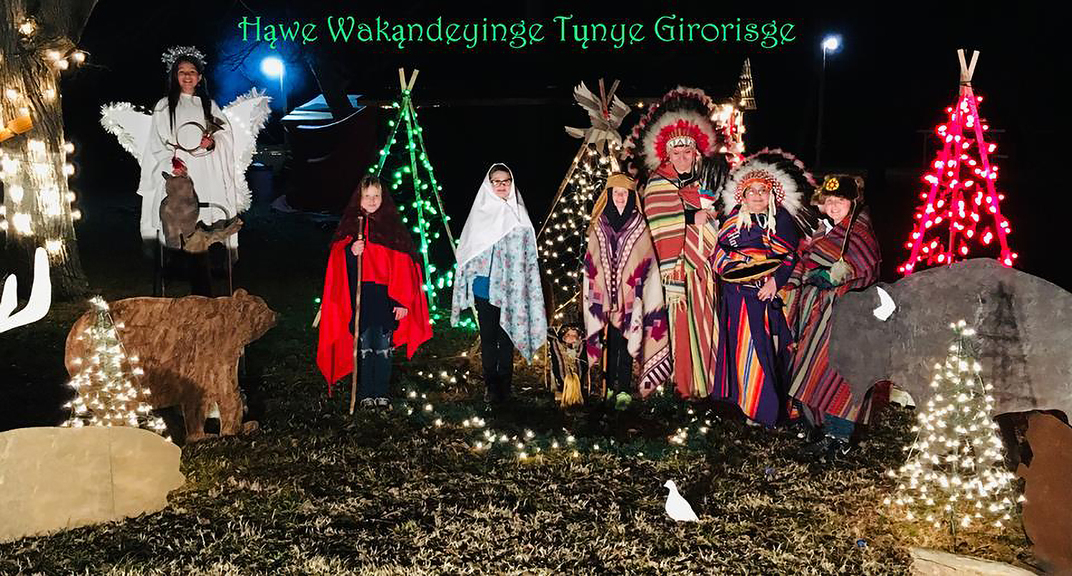 Tama, Iowa: "As a special day of feasting, we first set aside prayer and food offerings in the sacred fire for relatives before our own indulgence. The respect is that you allow your remembrances—those who have passed—to eat first. Oftentimes with the greater ghost feasts you are also sending prayers for good health, long life—for yourself as well as for your family, plus any others. It is promised that your requests will be granted."
Southern Maryland: "Our Elders Council (Choptico) have our winter gathering and feast close to or on the day of winter solstice. This year's menu: Seafood and root veggies. We still have a traditional Christmas dinner for the extended family. Historically Maryland Natives were proselytized by Jesuits and many, if not most, tribal members remain Catholic today."
Barona, California: "This year I'm doing tamales, meat pies, and empanadas! Someone else made tamales, and I'm making the rest."
Carnegie, Oklahoma: "I remember when we would camp at Red Church or White Church Christmas week. There would be snow on the ground. We slept in the tent with our Ah-Pea (grandmother), and people would get up and cook in the dining hall all three meals. All those paper sacks would be lined up in the church and filled with fruit and Christmas candy. Everyone got a treat sack and missionary gift. Church ran late; sometimes we'd sleep on the floor.
"I wouldn't trade anything for those days. Singing and praying in Kiowa. Some beautiful memories. They have all gone on now. Thank you for letting me share."
Philadelphia, Pennsylvania: "On Christmas eve my grandkids have a sleepover with their cousins and we have singing and dance contests (the best steps win a prize) with the kids to encourage them all to sing and dance. Food-eating contests, too (who can eat the most fry bread). We wind up having a little powwow in the house. It tires them all out, too. Breakfast is a big pot of sofkee (seasoned grits). I cook fry bread, three sisters [corn, beans, and squash], salmon, turkey, ham, corn-on-the-cob, cornbread, bread pudding, sweet potato pies, wild rice, string beans, other vegetables. All fresh, nothing from a can. My mother this year started a new tradition: She wants us to write down on a paper and bring it to Christmas dinner to speak on what we are all thankful for and how our year went. My mom also leads us in the traditional holiday songs everyone knows."
Wisconsin Dells, Wisconsin: "Christmas was introduced to certain families back in the late 1920s, early 1930s by my grandfather (choka) George Lonetree and his cousin, Sister Kate Massey, who was a priest. They both were in boarding school in Toledo, Iowa, when they first knew about Christmas and the art of giving presents to people. So my choka decided to gather families who were curious about Christmas. These Christmas gatherings happen near Wisconsin Rapids, Wisconsin. We always have some Native food on the table. My mother always made sure of that. It could be Indian corn soup, fry bread, cranberries, duck, rabbit, and sometimes wintergreen tea. Right around Christmastime, the Eagle Clan of the Ho-Chunk Nation of Wisconsin will have their Winter Clan feast. The winter solstice, yeah, like the first day of winter."
Parker, Arizona: "Sheep ribs cooked over the coals, tortillas, vegetable and mutton stew. Roasted Hatch chili salsa, yeast bread, coffee, and maybe empanadas."
British Columbia, Canada: "We try to include Native-inspired dishes—salmon, berries, roots, deer meat. I only cook turkey for the kids. But if I cook a turducken (turkey, duck, and quail) it seems more inspiring. Lol."
Ohkay Owingeh Pueblo, New Mexico: "At Ohkay Owingeh the Turtle Dance is the driving event. Everything else is second or worked around the dance."
Crystal Falls, Michigan: "Gotta have some wild rice and venison is we what have. It is always good, and turkeys are native to here, though I'm not a wild turkey fan. Lol."
Tappahannock, Virginia: "Dinner is mostly the regular holiday foods except we have to have potato salad and corn pudding. Our Christmas breakfast is oyster stew and watercress, if we can gather enough."
Chicago, Illinois: "Ten years ago we would cook up ham and turkey with all the side dishes. For years the American Indian Center had a Thanksgiving dinner and a Christmas party. We would decorate the tribal hall. I would hear people talking about how traditional they were and still celebrating these holidays and not caring about their cultural teaching. So I decided to change it. I just reworded it to a 'giving thanks feast' and encouraged everyone to write what they were truly thankful for. We had a 'winter feast.' No decorations, and we shared the teachings of how we celebrate the seasons and why each is important to us. I had many positive comments, and it seemed like they were listening and questioning the religious beliefs. It wasn't about shopping and presents. Unfortunately they have not been doing any of these events since I left. Everyone wants their urban rez back."
Ardmore, Oklahoma: "Our church plays have Christmas hymns in Choctaw language, and we always get that brown paper bag filled with fruit, ribbon candy, and orange slice candy. Our church is the Ardmore Indian Baptist Church, in the Chi-Ka-Sha Baptist Association."
Maui, Hawai'i: "We cook pigs underground here on the Islands. It's called imu. This year we are going to do it for the homeless. We pretty much go around and see if everyone is fed."