NATIONAL MUSEUM OF THE AMERICAN INDIAN
From aspiring breakdancer to accomplished artist, Ian Kuali'i traces his path so far
Ian Kuali'i (Native Hawaiian and Mescalero Apache) is known both for his cut-paper art and for his background in hip hop and graffiti. In this profile, the museum's Justin Mugits talks to Ian about the creative influences in his life and finding his space in urban contemporary and Indigenous art.
---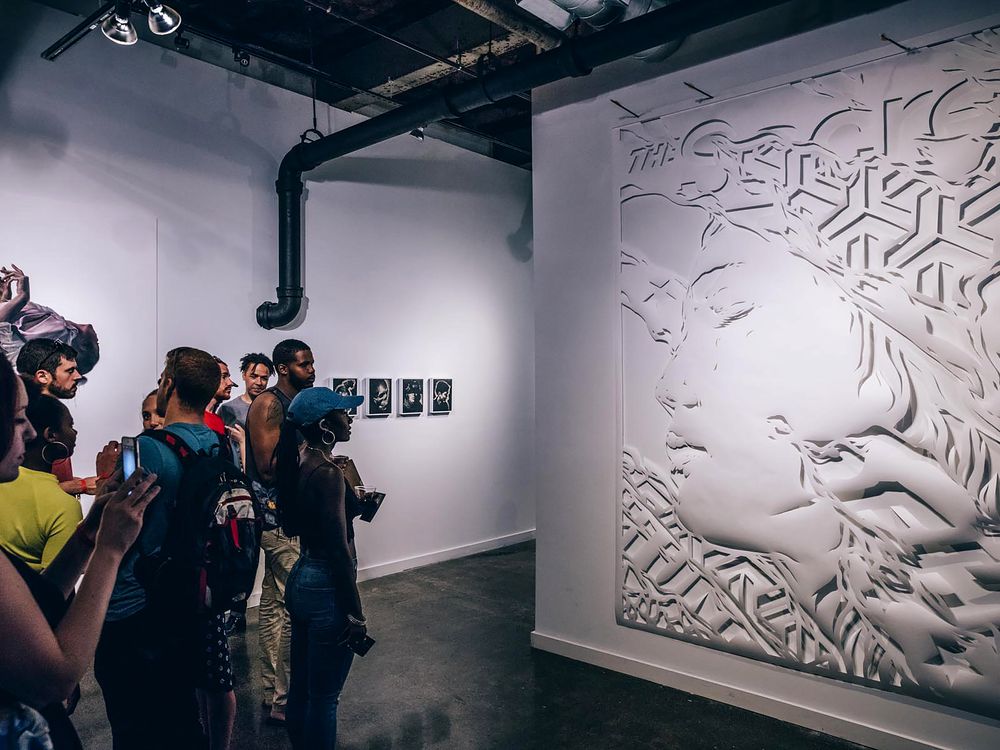 Artist Ian Kuali'i (Kanaka Maoli [Native Hawaiian] and Shis Inday [Mescalero Apache]) is known both for his cut-paper work and for his background in hip hop and graffiti. Ian visited the National Museum of the American Indian in New York last October as part of our Artist in the Galleries series, where he presented demonstrations of his art and answered visitors' questions about it. He was scheduled to take part in our Children's Festival during Asian and Pacific American Heritage Month this May, leading collaborative mural painting. After the Children's Festival was postponed, I took the opportunity to talk to Ian about his influences as an artist and his evolution from aspiring breakdancer to accomplished, self-taught artist.
Growing up in the 1980s and '90s, Ian spent time in both Hawai'i and Southern California, as his mother, Carolyn Melenani Kuali'i, moved back and forth for college and her work in Native health initiatives. Ian has always been connected to his Hawaiian roots through his mother's teachings, and through his extended family of aunts and uncles in Hawai'i and the diasporic communities of Southern California. "The culture was always around," he says, "so at any given moment, we might have some of the most influential figures in Hawaiian politics, like Huanani-Kay Trask, at our house in Irvine. There were hālau hula [schools of Hawaiian culture] all throughout Southern California."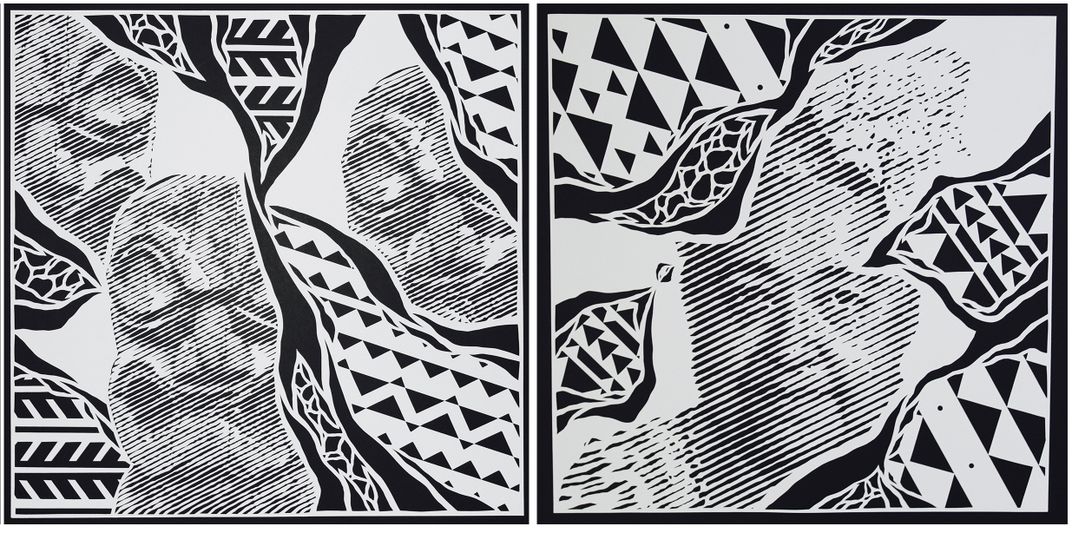 Ian was also impacted by the hip hop culture that was blossoming across the country. "We had a crew called Sick Block. My mom was going to the University of California Irvine at the time, and we would hang out at KUCI 88.9, the college radio station. And they had hip hop hour. At the same time there were b-boy [breakdancing] summits going on; there were a lot of legal graffiti walls like Huntington Beach. It was great times, going to African Student Union dances with my crew and battling people [in break dancing battles]." As Ian became more involved in hip hop culture, he realized that he wasn't a very skilled emcee or DJ, so he began focusing on his graffiti writing.
Ian started concentrating on art as a profession while he was managing a hip hop shop in Maui, studying different styles of graffiti and art in the streets. "I was basically just kind of tired of being a street kid and breaking my mom's heart, you know? Like realistically having to go to court and realizing that writing in the streets or doing illegal works could jeopardize my freedom. And I was already putting my mom through it, so I just kind of wised up. I was just kind of like, You know what? I have this talent and ability. Why don't I focus on that more instead of spreading myself thin trying to be a rapper, an all-around b-boy, focused on all elements of hip hop?" CUBA, one of Ian's graffiti mentors in San Francisco by way of Baltimore, suggested that he needed to go to New York if he wanted to grow as an artist. "There was not much more for me to expand upon, and I needed to go to the mecca to seek out other mentors."
Ian moved to Jersey City, where he met Orlando Reyes, an older graffiti writer and gallery owner. Orlando in turn introduced him to Doze Green, who was one of the pioneers of hip hop culture, an early member of the legendary Rock Steady Crew of b-boys and b-girls. Doze made a name for himself as a graffiti writer and artist and became famous touring the world promoting his work in one of the initial waves of hip hop culture. "There are pictures of him dancing in Andy Warhol's office at Interview magazine. It was part of that era when hip hop culture was fresh and everyone was gravitating towards it." Ian apprenticed with Doze for seven years. "From there, it just expanded. When you have an icon like Doze in your corner, it's special."
Ian also worked at New York galleries. "I'll say it outright, Kara Walker and Swoon were highly influential on me. I had already been in the New York metro area for a while. I was working at these crazy galleries. I was working at Sikkema Jenkins, and I used to have to repair Mark Bradford paintings. I used to have to install and pack and crate Kara Walker pieces. Being able to touch those and study the process of how to install, that was super influential. But I was already doing cut-paper work from doing stencil work. I just liked how delicate and beautiful the cut portion of a stencil was, so I started using it instead of spray [paint]. As soon as I started seeing what was happening with the cut work that Swoon was doing, and already being aware of what Kara Walker was doing, I'm like, Yeah, totally, I can develop something based on this." In that fertile environment, surrounded by other artists, Ian says he was free to pursue his own style. While his work shares the medium of cut paper with influences like Swoon and Walker, his style has developed into something unique.
Much of Ian's work and that of his peers in New York could be classified as urban contemporary or street art, but Ian has also maintained knowledge of work related to his Hawaiian culture. "I do fiber work as well, so I know how to work with coconut fibers and other things that we still use culturally in Hawai'i. You know, because I am also part Apache, we used yucca for things. So I learned, basically without getting in contact with anyone, how to process and refine yucca fibers so I can do a lot of the similar work I would do with the fibers in Hawai'i."
In March and April 2018, Ian was the National Endowment for the Arts' first artist-in-residence at the Institute of American Indian Arts (IAIA). It was his second time in Santa Fe, and he realized how much he enjoyed that place. "There is enough space here to just explore yourself and figure out what things actually work for you. And for Native and Indigenous culture, it's incredible." At IAIA Ian expanded his practice with a nod to both his Hawaiian and hip hop backgrounds. Using a laser cutter, he created Hawaiian koa-wood kapa beaters with traditional patterns on two sides and his graffiti-inspired designs on the other two sides.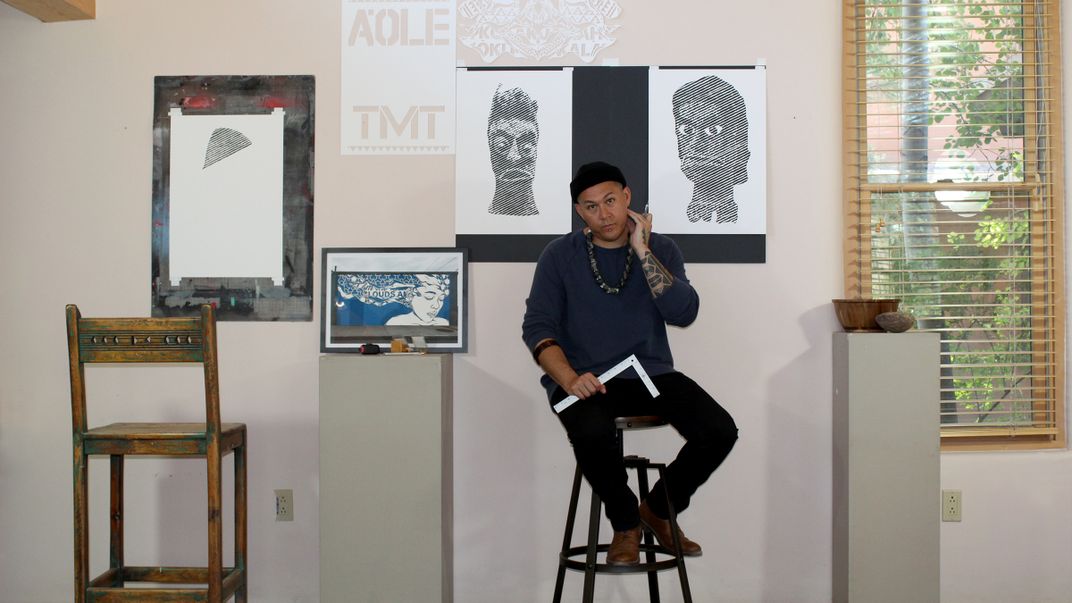 A Dubin Fellowship at the School for Advanced Research followed, and Ian not only stayed in Santa Fe, but soon found himself enmeshed in the rich Native arts community there, interacting or collaborating with artists like Jason Garcia (Tewa), Cannupa Hanska Luger (Mandan, Hidatsa, Arikara), and Rose Simpson (Santa Clara). "Being here and immediately coming in contact with individuals whose work I knew already, knowing someone like Jason Garcia, who still goes out and gathers clay, traditional minerals for pigments, does traditional firing methods, but will do a take on a comic book using his own imagery. Being able to slip into those environments and conversations and having access to those individuals who are still very much embedded with their culture, which is local, and their being supportive and vice versa—it's a beautiful relationship between individuals here creatively."
Ian was scheduled to take part in Settlement, an art festival and installation in Plymouth, United Kingdom, now on hold due to the Covid-19 pandemic. Conceived as a "reverse colonial experience" by Cannupa Hanska Luger, in collaboration with the Plymouth-based conscious sisters, the festival looks to deepen the complex Indigenous experience in relation to settler colonialism against the backdrop of the 400th anniversary of the Mayflower landing at Plymouth, Massachusetts. With a roster of 37 Indigenous artists from across the United States, Settlement speaks to the contemporary Native art community Ian is a part of. "That project is incredible. It brings together some of my favorite Indigenous creators working in performance, video, painting, all sorts of disciplines. The list is incredible. Hopefully it does still go through in one way or another." In the more distant future, he is planning an audio-visual collaboration with his brother, musician Matt "Indio" Kuali'i.
Currently Ian is preparing for a group exhibit at the Heard Museum in Phoenix. Larger Than Memory: Contemporary Art from Indigenous North America was originally scheduled to open in the summer of 2020. "It's great because it's an exhibition that is based around works that were produced in the 21st century. I was scheduled to do two site-specific pieces that were 23 feet in height by 12 feet wide for the archways into the main gallery—they were going to be direct-cut paper pieces—and then a new series of eight hand-cut paper pieces that are 16 inches by 16 inches each.
"It's pretty fun to think that I am able to hold this space and represent Native Hawaiians alongside some of these people I deeply admire in Indigenous art. And then on the flip side, when it comes to the urban contemporary, graffiti, street-art kind of things, I am given the great privilege to hold space with someone like CRASH (John Matos), who just asked me to be part of this coloring book project he is doing with Wall Works, and Kenny Sharf and Keith Haring are part of that."
When we talked about the similarity between the two seemingly disparate artists' communities that Ian has been a part of—urban contemporary/graffiti in New York, California, and Hawai'i, and Indigenous in Santa Fe and Hawai'i—Ian knows how fortunate he has been to be surrounded by so many diverse and creative people. "I am very privileged when it comes to the access that I've been allowed. It's pretty incredible, and I am very grateful. We are, for better or worse, products of the environments that we are raised in. And so I am again privileged that I have a bit of southern California in me, a bit of Hawai'i in me, a bit of hard rock New York/New Jersey in me. You know what I mean? It's just this weird, beautiful trinity of experiences, and within those experiences in those environments are multiple different experiences that kind of influence everything I am today. And you know some of those experiences are heartbreaking, but some of them are great. I have experienced great loss and I have experienced great gain, and I wouldn't want it any other way."
Justin Mugits is a member of the staff of the Smithsonian National Museum of the American Indian in New York, where he does public programming. He has also worked as an archeological technician and a bagel baker and served in the Peace Corps as a teacher in Mongolia.