NATIONAL MUSEUM OF THE AMERICAN INDIAN
"I Chose to Serve Because of My Mother. I Wanted to Make Her Proud."—Chief Warrant Officer Two Misty Dawn Lakota
Misty Dawn Lakota (Oglala Lakota) has been a member of the National Guard and a special agent with the Bureau of Indian Affairs, Office of Justice Services. She currently serves as a Chief Warrant Officer Two in the U.S. Army Reserves, awaiting deployment to Afghanistan, and a supervisory special agent with the U.S. Fish and Wildlife Service, Office of Law Enforcement. As the museum looks ahead to the dedication of the National Native American Veterans Memorial, Chief Lakota talks to us about the women in her family who have inspired her and the people for whom she serves.
---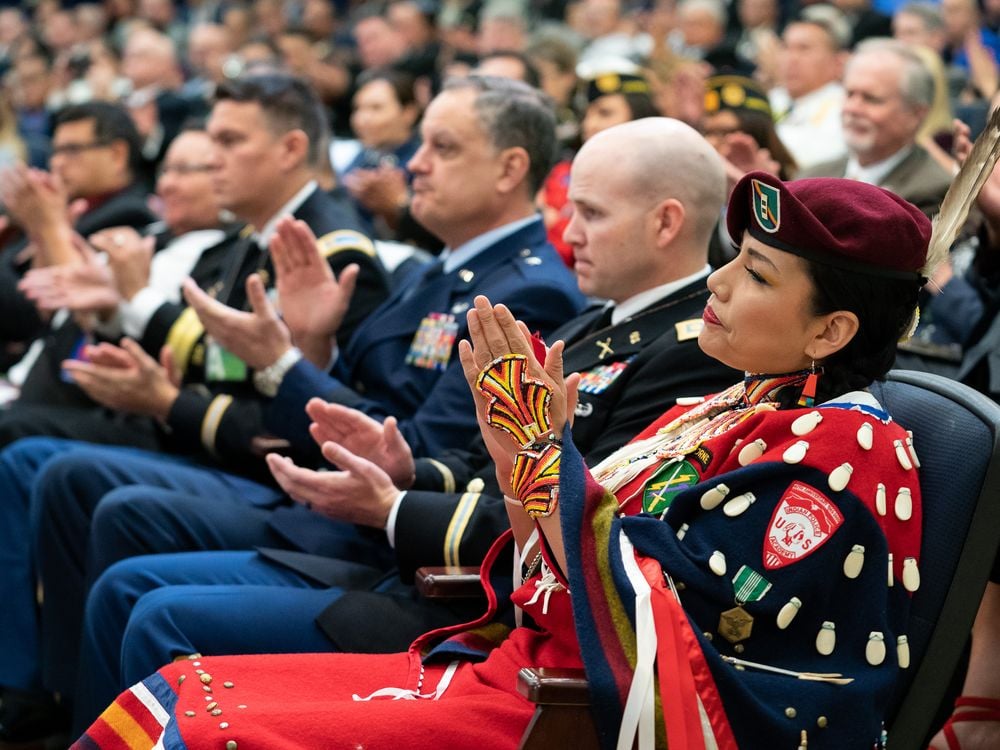 Highlighting Native Americans' extraordinary record of service in the U.S. Armed Forces is important to the museum's goal of promoting a more complete and accurate understanding of American history and contemporary Native Americans' lives. So thank you for giving us this interview. Please introduce yourself and, if it's appropriate, share your Native name and what it means.
Thank you for inviting me. My name is Misty Dawn Lakota. I'm an enrolled member of the Oglala Lakota Nation (Oglala Sioux Tribe) of the Northern Great Plains and grew up in Oglala, South Dakota. My Lakota name Iglág Tȟokáhe Wiŋ. It means Woman Moves Camp First.
You enlisted in the U.S. Armed Forces. As a woman, why did you choose to serve?
I chose to serve because of my mother, Delilah Dawn PlentyHoles. I wanted to make her proud. My primary source of childhood joy was fascination with all things Army. I dreamed of my mother's adventures as a soldier, and I would "play Army" with rocks and sticks.
Our home had no running water or electricity, so I'd accompany my great-grandmother on walks to collect wood to burn, haul water to drink, or pick berries to eat. Sometimes I'd hear or see a plane fly overhead. My great-grandmother would often tell me that my mother was on that plane, probably traveling to a far-off land as a brave soldier. I remember staring up at the sky and thinking, "Mom, when will you come get me? I want to see the Army, too."
I made up stories of the epic battles she must be fighting. Little did I know that her biggest battle was within, as she struggled with alcoholism. My mother returned to my life in 2001 and promised she was done drinking. She wanted to be there for me. That reunion was one of the happiest days of my life, but it was short-lived. On August 11, 2001, an alcohol-induced car crash signaled the start of her journey to the Spirit World.
Despite her weaknesses, she was my hero and my soldier. I remember holding her tight and kissing her that day. She was cold; her hair had dried blood and dirt in it. I whispered to her through my tears that I forgave her and that I knew her journey was a difficult one. From that day forward, it became my goal to carry on in her memory and to make her proud.
Did your Native background play any part in your decision to join the Army?
Yes. I wanted to be a positive representation to my daughters, my brothers, my family, and my tribe. Despite all the stress, traumas, and challenges we face—particularly as Native American females—there is hope, and I wanted to convey that through being an officer in the military.
Did other members of your family serve as well as your mother?
Yes, my grandmother Joan Chief Eagle.
Is the warrior culture strong in your family or nation?
Most definitely in my tribe. We are known as a great nation. My family has a long history of service as police officers, who are also known in Lakota as akicitas (warriors). My grandmother Paulette Weasel Bear, a career policewoman, inspired me to become a police officer. I have been serving in that profession for the past 19 years.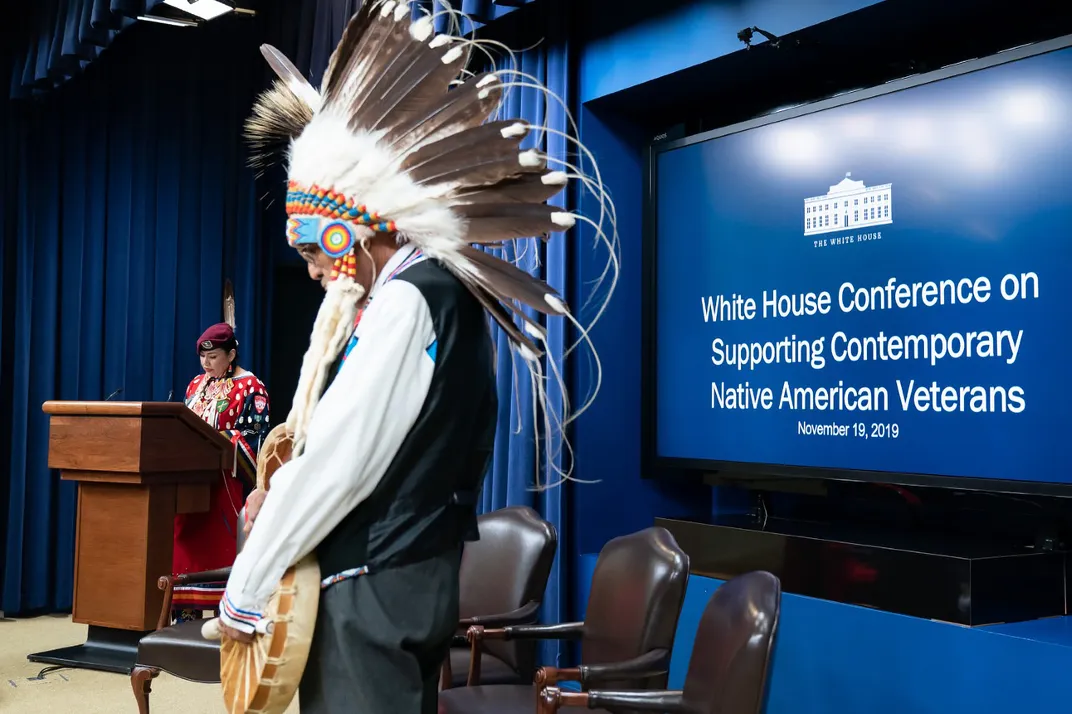 What year did you enlist, and why did you enter your specific branch of the military?
When I enlisted, I wanted to become a part of the Judge Advocate General's Corps (JAG Corps), the Army's premier legal team. I enlisted in 2008 and served a full-term contract with the U.S. Army National Guard in honor of my mother. Immediately after, in 2014, I re-enlisted with the U.S. Army Reserve.
What is your current rank, and what unit do you serve in?
I am currently serving as a Chief Warrant Officer Two (CW2) with the U.S. Army Civil Affairs and Psychological Operations Group (Airborne), awaiting deployment to Kabul, Afghanistan, for a year as soon as the travel restrictions are lifted.
Were there other Natives who served with you?
During basic training, which was a huge adjustment and culture shock for me, I was mentored by Drill Sergeant Ryan Whitebull, who was from the same tribe. He made me feel at ease so far away from home. He was a piece of home to me and reminded me of who we are as Lakota people.
Were you treated differently in the service because you are Native?
No, I was treated the same. At times it felt like others expected me to excel at land navigation. Although I did and still do, it doesn't mean we are all the same because we're Native Americans.
Can you share something that sticks out the most in your mind about your service?
Yes, when I won New Mexico Army National Guard Soldier of the Year in 2011 and advanced to the Regionals.
That competition tests physical ability, as well as marksmanship, tactics, knowledge, and judgment, doesn't it?
Yes. Physical fitness has become a way of life for me as a supervisory special agent with the U.S. Fish and Wildlife Service, Office of Law Enforcement, as well as an officer in the military. I owe it to my brothers and sisters in blue and green to the left and right, my leaders in front, and the soldiers who are following to maintain my physical fitness.
You've served as a color guard for Native ceremonies and events. What does the American flag mean to you?
The flag is a symbol that reminds me of having been appointed an officer in the Army—that I will support and defend the Constitution of the United States against all enemies, foreign and domestic, that I will bear true faith and allegiance to the same.
Do you go back to you reservation often and participate in ceremonies or powwows?
Lately I've been mostly as a spectator.
Would you recommend joining the service to your family members or others of your tribe?
Yes. I've learned so much as a leader and a soldier in the military. From the beginning of my service until now, the Army instilled and reinforced values that I live by daily—loyalty, duty, respect, selfless service, honor, integrity, and personal courage. I work to embody these values in every aspect of my life. They are complementary to my being the Native American woman my great-grandmother raised.
What do you think of the National Native American Veteran's Memorial being built in Washington?
I am pleased and very proud that the memorial will finally come to fruition.
Is there anything else you'd like to add?
The Army was imprinted on my soul from such a young age, and my experiences—and those of my mother—as a soldier have truly defined who I am today. I am very proud to be a part of the Warrant Officer Cohort and, most importantly, the JAG Corps!
My life story has been one of adversity, but also of resiliency and success. I overcame, and will continue to overcome, challenges for the people I serve, the country I Iove, and the family I care for. I give it my all each day for my mother, whose internal burdens were too great, my two girls who gave me the title Mother, a little brother who reveres me as his hero, and a little angel who calls me Grandmother.
Thank you, Chief Lakota. Take care.
Thank you.