NATIONAL MUSEUM OF THE AMERICAN INDIAN
2020 State of the Indian Nations Outlines Priorities to Advance Tribes' Nation-to-Nation Relationship with the United States
Each year following the State of the Union Address, the president of the National Congress of the American Indians delivers the State of the Indian Nations. Presented in 2020 by Fawn Sharp, the State of the Indian Nations shares Native American nations' assessment of their relationship with the United States and their view going forward. Representative Deb Haaland gave this year's response. Together the two speeches are intended to ensure direct engagement between the U.S. Congress and Native American nations.
---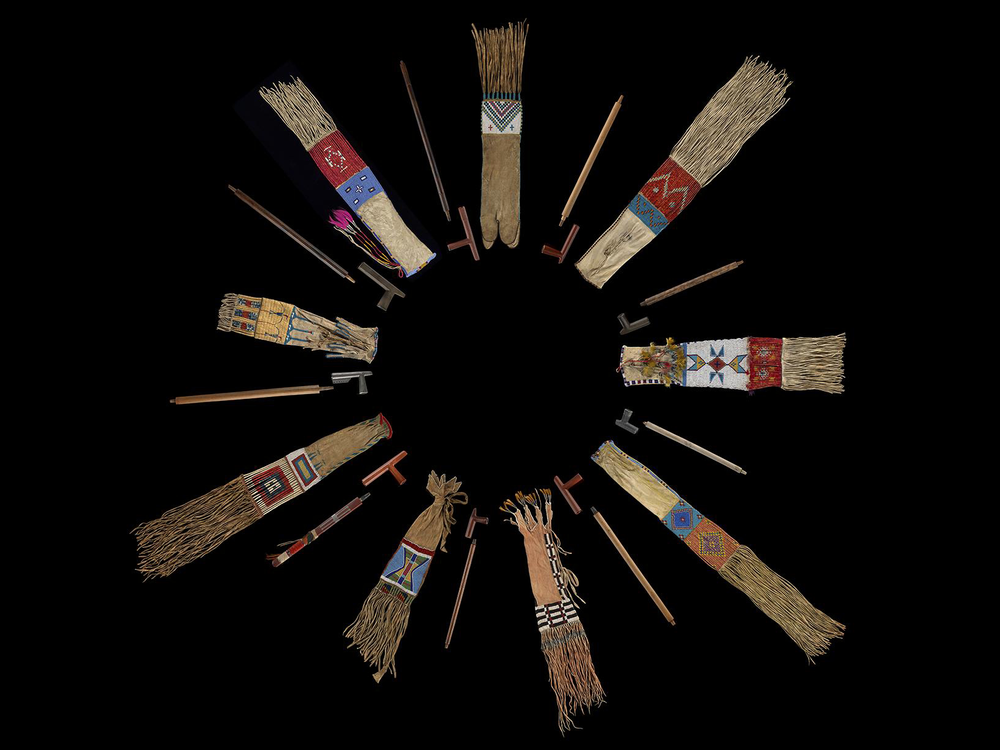 "I stand before you today as a humble servant of all tribal nations, fulfilling my duty to share Indian Country's story of perseverance and resurgence with the world, to convey with absolute clarity Indian Country's expectations of the United States government, and to cast a light on the immense power and proven wisdom of tribal nations governing their own lands and affairs, solving difficult challenges, and forging brighter futures on their own terms."
—Fawn Sharp, president of the National Congress of American Indians
Each year following the State of the Union Address, the president of the National Congress of the American Indians (NCAI) gives the State of the Indian Nations. Delivered before members of Congress, tribal leaders, and the press, the State of the Indian Nations presents Native American nations' view of their relationship with the United States and their aspirations going forward. A member of Congress offers a response. The two speeches are intended to ensure direct engagement between Congress and Native America.
Former NCAI President Joe Garcia (Ohkay Owingeh Pueblo) opened this year's address, on Monday, February 10, at George Washington University, with a blessing spoken in the Tewa Pueblo language. NCAI CEO Kevin Allis (Forest County Potawatomi) then recognized the Piscataway people, on whose homelands Washington, D.C., stands, and introduced Fawn Sharp, president of the Quinault Indian Nation and 23rd president of the National Congress of American Indians.
"The purpose of this annual address is to memorialize and affirm the enduring government-to-government relationship between tribal nations and the U.S. government," President Sharp began. "It provides our assessment of the current health of that relationship, and how it must be strengthened."
In keeping with President Sharp's intention that the State of the Indian Nations should speak not only "to elected officials, political, and judicial appointees, and staff of the federal government. Nor is it limited to tribal leaders, employees, and citizens. It is meant for all Americans,"​ we're sharing key points from this year's address, highlighted with her words:
• Tribal nations are not non-profit organizations. "We are full-fledged, battle-tested governments guided by time-honored cultural principles, and recognized as such in the Northwest Ordinance, the U.S. Constitution, and hundreds upon hundreds of treaties and Supreme Court precedents."
• Many Americans, including policymakers, don't understand the unique political status of tribal nations. "They don't recognize the indisputable fact that we are genuine governments with the right and, more importantly, the ability to govern our own lands and communities in accordance with the values that make us who we are as Native peoples."
• Threats to tribal sovereignty and self-determination take many forms, and they come from federal and state government. "They stem from an ignorance of or hostility toward the unique political status of tribal nations as a vital part of the original American family of governments, and the federal government's everlasting trust and treaty obligations to tribal nations."
• Tribal authority to administer justice for victims of sexual violence, child abuse, stalking, and human trafficking, as well as law enforcement officers assaulted in the line of duty, should be expanded, not undermined. "Take the mounting assaults on the Indian Child Welfare Act by special interest groups intent on stealing Native children from their families, communities, and cultures. ICWA has been hailed as the 'gold standard' by child welfare experts, and its legal validity has been affirmed countless times over the past four decades. Yet . . . a recent federal court ruling ignored those facts, placing this vital law in real jeopardy."
• Federal inaction and indifference remain obstacles. "Take the severe, chronic underfunding of the federal government's trust and treaty obligations to tribal nations, powerfully illustrated in the recent Broken Promises report. This report is a troubling glimpse into the pervasive impacts that federal budget shortfalls have on the health and vibrancy of tribal communities. It comes 15 years after another Congressional report came to the exact same conclusion—that the United States is failing to hold up its end of the grand covenant it struck with tribal nations in exchange for hundreds of millions of acres of tribal lands and the valuable resources they contain."
• Tribal nations must compete with one another for many federal grant programs, a violation of the federal government's trust and treaty responsibilities. "Meanwhile, Congress left Indian Country completely out of the 2017 Tax Cuts and Jobs Act, despite years of advocacy [on Capitol Hill] . . . promoting Indian Country's tax reform priorities—priorities that will clearly boost tribal efforts to build sustainable economies and grow local job opportunities."
• The federal government is failing to address the impacts of climate change: "My nation of Quinault is already feeling the brunt, as rising ocean levels are forcing us to permanently relocate our main village to higher ground. When it comes to climate change and sustaining humanity on this planet, we have no time left to lose, and yet our government is nowhere to be found."
• In some cases, laws supporting tribal nations are not enforced despite the expressed will of Congress: "Take the Indian Trust Asset Reform Act. While ratified nearly four years ago, the Administration has refused to implement key provisions, notably . . . the creation of an Under Secretary for Indian Affairs to protect and advance tribal interests within the Department of the Interior . . . and the establishment, through meaningful dialogue with Indian Country, of Trust Asset Management Plans."
• Tribal nations are doing amazing things: "From the Pueblo of Isleta, whose innovative partnership with the State of New Mexico is reducing arrest and incarceration rates among Pueblo youth by providing them culturally appropriate diversionary services designed to set them on the right path. To the Miami Tribe of Oklahoma, whose Miami Awakening program is bringing back the tribe's language from the brink of extinction, and strengthening its people's cultural identity and kinship ties with one another in the process. To the Coeur d'Alene Tribe in Idaho, whose Education Pipeline approach identifies and fills gaps in the systems of academic support for its students, which has dramatically decreased the tribe's high school dropout rate and increased the percentage of tribal members pursuing college degrees."
Representative Deb Haaland (Laguna Pueblo), serving New Mexico's 1st District, delivered the official Congressional response. Rep. Haaland cited progress made on issues of concern to Native nations, including bringing "long-sought federal recognition to the Little Shell Tribe" of Montana, as well as important work that needs to be done to protect public lands and sacred sites, mitigate climate change, solve the crisis of missing and murdered Indigenous women, and address the impact of "the centuries of violence that Native people have endured."
Haaland concluded by calling on tribal leaders across the country to ensure that their citizens are counted in this year's census and that they register and vote this fall to uphold "those values instilled in us by our parents and grandparents, the values that guide our principled existence and demand that we care about our whole communities, not just ourselves; that we give our children every opportunity so that they are prepared to keep our customs and traditions and then pass them on. The values that require us to protect and defend the land that is everything, because it has sustained us for this long."
The National Congress of American Indians is organized as a representative congress of American Indians and Alaska Natives that serves to develop consensus on national priority issues that impact tribal sovereignty. For more on the State of the Indian Nations Address, visit http://www.ncai.org/about-ncai/state-of-indian-nations.
In partnership with Native peoples and their allies, the Smithsonian's National Museum of the American Indian fosters a richer shared human experience through a more informed understanding of Native peoples. For more on the history and legacy of U.S.–American Indian diplomacy from the colonial period to the present day, see the museum's exhibition Nation to Nation: Treaties Between the United States and American Indian Nations, on view in Washington, D.C., through 2021.