NATIONAL MUSEUM OF THE AMERICAN INDIAN
Fulfilling Her Promise: Museums Honor Native Rights Advocate Suzan Harjo
Suzan Shown Harjo has helped shape current ideas about cultural representation and respect. In Congress and the courts, she has advocated for reforms from the restoration of Native American religious freedoms to the protection of sacred lands. And she has held the Smithsonian and other museums to higher standards in working with Native people and their cultural patrimony. Friday, September 20, we honor her life and work at a symposium on the National Mall in Washington and live online.
---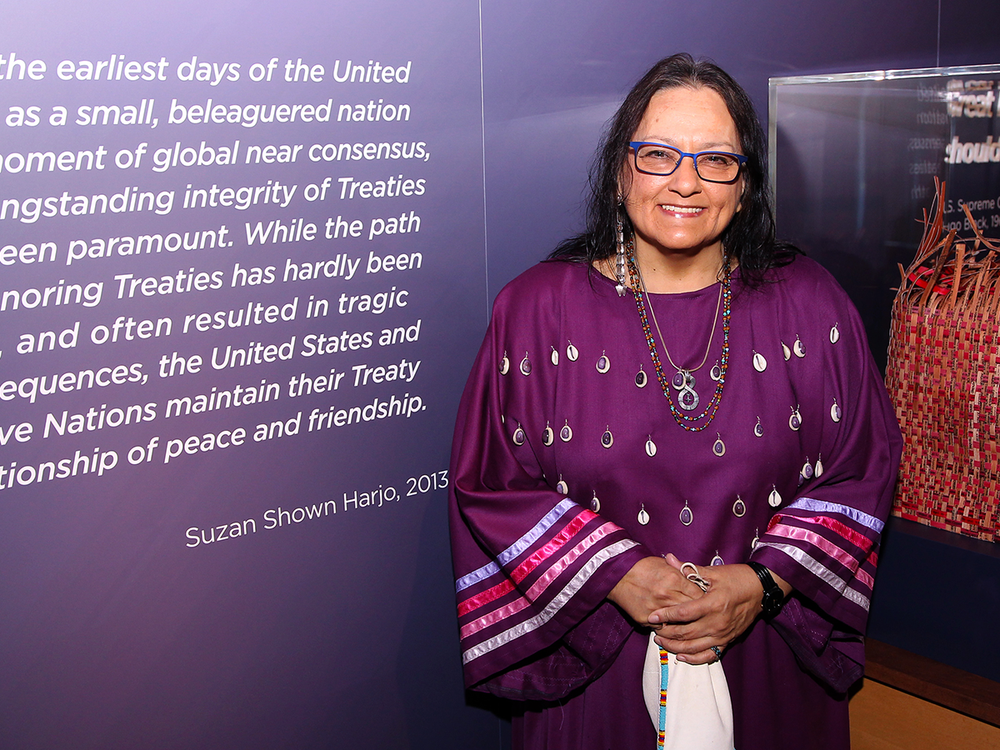 "Suzan has worked tirelessly on behalf of Native peoples as an activist, journalist, and leader. Her continued work as an inspiring leader and role model has made Indian Country proud." —Kevin Gover, director of the National Museum of the American Indian
On Friday, September 20, 2019, the National Museum of the American Indian and the Institute of American Indian Arts' Museum of Contemporary Native Arts will honor Suzan Shown Harjo (Cheyenne and Hodulgee Muscogee) with the symposium A Promise Kept: The Inspiring Life and Works of Suzan Shown Harjo. The symposium, which is free and open to the public, will take place from 9 a.m. to 5:30 p.m. EDT in the museum's Rasmuson Theater and via live webcast.
After an opening poem by U.S. Poet Laureate Joy Harjo, the symposium will bring together Native advocates, attorneys, scholars, writers, and museum leaders to share conversations from their areas of expertise into Harjo's impact on issues such as Native religious freedom and cultural rights; repatriation and the protection of ancestors; Native nations' sovereignty; artist identity and authenticity in the marketplace under tribal and federal law; and racist stereotypes and cultural appropriation. Speaking at the symposium (in order of their appearance) are:
Robert G. Martin (Cherokee Nation), president, Institute of American Indian Arts
Patsy Phillips (Cherokee Nation), director, IAIA Museum of Contemporary Native Arts
Gabrielle Tayac (Piscataway), Smithsonian Research Associate
Michael D. McNally, professor, Carleton College
James Riding In (Pawnee), professor, University of Arizona
W. Richard West, Jr. (Southern Cheyenne, Cheyenne and Arapaho Tribes), president and CEO, Autry Museum of the American West, and founding director emeritus, National Museum of the American Indian
Kevin Gover (Pawnee), director, National Museum of the American Indian
Jodi Archambault (Hunkpapa and Oglala Lakota), director, Indigenous Peoples Initiatives, Wend Ventures
Tina Kuckkahn-Miller (Lac du Flambeau Ojibwe), vice president, Indigenous Arts and Education, The Evergreen State College
Wilson Pipestem ((Otoe-Missouria & Osage), founding partner, Pipestem Law, P.C.
Philip J. Deloria (Yanktonai Dakota), professor, Harvard University
Duke Ray Harjo II (Muscogee & Cheyenne)
Mary Kathryn Nagle (Cherokee Nation), partner, Pipestem Law, P.C., and playwright
Mark Trahant (Shoshone-Bannock), editor, Indian Country Today
Suzan Shown Harjo was born on June 2, 1945, in El Reno, Oklahoma. Her mother's grandfather, Chief Bull Bear, was both a ceremonial leader and a leader of the Cheyenne Dog Men Society, an institution with roots in Cheyenne warrior traditions. Suzan's father was a career soldier, a veteran of World War II. Suzan and her brothers grew up in Oklahoma and at Army posts in Oahu, Hawai'i, and Naples, Italy.
Harjo's list of achievements is long and distinguished. In the late 1960s and early 1970s at WBAI-FM Radio in New York City, she co-produced Seeing Red, the first national Native news show in the United States. In the mid-1970s, she became news director for the American Indian Press Association, in Washington, D.C. She served as a special assistant for American Indian legislation in President Jimmy Carter's administration and was the principal author of the President's Report to Congress on American Indian Religious Freedom.
In 1984, in memory of her husband, Frank Harjo (Muscogee), Suzan Harjo founded the Morning Star Institute, to promote sacred land claims and protection for traditional cultural rights, artistic expression, and research. The National Day of Prayer to Protect Native Sacred Places, first organized by the Morning Star Institute on the 2003 summer solstice, has grown to be a multi-day event observed at sacred sites around the United States.
Harjo served as executive director of the National Congress of American Indians from 1984 through 1989. In 1992 she was one of seven Native people who filed the landmark lawsuit Harjo et al v. Pro Football Inc., regarding the name of the Washington, D.C., football team. When the courts ruled against the plaintiffs, she helped file a second lawsuit, Blackhorse et al. v. Pro Football, challenging federal trademark protection of the Washington football team's name.
On November 24, 2014, Barack Obama acknowledged Harjo's work with the Presidential Medal of Freedom, the United States' highest civilian honor, saying, "She's taught all of us that Native values make Americans stronger."
In 1967, Harjo was part of the alliance that envisioned the National Museum of the American Indian. In 1984, she initiated talks with the Secretary of the Smithsonian, Robert McCormick Adams. She had long been concerned with the proper care and display of Native objects, and the return of human remains and other sacred material held by museums, and served as a trustee of the Museum of the American Indian–Heye Foundation in New York, the National Museum of the American Indian's predecessor museum collection. The National Museum of the American Indian Act of 1989, which she helped draft, includes the first U.S. federal provisions on repatriation. The Native American Graves Protection and Repatriation Act followed a year later. Harjo was the principal author of the new museum's first trustees' policies on repatriation, identity, and exhibitions, and helped to draft its bylaws and collections policy. She also chaired its first public programs committee and served on the search and selection committees for the museum's founding director and architect.
In 1992 Harjo curated for the first exhibition of artwork by contemporary Native artists shown in the U.S. House and Senate rotundas, Visions from Native America. She co-curated Nation to Nation: Treaties Between the United States and American Indian Nations, a major exhibition of American history currently on view until 2021 at the National Museum of the American Indian on the National Mall. She is one of eight Native women honored on Winyan Wánakikśin (Women Defenders of Others), a buffalo horn belt created by artists Kevin Pourier (Oglala Lakota) and Valerie Pourier (Oglala Lakota), newly placed on exhibit in the museum's Potomac Atrium. Harjo hosted the first three seasons of the Native Writers Series and directed the Native Language Repository Project at the museum. Her own poetry has been published and anthologized widely and is the inspiration for Blood of the Sun: Artists Respond to the Poetry of Suzan Shown Harjo (2011), curated by America Meredith in Santa Fe.
"Dr. Harjo's achievements for the Institute of American Indian Arts and the National Museum of the American Indian are lasting features of our institutions," Patsy Phillips, director of IAIA's Museum of Contemporary Native Arts, observes. "Her contributions to arts and letters, activism and laws, and institution-building are the reason she is so widely recognized and awarded, including by IAIA, whose Honorary Doctorate in Humanities she earned with a lifetime of realized ideas and hard work."
The symposium September 20 coincides with the 15th anniversary of the opening of the National Museum of the American Indian in Washington, D.C., and the 30th anniversary of the National Museum of the American Indian Act of 1989.