NATIONAL MUSEUM OF THE AMERICAN INDIAN
A tradition of service: Master Sergeant and Lipan Apache War Chief Chuck Boers
Master Sergeant and Lipan Apache War Chief Chuck Boers (U.S. Army retired), a member of the National Native American Veterans Memorial Advisory Committee, talks about his experiences as a Native American in the U.S. military and the traditions that inspired his service. The design competition for the memorial begins November 11, 2017. Entries will be accepted through January 9, 2018. All information about the competition is available at https://nmai.si.edu/nnavm/memorial/.
---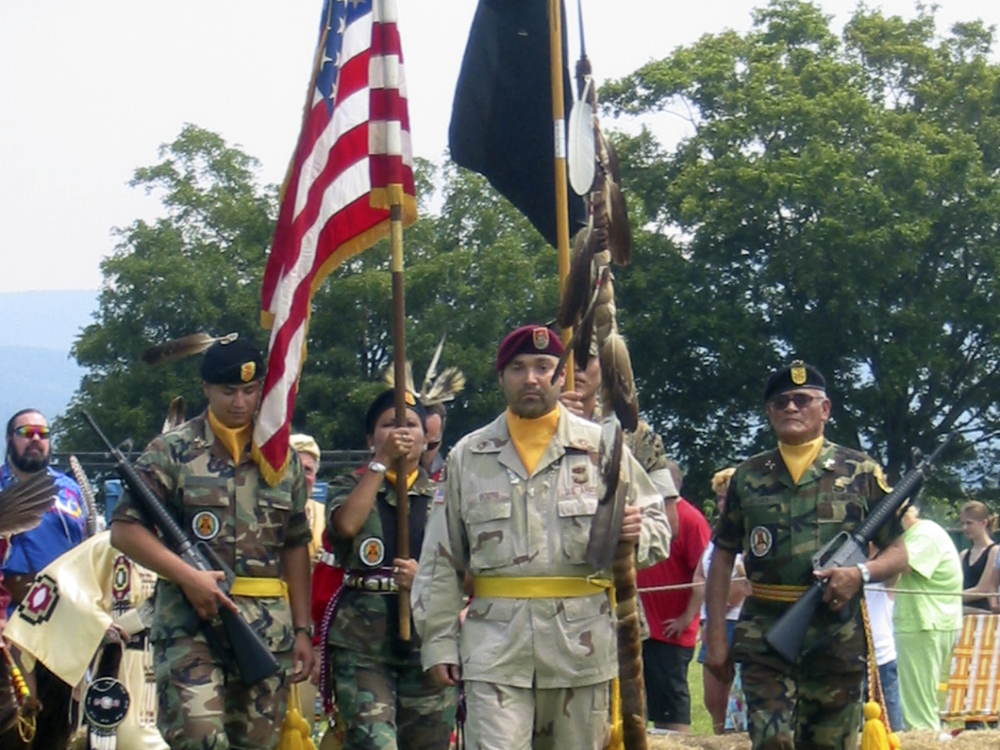 Thank you for your military service to the United States, and thank you for being a member of the Advisory Committee for the National Native American Veterans Memorial, which will be built on the grounds of the museum. May I ask you to introduce yourself and to give us your Native name and its English translation? 
My name is Johancharles Van Boers, and my nickname is Chuck. My Apache name is Nant'a 'e'e. It means Warrior Number 2.
Where are you from, and what is your tribal backgound?
I was born in Fresno, California, and was a military brat, so we traveled a little bit. But I primarily grew up in the San Joaquin Valley of California. My family is Lipan Apache and Cherokee. I'm an enrolled tribal member of the Lipan Apache. 
Is the warrior culture strong in your family and tribe?
Yes, warrior traditions are strong within the Lipan Apache and our families. I also know that the warrior spirit and traditions are still very strong throughout Indian Country. One can see those warrior traditions being upheld at tribal events and ceremonies, like powwows, Gourd dances, warrior societies, our willingness to serve in the U.S. military, and in many other ways.
Being a warrior isn't all about fighting and going off to wars. It is sometimes about keeping the peace. Warriors are people whose internal driving force causes them to serve others selflessly without regard to their wellbeing, while maintaining their belief systems, values and traditions. Warriors also have the moral and physical courage to stand up to injustices, not just for themselves, but for others as well. Warriors display a strong sense of duty and commitment to their family, their community, and their nation. These are just a few of the many attributes of a warrior, and that culture is still very strong throughout Indian Country.
Have other members of your family also served?
My family has served in every war and conflict that the United States has had since World War I. We even had family members who served as Army Scouts in the late 1800s and as Texas Rangers. Lipan Apache and Cherokee family members who have served in the Armed Forces include: as U.S. Army Apache Scouts, my great-great-great-grandfather Juan Guerrero and his brother, who served at Fort Griffin and Fort Clark; in World War I, my great-grandfather Charles Forest (sometimes spelled Forrest); in World War II, my great-uncle Dole Davis and great-uncle Clayton Walker; in the Korean War, my great-uncle Walker; in the Vietnam War and Vietnam and Cold War era, my mom, Virginia Yamato, uncle Darrell Davis Jr., uncle Jim Davis, uncle Charles Davis, uncle Roland Davis, and second cousin Donald Walker; during the Cold War and in Grenada, Panama, Desert Shield, Desert Storm, and Somalia, my mom (Virginia Yamato), uncle Darrell Davis, uncle Jim Davis, cousin Rick Davis, second cousin Donald Walker, third cousin Adel Walker, third cousin Penny Heartgraves, some other relatives who are fourth and fifth cousins and so on, and myself; in Haiti, Bosnia, Kosovo, the war on terrorism, Afghanistan, and Iraq, my cousin Rick Davis, third cousin Adel Walker, third cousin Penny Heartgraves, some other relatives who are fourth and fifth cousins and so on, and myself; currently serving, my nephew Nate Williamson and some cousins who that are fifth, sixth, and so on.
I also had a lot of other family members who served, but they were not Native or Lipan Apache or Cherokee: my father, Johan Boers; uncle Nicholas Boers; stepfather Craig Yamato; step-great-uncle Yamato, who served during World War II in the 442nd Infantry, which was made up almost entirely of soldiers of Japanese descent; and step-mom, Judy Boers.
Why did you choose to serve in the armed forces? Did your Native background play any part in your decision to join?
I wanted to uphold our family and tribal tradition as a warrior, learn some technical and tactical skills, gain real-world life experience, and serve our nation. My Native culture played a huge part in my decision to join the military. Growing up I saw how the Native community treated veterans. At powwows during Grand Entry, the veterans would bring in the colors and afterwards do an honor dance. I was taught that we always welcome home our warriors with songs, dances, and other traditional warrior ceremonies. Then too, growing up around some of the warrior societies and along with our family's long history of being warrior, I knew I wanted to be part of that warrior culture and to carry on our warrior traditions. 
Why did you enter your specific branch of the military?
A majority of my family has served in the U.S. Army, so it only seemed natural to join the Army. In fact my mom was the recruiter who put me in.
What years did you serve, and where did you serve?
I joined the U.S Army in August 1982 and retired on 31 December 2009 with more than 26 years of service. I served all over the United States and overseas during my time in the Army. Here are the combat tours and humanitarian and peacekeeping missions I took part in: Operation Urgent Fury (Grenada), the War on Drugs (drug interdiction operations within Central America), Humanitarian relief efforts during Hurricane Hugo, Desert Shield and Desert Storm, Operation Southern Watch (Kuwait and other locations in the Middle East), land mine extraction and training operations in Africa, Operation Southern Watch (Kuwait and other locations in the Middle East), Operation Restore Democracy (Haiti), Operation Joint Endeavor (NATO Implementation Force [IFOR], Sarajevo, Bosnia), Operation Restore Democracy (Haiti), Operation Joint Guard (SFOR, Tuzla, Bosnia), Operation Joint Guardian (KFOR, Kosovo), Operation Iraqi Freedom, Humanitarian relief efforts during hurricanes Katrina and Rita, and Operation Iraqi Freedom.
What was the highest rank you received?
Master Sergeant (MSG/E-8).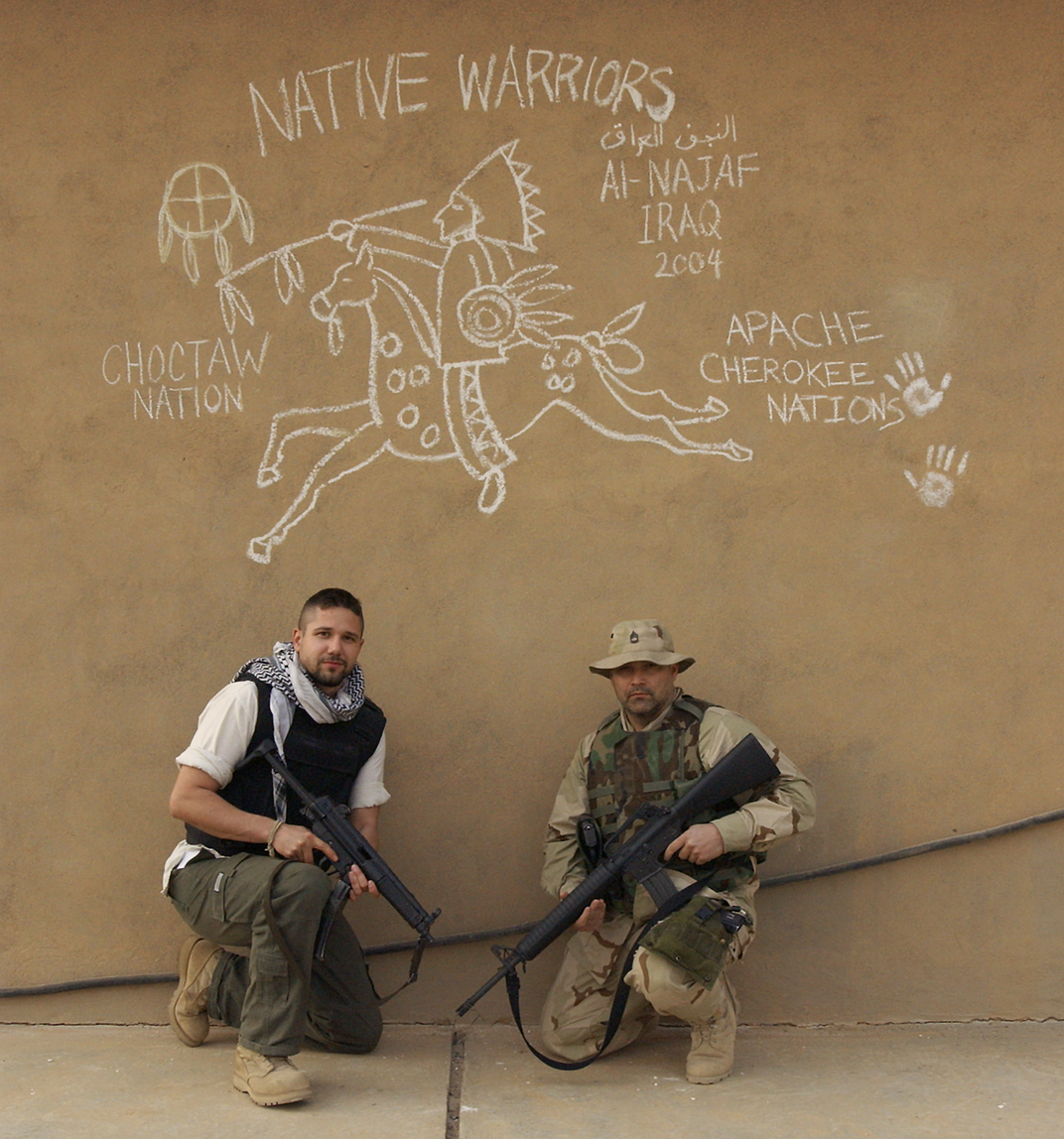 Were there other Natives who served with you, and would care to talk about them?
Throughout my military career I had the opportunity to serve with a lot of other Natives and develop lasting friendships. It didn't matter what tribe we came from, there was always some type of connection through our Native traditions that we could relate to. Two good examples are Jason Gambardella (Chippewa) and Dixie Kapayou (Sac and Fox). We served together in the 55th Signal Company (Combat Camera), at Fort Meade, Maryland, and in Bosnia during Operation Joint Endeavor (IFOR and SFOR). Jason and I also attended Airborne training together and served on the D.C. Chapter Vietnam Era Veterans Inter-Tribal Association Honor–Color Guard, as well as on the Viper Team at Hohenfels, Germany. 
Another example would be during Operation Iraqi Freedom. I met Sam Stitt (Choctaw) while on mission in An Najaf and Debra Mooney (Chickasaw) during the first ever powwow held in a combat zone. Debra organized the powwow, which was a two-day event. There was stickball, blow dart and tomahawk contests, dancing, singing, drumming, and of course a huge feed that included fry bread. These are just a few of the Native soldiers I had the honor to serve alongside. We developed lasting relationships.
Were you treated differently in the service because you are Native?
Being Native in the military during the period when I served had its challenges at times, although I'm not sure if that is the same as being treated differently. Over the years the military has done a lot of integration as far as the sexes, races, etc. However people still carry with them a lot of stereotypes and misconceptions about Native people. Some of the challenges I faced during my time in the Army were because I didn't fit that Hollywood version or stereotype of what an Apache should be, or act like, or look like. I was also surprised by some folks' thinking that Native Americans didn't exist anymore—as tribes, let alone as a people.
Another challenge was traveling with my family's eagle feathers, medicine pouch, gourd rattle, and other items like corn pollen, sage, and sweet grass during deployments and going through customs. It seemed I was always being asked to provide my papers and tribal ID and to explain myself. At times folks thought I was doing some kind of pagan rituals, and they didn't know what to make of that. However some folks would inquire about the traditions and then embrace them. A good example of that happened right before the Second Battle of Fallujah: I was smudging my Iron War Pony (HMMWV) and some of my soldiers asked if I would please smudge their Iron Warrior Ponies, too. Another example is that some folks thought that all Natives were great trackers or had some type of special intuition about when bad things might happen. They wanted to put us out front so that we could use those skills. Sometimes during pre-combat operations briefings someone would remind those of us going outside the wire that we were going out into "Indian Territory" and that we all needed to stay alert. I would always make some type of joke about it not being Indian Country, and people would receive the message and correct themselves.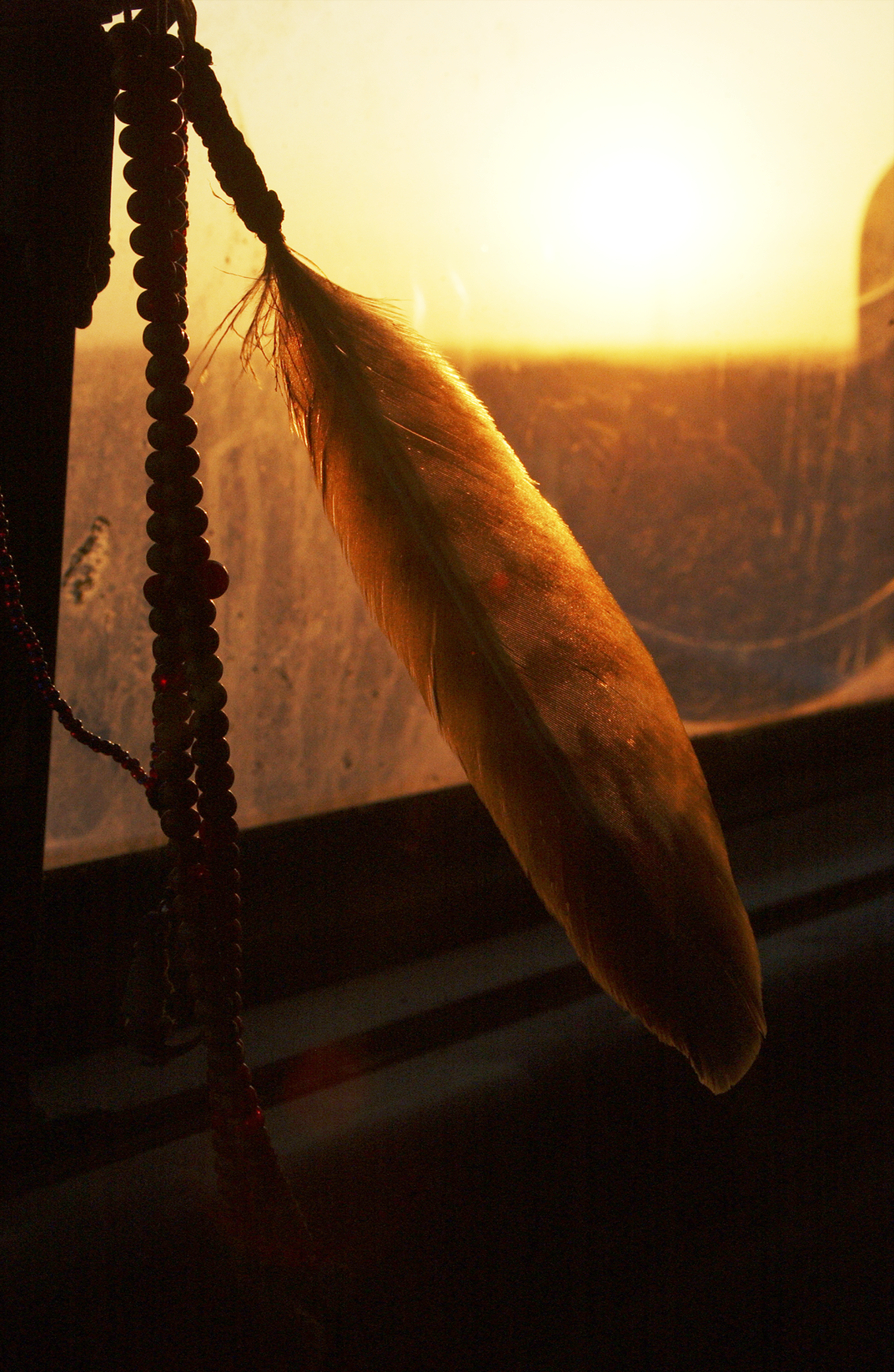 Is there a story or incident that sticks out most in your memory?
A lot of things from my time in the military stick out in my memory, some good and some not so good.  One of the most memorable would have to be the powwow in Iraq. I've mentioned that it was the first powwow known and documented to have taken place in a combat zone. I was amazed how many Natives came from all over Iraq and Kuwait to attend this historical event. That powwow will be shared with our people for many generations to come. So many tribes came to together despite being in a combat zone to celebrate their traditions and cultures.
Where were you when your service ended? 
My last duty station was at Fort Irwin, California.  I was attached to the Warrior Transition Unit (WTU) for about 18 months, where I was afforded the opportunity to heal emotionally, mentally, and physically from my combat injuries and to prepare myself for retirement.
Did your tribe or Native community do anything special for you upon your return home when your service ended?
When I retired from the Army, the WTU failed in recognizing my military service, and I carried a lot of anger from that. However my tribe and the local Native American Indian veteran community made things right by conducting a traditional Native warrior homecoming and cleansing ceremony for me, as well as a retirement ceremony at our annual New Years Eve Powwow. Following the retirement ceremony my family and I did a give-away to mark the start of a new chapter within my life.
Are you a member of any veterans groups?
Yes, I belong to several veterans groups. I try to stay active in all of them, but it can be very challenging at times. I'm a life member in the Lipan Apache Warrior and Gourd Society, the Lone Feather Warrior and Gourd Society, the National American Indian Veterans Association (NAIVA), the National Native American Veteran Association (NNAVA), the Southern California American Indian Veterans Association (SoCal AIVA), the Military Order of the Purple Heart (MOPH), the Veterans of Foreign Wars (VFW), the Military Order of the Cootie (MOC), the Washington D.C. Chapter of the Vietnam Era Veterans Inter-Tribal Association (VEVITA) Honor Color Guard, the Indian Nations Warriors and Veterans Honor Color Guard, the Iraq and Afghanistan Veterans of America (IAVA), and the International Combat Camera Association. I'm also an Alumnus of the Wounded Warriors Project (WWP).
Would you recommend joining the service to your family members or others of your tribe?
Yes, I would recommend joining the military to family, fellow tribal members, and friends. The military provides a lot of opportunities for personal growth, to learn new skills, and to see the world while honing those skills and gaining real world experience. I would also point out that military life isn't for everyone.
What do you think of the upcoming Native American Veteran's Memorial?
I feel that Native American Veteran's Memorial is a great way to honor our Native warriors both past and present, while at the same time preserving our warrior spirit, traditions, culture, and history for future generations. There are a lot of amazing and rich stories Native warriors have to share. Native people have served during every war from the Revolutionary War all the way up to present. Our accomplishments, war deeds, and history as warriors are part of a very complex and unique relationship with the United States, and those stories are not usually shared in mainstream education, media, books, and movies.
A great example of a story that will come to light as a result of the United States' building this memorial is that of World War II Medal Honor recipient USMC Col. Gregory "Pappy" Boyington, the commander of the legendary Black Sheep Squadron, who was an enrolled member from the Lower Brule Sioux Tribe. Another great example would be Vietnam Medal of Honor recipient U.S. Army Master Sergeant Roy P. Benavidez, who was Yaqui and Mexican.
Is there anything you would like to add?
I earned and received the title of Lipan Apache War Chief from our tribal chairman, tribal leaders, and tribal elders on 31 Dec 2007 while home on mid-tour leave from Iraq. Other tribes also have War Chiefs, but it had been more that 100 years since Magoosh, the last Lipan Apache War Chief, passed away. I was still on active duty and serving in Iraq when I earned and received that title. I didn't retire from the military until 31 Dec 2009, so for two years I was the only living War Chief serving on active duty. The other War Chief living at the time was U.S. Army W.W. II veteran and Crow Nation War Chief Joseph "Joe" Medicine Crow.
You haven't mentioned it, but I think readers should know that during your service you received two Bronze Stars and three Purple Hearts, as well as many other merits and commendations. Thank you again for all you have done for the country, and thank you for helping create the National Native American Veterans Memorial.
Thank you.
■ ■ ■
The design competition for the National Native American Veterans Memorial closes on January 9, 2018, at 3 p.m. EST. All information about the competition is available at https://nmai.si.edu/nnavm/memorial/.