NATIONAL MUSEUM OF THE AMERICAN INDIAN
Smithsonian in New York and the Embassy of Canada in Washington celebrate Arctic art
As summer turns to fall, wonderful exhibitions in New York City and Washington, D.C., feature works by Inuit women from the acclaimed artists' community of Kinngait, or Cape Dorset, on Baffin Island, Nunavut, Canada. The Smithsonian's National Museum of the American Indian's George Gustav Heye Center in New York currently hosts "Akunnittinni: A Kinngait Family Portrait," featuring works by Pitseolak Ashoona and her daughter and granddaughter. The Embassy of Canada in the United States is presenting the one-artist show "Ningiukulu Teevee: Kinngait Stories."
---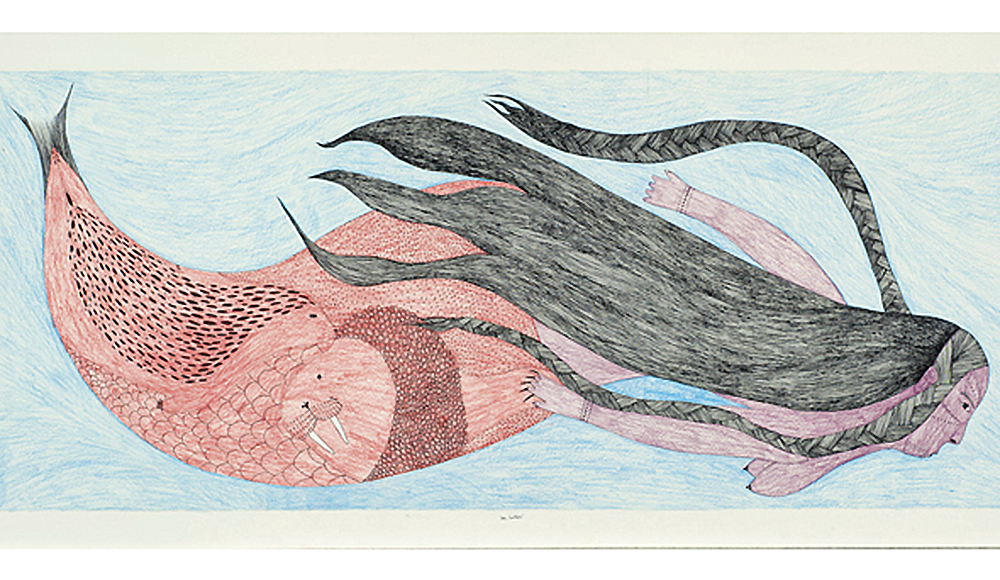 Are you looking for a unique art experience as summer turns to fall? Then plan to visit two wonderful exhibitions featuring works by four internationally renowned Inuit artists. The National Museum of the American Indian's George Gustav Heye Center in New York currently hosts the exhibition Akunnittinni: A Kinngait Family Portrait, and the Embassy of Canada in Washington is presenting Ningiukulu Teevee: Kinngait Stories.
Kinngait (Cape Dorset)—located near the southern tip of Canada's Baffin Island, just below the Arctic Circle—means "high mountain" in Inuktitut. On the northwest quadrant of Kinngait along a rugged coast is "the community that art built." Starting in 1950, James and Alma Houston collaborated with local Inuit to bring Inuit artwork to the world's attention. In 1961, the West Baffin Eskimo Co-operative was born from this partnership to encourage the production and distribution of Inuit art. Today the co-operative functions as the longest ongoing professional Inuit printmaking studio in Canada, as well as the oldest arts organization in the Canadian Arctic. Many generations of celebrated carvers, printmakers, and artists have made Kinngait the Inuit art capital of the world. The four artists featured in these two exhibitions—Pitseolak Ashoona (1904–1983), Napachie Pootoogook (1938–2002), Annie Pootoogook (1969–2016), and Ningiukulu Teevee (b. 1963)—have common roots in this community.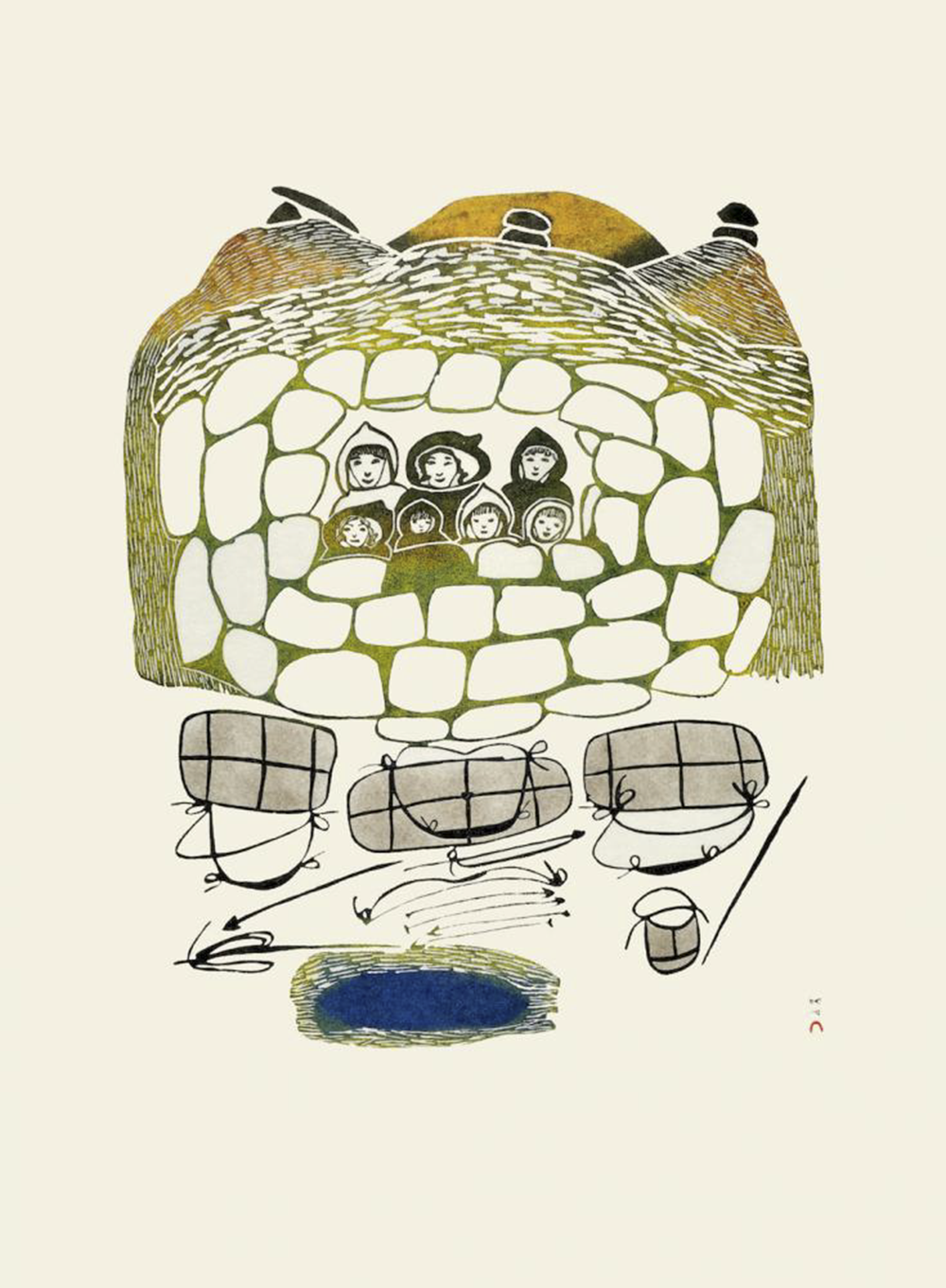 Akunnittinni: A Kinngait Family Portrait features 18 works made by a grandmother, mother, and daughter. The Inuktitut word akunnittinni loosely translates to "between us." Pitseolak Ashoona, her daughter, and her granddaughter share their generational stories through their prints and drawings. Grandmother Pitseolak Ashoona was born in 1904 on Nottingham Island in Hudson Bay. Hunting and fishing for subsistence was her family's way of life. When she later moved to Kinngait and was encouraged to produce different art forms, she relied on memories of her experiences growing up. In 1960, she produced her first stone cuts. Several members of Pitseolak's family have sustained the rich tradition as Kinngait artists. Compositions by her daughter Napachie include landscapes and interiors as well as narrative scenes that depict personal and ancient stories. The images created by Napachie's daughter Annie Pootoogook reflect her upbringing within a contemporary Canadian community experiencing transition; their themes include conflict, mortality, and spirituality.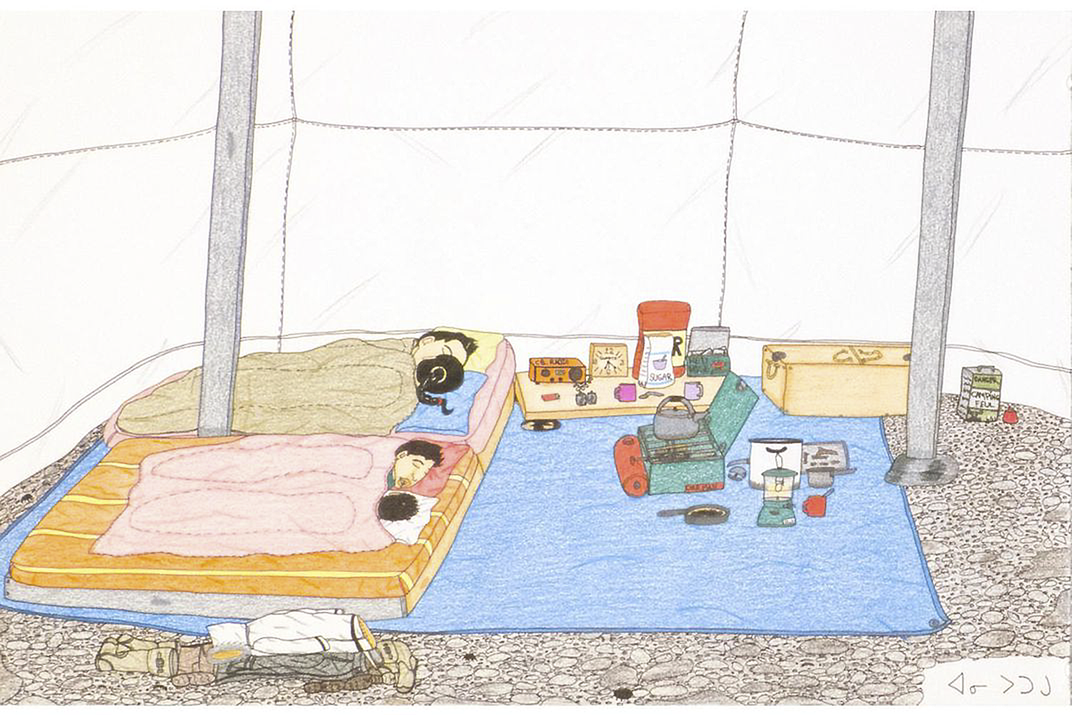 Continuing the Kinngait artist tradition is Ningiukulu (Ning) Teevee, whose art is currently on exhibit at the Canadian Embassy in Washington. Ning is part of a generation of Inuit artists who live in permanent communities, rather than the seasonal camps of generations before them. She takes the inspiration for her ink and colored pencil drawings from Inuit stories and from the changes she has witnessed in contemporary Cape Dorset. This exhibition features 31 drawings and prints created from 2005 to 2012. A new video documenting the artist, her work, and her community is also shown in the exhibition.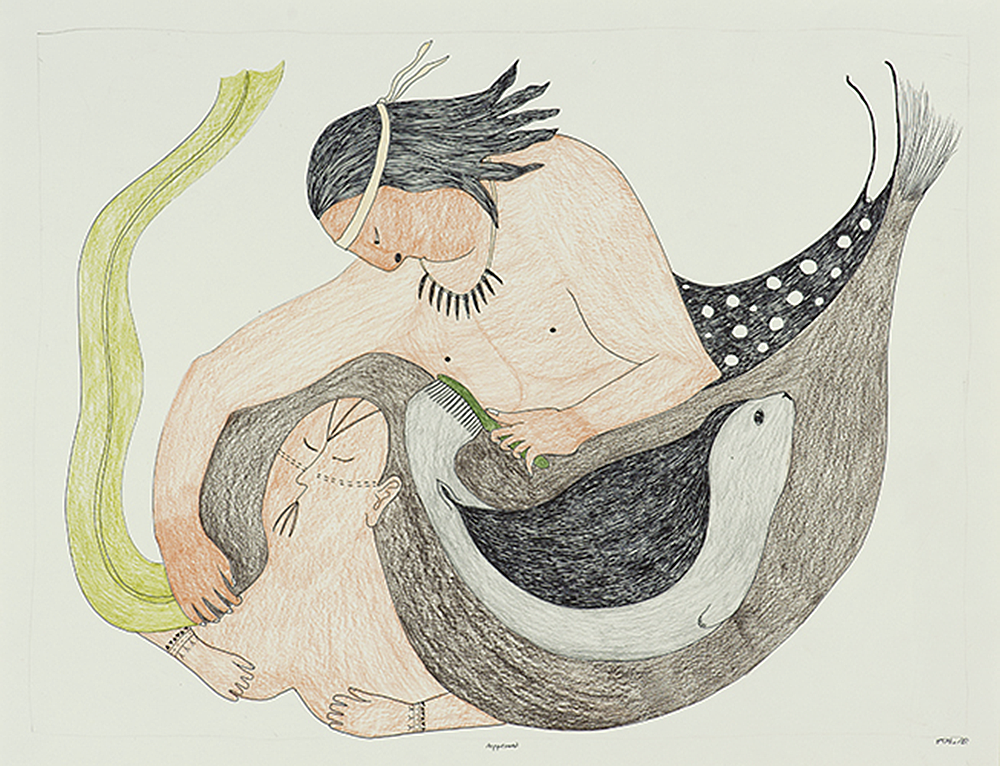 Akunnittinni: A Kinngait Family Portrait was organized by the Institute of American Indian Arts Museum of Contemporary Native Arts, Santa Fe, New Mexico. The exhibition runs from through January 8, 2017, at the George Gustav Heye Center, National Museum of the American Indian in Lower Manhattan. Join the conversation with the museum and fellow art-lovers using #Akunnittinni.
Ningiukulu Teevee: Kinngait Stories, curated by the Winnipeg Art Gallery (WAG), with art from the Government of Nunavut, Dorset Fine Arts, and the WAG Collection, runs through mid October in the Embassy's art gallery. The art gallery of the Embassy of Canada—located at 501 Pennsylvania Avenue NW (next to the Newseum), adjacent to the National Mall and within walking distance of the National Museum of the American Indian in Washington—is open to the public Monday to Friday, 9 a.m. to 5 p.m., free of charge.