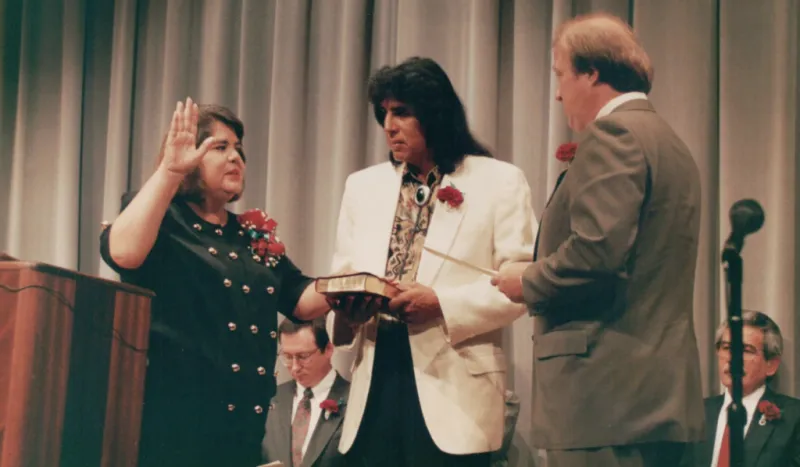 "I've taken a fair amount of teasing amount my name during this conference and I finally got a little tired of it last night when I got on the elevator and a man again teased me about my name—which is Mankiller. He asked me about the origin of it and I said it was a nickname and that I'd earned it." – Wilma Mankiller 
In Mankiller, by filmmaker Valerie Red­Horse Mohl, the legacy of a true female powerhouse is explored. Born in Tahlequah, Oklahoma, in 1945, a citizen of the Cherokee Nation of Oklahoma, Wilma Mankiller was the sixth of eleven children. When she was 11 years old, her family moved to San Francisco under the Bureau of Indian Affair's Relocation Program. The move was supposed to relieve the family of the poor living conditions in their homeland and bring them to a "modern world." 
Through archival footage and photographs, the documentary depicts the obvious flaws in the BIA's reasoning. The Mankillers' move to the Bay Area resulted in dangerous conditions and the striking realization that they were poor. In Oklahoma they often lacked running water and electricity, but they consistently had a community of people who lived the same way. They quickly found that what was poor in Oklahoma was destitute in California. 
"It was in San Francisco during the Civil Rights Era that she found her voice and the power to make change." —President Bill Clinton 
A teenage Wilma Mankiller acclimated to an environment with elevators and societal unrest as the 1960s roared around her. Although she was a peer with many of the student activists who gave the San Francisco Protest movement its voice, by the time she was 20 years old she was married and a mother of two. Despite this, she assisted and supported the early Black Panthers in their mission to feed elders and children. In fact, her daughters emphasize in an interview clip that the political and activist side of life was always a given with their mother. 
"Fortunate Son" by Creedence Clearwater Revival begins to play as archival footage of the Occupation of Alcatraz rolls. The film does a brilliant job of depicting the spark that Alcatraz set off inside Wilma Mankiller. She and her family participated in the protests alongside such activists as John Trudell and Richard Oakes. Many Indians herald the occupation, which began in November 1969 and lasted 19 months, as the event that brought Native America into the modern era. The occupation yielded direct results in federal policies signed by President Richard Nixon. 
"More than anything it was like coming home and I felt that I was where I should be." — Wilma Mankiller on the Occupation of Alcatraz 
Following the occupation, Wilma Mankiller continued to volunteer frequently in the Indian community. She and her daughters eventually moved her back to Oklahoma to work for the Cherokee Nation. Much of the film's dialogue following her return to Indian Country is from her peers. I found this particularly poignant because of the widespread reverence she received from Natives and non­Natives, Democrats and Republicans. This support is unusual for any politician, but especially for a woman more than a generation ago. 
After successfully initiating and raising the funds for a clean water project that reinvigorated unemployed tribal members in Bell, Oklahoma, Mankiller gained recognition. As a result, she was approached to run as deputy chief in Ross Swimmer's 1983 bid to be principal chief. Despite rampant sexism, including death threats, she won alongside Swimmer.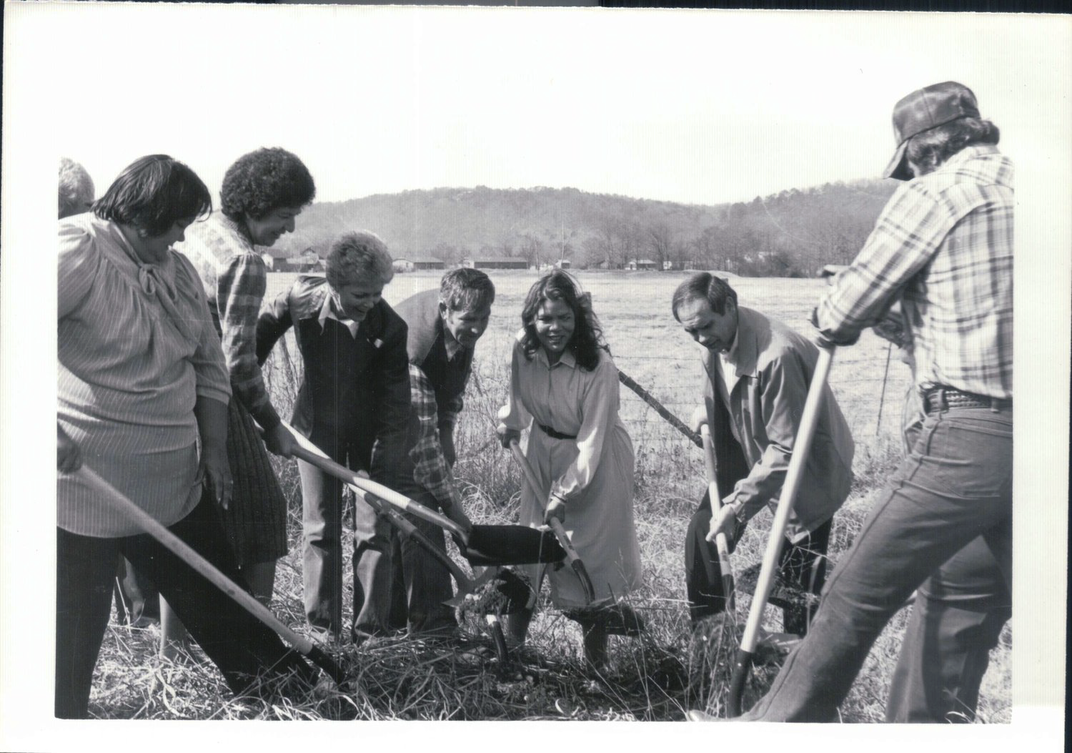 After Swimmer stepped down in 1985, Mankiller ran two successful campaigns earning her a decade as principal chief of the Cherokee Nation. In her last race, she won 83 percent of the vote. The headlines flash across the screen as a victory that ten years before was scoffed at becomes a reality. 
"In a just country, she would have been elected president." —Gloria Steinem 
Wilma Mankiller was the first female Principal Chief of the Cherokee Nation. President Bill Clinton awarded her the Medal of Freedom in 1998. She revolutionized the largest Indian­run health care system in the country. She doubled annual tribal revenue and tripled tribal enrollment. Under her leadership the Cherokee Nation became what her parents had set out for decades earlier—a modern world. 
The voices of her peers depict the life of a woman who surmounted societal pressure to make her life a living example of achievement and dedication to others. The film successfully documents this challenging rise to power by honoring her in remembrance. Mankiller is impactful and soft­spoken, just like its namesake. 
"I hope that when I leave it will just be said: I did what I could." –Wilma Mankiller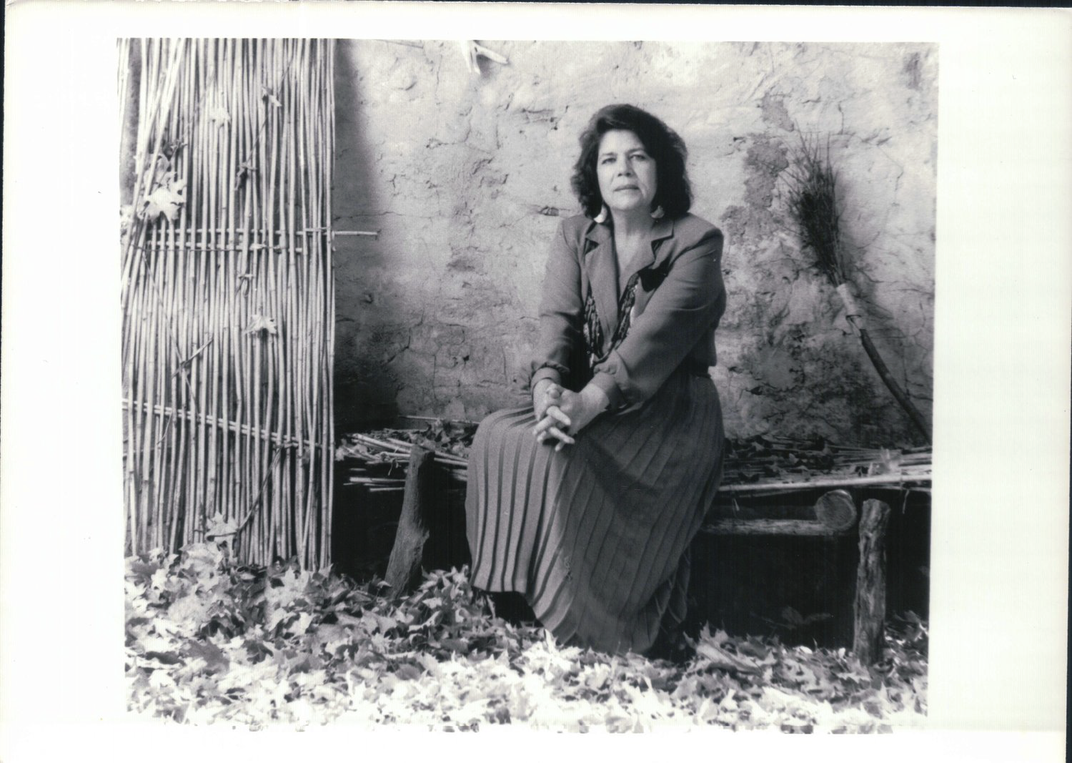 Mankiller will open the National Museum of the American Indian's Native Cinema Showcase in Santa Fe, New Mexico, August 15. Director Valerie Red­Horse Mohl will be in attendance. To watch for other screenings, follow the film on Facebook or Twitter.
Sequoia Carrillo (Navajo/Ute) is an intern in the Office of Public Affairs at the National Museum of the American Indian. In the fall, she will be a junior at the University of Virginia specializing in History and Media Studies. During the school year, she works for the American History podcast and public radio program BackStory.