NATIONAL MUSEUM OF THE AMERICAN INDIAN
Writing as Cathartic Practice and with Intention toward the Audience: Autumn White Eyes on Poetry
Autumn White Eyes (enrolled member of the Oglala Lakota Nation, Turtle Mountain Anishinaabe, Northern Cheyenne, and Pawnee descent) talks about writing, revision, and the evolution of her work. She sees poetry and spoken word as forms of oral tradition and storytelling: "I was lucky to grow up with my great grandmothers," she says, "and I loved hearing them tell stories, which always sounded like poetry to me." Their stories are one source of her inspiration; others include the writing and performance styles of John Trudell, Mayda del Valle, Tanaya Winder, Supaman.
---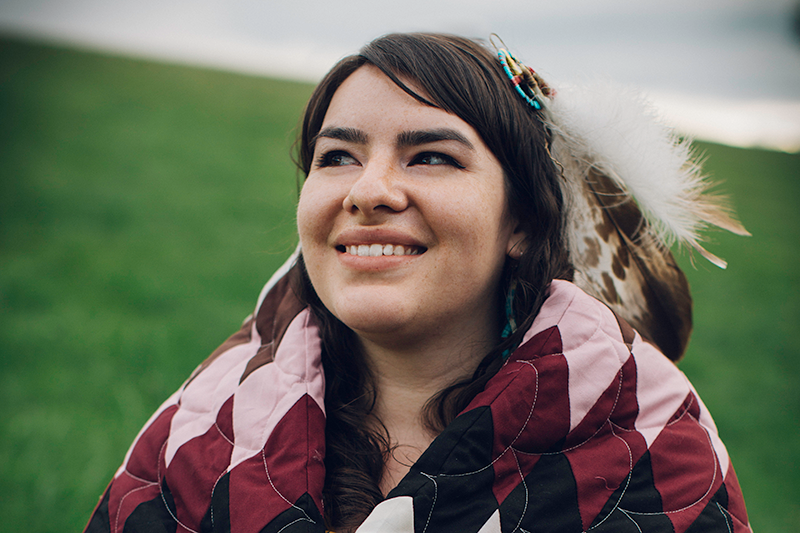 Please introduce yourself.
Han mitakuyepi! Autumn White Eyes emačiyapi ye. Hello relatives. My name is Autumn White Eyes.
Can you give us your Native name and its English translation?
My Lakota name is Wanbli Ohitika Win, which means Brave Eagle Woman.
What tribe, nation, or Native community are you affiliated with?
I am an enrolled member of the Oglala Lakota Tribe. I am Turtle Mountain Anishinaabe on my mother's side, and I am Oglala Lakota, Northern Cheyenne, and Pawnee on my father's side.
Where did you grow up, and where do you call home now?
I grew up on the Pine Ridge Indian Reservation in western South Dakota, in the village of Pine Ridge. This is where I call home. I currently live in Cambridge, Massachusetts, and attend the Harvard Graduate School of Education, studying Arts in Education.
How old were you when you became interested in poetry?
I was 14 years old. One of my closest friends in high school was writing poetry and shared it with me. I was fascinated by her ability to paint pictures with words. The following year I was able to take Creative Writing as an elective at my high school, Red Cloud Indian School. This was when I first delved deep into writing, and I have been writing ever since.
Who were the individuals who inspired you?
The first poet I started reading was Nikki Giovanni. I was inspired by her work focused on issues that are particularly relevant to women of color. I also watched performances by John Trudell and was inspired to see a Native leader use poetry to speak out against injustice. His writing inspires me to take the same direction of action through my work. As a young spoken word artist, I was very inspired by Mayda Del Valle's performance style and hope to captivate audiences in the same way that she does.
Currently, popular Native artists such as Mic Jordan, Frank Waln, Tanaya Winder, and Supaman inspire me. Their drive and courage to speak freely inspires me to take the same direction with my work.
Have you competed and won any awards for your work?
I've competed in numerous poetry slams throughout the years. Most notably, I led a team from Pine Ridge to the Brave New Voices International Youth Poetry Slam in 2011. I've also had my work published in the Yellow Medicine Review (2016), Last Stand Mixtape (2015), and Last Real Indians (2012), and a video of my work was featured on Indian Country Today Media Network (2012). In college, I was awarded an honorable mention in the William C. Spengemann Award in Writing for my piece "Dear Pe'Sla," which you can also read at Last Real Indians.
Do you consider your art form Indigenous popular culture?
Yes, I do. I think writing poetry is a common practice among Indigenous peoples because often our cultures are rooted in oral history.
How does your work coincide with traditional Native art forms?
Poetry and spoken word are forms of oral tradition and storytelling. Our elders have always passed down stories of our tribes. I was lucky to grow up with my great grandmothers, and I loved hearing them tell stories, which always sounded like poetry to me. I also incorporate Lakota language throughout my work.
Where do you envision the future of your art form headed on the world's stage?
I hope that, someday, wider society will know and read my work. I believe spoken word generally has reached the world's stage through artists such as John Trudell and Joy Harjo who have paved the way for artists like me.
When you're asked to explain your work, how do you answer?
When I begin writing a new piece, I do it with the intention of my personal needs—I use writing as cathartic practice. As I continue to create a piece, I do it with the intention for audience. I hope that my work inspires Native youth to share their stories, too. As Native people, we are virtually invisible to wider society, so I use my artwork to reach others and speak out against injustices I have faced and my people face.
On average, how much time does it take you to write one of your complete lyrics?
This is hard to say. I revise my work a lot before I feel ready to share it with others. On average it takes about a month of work before I feel that something is ready to share. But I wouldn't call any of my pieces complete, because I often return to them and will change things based on how I've grown as an individual.
What is one of the biggest challenges you have faced in creating your art?
The biggest challenge I am currently facing is finding the time to dedicate to writing because of my work as a full-time graduate student. Lately I have been working on revising past work, submitting these works for publication, and performing spoken word whenever I can.
What do you do to get inspired to be creative?
I often will read poetry and watch performances from poets who inspire me. I also listen to music from artists such as Tupac and Blue Scholars, which often inspires me to begin to write. Any time something inspires me, I write it down and will return to it to create.
Are there any unique signature pieces you are known for?
When I run into people who know my work, they usually mention my piece "A Letter to Urban Outfitters." This piece explores cultural appropriation as an injustice. I wrote it after the Navajo Nation sued Urban Outfitters for using the nation's name in their clothing.
How do your earlier pieces differ from what you produce today?
My earlier pieces were created in the tradition of slam poetry. They were very political and have angrier connotations embedded within them. My more current work is more reflective and speaks more on the ways injustices personally impact me. I've also been creating work that uplifts Native youth, which was my intention behind the piece "Power," published in the Yellow Medicine Review.
Where are some notable places you have performed?
Brave New Voices Bay Area; Dartmouth College; Harvard Graduate School of Education Cultural Celebration; Dahl Arts Center with Wichoiye Washaka (Strong Words), Rapid City, South Dakota; Oglala Lakota Nation Powwow, Pine Ridge, South Dakota, where I opened for the band Scatter Their Own.
As you're a spoken word artist, where can we find more of your work in video?
You can find "I survived Catholic School," as well as "A Letter To Urban Outfitters," on YouTube. "Indigene" is one of the tracks on Last Stand Mixtape, Vol. 1.
Thank you.
Thank you.