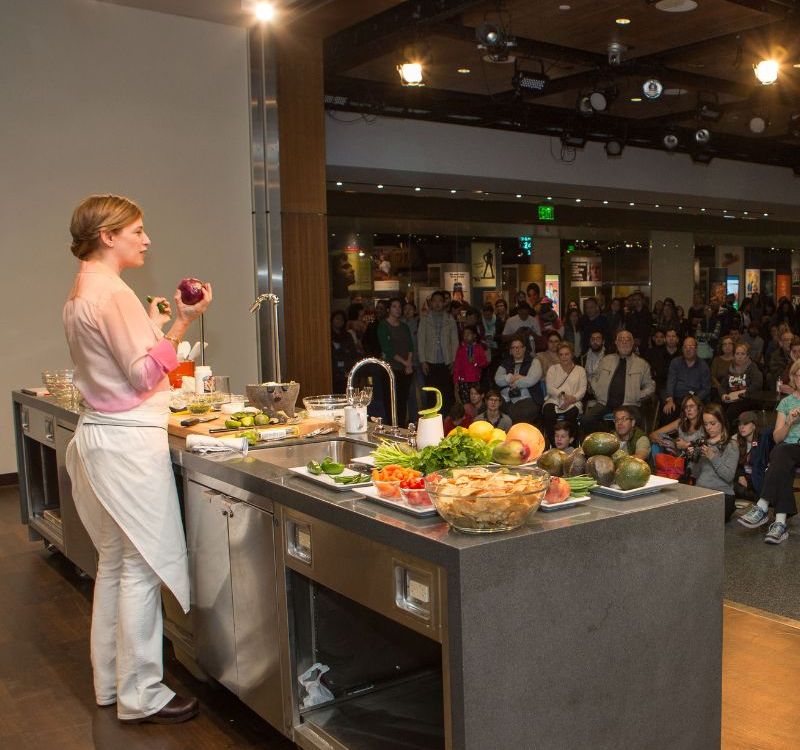 Schedule of Events
Smithsonian Food History Weekend:
"Food, Climate and Community: How Women are Shaping the Future of Food"
Nov. 3-4, 2023
Wallace H. Coulter Plaza; First Foor, West
The National Museum of American History will host its ninth annual Food History Weekend Nov. 3 and 4, a multifaceted festival that consist of two days of cooking demonstrations, brewing history, panel discussions and objects out of storage displays. This year's theme explores the intersections of food, climate change and community. As extreme weather events—droughts, floods, wildfires and rising sea levels—increase in frequency and severity, the impacts on food production are expanding as well. Growers, gatherers, and producers are looking to the past and the future for innovative ways to address the impacts of climate change and to create more sustainable and humane practices for food production and distribution. This weekend will explore how women from communities across the nation are helping to shape and sustain food for the future. All events will take place on the museum's Wallace H. Coulter Plaza, First Foor, West. For more information, visit the website. Registration is required for everyone, whether attendance is in-person or virtually.
The 2023 Smithsonian Food History Weekend received federal support from the Smithsonian American Women's History Initiative Pool, administered by the Smithsonian American Women's History Museum.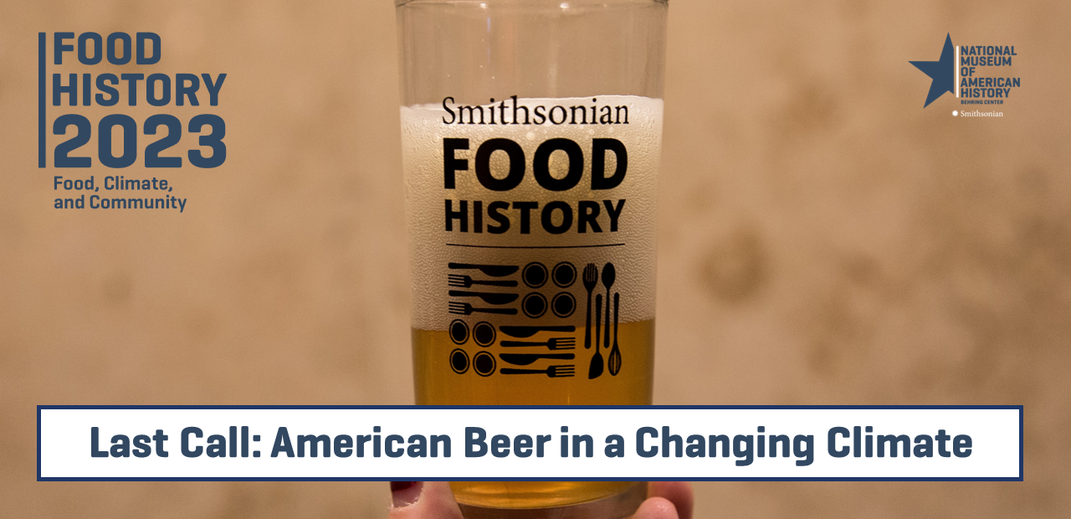 Weekend Featured Event:
"Last Call: American Beer in a Changing Climate"
Friday, Nov. 3; 6:30 to 9 p.m.
Tickets are $40, available via Eventbrite
Beer is vulnerable to the varied effects of a changing climate and women in the industry are at the forefront of making American beer production resilient, responsive, and environmentally and socially sustainable. Theresa McCulla, curator of the museum's American Brewing History Initiative, will lead a conversation with Andrea Stanley, founder of Valley Malt in Holyoke, Massachusetts, which is creating a local malting supply chain for New England farms, breweries and distilleries; Victoria Garza, Latin America Sales Manager at Yakima Chief Hops in Yakima, Washington, and co-founder of the annual "Sesiones del Migrante" beer collaboration; Denise Ford-Sawadogo, co-owner of Montclair Brewery in Montclair, New Jersey, whose beers feature a rich range of ingredients–many drawn from the owners' West African and Caribbean heritages; and Morgan Owle-Crisp, co-owner of 7 Clans Brewing in Asheville, North Carolina, a woman-owned and Cherokee-owned brewery whose beers are rooted in Cherokees' harmonious relationship with their homeland. The evening will include small bites as well as 8 5-oz. samples of beer poured by Montclair Brewery, 7 Clans Brewing, Wheatland Spring Farm + Brewery and DC Homebrewers. Staff will also showcase selected objects and archival materials representing the recent acquisition from the now closed Anchor Brewing Co. of San Francisco, California.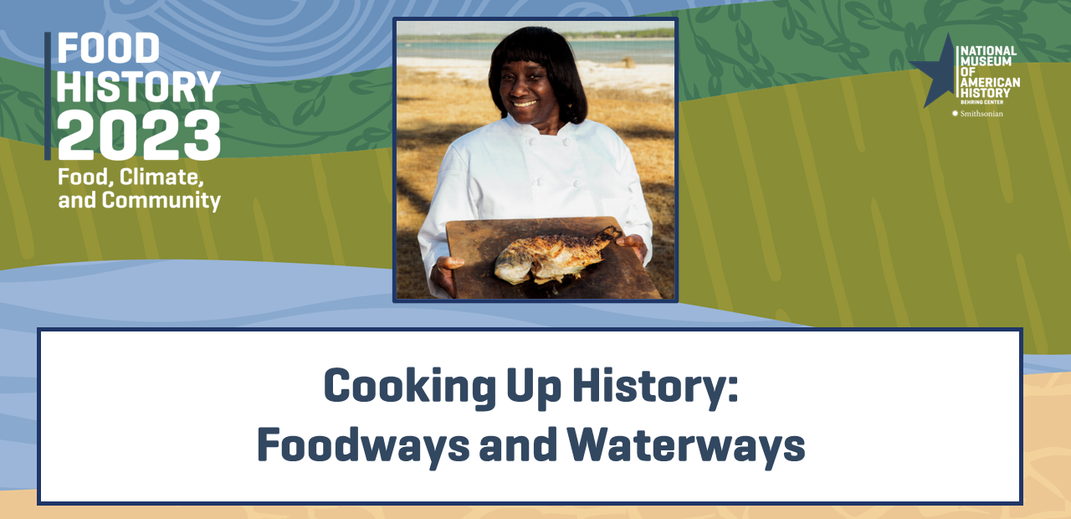 Cooking Up History
"Foodways and Waterways with Lowcountry Chef Sallie Ann Robinson"
Friday, Nov. 3; 2-3 p.m.
Free registration via Eventbrite
One of the most recognizable and celebrated culinary traditions in the United States is that of the Gullah community. With deep roots in West African and Caribbean culinary practices, the Gullah use ancestral growing, fishing and other culinary practices to sustain their communities, while adjusting to rising sea levels and climate shifts. Chef and author Sallie Ann Robinson, in conversation with Smithsonian Food historian Ashley Rose Young, will prepare Momma's Shrimp and Tada Salad and share stories and perspectives from her home on Daufuskie Island, South Carolina. A book signing will follow.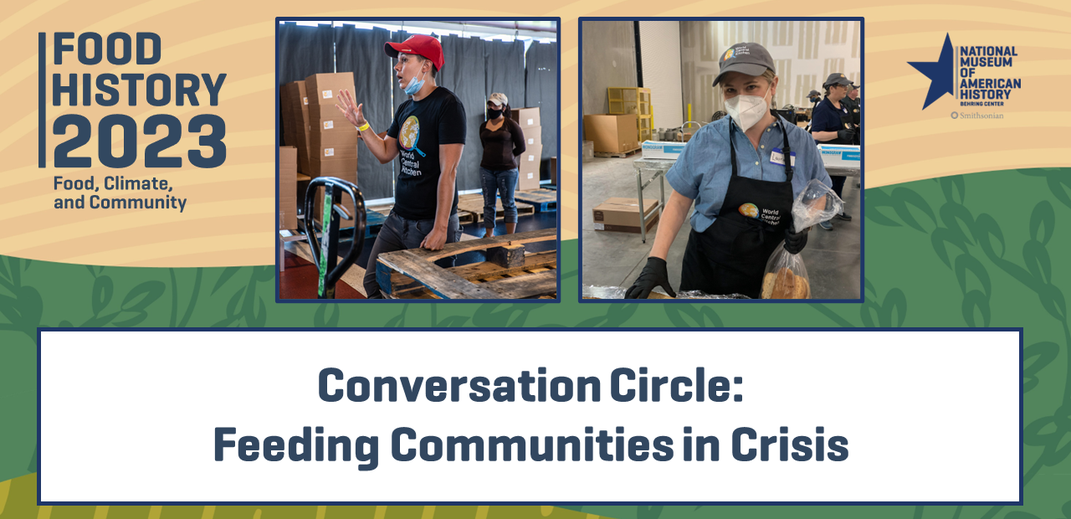 Conversation Circle
"Feeding Communities in Crisis with World Central Kitchen"
Friday, Nov. 3; 3:30-4:30 p.m.
Free registration via Eventbrite
World Central Kitchen (WCK) is known for their rapid response to feed and support communities in crises. World Central Kitchen team members Mollie Kaufmann and Laura Hayes*, who have led WCK's responses across the globe, will share stories from the field with moderator, Magdalena Mieri. A book signing will follow with Mollie Kauffmann, contributing author to The World Central Kitchen Cookbook.
*Please note, given the rapid response required of WCK team members to address climate disasters, one or more of our guest speakers may not be able to participate in this Conversation Circle.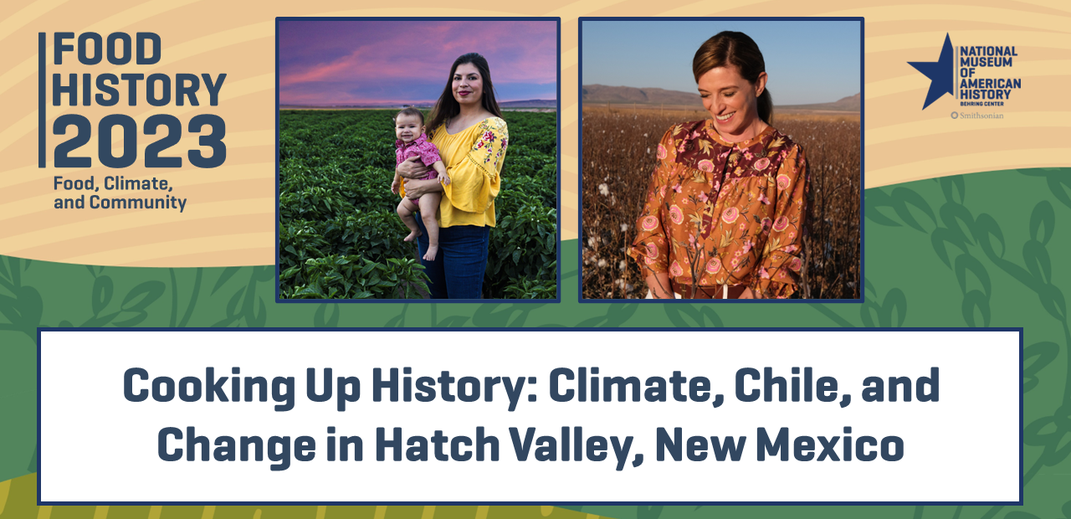 Cooking Up History
"Climate, Chile and Change in the Hatch Valley, New Mexico with Chef Pati Jinich and Andrea Alvarez"
Saturday, Nov. 4; 12:30-1:30 p.m.
Free registration via Eventbrite
Hatch chiles are a prized ingredient in kitchens across the United States. Whether a verdant green or a fire-engine red, these chiles have supported generations of growers and distributors in New Mexico's Hatch Valley. Andrea Alvarez of La Reina Hatch Chile Company and guest Chef, author and TV host Pati Jinich will share stories and a recipe that shine a light on the vibrant cultural traditions of the Hatch Valley and how the community is addressing climate change through innovative agricultural technologies and business practices. Jinich will sign her books Mexican Today and Treasures of the Mexican Table, following the program.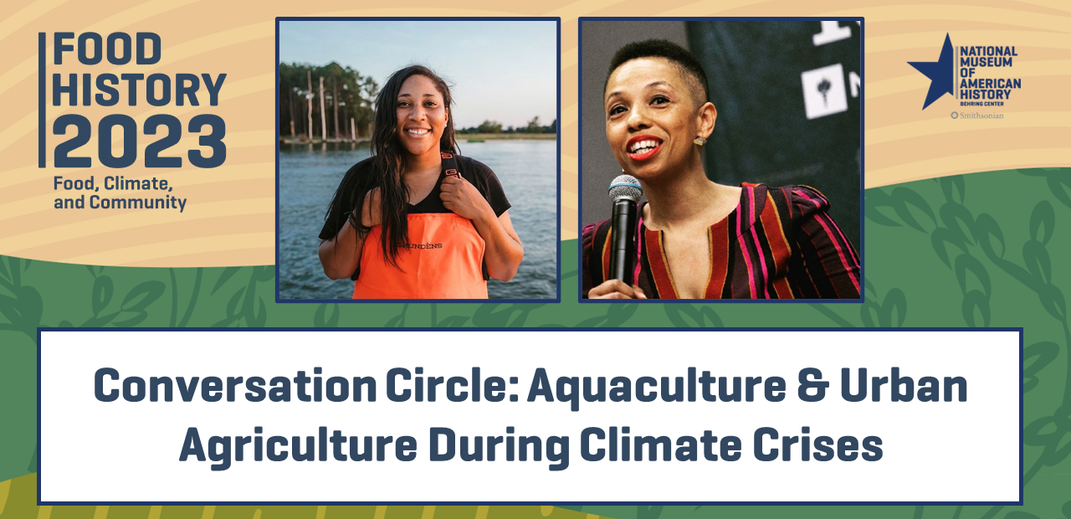 Conversation Circle
"Aquaculture and Urban Agriculture During Climate Crises with Imani Black and Qiana Mickie"
Saturday, Nov. 4; 2-3 p.m.
Free registration via Eventbrite
Rachel Seidman, curator at the Smithsonian's Anacostia Community Museum, will lead a conversation with Imani Black, scientist, oyster farmer, community advocate and founder of Minorities in Aquaculture in the Chesapeake Bay region, and Qiana Mickie, who is helping urban growers transform New York City's foodscape as the city's first Executive Director of Urban Agriculture, to weave together stories from land and sea and discuss models for the future of food.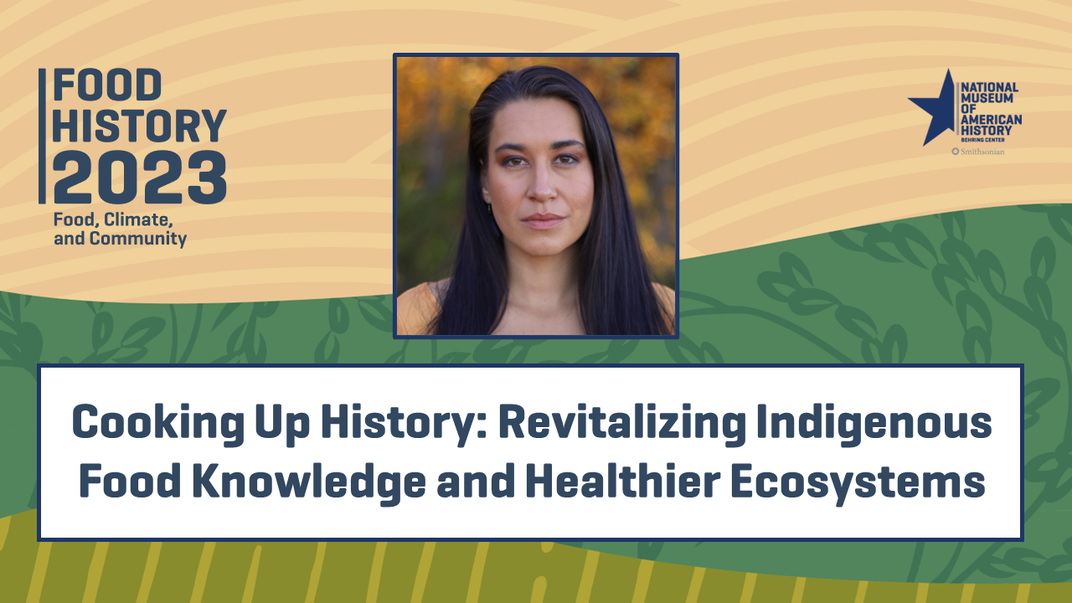 Cooking Up History
"Revitalizing Indigenous Food Knowledge and Healthier Ecosystems with Mariah Gladstone"
Saturday, Nov. 4; 3:30-4:30 p.m.
Free registration via Eventbrite
Guest Chef Mariah Gladstone (Blackfeet, Cherokee), founder of the online show Indigikitchen, will share how indigenous growers and food practitioners are using ancestral foods and land management to sustain and strengthen their communities and their surrounding environments, drawing upon traditional growing and cooking methods and new technologies to create opportunities for supporting health and well-being. In conversation with host and Smithsonian food historian Ashley Rose Young, Gladstone will prepare Three Sisters Soup.
Through incomparable collections, rigorous research and dynamic public outreach, the National Museum of American History seeks to empower people to create a more just and compassionate future by examining, preserving and sharing the complexity of our past. The museum, located on Constitution Avenue N.W., between 12th and 14th streets, is open daily except Dec. 25, between 10 a.m. and 5:30 p.m. Admission is free. The doors of the museum are
always open online
 and the public can follow the museum on social media on
Twitter
,
Instagram
and
Facebook
. For Smithsonian information, the public may call (202) 633-1000.